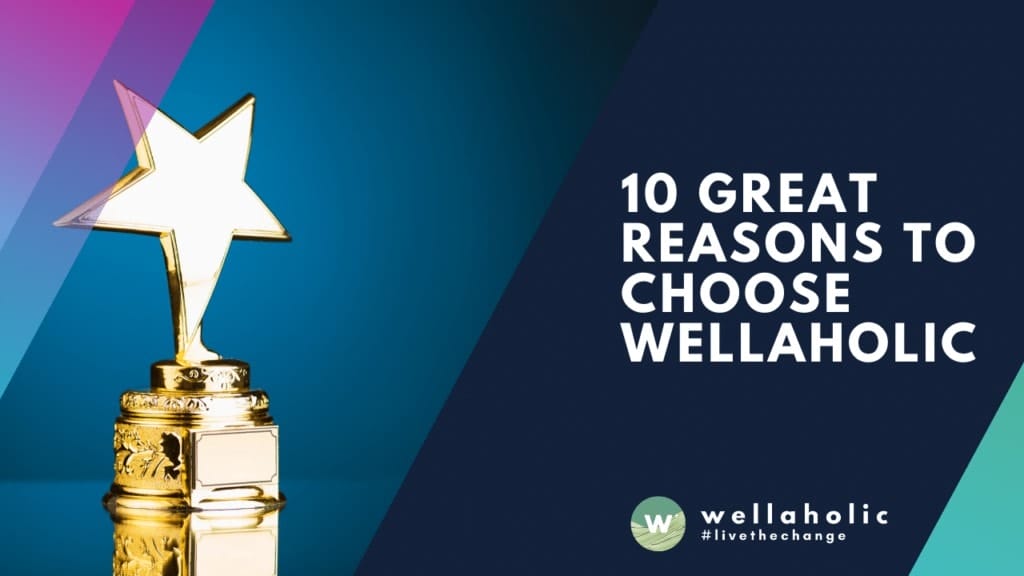 10 Great Reasons to Choose Wellaholic
Introduction
In your search for the right service provider in Singapore for your beauty or grooming requirement, you might have chanced upon Wellaholic. Now, what makes Wellaholic different from other merchants? Let Wellaholic share with you 10 great reasons why you should choose Wellaholic over our other friendly competitors!
1. Scientifically-Proven Treatments
At Wellaholic, all our treatments are backed by scientific research and case studies. Before we launch any new treatments, we conduct in-house testing and training to model our treatments to mimic and replicate the successes of the the various case studies. In fact, in our website, we have shared a useful collection of research reports that show the effectiveness and efficacy of the treatments. Because of this, we also constantly level ourselves with the latest research findings in order to improve our treatment processes.
2. Transparent pricing & No Hard-selling
At Wellaholic, we believe in offering transparent pricing so that our customers know how much we are charging before making an appointment. All prices are nett and inclusive of GST with no hidden charges. In fact you can refer to our online Wellaholic price list here.
In addition, customers never have to worry about being pressured into buying any packages at Wellaholic. In fact, we encourage customers to come for a free consultation before making any payment. This is to ensure that our customers are satisfied with the treatment process and procedure. And what if the customer is not keen to proceed after the consultation? They are welcome to decide and return on another day, with no strings attached.
3. High Availability of Slots for booking
At Wellaholic, we leverage technology to create a real-time booking system that allows us to monitor and assess customer booking rates. This allows us to continue to scale our operations and outlets to cater to our increasing customer base. By predicting a high booking rate, especially for peak periods, we are then able to increase the number of slots for our customers. What this means for our customers is that they will always be able to book their preferred slots even during peak periods or during weekends.
4. Easy Online & Offline Bookings
At Wellaholic, we allow customers to easy book their treatments both online and offline via the following methods:
Online via App
Online via Book Now link
Online via Live Chat
Offline via direct line to outlet
Offline via hotline 65 8181 1814
Customers can also easily reschedule and cancel their appointments. Customers can also pre-book their treatments a few months in advance.
5. We always Available for you
At Wellaholic, our hotline (+65 8181 1814) is manned 24/7 together with our Live Chat. This ensures that all customer enquiries, issues and feedback and promptly addressed and responded to. This increases the customer satisfaction with Wellaholic as well as to help us zoom in into any pertinent customer issues.
6. We are Well-Reviewed
Whether it is via Tripadvisor, Google Review, Facebook Review, Yelp etc, Wellaholic has garnered an impressive list of reviews from our customers. Wellaholic is also highly ranked on Tripadvisor for each of our individual outlets:
Lavender: 3rd out of 480
Orchard: 10th out of 480
Clarke Quay: 11th out of 480
Tai Seng: 21st out of 480
Tg Pagar: 33rd out of 480
Jurong East: 1st out of 3 things to do in Jurong East
See Over 1800 Positive Reviews of Wellaholic (Customer Verifiable)
7. We have Won Numerous Awards
Wellaholic is the proud recipient of not one but two awards during the SME100 Fast Moving Companies 2019 awards:
Best Startup 2019
Fast Moving Companies 2019
Wellaholic has won the following awards, including several for Hair Removal:
+ Awarded Boutique Spa of the Year 2020 by Travel & Hospitality Awards
+ Awarded Certificate of Excellence 2019 by TripAdvisor
+ Awarded Best Start-up & Fast-Moving Company by SME100 Awards 2019
+ Awarded "Best SHR Salon" for Hair Removal by Daily Vanity Spa & Hair Awards 2020
+ Awarded "Best Body Firming & Sculpting" for WellaFreeze by Beauty Insider Spa & Salon Awards 2019
+ Awarded "Best Hair Removal Services" for SHR by Beauty Insider Spa & Salon Awards 2019
+ Awarded "Best SHR Salon" for Hair Removal by Daily Vanity Spa & Hair Awards 2019
+ Awarded "Best Rejuvenating Facial" for Elight by Beauty Insider Spa & Salon Awards 2018
+ Awarded "Best IPL/SHR Treatment" for SHR by Daily Vanity Spa & Hair Awards 2018
Wellaholic is honoured to win the Boutique Spa of the Year 2020 (Singapore) by the global Travel & Hospitality Awards (THA). THA is one of the few independent global awarding bodies for travel and hospitality awards. All winners are judged based on the following criteria, which they extensively carry out via research online through reviews, ratings and feedback:
​
​​Service & Hospitality – Providing a personal and tailored service, excellent customer service is usually why clients return
Experience – Making a memorable experience all round for the clients
Treatments – A range and variety of different treatments to ensure the clients every need is matched
Design & Style – The design and style sets a tone to the experience being able to create an atmosphere that's boutique, cosy and comfortable makes for a relaxing experience
Rating & Reviews Online – A very key factor, online feedback is important. What clients say online can break or make you.
8. We take care of our Customers for Life
At Wellaholic, we do not only sell plans and packages. We also take care of our customers for life. Wellaholic has a special Lifetime Maintain Mode for our SHR Hair Removal plans as well as our Body Slimming Plans.
SHR Hair Removal Lifetime Maintain Mode
Our SHR Lifetime Maintain Mode is our commitment to help customers who have completed 12 sessions of SHR hair removal treatments with Wellaholic.
​While SHR helps to permanently remove hair after 8 to 12 sessions, we have a small number of customers that see hair growth in specific areas after some time has passed. This could be due to their genetics (specifically hair gene Lhx2). We felt that it is not fair for customers to pay a full price again to treat the area again. Our proposed solution: a LIFETIME MAINTAIN MODE for these customers.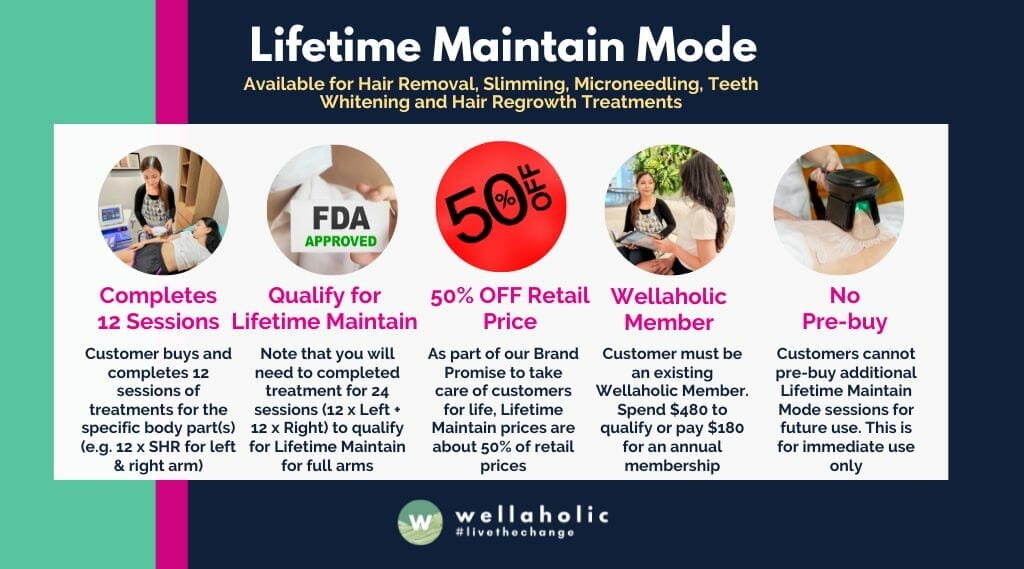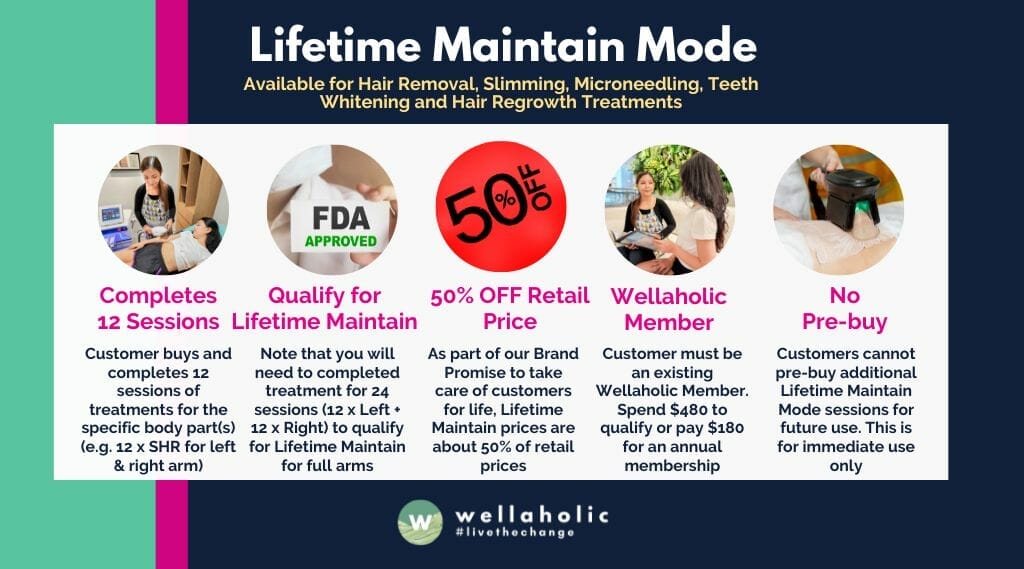 9. Up to 30% Member Cashback
Wellaholic Membership Program also offers our loyal customers additional value, in the form of amazing cashback and special offers. Pay nothing. Just spend $600 in a single transaction to become a Deluxe Member. For this you will enjoy 5% cashback bonus credits with every $100 spend, as well as the Lifetime Maintain Mode. Or if you spend $2200 in a single transaction, you enjoy as much as 20% cashback bonus credits for every $100 spend, as well as 20% referral bonus credits for your friends' first service purchase.
10. We Truly Try Our best
What's most important at Wellaholic is our dedication to customer engagement and service excellent, as well as our focus on innovation and always trying and doing our best. What this means is that we will never be complacent in our service standards and quality, and we will always listen to our customers and act on their feedback and inputs. This is what our customers continue to trust us over the years. We do our best, and we are always here for you.
---