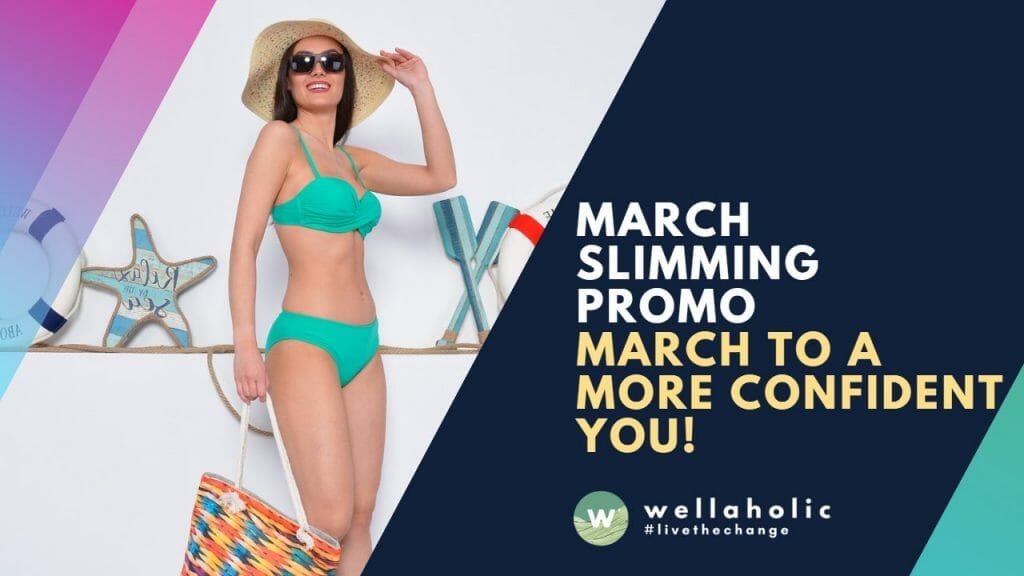 March Slimming Promo – March to a More Confident You!
Welcome to Singapore's First Ever March Slimming Promo!
Welcome to Singapore's first ever March Slimming Promo! Are you looking to lose stubborn fat and become more confident in your own skin? Then this is the perfect opportunity for you. This March, get ready to embark on a journey of transformation that will have you feeling your best self. With our cutting-edge slimming technology and experienced therapists, we can help you reach your goals faster and easier than ever before.
Supercharge your slimming with WellaFreeze 360's deep freezing to freeze fats, Ultrasonic Cavi 360's ultrasound to vibrate and burst fat cells, WellaSculpt's radio frequency to tighten any loose skin resulting from your successful fat reduction, and get free Laser Lipo 360 treatments to further destroy your fat cells with low-wave lasers!
For the month of March, buy either a WellaFreeze 360, Ultrasonic Cavi 360 or WellaSculpt session-plan to enjoy the following:
Buy a 3-Session Plan FREE 1 session of Laser Lipo 360
Buy a 6-Session Plan FREE 2 sessions of Laser Lipo 360
Buy a 12-Session Plan FREE 4 sessions of Laser Lipo 360
What's Amazing about Laser Lipo 360
Laser Lipo 360 is an innovative, non-invasive medical procedure that offers amazing results for those seeking to reduce fatty areas of their body. This advanced technology uses the power of low-level laser beams to safely and effectively target and eliminate fat cells from problem areas such as the face, neck, arms, abdomen, love handles and thighs. The procedure is quick and painless with no downtime required after treatment.
The benefits of Laser Lipo 360 go beyond just removing fat cells from specific areas; it also produces a tightening effect in the skin which helps improve its overall tone and texture. Clients report a visible improvement in their skin's appearance following treatment while enjoying increased confidence in their new look! Additionally, the effects are long lasting when combined with healthy lifestyle habits such as regular exercise and proper nutrition.
See Results from Laser Lipo 360
While Wellaholic does not disclose customer results due to PDPA laws in Singapore, you can see the typical results from laser lipo from Dr Tred's Slim Body Laser Spa, based in the United States.
Terms & Conditions
Promotion is valid from now till 31 March 2023.
Customers can buy and keep the free sessions for future use (with no expiry).

Customers can enjoy free sessions for each of the 3 treatment types, but cannot buy multiple sessions for each treatment

E.g. Customer can buy a 12-session WellaFreeze 360 plan (to get 4 sessions Laser Lipo 360 free) and a 6-session WellaSculpt plan ( to get 2 sessions of Laser Lipo 360 free), but he or she cannot buy 3 x 12-sessions of WellaFreeze 360.

No further discounts/vouchers/credits can be applied to this promo.
Member's Cashback cannot be applied to this promo (no cashback earn / no cashback redemption).
Wellaholic reserves the right to end the promotion earlier than the stipulated end date.
Why Wellaholic is One of the Best Slimming Treatment Providers in Singapore?
Wellaholic is one of the most popular slimming treatment providers in Singapore, offering a wide range of slimming and fat management treatments to help people achieve their body goals. Wellaholic has gained a loyal following due to our commitment to providing safe and effective treatments that are backed by science. In addition, Wellaholic's qualified and experienced therapists ensure that clients get a comfortable treatment experience with maximum results.
At Wellaholic, customers can choose from an extensive range of slimming treatments such as WellaFreeze, WellaSculpt, Ultrasonic Cavi and Laser Lipo, which are all scientifically-certified technologies. These treatments use non-invasive procedures that target fat cells to eliminate stubborn fat without surgery or downtime. Furthermore, Wellaholic also offers packages with affordable prices for different body parts so customers can pick one according to their needs.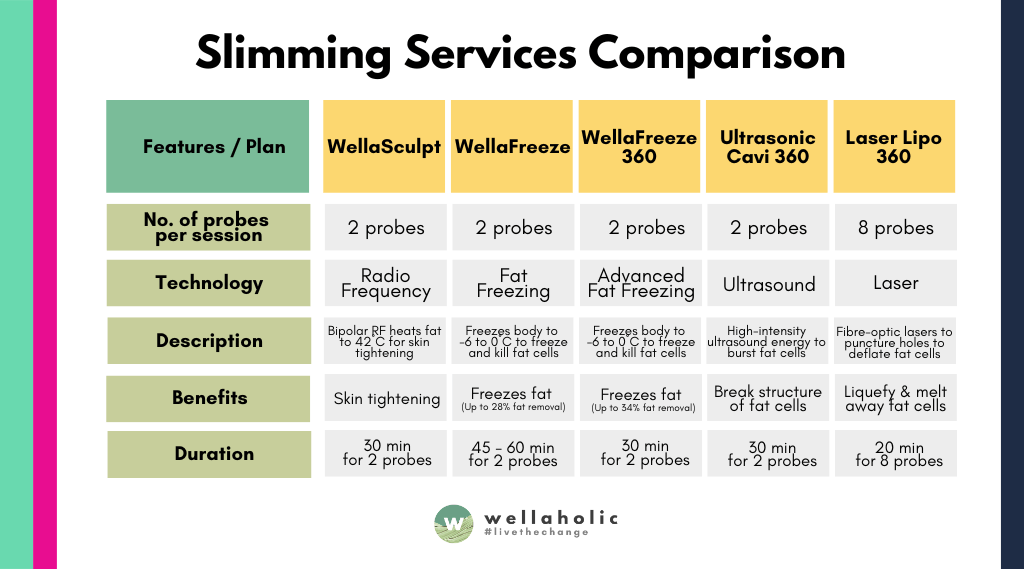 Reason 1: Wellaholic Offers Comprehensive Slimming Services and Expertise
Wellaholic offers different types of slimming treatments for your fat management needs. Our slimming packages can be broken down into the following categories:
Reason 2: Wellaholic Has Over 2000 Genuine Customer Reviews & Testimonials
With over 2000 verified positive reviews from customers all over Singapore and beyond, Wellaholic continues to be the go-to destination for those seeking out professional beauty and wellness treatments.
The reviews received by Wellaholic are reflective of their commitment to customer satisfaction. Customers consistently cite friendly staff with excellent knowledge and professionalism as a highlight of the experience at Wellaholic. Furthermore, customers have commented on the wide range of treatments available at competitive prices – giving people access to premium services without having to break the bank!
Reason 3: Wellaholic Slimming Package Prices are Transparent and Affordable with No Hidden Costs
Wellaholic believes in publishing our prices online affordably and with no hidden costs. Customers can expect to pay only for the treatments provided instead of being surprised by additional fees or charges at the end of their slimming treatment or anti-cellulite session.
We have always been committed to providing quality services and products at reasonable prices. Our pricing structure is designed in such a way that customers can easily compare different packages available according to their budget and needs. This makes Wellaholic the ideal choice for both budget-conscious individuals as well as those seeking luxurious pampering sessions without breaking the bank.
Wellaholic has Won Numerous Awards for our Slimming Treatments
Wellaholic has been recognised as a leader of our WellaFreeze, WellaSculpt and Ultrasonic Cavi slimming treatments, winning annual awards, such as the Best Fat Freezing Treatment by Daily Vanity Spa & Hair Awards in 2022, 2021, 2020 and 2019. Wellaholic has also won the Best Fat Freeze for our WellaSmooth plan by Beauty Insider Beauty & Wellness Awards from 2018 to 2023.
---