7 Interesting Facts about Microneedling
Introduction to Microneedling in Singapore
Microneedling, also known by many as Collagen Induction Therapy or Skin Needling, is a cosmetic procedure which involves the rapid continuous puncturing of the skin with tiny micro sterile needles.
The concept of this Microneedling Facial procedure is to create numerous "micro-injuries" on the surface of your skin to improve your complexion through the resulting body's production of collagen. Microneedling Singapore has known to improve the appearance of acne scars (fading them), stretch marks, reducing pore size, improving the texture and quality of the skin, and also to remove fine lines and wrinkles.
Fact 1: Microneedling is Ideal for a variety of skin types
Microneedling is ideal for anyone looking to improve their skin's appearance and complexion. It is effective on both dark or light skin, people of all ages, dry or oily skin and even individuals with skin pigmentation issues. ​No matter what your skin is like, you can reap the benefits of microneedling, such as lifting and tightening, lessening skin discoloration and reduce pore size, among many other advantages.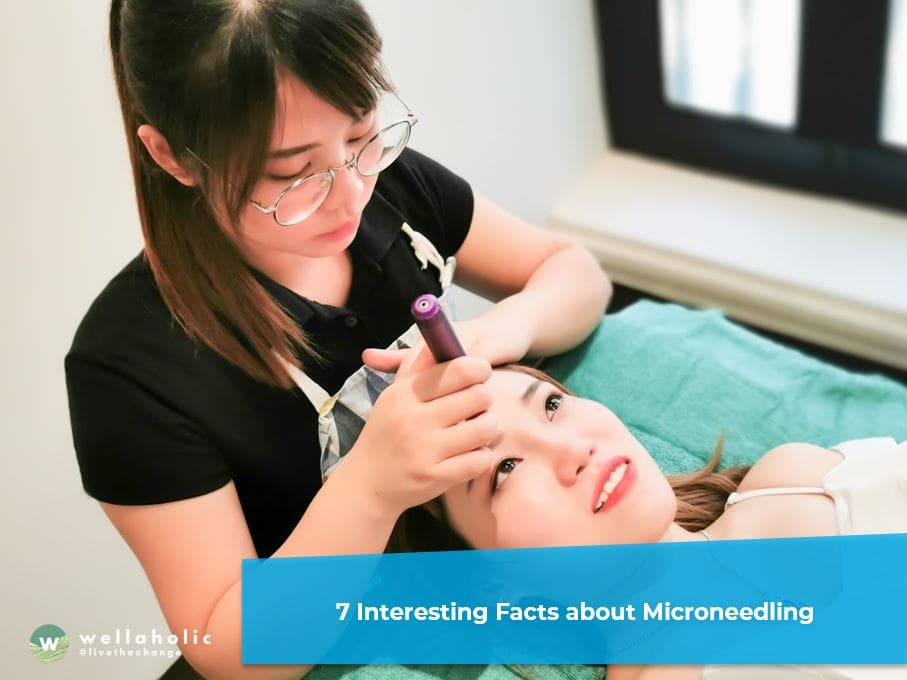 Fact 2: Microneedling can lead to immense improvements
Do you know that Microneedling was actually discovered in the 1950s by a doctor who realised that by creating small injuries in the skin, collagen production was promoted within the body. This led to stronger skin and better skin texture. Since then, the technology related to microneedling has greatly improved. Both the techniques and tools have advanced over the decades making the procedure very safe and effective when administered by a trained professional.
Fact 3: Microneedling is not just for your face
Microneedling is most commonly applied to the face, however, the procedure can be performed on other parts of the body too. Individuals with stretch marks and scars have used microneedling to lessen the appearance of these marks on their body. This is because the procedure promotes the body to heal itself by producing and sending collagen to the treated area. In fact, As dermatologist Dr. Joshua Zeichner of Zeichner Dermatology tells the publication, collagen and hair follicles exist in the same strata of the skin. When collagen production drops off (which it usually does around 30 years of age) it leaves hair follicles susceptible to weakening. Weak hair follicles don't grow long and strong hair. "Think of it like the frame of your mattress," he says. "Without it, the mattress would be clumpy and wrinkly." It's in this way that collagen is necessary for maintaining healthy hair follicles.​While microneedling for face revs up collagen production in the scalp just like it does on the face, "it also brings blood flow and nutrients to the scalp and induces new stem cells that support hair growth," Jay explains. Studies support this. One in particular found that patients who used microneedling in conjunction with traditional hair loss therapies showed a greater improvement in hair re-growth after only 12 weeks.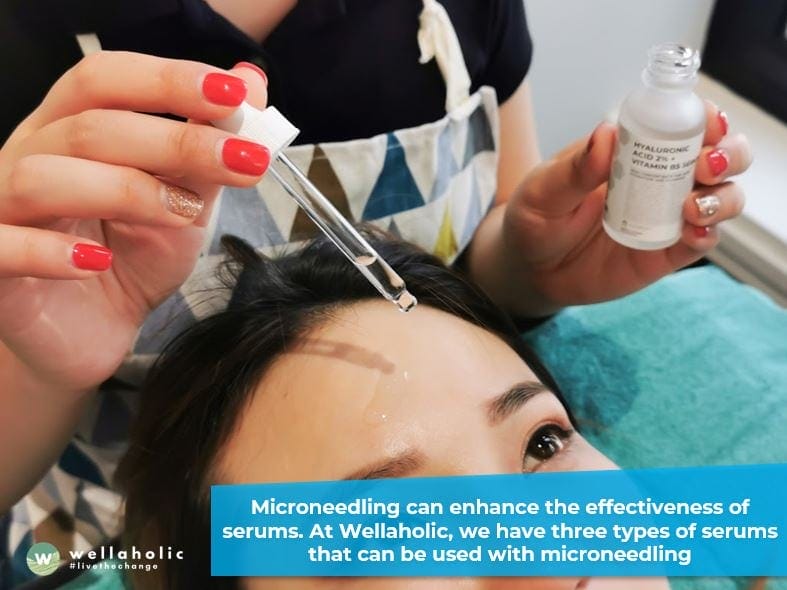 Fact 4: Microneedling can be comfortable
Often, patients are nervous about the level of pain they will experience from cosmetic procedures, among other procedures. Fortunately, microneedling facial is not an uncomfortable or painful procedure because the needles are very thin. In fact, the needles are thinner than a strand of hair! Having said that, a bit of pain tolerance would be ideal as our therapists at Wellaholic have been trained to gradually increase the needle depth to improve the efficacy over time for better results. As they say, no pain, no gain!
Fact 5: Microneedling is a low-risk procedure
Because the infliction to your skin is so small and performed under clinical conditions, there is a very low risk of serious injury or infection. Other cosmetic procedures have more risks, but microneedling is astronomically safer in comparison. Also, there are virtually no side effects from the procedure as none have been reported to date. The biggest risk of microneedling is through 'do it yourself' products. Products can be purchased that enable your to perform microneedling on yourself at home, but there are more significant risks related to doing this. If microneedling is done too frequently, as it often is with do it yourself products, there is a risk that you will break capillaries in your face.
Fact 6: Microneedling can lead to promising results
Right after your first treatment, you will notice a bit of redness which clears up rather quickly. Once your skin clears up, you'll notice an immediate dewy, glowy complexion and new plumpness to your skin. It is important to keep the skin hydrated over the course of a few days to restore the cells.
Microneedling can safely be repeated every 4 to 6 weeks until desired results are achieved. After four sessions spaced roughly one month apart, individuals have reported a big increase in collagen and elastin within 6 months of completing all the procedures. By using microneedling, you can have confidence in the results so long as you're patient.
Fact 7: Microneedling is actually very affordable
In fact, if you compare the pricing for microneedling versus other laser and co2 fractional laser treatments, you will realise that microneedling is not only affordably priced but also has a very negligible downtime. The results delivered by microneedling can also be seen quickly and that is why microneedling is fast becoming a treatment of choice.
---
Microneedling – Effective Treatment for Acne Scars
MINIMALLY INVASIVE COLLAGEN-INDUCTION THERAPY WHICH CAN EFFECTIVELY REDUCE APPEARANCE OF ACNE SCARS, PIGMENTATION AND STRETCH MARKS.
​WHAT IS MICRONEEDLING?
Safe, minimally invasive, and effective aesthetic treatment.
Ideal for several different dermatologic conditions including acne and other scars.
Minimal or no downtime.
Extensive positive clinical results.
Valuable alternative to more invasive procedures such as laser skin resurfacing and deep chemical peeling.
WHAT ARE THE ADVANTAGES OF MICRONEEDLING TREATMENTS?
Can also be done at a fraction of the cost when compared to surgical treatments.
It appears to be an overall effective and safe therapeutic option for numerous dermatologic conditions.
Proven to be more effective than surgical treatments, laser resurfacing and chemical peels in stimulating the production of collagen and elastin.
​
​WHAT ARE THE ADVANTAGES OF MICRONEEDLING TREATMENTS?
Microneedling can also be done at a fraction of the cost when compared to surgical treatments. It appears to be an overall effective and safe therapeutic option for numerous dermatologic conditions.
Pricing of Facial Treatments by Wellaholic
Wellaholic believes in providing pricing transparency, and hence all our prices are published and updated on its website. Choose from a single-session plan or choose a multi-session plan for greater discounts. Wellaholic's facial treatments are generally divided into the following categories: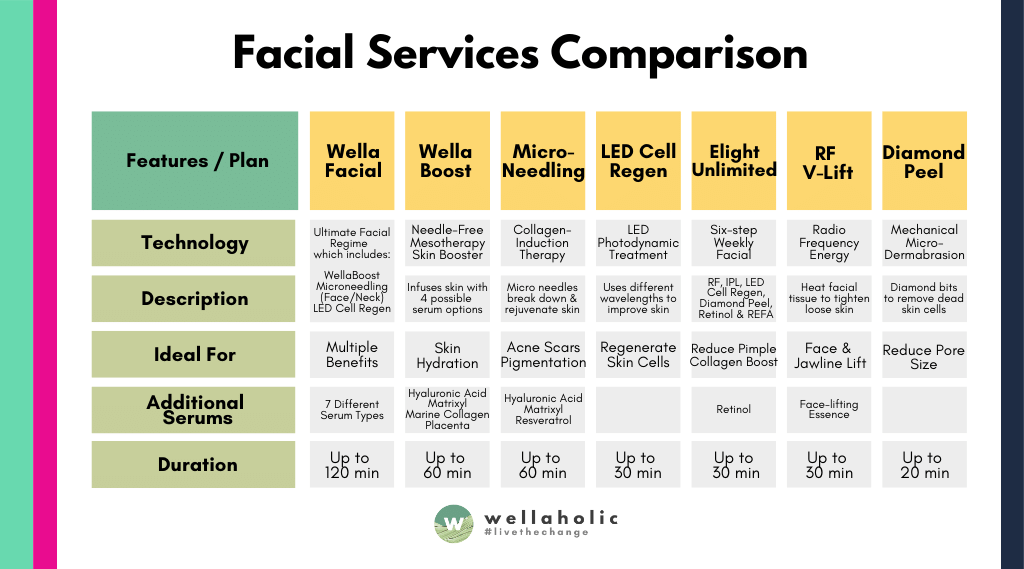 Please click on the menu below to see the pricing for the various facial treatments by Wellaholic. Wellaholic is well-known in the industry for our transparent pricing and no hard selling. In fact, Wellaholic is well-known for not only our transparent and cheap pricing but also without any hidden costs. All prices are nett and inclusive of GST, and are actual prices (i.e. not trial prices).
---