7 Things Dentists Wish You Knew About Teeth Whitening
Introduction: 7 Things Dentists Wish You Knew About Teeth Whitening
Just like everyone else you want to have the brightest and whitest teeth ever possible. However, it is important to have a dental examination to ensure that your mouth is healthy. That the problem such as cavities and gum disease need to be addressed and treated before you do your teeth whitening. Why is this the case? "Teeth whitening that is peroxide-based is meant to whiten the innermost layer, not the structure inside the tooth near the nerves," based on Jennifer Jablow, a cosmetic dentist in New York City. In this article on teeth whitening by Wellaholic, we are going to share with you the Top 7 things that dentists wish you would know before you start your teeth whitening treatment.
Tip #1: Get an Examination First by a Dentist
If you're considering professional teeth whitening, it's important to get an examination first by a dentist. According to a blog post by Noll Family Dentistry, a dental exam prior to teeth whitening is essential to determine the overall health of your teeth, gums, and mouth. During the exam, your dentist will check for any issues that may interfere with the whitening process or cause sensitivity, such as cavities or gum disease. Additionally, the exam allows your dentist to recommend the best whitening options based on your individual needs and goals. By getting an examination first, you can ensure that your teeth are healthy enough for whitening and that you get the best possible results.
Tip #2: Watch What Passes Through Your Lips
Certain food and beverages such as coffee, tea, wine or even blended juices can cause tooth discoloration. Other foods such as dark soy sauce or even curry may also cause staining to the teeth. By limiting these foods, it will help your teeth stay as white as possible post procedure. Otherwise, remember to brush your teeth and wipe then clean after consuming coffee or tea.
A Consistent Habit to Brush Teeth
A consistent habit will help you to save your teeth from getting stained again. Also, do consider eating more foods such as cauliflower, strawberries, seeds and nuts as they may help to whiten teeth and also speed up the whitening process naturally.
Here is a table summarizing the common factors that can cause teeth stains:
| Factor | Description |
| --- | --- |
| Food and Drinks | Certain food and drinks, such as coffee, tea, red wine, and dark-colored fruits and vegetables, contain pigments that can stain teeth. |
| Tobacco | Both smoking and chewing tobacco can lead to yellow or brown stains on teeth. |
| Age | As we age, the outer layer of tooth enamel can wear away, revealing the yellowish dentin underneath. |
| Medications | Certain medications, such as tetracycline and doxycycline, can cause teeth stains when given to children whose teeth are still developing. |
| Trauma | Trauma to a tooth can cause it to change color, and it may be difficult to remove these stains. |
| Genetics | Some people may have naturally thinner or more translucent tooth enamel, which can make their teeth appear more yellow or gray. |
Common Factors Causing Teeth Stains
Tip #3: You May Need More Than One Treatment to See The Best Results
If you want to maintain your newly whitened teeth, you may require consistent commitment and maintenance. This is to prevent your sparkle from losing its lustre. Also, tying up with tip #2, by having regular maintenance sessions for teeth whitening, you can combat the staining that happens from staining foods and beverages.
TeethWhite by Wellaholic
At Wellaholic, we offer TeethWhite™ Unlimited, which offers 4 weekly treatments a month. This is very popular with our customers who are working to whiten their teeth several shades at a time, as well as to maintain their teeth's whiteness.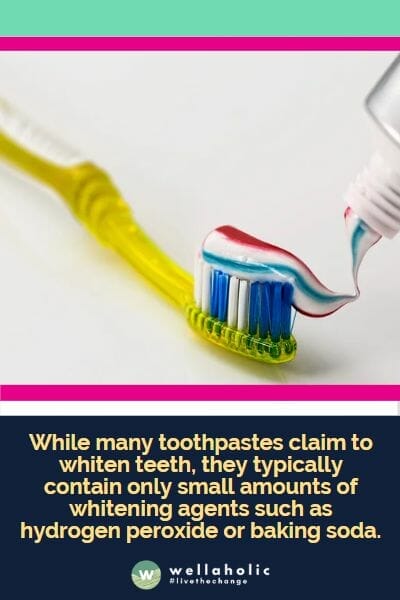 Tip #4: There Is A Limit to What Toothpastes Can Do
It's important to note that there is a limit to what toothpastes can do for teeth whitening. While many toothpastes claim to whiten teeth, they typically contain only small amounts of whitening agents such as hydrogen peroxide or baking soda. According to a study published in Australian Prescriber, the primary purpose of toothpaste is to prevent dental caries through the use of fluoride dentifrices. Most toothpastes today contain 0.1% (1000 ppm) fluoride, usually in the form of sodium monofluorophosphate (MFP), which is beneficial in preventing dental caries. While toothpaste can help remove surface stains and improve the overall appearance of teeth, it may not be effective for more severe discoloration or deep stains. In such cases, professional teeth whitening treatments may be necessary to achieve the desired results.
Tip #5: Fake Teeth May Not Whiten
​The majority of veneers, crowns and fillings will not brighten or whiten with teeth whitening treatments. This is based on a study by the American Dental Association. Hence, if you are planning to whiten your teeth, you have to be prepared for a mismatch of colouring if you do not replace the older restorations. In any case, always inform your dentist or consultant if you have any veneers, crowns or fillings for them to better advise you.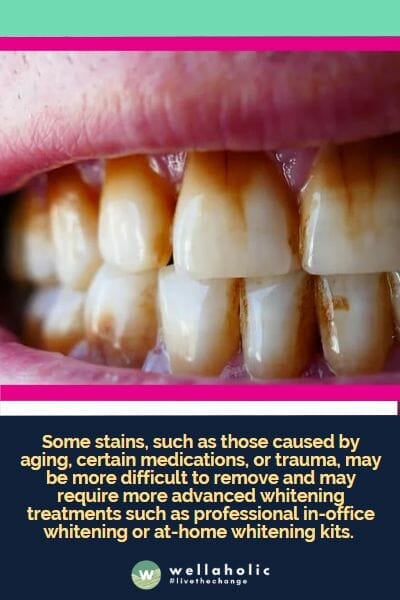 Tip #6: Not All Teeth Stains Are Easy to Remove
It's important to understand that not all teeth stains are easy to remove. While whitening toothpaste and mouthwash can help remove surface stains and brighten your smile, they may not be effective for more stubborn or deep stains. According to Colgate, using whitening products such as toothpaste and mouthwash can gradually remove stains bit by bit day by day. However, not all stains are created equal. Some stains, such as those caused by aging, certain medications, or trauma, may be more difficult to remove and may require more advanced whitening treatments such as professional in-office whitening or at-home whitening kits. It's important to consult with your dentist to determine the best course of action for your individual needs and goals. Additionally, practicing good oral hygiene habits such as brushing twice daily, flossing, and visiting your dentist regularly can help prevent new stains from forming and maintain a brighter, healthier smile.
Tip #7: You Can Whiten Teeth Even If You Have Braces
​Yes, it is possible to have pearly whites even when you have braces. Depending on what kind of braces you have, some method may work better than others. Traditional braces, which have brackets that cover the front of your teeth, can limit your whitening options. Other types of braces, such as lingual or removable aligners do not obstruct the surface of the teeth, thus allowing for a more thorough whitening treatment to be completed. Those with braces should consider incorporating teeth whitening in their regular oral care routine.
Up to 12 Shades Whiter with TeethWhite
Wellaholic offers TeethWhite™, a premium teeth-whitening treatment in Singapore, using industrial-grade lamps, which can help whiten your teeth by up to 12 shades with immediate visible results. The primary ingredient in teeth whitening gel is generally Hydrogen peroxide or a close derivative called Carbamide peroxide.  The molecules will become active when exposed to your teeth and with strong LED light, thereby helping to whiten your teeth thoroughly. You can see immediate whitening results right after the treatment.
TeethWhite™ Teeth Whitening – Get Up to 12 Shades Whiter
Get ready to flash your pearly whites with TeethWhite™, the ultimate laser teeth whitening treatment in Singapore. Whether your teeth are coffee-stained or just not as bright as you'd like, TeethWhite™ can brighten your smile by up to 12 shades with immediate, long-lasting results. Even those with sensitive teeth can safely enjoy this treatment. With Carbamide Peroxide as the primary ingredient in our whitening gel, our strong LED light technology activates the gel to create hydrogen peroxide, which thoroughly whitens your teeth for a dazzling smile that will light up any room.
What is TeethWhite™ Teeth Whitening Treatment?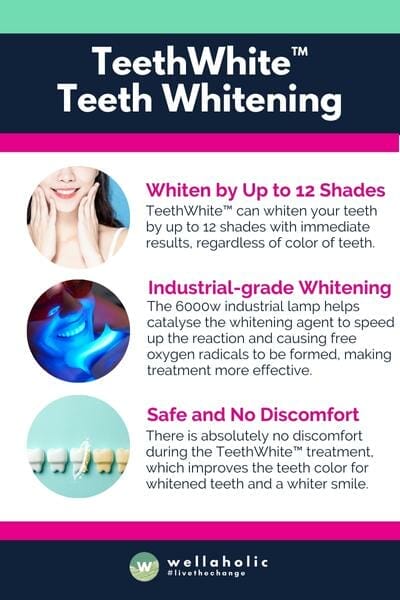 Immediate Results. TeethWhite™ can whiten teeth by up to 12 shades in just one session, giving you an instant confidence boost and a brighter smile.
Industrial-Grade Whitening. TeethWhite™ is a premium laser teeth whitening treatment in Singapore, offered at all Wellaholic outlets.
Effective Ingredients: The primary ingredient in the teeth whitening gel is Carbamide Peroxide, which is a proven and effective whitening agent.
Advanced technology: TeethWhite™ uses strong LED light technology to activate the whitening gel and ensure thorough and consistent results.
Professional treatment: TeethWhite™ uses strong LED light technology to activate the whitening gel and ensure thorough and consistent results.
Affordable pricing: Wellaholic offers competitive pricing for its TeethWhite™ treatment, making it accessible to a wide range of customers.
There is absolutely no discomfort during the TeethWhite™ treatment. We have an improved teeth whitening process that eliminates the need to create a custom teeth mold. We use a proprietary process to ensure that the whitening agent binds to your teeth, to increase the rate of whitening to the teeth, while ensuring both safety and comfort.
Is TeethWhite™ Backed By Science?
Backed by Science. Yes, TeethWhite™ is backed by science.
Primary Ingredient is Carbamide Peroxide. The primary ingredient in the teeth whitening gel is Carbamide Peroxide, which has been clinically proven to be effective in whitening teeth.
6000W Industrial Lamp. The 6000W industrial lamp helps catalyse the whitening agent to speed up the reaction to make the treatment more effective than teeth whitening kits.
Conversion to Hydrogen Peroxide. The gel molecules convert to hydrogen peroxide and become active when exposed to teeth and strong LED light technology, which is a scientifically-proven method for teeth whitening.
Safe for Sensitive Teeth. The treatment is safe and suitable for sensitive teeth, and has been tested and approved by dental professionals.
See Over 2000 Positive Reviews of Wellaholic (Customer Verifiable)
If you're looking for a reliable and trustworthy aesthetic chain, Wellaholic might just be the perfect fit for you. With over 2000 genuine customer reviews and testimonials, you can see for yourself why our hair removal services have won numerous awards.
Pricing of Teeth Whitening Treatments by Wellaholic
Price Transparency. Wellaholic offers pricing transparency by publishing and updating all prices on our website.
Flexible Per-Session or Unlimited Plans. Customers can choose from unlimited monthly teeth whitening plans with weekly visits for the maximum teeth whitening results, or per-session price plans.
No Price Shocks. Customers can expect to pay only for the treatments provided instead of being surprised by additional fees or charges at the end of their teeth whitening session.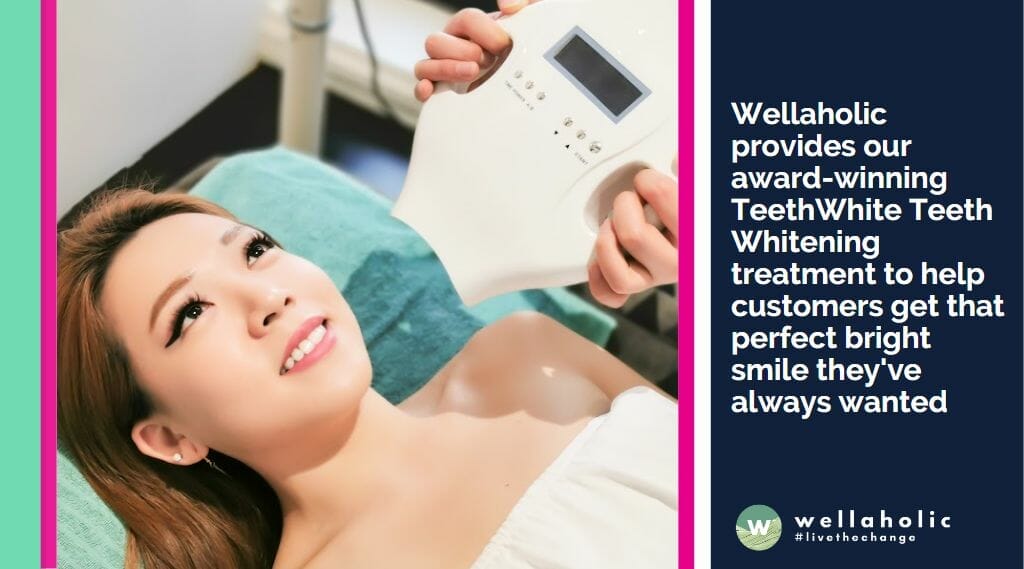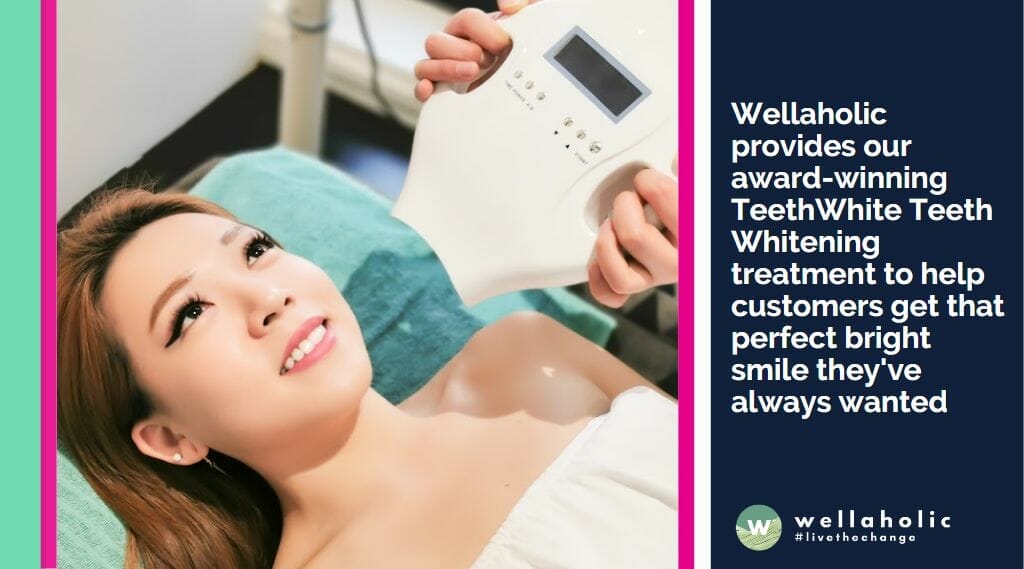 Why Wellaholic is One of the Best Teeth Whitening Providers in Singapore?
Leading Teeth Whitening Chain in Singapore. Wellaholic is a leading teeth whitening aesthetic in Singapore that is highly sought after by customers.
Quality & Safe Treatments. The company is committed to providing quality and safe treatments with experienced staff.
Professional Teeth Whitening Treatments. Wellaholic offers industrial and clinical teeth whitening treatments that can effectively whiten teeth.
Trained & Experienced Consultants. All treatments are performed by trained professionals who understand the dental needs of both female and male customers.
Advanced Teeth Whitening Technology. A 6000W industrial lamp helps catalyse the whitening agent to speed up the reaction to make the treatment more effective than teeth whitening kits.
Most Affordable Provider. Wellaholic provides competitive pricing for its treatments which makes it one of the most affordable providers in Singapore.
Here's a useful table showing the benefits and advantages of Wellaholic's TeethWhite™ teeth whitening treatment:
| Benefits | Details |
| --- | --- |
| Effective results | TeethWhite™ uses a combination of LED blue light, red light, and a 6000W industrial lamp to activate the teeth whitening gel, which helps to speed up the reaction and make the treatment more effective than teeth whitening kits. |
| Safe and gentle | TeethWhite™ is a safe and gentle method of teeth whitening that does not damage the teeth or gums. The LED lights and whitening gel do not cause any heat or discomfort, and the treatment is non-invasive. |
| Quick and convenient | TeethWhite™ is a fast and convenient treatment that can be completed in just one session, taking only 20 minutes per session. This makes it an ideal choice for people with busy schedules or those who want to see immediate results. |
| Affordable | TeethWhite™ is an affordable teeth whitening treatment compared to other professional teeth whitening methods. It is a great alternative to costly in-office treatments or at-home whitening kits. |
| Personalized treatment | The TeethWhite™ treatment is personalized to each individual's needs and preferences. The amount of whitening gel and length of the treatment can be adjusted to achieve the desired results. |
The benefits and advantages of Wellaholic's TeethWhite™ teeth whitening treatment
Reason 1: Wellaholic's Unlimited Plans Save You Lots of Money
Unlimited Teeth Whitening Plans. Wellaholic offers unlimited plans for teeth whitening which gives 4 weekly treatments at one affordable pricing.
Transparent Pricing. Wellaholic offers pricing transparency by publishing and updating all prices on our website.
Huge Cost Savings. Wellaholic's teeth whitening plans are designed to be cost-effective and affordable with no hidden costs and extra charges.
Reason 2: Wellaholic Has Over 50 Awards and 2000 Genuine Customer Reviews
Over 50 Awards. Wellaholic's treatments and services have been recognized by top beauty publications such as Daily Vanity, Beauty Insider, and Tropika Club Magazine, earning prestigious awards from 2018 to 2023.
Over 2000 Verified Customer Reviews. Wellaholic has over 2000 verified positive reviews from our customers in Singapore and beyond.
Verifiable Reviews. The reviews are verified and positive, which indicates the high level of customer satisfaction (see reviews below).
Over 50% Repeat Customers. More than 50% of Wellaholic's customers are repeat and recurring customers.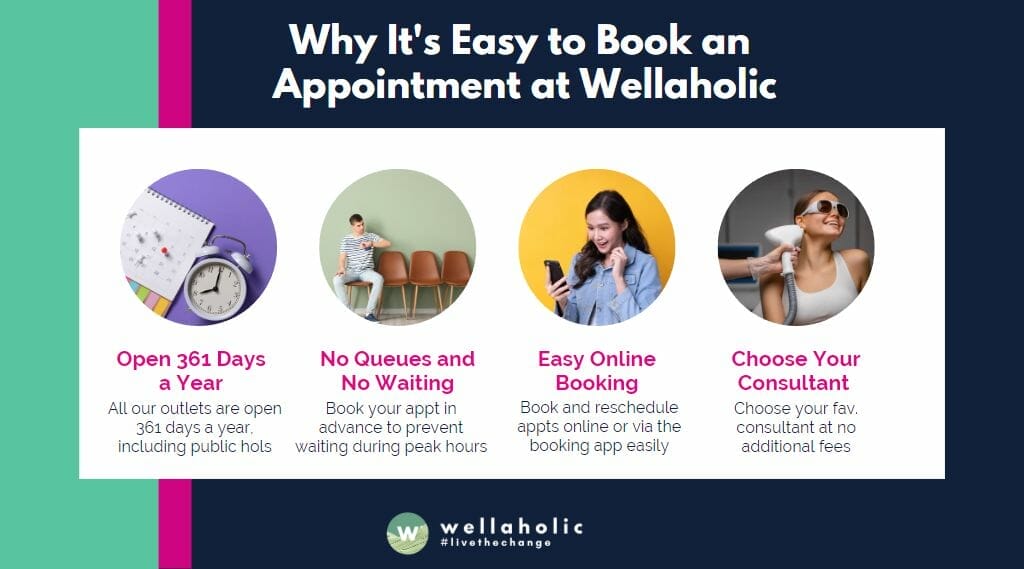 Reason 3: It's Easy to Book an Appointment at Wellaholic
Open 361 Days Per Year. Wellaholic's 8 outlets are open 361 days a year, including public holidays, so that customers can easily book an appointment.
No Queues. All appointments are booked in advanced to prevent the need to queue and wait unnecessarily during peak hours.
Easy Online Booking. Customers can conveniently book and reschedule appointments online or via the booking app.
No Extra Cost for Choosing Consultant. Customers can select their preferred consultant without having to pay any additional fees.
---