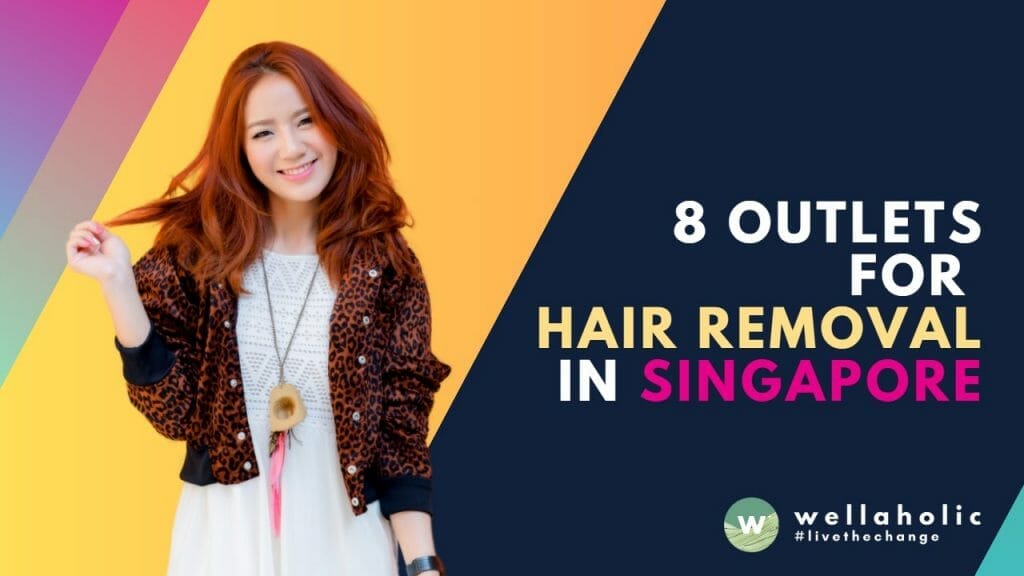 8 Outlets For Hair Removal in Singapore
TL:DR Summary
What is Wellaholic? A popular hair removal aesthetic chain in Singapore with 8 outlets and a wide range of beauty and aesthetic services.
What are the benefits of Wellaholic's hair removal services? They are suitable for all skin types and colors, fast and effective, and use advanced technologies and devices.
What is Wellaholic's pricing policy and reputation? They offer transparent pricing and no hard-selling tactics, and have over 50 awards and 2000 genuine customer reviews.
What is WellaSmooth Hair Removal? A complete hair removal package that includes unlimited SHR shots, post-treatment serum, and aftercare cream.
Where are Wellaholic's outlets for hair removal in Singapore? They are located at Lavender, Orchard, Tg Pagar, Kovan, Jurong East, Somerset, Upper Changi, and Farrer Road.
How to book an appointment with Wellaholic? Customers can book online and pay later at Wellaholic. All outlets are near MRT stations and have spacious treatment rooms.
Introduction: Wellaholic has 8 Outlets for Permanent Hair Removal in Singapore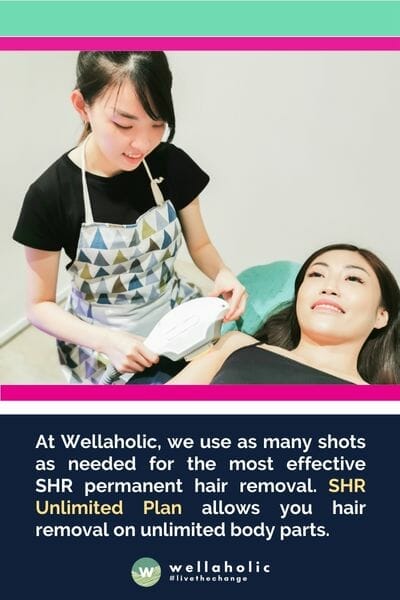 Welaholic is a popular hair removal aesthetic chain in Singapore with 8 outlets island-wide. The award-winning hair removal destination offers a wide range of beauty and aesthetic services including IPL, SHR and laser hair removal as well as other services such as technology facials, microneedling, RF vlifting, collagen boost facials. Wellaholic is also well-known for their extensive range of slimming treatments such as fat freeze and 360 fat freeze, ultrasonic fat cavitation as well as RF body sculpting. Let's find out more about Wellaholic below.
Where are Wellaholic's locations in Singapore?
Wellaholic is conveniently located at multiple convenient outlets located island-side, all within walking distance to the major MRT stations. Let's explore Wellaholic's outlets in chronological order.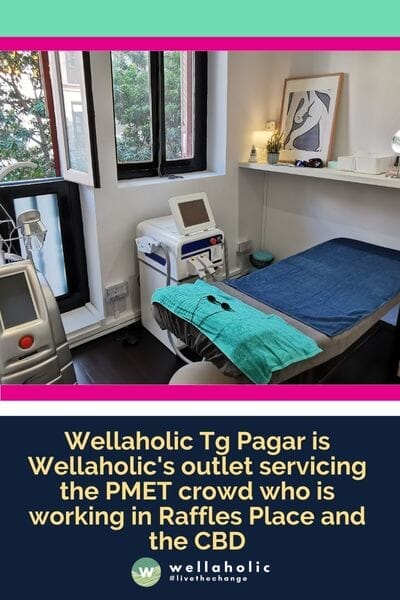 Wellaholic Lavender – Wellaholic Lavender is Wellaholic's first outlet which opened in 2016. Equipped with 4 large and 2 small treatment rooms, this outlet can provide all treatments including microneedling, Elight facials and LED cell regen facials for customers living around Lavender, King George as well as along the East West MRT line.
Wellaholic Orchard – Wellaholic Orchard is Wellaholic's satellite outlet with 3 treatment rooms to attend to customers who are heading into the Orchard and Scotts Road areas.
Wellaholic Tg Pagar – Wellaholic Tg Pagar is Wellaholic's outlet servicing the PMET crowd who is working in Raffles Place and the CBD. Wellaholic Tg Pagar is equipped with 4 spacious treatment rooms for all services including fat freezing, RF body sculpting as well as teeth whitening.
Wellaholic Kovan – Wellaholic Kovan serves customers living along the NorthEast MRT line such as Hougang, Kovan, Seng Kang and Punggol. It is equipped with 4 treatment rooms for all services including WellaSmooth and SHR Prestige Unlimited, SHR Deluxe Unlimited permanent hair removal.
Wellaholic Jurong East – Wellaholic Jurong East is Wellaholic's key outlet in the west, and serves customers living in the Jurong, Choa Chu Kang, Clementi and Boon Lay areas. It is equipped with 4 spacious treatment rooms for all services including hair removal and skin whitening treatments.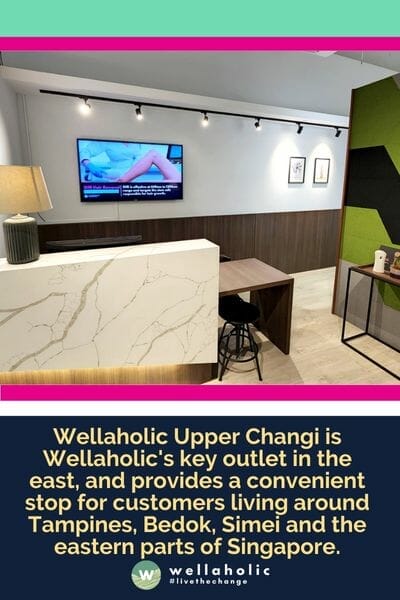 Wellaholic Somerset – Wellaholic Somerset is Wellaholic's 2nd outlet in the Orchard Road and Somerset areas. With 4 treatment rooms, Wellaholic Somerset together with Wellaholic Orchard serves customers who prefer to head to town for their aesthetic treatments.
Wellaholic Upper Changi – Wellaholic Upper Changi is Wellaholic's key outlet in the east, and provides a convenient stop for customers living around Tampines, Bedok, Simei and the eastern parts of Singapore. The outlet is located right within Upper Changi DTL MRT station and has 4 treatment rooms for all aesthetic services.
Wellaholic Farrer Road – Wellaholic's latest outlet, Wellaholic Farrer Road is located at Farrer Road MRT station along the Circle line and offers all treatments to customers living at Farrer Road, Bukit Timah, Holland Village as well as Queenstown areas.
"Say goodbye to unwanted hair and hello to smooth, beautiful skin with the best hair removal services in Singapore!"
Wellaholic Provides High Availability with Over 28 Treatment Rooms
There are many things to consider when choosing a wellness center. One important factor is the number of treatment rooms available. Wellaholic has over 28 treatment rooms, so you can be sure to get the care you need. Another important factor is the center's commitment to high availability. Wellaholic is open 24 hours a day, 7 days a week, and 361 days per year so you can always get the care you need. Also, we maintain our availability at about 50% to 70% through the use of data analytics. This is why all customers are encouraged to make advanced bookings to prevent waiting in line through walk-ins.
---
WellaSmooth™. Pay One Low Price for Hair Removal for All Body Parts with Unlimited SHR Shots
Unbeatable in Value and Quality. WellaSmooth offers a all-inclusive hair removal solution that is unbeatable in both value and quality.
One Price for All Body Parts. Pay just one low price for a complete hair removal experience for all body parts, including unlimited SHR shots.
Shaving + Hair Removal + Whitening. WellaSmooth also includes full body shaving service and post-treatment whitening/hydration to prevent hyperpigmentation.
Permanent Fuss-Free Solution. Say goodbye to the hassle of expensive and ineffective hair removal methods and trust WellaSmooth to deliver a permanent and fuss-free solution for all your hair removal needs.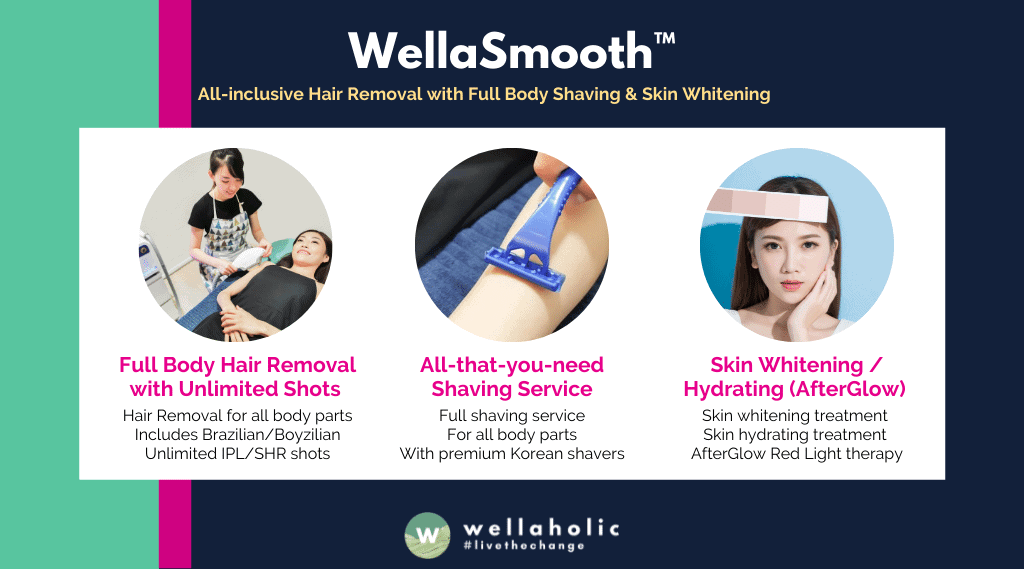 WellaSmooth™ Includes the Following 3 Hair Removal Services
SHR Permanent Hair Removal PRESTIGE Unlimited – Enjoy our bestseller SHR hair reduction treatment for all body parts
Unlimited Shaving Service – Enjoy unlimited shaving service on all body parts
Skin Whitening/Hydrating (PTT) with AfterGlow – Enjoy post-treatment whitening or hydrating therapy followed by AfterGlow red-light treatment to rejuvenate your skin


Why Choose Wellaholic WellaSmooth™?
Diode Laser Technology. Developed by Alma Lasers, SHR combines 755nm, 808nm and 1064nm laser wavelengths to target all skin types.
SHR is Better Than IPL. SHR has been shown to be more effective and less painful, particularly for individuals with Asian skin, without the discomfort associated with IPL.
Unlimited Shots. We use as many shots as needed to effectively target the hair follicles.
Award-Winning. Wellaholic's WellaSmooth and SHR Hair Removal have been recognized by top beauty publications such as Daily Vanity, Beauty Insider, and Tropika Club Magazine, earning prestigious awards from 2018 to 2023.
Ideal for All Skin and Hair Colors. WellaSmooth is perfect for individuals with any skin color or hair color.
For Men and Women. Wellaholic caters to both men and women with our team of skilled therapists, ensuring that every outlet has a diverse and inclusive environment with male and female professionals readily available to attend to your needs.
See Over 2000 Positive Reviews of Wellaholic (Customer Verifiable)
If you're looking for a reliable and trustworthy aesthetic chain, Wellaholic might just be the perfect fit for you. With over 2000 genuine customer reviews and testimonials, you can see for yourself why our hair removal services have won numerous awards.
Pricing of Hair Removal Treatments by Wellaholic
Price Transparency. Wellaholic offers pricing transparency by publishing and updating all prices on our website.
Flexible Per-Session or Unlimited Plans. Customers can choose from unlimited monthly hair removal plans with unlimited SHR hair removal shots for all body parts, or per-session hair removal price plans.
Mix and Match Easily. Wellaholic's hair removal prices are divided into different categories for easy selection.
No Price Shocks. Customers can expect to pay only for the treatments provided instead of being surprised by additional fees or charges at the end of their hair removal session.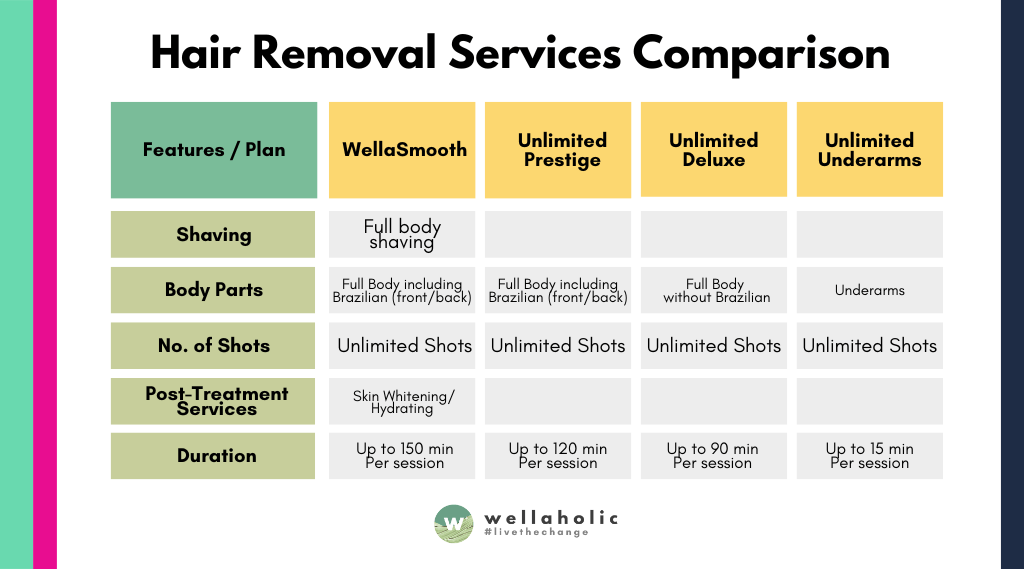 ---
Why Wellaholic is One of the Best Hair Removal Providers in Singapore?
Leading Hair Removal Chain in Singapore. Wellaholic is a leading hair removal company in Singapore that is highly sought after by customers.
Quality & Safe Treatments. The company is committed to providing quality and safe treatments with experienced staff.
Wide Range of Hair Removal Treatments. Wellaholic offers a wide range of laser hair removal treatments for various body parts including Brazilian & Bikini, Underarm, Arms, Back & Shoulder Hair Removal, and Leg Hair Removal.
Trained & Experienced Consultants. All treatments are performed by trained professionals who understand the skincare needs of both female and male customers.
Advanced SHR Technology. Advanced SHR technology is used to ensure a safe experience with no downtime or discomfort during the entire process.
Most Affordable Provider. Wellaholic provides competitive pricing for its treatments which makes it one of the most affordable providers in Singapore.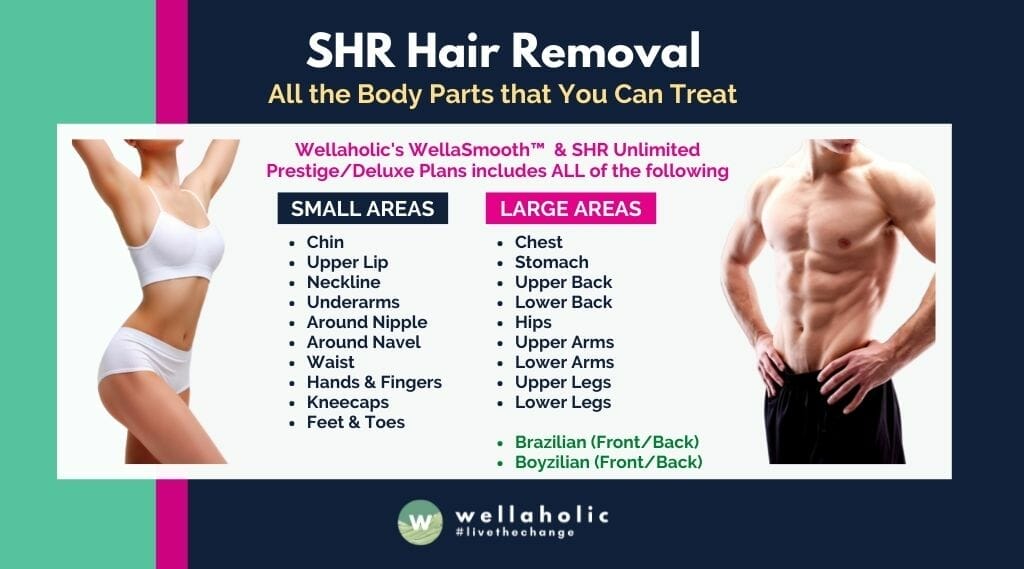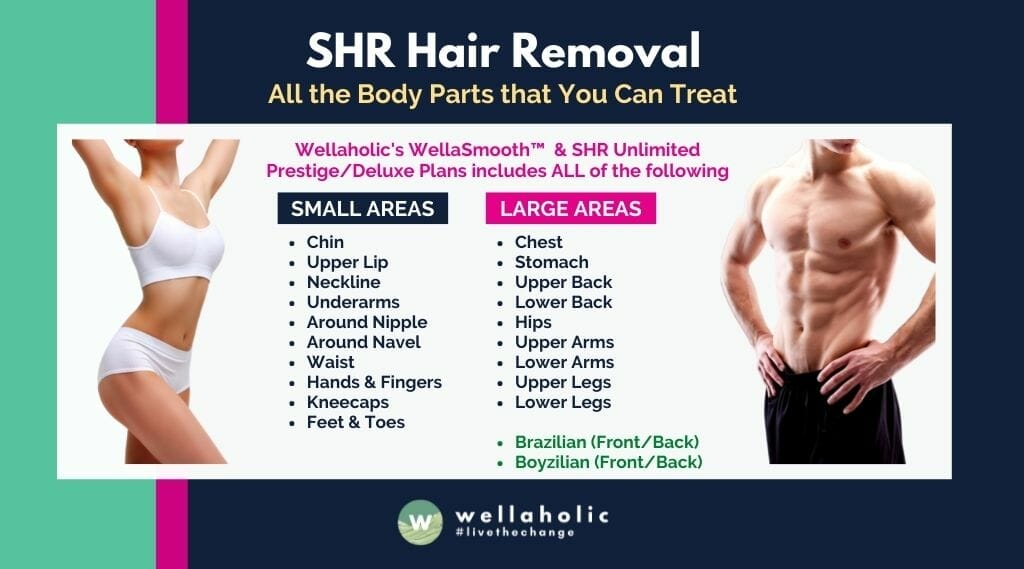 Reason 1: Wellaholic's Unlimited Plans Save You Lots of Money
Unlimited Hair Removal Plans. Wellaholic offers unlimited plans for permanent hair removal with unlimited shots.
Pay One Price for All Body Parts. Customers pay one nett price for hair removal on all body parts, including chin, lips, underarms, back, chest, stomach, legs, and private regions (both front and back).
Huge Cost Savings. With the unlimited plan, there are no separate fees for hair removal on different body parts, leading to huge cost savings.
Reason 2: Wellaholic Has Over 50 Awards and 2000 Genuine Customer Reviews
Over 50 Awards. Wellaholic's WellaSmooth and SHR Hair Removal have been recognized by top beauty publications such as Daily Vanity, Beauty Insider, and Tropika Club Magazine, earning prestigious awards from 2018 to 2023.
Over 2000 Verified Customer Reviews. Wellaholic has over 2000 verified positive reviews from our customers in Singapore and beyond.
Verifiable Reviews. The reviews are verified and positive, which indicates the high level of customer satisfaction (see reviews below).
Over 50% Repeat Customers. More than 50% of Wellaholic's customers are repeat and recurring customers.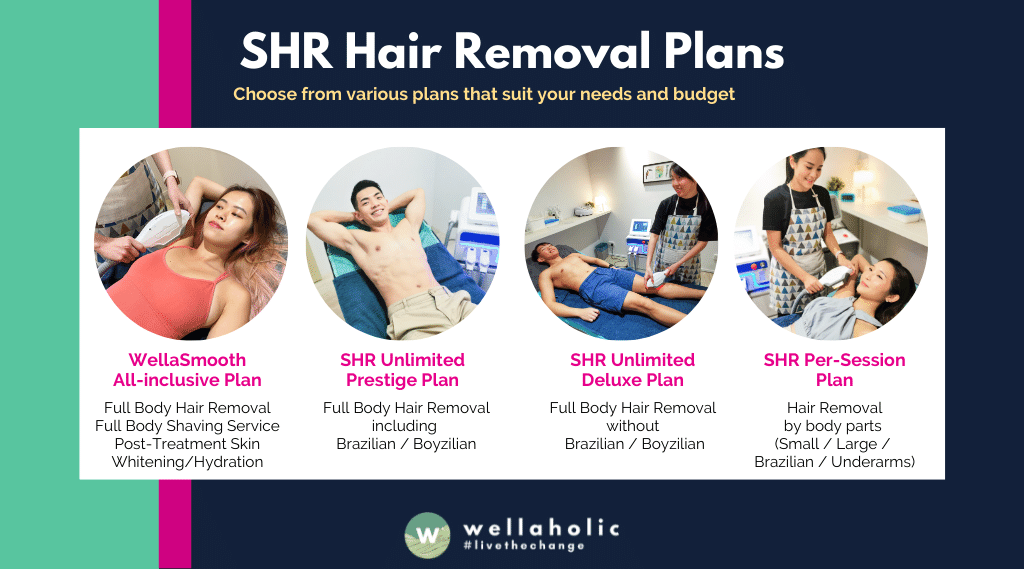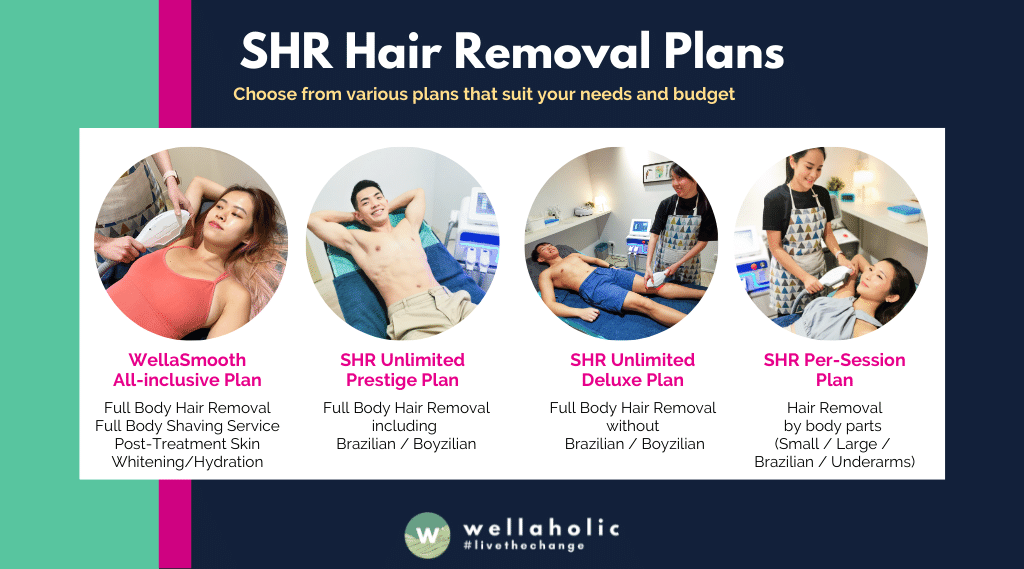 Reason 3: It's Easy to Book an Appointment at Wellaholic
Open 361 Days Per Year. Wellaholic's 8 outlets are open 361 days a year, including public holidays, so that customers can easily book an appointment.
No Queues. All appointments are booked in advanced to prevent the need to queue and wait unnecessarily during peak hours.
Easy Online Booking. Customers can conveniently book and reschedule appointments online or via the booking app.
No Extra Cost for Choosing Consultant. Customers can select their preferred consultant without having to pay any additional fees.
---
---