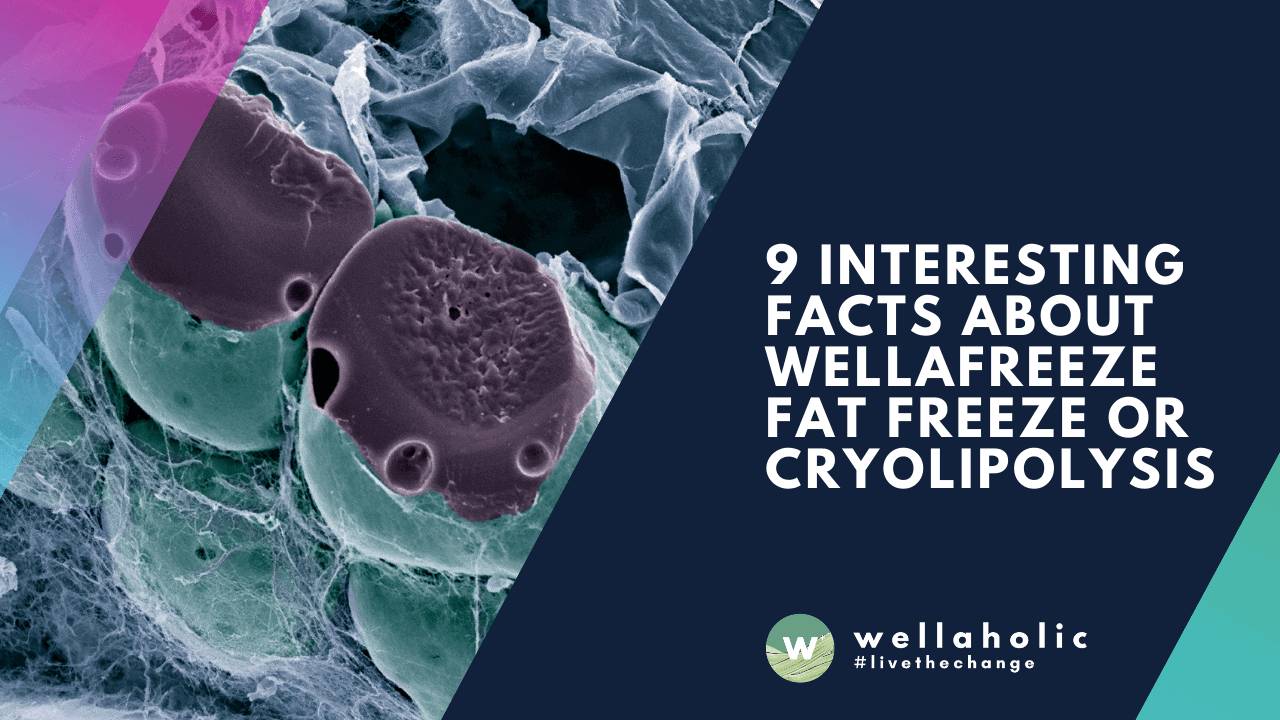 9 Interesting Facts about WellaFreeze Fat Freeze or Cryolipolysis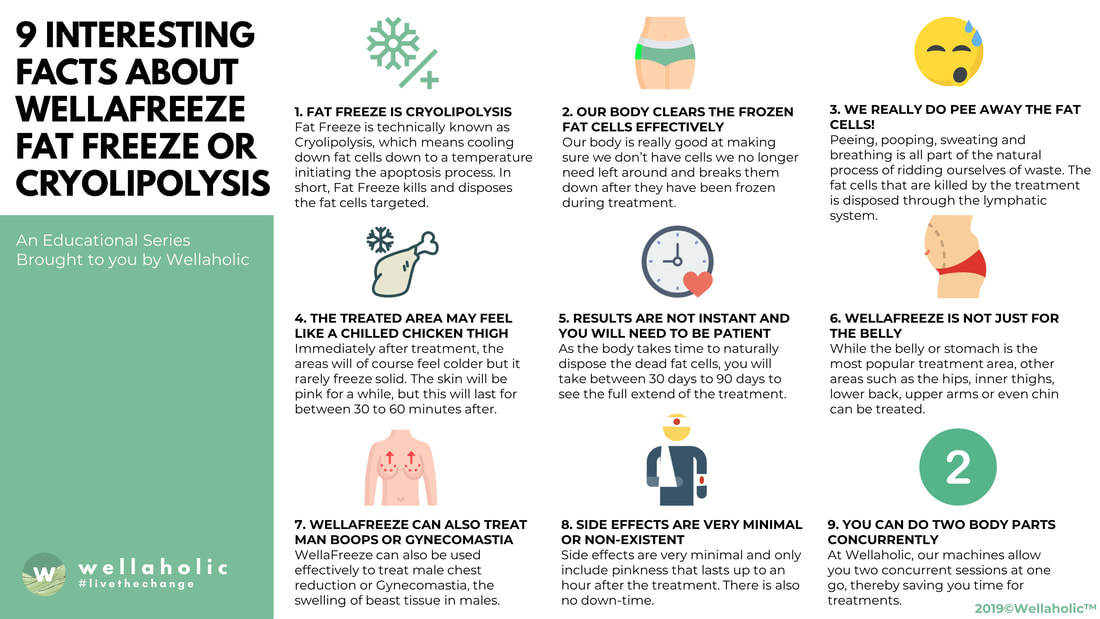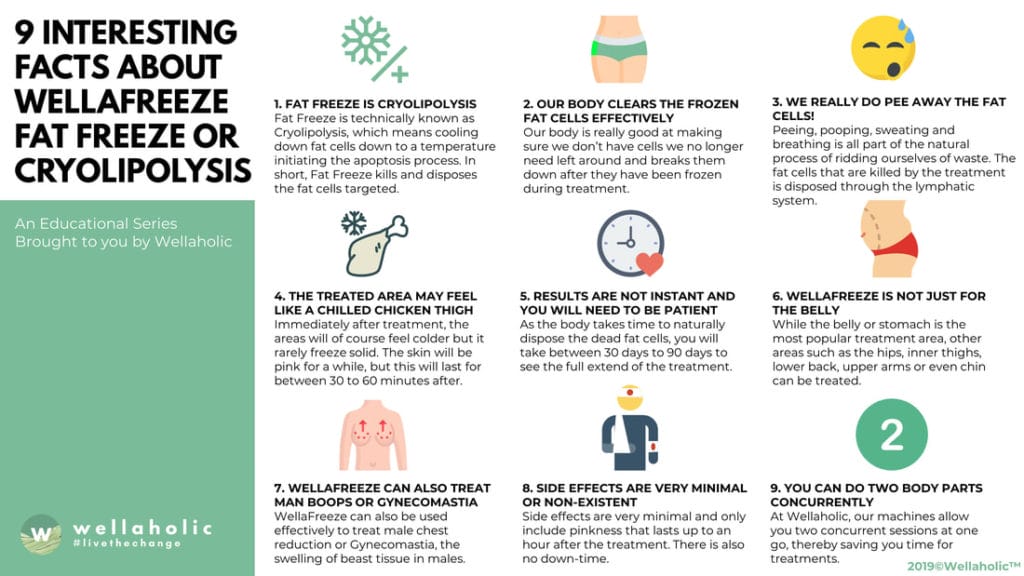 TL:DR Summary
Wellafreeze is a fat freeze or cryolipolysis treatment by Wellaholic. It uses cold temperatures to freeze and destroy fat cells without harming the skin or other tissues.
Wellafreeze is based on a scientific discovery by Harvard researchers. They found that fat cells are more sensitive to cold than other cells and can be eliminated by controlled cooling.
Wellafreeze can target stubborn fat pockets that are resistant to diet and exercise. It can treat areas such as the abdomen, flanks, thighs, arms, chin and bra fat.
Wellafreeze is a non-invasive and painless procedure. It involves placing a vacuum applicator on the treatment area and cooling it for 45 to 60 minutes.
Wellafreeze results are not immediate but gradual and natural. It can take up to 3 months to see the full effects and individual results may vary depending on various factors.
Wellafreeze can provide permanent fat reduction and improve body contour. It can eliminate up to 25% of fat cells in the treated area and enhance the appearance and confidence.
1. Fat Freeze is Cryolipolysis
Fat Freeze is technically known as Cryolipolysis, which means cooling down fat cells down to a temperature initiating the apoptosis process. It also goes by the term Coolsculpting Singapore. In short, Fat Freeze kills and disposes the fat cells targeted. This fat freezing treatment is a non-surgical fat reduction procedure that uses low temperatures to reduce fat deposits in certain areas of the body. During the procedure, the practitioner vacuums the skin above the area of fatty tissue into an applicator that cools the fat cells. The cold temperatures numb the area, and some people report feeling a cooling sensation.
"Freezing fat may sound like science fiction, but it's real! Discover 9 interesting facts about this revolutionary technology and unlock a whole new world of possibilities."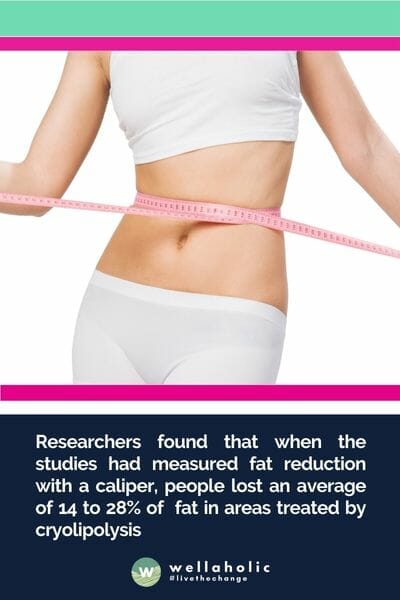 2. Our Body Clears the Frozen Fat Cells Effectively
Our body is really good at making sure we don't have cells we no longer need left around and breaks them down after they have been frozen during treatment. A 2015 review Trusted Source published in Plastic and Reconstructive Surgery analysed 19 previous studies of cryolipolysis.
Researchers found that when the studies had measured fat reduction with a caliper, which is a tool similar to a ruler, people lost an average of 14.67 to 28.5 percent of the fat in areas treated by cryolipolysis. When the studies measured the fat reduction with ultrasound, people with body contours lost 10.3 percent to 25.5 percent of fat.
3. We Really Do Pee Away the Fat cells!
Overview of Fat Freezing and Waste Disposal. Fat freezing is a non-invasive cosmetic treatment that can help reduce stubborn fat in certain areas of the body. In this section, we will discuss how the body disposes of the dead fat cells and any associated health risks.
Natural Waste Disposal Process. Peeing, pooping, sweating, and breathing are all part of the body's natural process of ridding itself of waste. Dead fat cells that are killed during the fat freezing treatment are disposed of through the lymphatic system.
No Major Health Risks. There are no major health risk factors associated with fat freezing treatment. Studies have shown no reduction in liver function or lipid levels, indicating that WellaFreeze fat freezing is purely a cosmetic procedure. This means that patients can undergo the treatment with confidence, knowing that there are no significant health risks involved.
4. The Treated Area May Feel Like a Chilled Chicken Thigh
Immediately after treatment, the areas will of course feel colder but it rarely freeze solid. The skin will be pink for a while, but this will last for between 30 to 60 minutes after. ​Most cryolipolysis procedures take around an hour. There is no recovery time because there is no damage to the skin or tissue. Some people report soreness at the site of fat freeze, similar to that they might have after an intense workout or minor muscle injury.
After the procedure, it may take around 4–6 months for the fat cells to leave the body. In that time, the area of fat will decrease by an average of 20 percent.
5. Results are not Instant and You will Need to Be Patient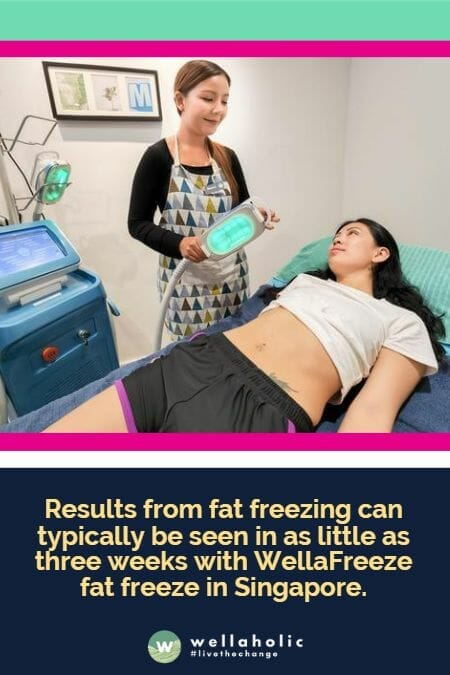 Overview of Fat Freezing Results. Fat freezing is a non-invasive cosmetic treatment that can help reduce stubborn fat in certain areas of the body. In this section, we will discuss the timeline for seeing results from fat freezing and how to optimize those results.
Timeline for Seeing Results. Results from fat freezing can typically be seen in as little as three weeks with WellaFreeze fat freeze in Singapore. However, it can take up to 90 days to see the full extent of the treatment as the body takes time to naturally dispose of the dead fat cells.
Tips for Improving Fat Freezing Results. Maintaining a healthy lifestyle and exercising regularly can help optimize the results achieved from fat freezing. In addition, massaging the treated area for five minutes after treatment can improve fat reduction by up to 68 percent after the initial two months. Drinking more water may also help improve results, as it can help flush out dead cells more efficiently. It is important to pay attention to your diet and avoid falling back into old habits to achieve satisfying results.
6. Fat Freezing is Not Just for the Belly
Overview of Fat Freezing Treatment Areas. Fat freezing is a non-invasive cosmetic treatment that can help reduce stubborn fat in certain areas of the body. In this section, we will discuss the different areas of the body that are ideal for fat freezing treatment.
Common Fat Freezing Treatment Areas. While the belly or stomach is the most popular treatment area for fat freezing, other areas of the body can also be treated. These include the hips, inner thighs, lower back, upper arms, and even the chin.
Belly/Stomach Fat Freezing Treatment. The abdominal area is the most common area treated with Cryolipolysis (Fat Freezing). Stubborn fat can accumulate in both men and women of all ages, even with regular exercise and diet. This can be disheartening, but fat freezing is one of the best body areas for Cryolipolysis treatment. It can help clients achieve flatter stomachs and boost body confidence in all genders and ages.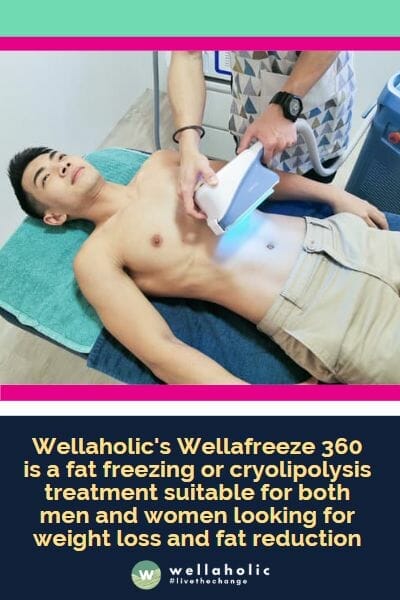 7. Fat Freeze can Also Treat Man Boops or Gynecomastia
Overview of Gynecomastia. Gynecomastia, also known as "man boobs," is a condition in which males experience swelling of breast tissue. In this section, we will discuss the cause and prevalence of gynecomastia.
Causes of Gynecomastia. Gynecomastia is often the result of a hormone imbalance, specifically when a man's ratio of estrogen to testosterone shifts too far to the female side. This hormonal imbalance can be caused by a variety of factors, such as puberty, aging, medication use, or health conditions.
Fat Freezing Treatment for Gynecomastia. WellaFreeze can effectively treat gynecomastia by reducing the excess fat in the chest area. This non-invasive treatment is a safe and effective alternative to surgery and can help men achieve a flatter, more masculine chest appearance.
8. Side Effects from Fat Freeze are Very Minimal or Non-existent
Overview of Fat Freezing Side Effects. Fat freezing is a non-invasive cosmetic treatment that can help reduce stubborn fat in certain areas of the body. In this section, we will discuss the side effects associated with fat freezing treatment.
Minimal Side Effects of Fat Freezing. Side effects of fat freezing treatment are very minimal and typically only include pinkness that lasts up to an hour after the treatment. There is also no downtime required.
Common Side Effects During and After Treatment. The most common side effect during treatment is a tugging sensation, which most people tolerate without pain. After treatment, side effects are minimal, and most patients will experience a little bit of redness, bruising, minor swelling, sensitivity, and numbness in the treated area. These side effects are typically mild and subside on their own within a few days.
9. You can do Two or More Body Parts Concurrently with Fat Freeze
Overview of Fat Freeze Treatment at Wellaholic. Fat freezing is a non-invasive cosmetic treatment that can help reduce stubborn fat in certain areas of the body. In this section, we will discuss the benefits of fat freezing treatment at Wellaholic.
Concurrent Sessions for Fat Freeze Treatment. At Wellaholic, our fat freeze machines allow you to have two concurrent sessions at one go, which can save you time during treatments. This is particularly useful if you plan to treat both the left and right side of your body, such as targeting your left and right love handles or thighs.
Time-Saving Benefits of Concurrent Sessions. By having two concurrent sessions at once, you can save time over the course of repeated treatments. This can help make your fat freezing treatment more efficient and convenient, allowing you to achieve your desired results faster.
---

What is WellaFreeze™ 360 Advanced Fat Freezing?
⭐ WellaFreeze™ 360 Fat Freezing is the latest innovation in fat freezing. It uses a newer Cryolipolysis model over the traditional WellaFreeze cryolipolysis machine.
⭐ WellaFreeze™ 360 Fat Freezing helps target the stubborn fat and cellulite areas of your body that do not react well to exercise and dieting.
⭐ WellaFreeze™ 360 Fat Freezing "dissolves" fat cells controlled cooling at sub-zero temperatures.
⭐ WellaFreeze™ 360 Fat Freezing with its newer technology can remove between 17% to 34% of subcutaneous fat from each session.
⭐ WellaFreeze™ 360 Fat Freezing can treat up to 4 body parts concurrently.
⭐ WellaFreeze™ 360 Fat Freezing takes only 30 minutes per session, due to increased freezing efficiency.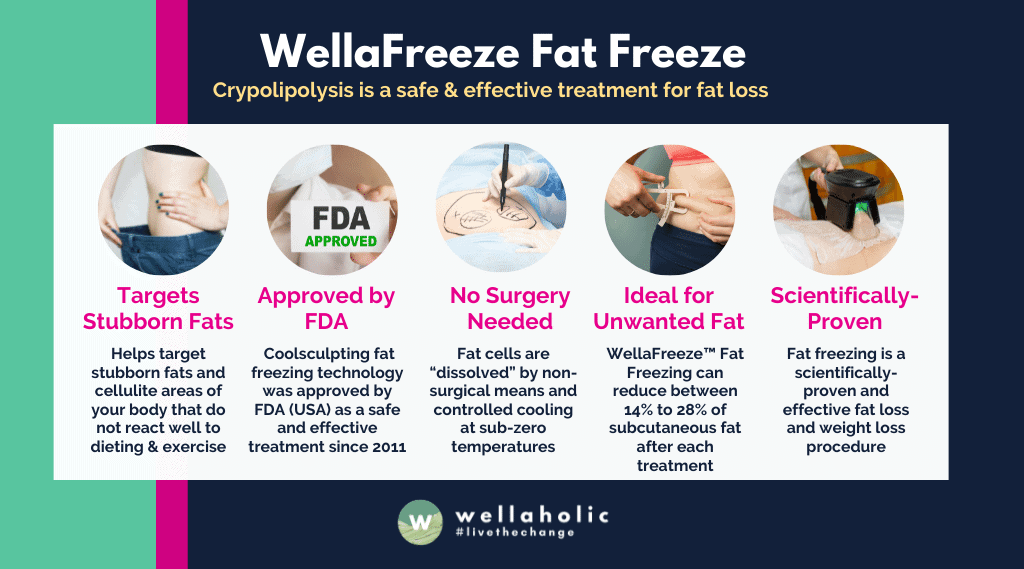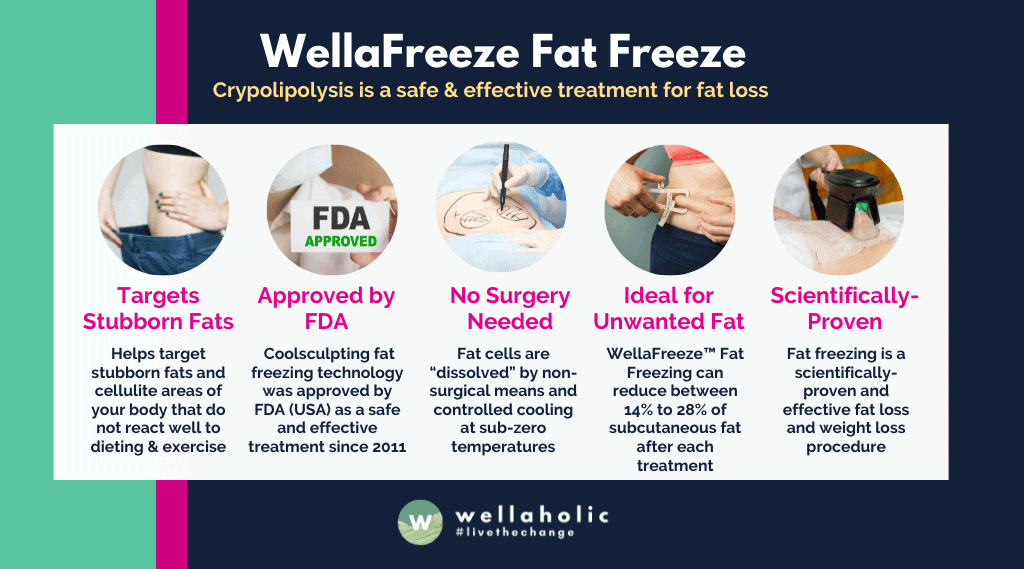 WellaFreeze™ 360 uses 360 probes which can freeze and reduce up to 34% of body fat per session with no or minimal bruising to the body.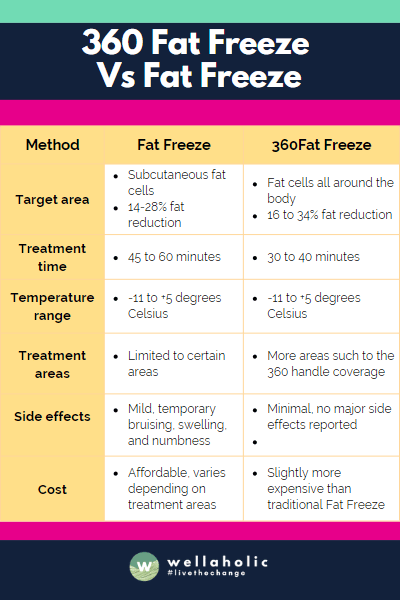 Why Choose WellaFreeze™ 360 Advanced Fat Freeze?
⭐ Latest 4th Generation Freezing. WellaFreeze™ 360 advanced fat freezing uses the latest fat freeze technology and is designed for customers who wants to achieve highest fat reduction with fat freezing.
⭐ Up to 34% Fat Loss Each Session. Increase in percentage of fat loss due to newer technology and coverage.
⭐ 360° Surround Cooling Technology. The handles or cooling cups can be adjusted to fit all body curves and contouring for best freezing.
⭐ Breathing Technology Reduces Bruising. "Breathing" technology improves freeze while minimising bruising from the suction.
⭐ Shorter Time Needed. Each duration is reduced from typical 60 minutes to just 30 minutes.
WellaFreeze™ Fat Freezing Can Target the Following Body Parts
Stomach / Belly / Tummy / Abdomen
Love Handles / Flanks
Under the Neck / Double Chin
Back / Bra Area
Thighs
Male Chest (Pseudo gynecomastia)
Arms
Under Buttocks (Banana Roll)
Pricing of Body Shaping Treatments by Wellaholic
💎 Price Transparency. Wellaholic offers pricing transparency by publishing and updating all prices on our website.
💎 Flexible Per-Session or Unlimited Plans. Customers can choose from unlimited monthly or per-session slimming price plans.
💎 Mix and Match Easily. Wellaholic's slimming prices are divided into different categories for easy selection.
💎 No Price Shocks. Customers can expect to pay only for the treatments provided instead of being surprised by additional fees or charges at the end of their slimming session.
GET IN TOUCH
Book Now Pay Later
Why Wellaholic is One of the Best Body Shaping Treatment Providers in Singapore?
✅ Leading Body Shaping Chain in Singapore. Wellaholic is a leading slimming and body shaping chain in Singapore that is highly sought after by customers.
✅ Quality & Safe Treatments. The company is committed to providing quality and safe treatments with experienced staff.
✅ Wide Range of Body Contouring Treatments. Wellaholic offers a wide range of slimming and body shaping treatments for various body parts including chin, upper arms, front armpit fat, bra line, gynecomastia, back, upper abdomen, lower abdomen, love handles, underbutt, thighs and knees.
✅ Trained & Experienced Consultants. All treatments are performed by trained professionals who understand the skincare needs of both female and male customers.
✅ Advanced Body Shaping Technology. Advanced slimming technologies such as ultrasound, Cryolipolysis, radio frequency and cold wave lasers are used to ensure a safe experience with no downtime or discomfort during the entire process.
✅ Most Affordable Provider. Wellaholic provides competitive pricing for its treatments which makes it one of the most affordable providers in Singapore.
Reason 1: Wellaholic Offers Comprehensive Slimming & Body Shaping Services and Expertise at Affordable Prices
Wellaholic provides a variety of body-sculpting treatments to help you manage fat effectively. See the table below for a quick guide to our services and how they align with your slimming goals. Many clients opt for a combination of treatments for optimal results.
Slimming Treatment
Features
Ideal For Customers Who
WellaShape™ 3X Total Plan
Choose from any 3 body contouring treatments: burn fat, tone body or build muscle
– Want quick results
– Want to combine 3 treatments at a great discount
WellaFreeze™ 360
Latest fat freeze technology with 360 handle coverage
– Want up to 34% fat loss
– Want less bruising
WellaFreeze™
Original fat freeze technology with 2 freeze plates
– Want to try fat freezing for first time
WellaCavi™
Ultrasound fat cavitation to vibrate and burst the fat deposits
– Want to target fat that is less "pinchable"
WellaLipo™
Laser lipo which uses cold wave lasers to eliminate fat with no downtime
– Want to shrink fat cells in conjunction with other treatments
WellaMuscle™
HIFEM energy which causes muscle contraction to build muscle and sculpt body
– Want to build muscle
– Want to sculpt body
WellaSculpt™
Advanced RF energy to tighten loose skin
– Want to get rid of loose skin
– Want to tone the body
WellaSoothe™
HIFEM energy for effective ache and pain relief
– Want to relieve aches & pains
– Want to loosen tense muscles
Stretch Mark Microneedling
Remove appearance of stretch marks using multiple micro-needles
– Want to remove the appearance of stretch marks (fat loss / pregnancy)
Comparison Between Wellaholic's Various Body Shaping and Slimming Services
Reason 2: Wellaholic Has Over 50 Awards and 2000 Genuine Customer Reviews
✅ Over 50 Awards. Wellaholic's WellaSmooth and SHR Hair Removal have been recognized by top beauty publications such as Daily Vanity, Beauty Insider, and Tropika Club Magazine, earning prestigious awards from 2018 to 2023.
✅ Over 2000 Verified Customer Reviews. Wellaholic has over 2000 verified positive reviews from our customers in Singapore and beyond.
✅ Verifiable Reviews. The reviews are verified and positive, which indicates the high level of customer satisfaction (see reviews below).
✅ Over 50% Repeat Customers. More than 50% of Wellaholic's customers are repeat and recurring customers.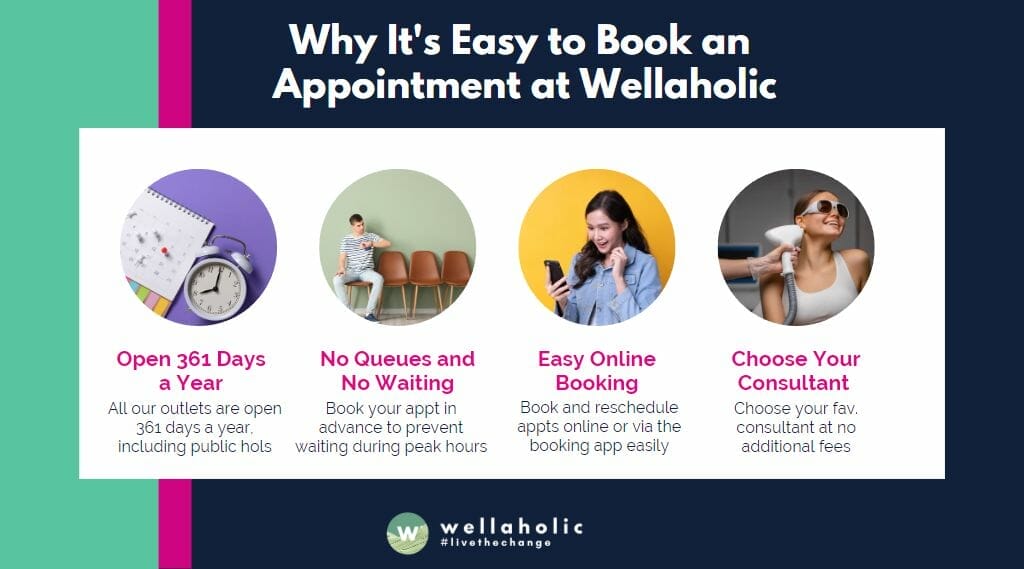 Reason 3: It's Easy to Book an Appointment at Wellaholic
✅ Open 361 Days Per Year. Wellaholic's 8 outlets are open 361 days a year, including public holidays, so that customers can easily book an appointment.
✅ No Queues. All appointments are booked in advanced to prevent the need to queue and wait unnecessarily during peak hours.
✅ Easy Online Booking. Customers can conveniently book and reschedule appointments online or via the booking app.
✅ No Extra Cost for Choosing Consultant. Customers can select their preferred consultant without having to pay any additional fees.