Don't believe the hype: An honest ultrasonic cavitation review
---
Introduction
If you're considering getting ultrasonic cavitation treatment as part of your slimming objective for weight management or fat loss, it's important to do your research before making a decision. There are many claims made about the benefits of this slimming treatment, but not all of them are true. In this article, we'll give you an honest review of ultrasonic cavitation so you can decide if it's right for you.
---
What is Ultrasonic Cavitation?
Ultrasonic cavitation is a process where high frequency sound waves are used to create cavities in a liquid. The cavities are created by the collapse of bubbles that are formed when the sound waves interact with the liquid. The ultrasonic waves can reach very high temperatures and pressures, which can be used to break down molecules and create new products. Ultrasonic cavitation is used in a variety of industries, including medical, food processing, and water treatment.
The myths: What the Ultrasonic Cavitation treatment can't do
Ultrasonic cavitation works best on parts with localized fat. Such areas include the abdomen, flanks, thighs, hips, and upper arms. This procedure cannot be performed on body parts like the head, neck, and other bony areas of the body.
What are the contraindications with ultrasonic cavitation? Individuals with acute or contagious disease, HIV, a history of cancer, kidney failure, liver failure, fatty liver, implant devices such as pacemakers or electrical prosthesis, epilepsy or MS should not undergo ultrasound cavitation non-surgical "liposuction" or any ultrasonic treatment for fat deposition.
---
The reality: what the Ultrasonic Cavitation treatment can do?
A safe and pain-free way of removing excess fat, Ultrasonic Fat Cavitation is highly effective in reducing fat in stubborn areas such as:
Hips
Thighs
Stomach
Lovehandles
Buttocks
While it's not a quick fix, this body sculpting method has other advantages. Each ultrasonic cavitation session is relatively quick: it takes about an hour for your provider to glide the cavitation machine's handheld probe over the desired area, delivering low-frequency sound waves or ultrasonic energy that "vibrate" the walls of the fat cells until they burst and turn into free fatty acids the body can expel.
One reason that Ultrasonic Cavitation is highly effective for reducing stomach fat is because it's so targeted, just like a lymphatic massage to promote blood circulation. It's a great spot treatment for any area of the body with pockets of fat, like the belly. You will notice immediate results after your first treatment or session.
How does Ultrasonic Cavitation work?
Ultrasound cavitation is sometimes billed as an alternative to liposuction. It is anther unique way of liposuction to remove excess fat from the body. However, keep in mind that it only works in certain areas, and you won't see overnight results. Be patient, because you'll see your best results weeks or months after treatment.
The results will also vary based on your health history, body type, and other unique factors. These factors affect not only the results you see but how long they'll last. You may observe results after just a single procedure, but most people will need a combination of treatments before achieving their goals.
---
Is Ultrasonic Cavitation right for me?
Losing weight with fat cavitation isn't as simple as just stepping into an office and getting the procedure done. You'll need to commit to keeping your side of the deal so you can get good results. This includes eating healthy, drinking plenty of water, and exercising regularly before and after your treatments. The more water you consume, the easier it becomes for your body to remove fatty acids that your fat cells turn into.
It's important to not try to cut corners on the cost of this procedure. If you opt for the cheapest clinic, you probably won't get the best results. As with all things, you get what you pay for.
Fortunately, at Wellaholic, we offer Ultrasonic Cavi 360, at just S$179 for a session targeting 2 body parts. This makes it affordable for you to undergo regular Ultrasonic Cavitation treatments.
Can I do too Much Ultrasonic Cavitation?
Ultrasonic fat cavitation is a popular cosmetic treatment that uses ultrasound waves to break down fat cells. But can you do too much of it?
Some experts say that ultrasonic fat cavitation is safe and effective when used as directed. But others warn that too much ultrasonic fat cavitation can lead to side effects like skin irritation, bruising, and numbness. The ultrasound is harmless to your skin and does not affect blood vessels, nerves, or connective tissues. It is a very safe treatment and can be used up to ten times a week. The only side effects that you may experience are redness, swelling, bruising, or welting.
If you're considering ultrasonic fat cavitation, talk to your doctor or a certified aesthetician first. They can help you determine if the treatment is right for you and how often you should have it done. At Wellaholic, we recommend a recovery time of at least two to four weeks before repeat the same ultrasonic slimming treatment for the same specific area again.
What Else Do I Need to Know about Ultrasonic Cavitation?
First, it's important to understand that much like any medical or aesthetic procedure, there is some risk involved. The most common risks associated with ultrasonic cavitation include skin irritation and burns due to overheating of the treated area. Additionally, patients may experience temporary discomfort during the treatment as each cell disruption creates a pressure wave in the body.
It's also important to note that while ultrasound cavitation has proven effective at reducing localized fat deposits, results may not be evident immediately following treatment and can take several weeks or even months before they become visible. But if you persist, you will certainly see results!!
---
Ultrasonic Cavitation Fat Reduction by Wellaholic
Wellaholic's Ultrasonic Cavi 360 Fat Reduction Treatment uses ultrasound fat cavitation to break apart the fat deposits in your body. Also known as ultrasonic lipolysis, this body contouring treatment is also known by other names such as Ultrashape or Liponix.
What is Ultrasonic Cavitation 360 Fat Reduction?
Ultrasonic Cavi 360 uses ultrasound cavitation technology to break down fat deposits in body.
Patients can see immediate result and will continue to see results in reduction of fat over a few weeks.
Ultrasonic Cavi 360 is a much safer alternative to other surgical options such as liposuction.
This fat cavitation treatment is ideal for targeting small areas of fat for better body contouring and sculpting.
Ultrasonic Cavi 360 works well on upper arms, belly, love handles, thighs, and back—where fat cells accumulate.
The consultant will glide the cavitation machine's handheld probe over the desired area, delivering low-frequency sound waves.
The wave will "vibrate" the walls of the fat cells until they burst and turn into free fatty acids the body can expel.
Ultrasonic Cavi 360 works extremely well with WellaFreeze and WellaSculpt to accelerate fat disposal via the lymphatic system.
Ultrasonic Cavitation actually destroys fat cells by causing the fat cells the implode. The fat cells are permanently destroyed, making Ultrasonic Cavitation a safe, painless and effective treatment.
Am I Ideal for Ultrasonic Cavitation Fat Reduction Treatments?
Ideal candidate for Ultrasonic Cavi 360 should be in good general health.
Should be a casual smoker or not be smoking at all. 
Ideally within 8kg of target or optimal weight. 
Patients who have more than mild excess fat in areas to be treated tend to see less improvements from one treatment.
In this case, multiple treatments are needed to see great results. 
See Over 1800 Positive Reviews of Wellaholic (Customer Verifiable)
Pricing of Slimming Treatments by Wellaholic
Wellaholic believes in providing pricing transparency, and hence all prices are published and updated on its website. Choose from a single-session plan or choose a multi-session plan for greater discounts. Wellaholic's slimming treatmentes are generally divided into the following categories: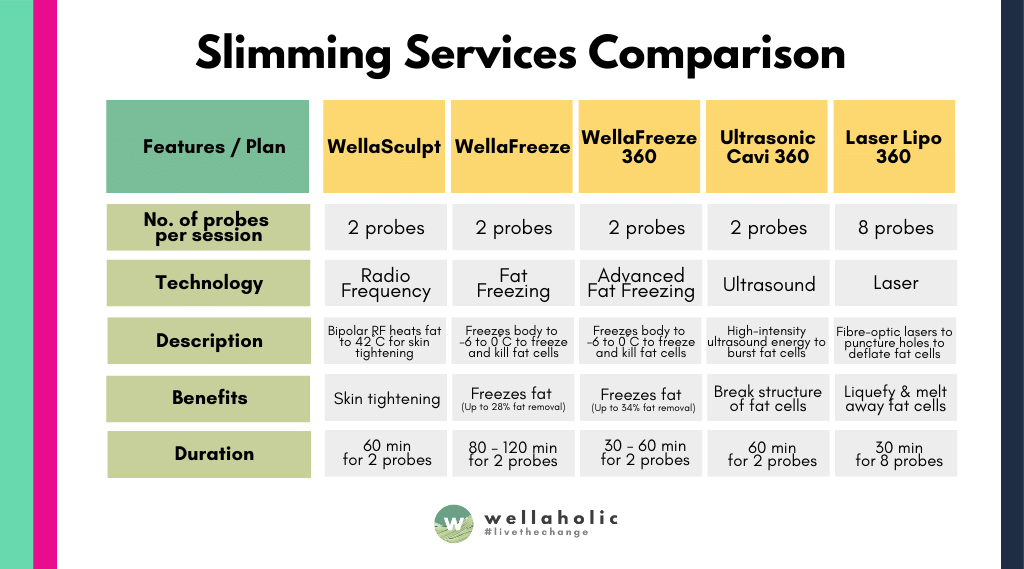 Please click on the menu below to see the pricing for the various slimming treatments by Wellaholic. Prices are nett and inclusive of GST.
---
---