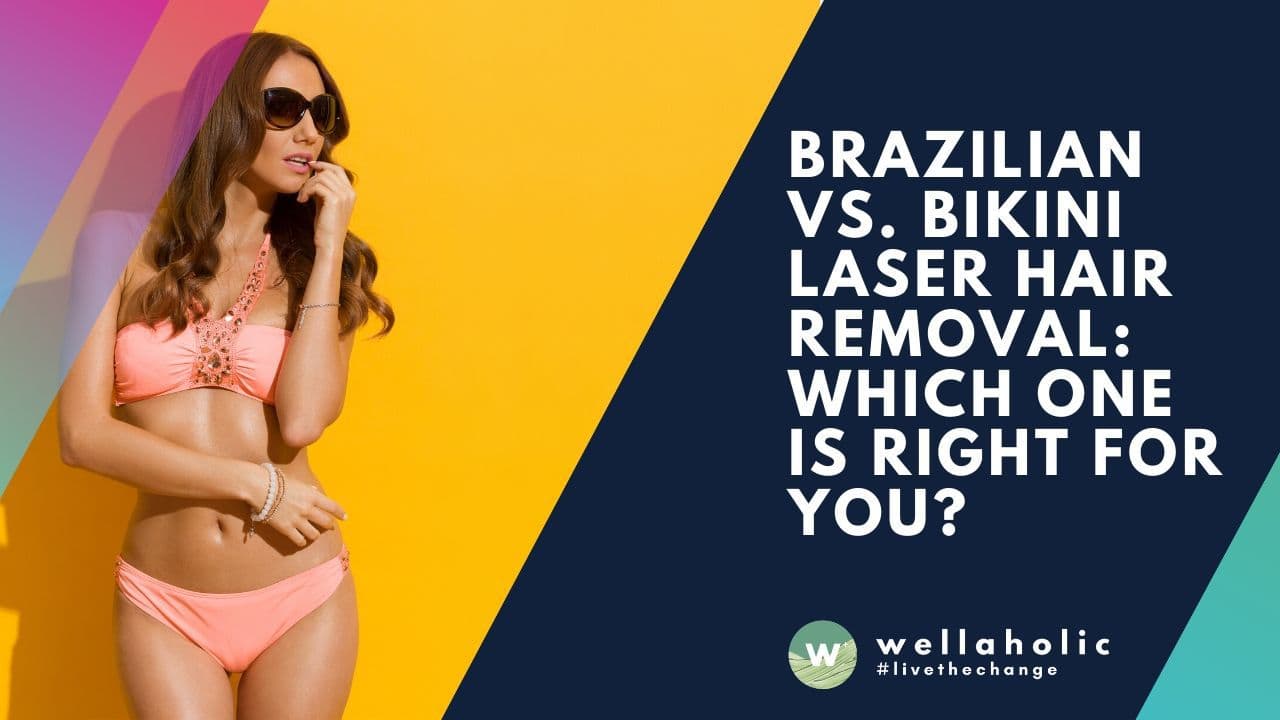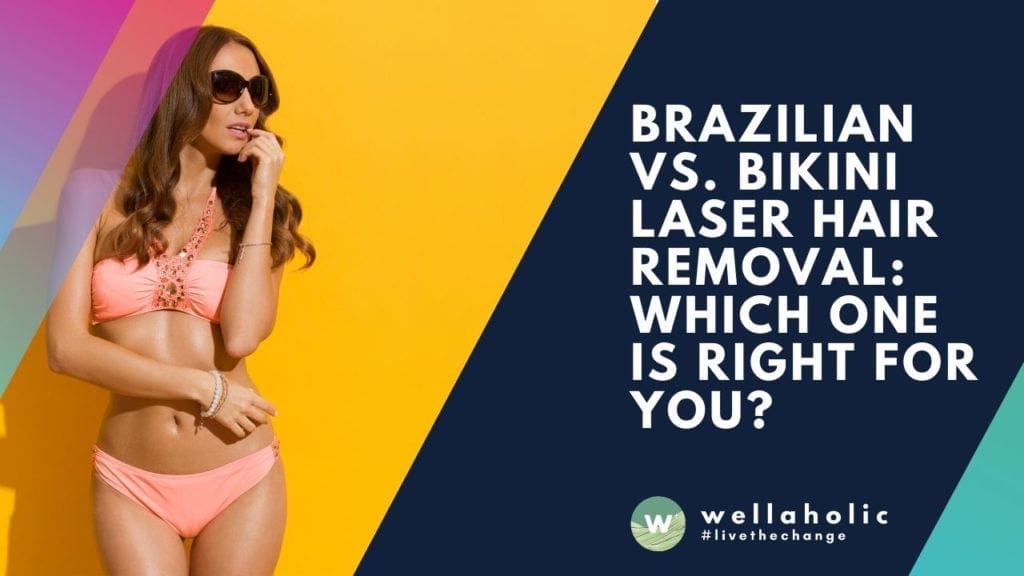 Brazilian vs Bikini Laser Hair Removal – Which one is right for you?
Introduction
It seems that, no matter how often we get a wax in Singapore or when we last shaved, the area never quite has a smooth, flawless appearance. Whether razor burn, ingrown hairs, or stubble growing back from the morning's shave cause the flaws, they tend to be most noticeable at the least convenient times. Everything appears decent enough in the mirror at home, but the sunlight on the beach always reveals the spots we missed or forgot altogether. It's because of this that many women become interested in laser hair removal, and more often than not, they start with the pubic region. While there are many ladies in Singapore who are still doing Brazilian waxing, many of them have since transited to Brazilian hair removal due to less discomfort and the promise of permanent hair removal – in this way, there is no need to make repeated trips for brazilian waxing!
This ultimately leads to the big question: Brazilian hair removal or bikini laser hair removal? To figure out which hair removal option is better for you, Wellaholic has provided an overview of each option below. Read out to find out more!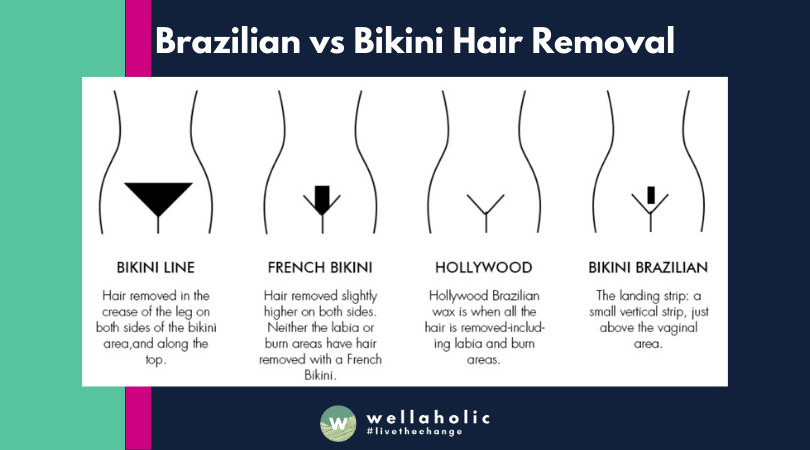 What's the Difference Between Brazilian and Bikini Laser Hair Removal?
Difference Between Brazilian and Bikini Hair Removal
Many women do not know the difference between a bikini line treatment and a Brazilian. The two are similar, so it understandingly causes a bit of confusion. Since the subject can be embarrassing to discuss, women tend to research it beforehand instead of asking their laser hair removal technician at the hair removal salons on what the difference is.
The Bikini Line
The area that lies outside of the panty line is considered the bikini line. A bikini line laser hair removal treatment typically covers up to three inches beyond this line, ensuring a flawless look in panties or a bikini. It often also addresses some areas that underwear covers, such as the sides of the labia and top of the pubic region, but this is up to the client. Bikini waxing is the removal of pubic hair using a special wax, which can be hot or cold, that adheres to hairs and pulls them out when the wax is removed quickly from the skin, usually with a cloth strip. This is similar for bikini hair removal too.
The Brazilian
A Brazilian laser hair removal treatment includes more area than a bikini treatment because it includes the labia and perianal areas as well, and removes all unwanted hair. This option leaves women completely bare, but often those who choose Brazilian treatments opt to keep some hair in the pubic region, such as a landing strip. Either option can be customised to fit what you're looking for.
Full Bikini Laser Hair Removal vs Brazilian
All women know the bikini zone is one of the most troubling laser hair removal areas because most hair removal methods whether its brazilian wax, or brazilian laser hair removal, seem to cause more problems than they solve. Laser hair removal on the bikini line will create a smooth, flawless appearance and prevent stubble from growing back and the irritation that other hair removal methods cause.
Those who choose this option will still need to maintain the area, however. It will require less maintenance than before but more than if you chose the Brazilian hair removal option, which will permanently eliminate all hair follicles in the pubic region.
What is your objective?
Are you looking to simply reduce the amount of ingrown hairs on your bikini line and get rid of razor burn? Are you looking to shave less often and be sure you didn't miss a spot while lying on the beach? Then laser hair removal treatments in the bikini area might be the best option for you.
Are you looking to never have to worry about shaving again and save hundreds of dollars a year on other hair removal methods? Are you looking to permanently eliminate ingrown hairs, razor burn, sweating, chafing, and other irritations? Are you looking to have flawless skin not only in a swimsuit but in the nude as well? Then Brazilian laser hair removal treatments might be right for you.
Full Brazilian vs Regular Brazilian?
While a Brazilian can be a variety of different hair removal styles that remove almost all pubic hair from the pubic region, a full Brazilian removes it all, leaving no hair whatsoever. Choose to leave a neat strip, triangle, or no hair whatsoever — it's completely your choice! Here are a few popular styles below:
Full Brazilian: All hair removed from all areas
Brazilian with stripe: All hair removed but leaving stripe of hair
Brazilian with triangle: All hair removed but leaving triangle of hair
Brazilian with custom design: All hair removed but leaving your design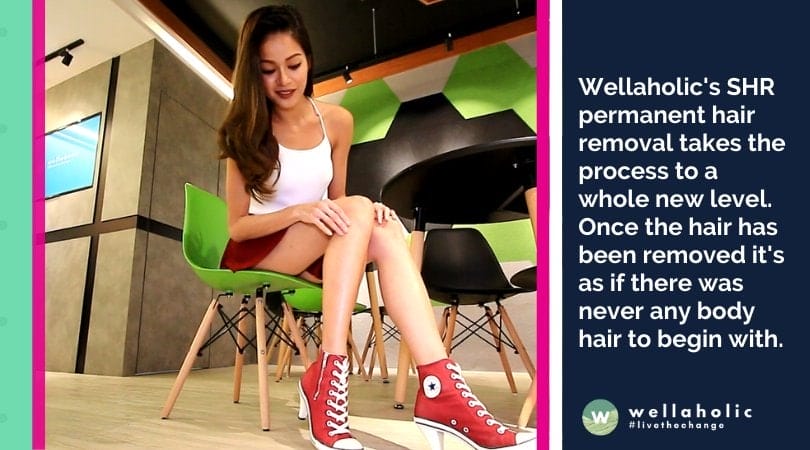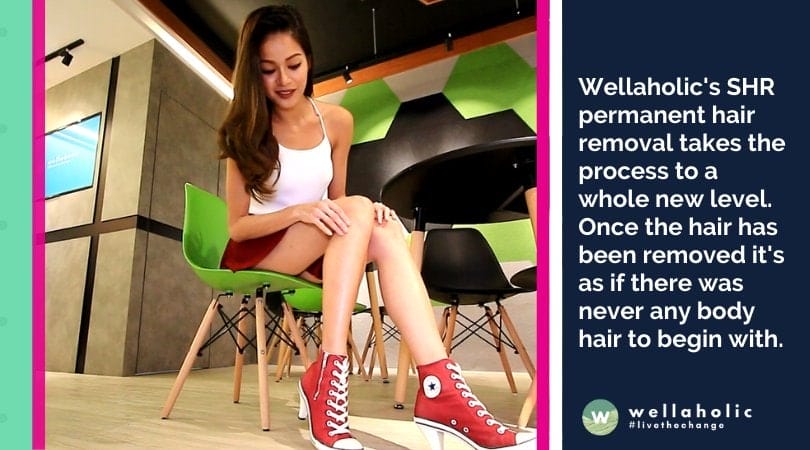 Why Brazilian Hair Removal?
Wellaholic's SHR permanent hair removal takes the process to a whole new level. Once the hair has been removed it's as if there was never any body hair to begin with. These laser hair removal or laser treatment procedures are our most popular because many women love the idea of not having to worry about bikini bumps and ingrown hairs, and just love that fresh clean feeling every single day of the year. Not having to waste time every morning or repeatedly paying for temporary solutions like waxing (at places such as Strip Singapore or Sugared) are key reasons why Brazilian laser hair removal has become very popular at Wellaholic.
Our WellaSmooth™ all-inclusive hair removal costs only $319/month and includes full body SHR hair removal (unlimited shots) including Brazilian, all-that-you-need shaving as well as post-treatment whitening/hydration with red-light therapy that helps to soothe your skin after the hair removal treatment.
Aftercare for Hair Removal
Typically, the process of laser hair removal can take around six months with appointments every four to six weeks. At Wellaholic, we advocate doing it every 28 days (approximately) to time it with the hair growth cycle. It is not unusual to see some results from the beginning. It takes 10 to 14 days for hair to start falling out. Still, it takes more sessions to have hair totally eliminated. Exfoliating in the shower with a sugar scrub will help speed along the process.
---
WellaSmooth All-inclusive Hair Removal by Wellaholic
WellaSmooth™ All-Inclusive Hair Removal is designed for an all-inclusive fuss-free full-body permanent hair removal experience with a 5-star rating. WellaSmooth™ All-Inclusive Hair Removal includes all-that-you-require shaving service, followed by SHR Unlimited Prestige hair removal which includes unlimited SHR shots for the entire body (including Brazilian/Boyzilian). Also included is our Skin Whitening / Hydrating post-treatment therapy (PTT) followed by our AfterGlow Red Light therapy.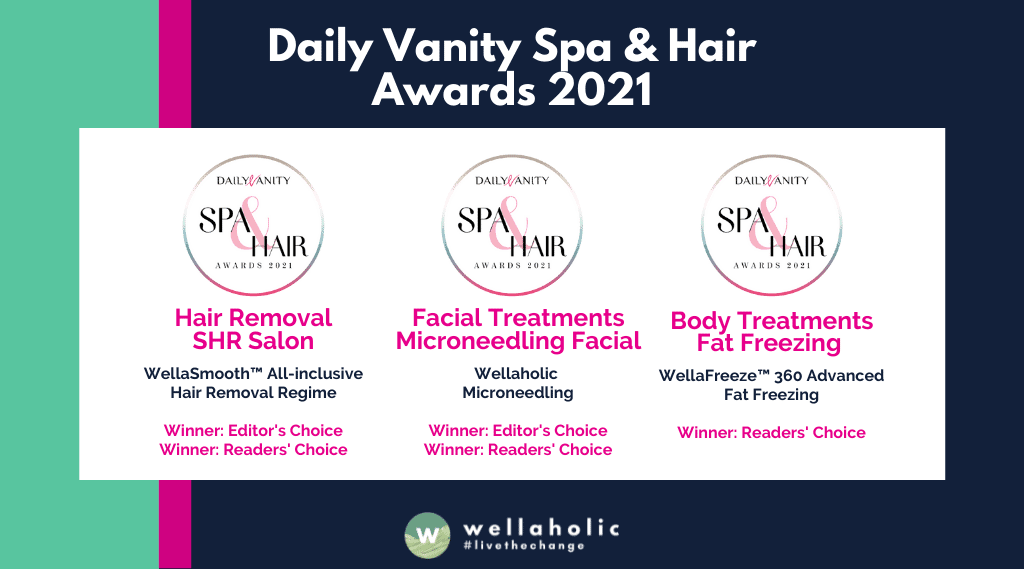 What is WellaSmooth™ All-inclusive Hair Removal Regime?
Voted Best Hair Removal Treatment by Daily Vanity Spa and Beauty Awards 2021.
WellaSmooth™ All-Inclusive Hair Removal is designed for an all-inclusive fuss-free full-body permanent hair reduction experience.
WellaSmooth™ All-Inclusive Hair Removal is ideal for all skin color, hair color, and all forms of hair.
Also include is all-that-you-require shaving service for all body parts including your private regions.
WellaSmooth™ All-Inclusive Hair Removal also includes the Skin Whitening / Hydrating (PTT) with AfterGlow™, which includes post-hair-removal skin whitening or skin hydration followed by our AfterGlow Red Light therapy for enhanced skin rejuvenation.
Achieve smooth and glowing skin that will wow everyone.
This treatment is ideal for both men and women, by male and female therapists.
Get a package and choose your shaving, SHR permanent hair removal and post-treatment whitening and hydration done at any of our multiple outlets across Singapore.
WellaSmooth™ is your ultimate all-inclusive hair removal treatment in Singapore complete with shaving and post-treatment care.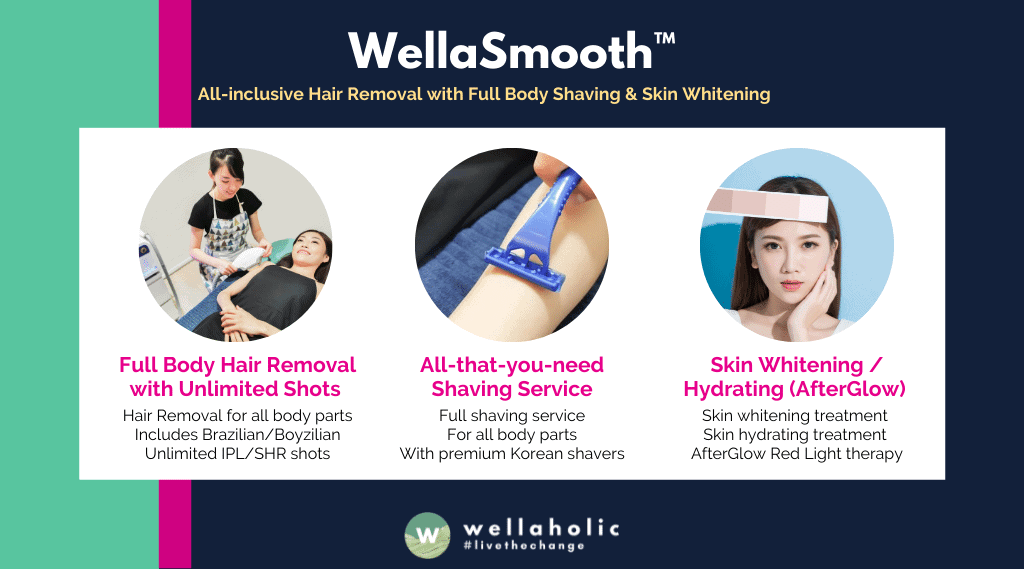 WellaSmooth™ Includes the Following Three Hair Removal Services
SHR Permanent Hair Removal PRESTIGE Unlimited – Enjoy our bestseller SHR hair reduction treatment for all body parts
Unlimited Shaving Service – Enjoy unlimited shaving service on all body parts
Skin Whitening/Hydrating (PTT) with AfterGlow – Enjoy post-treatment whitening or hydrating therapy followed by AfterGlow red-light treatment to rejuvenate your skin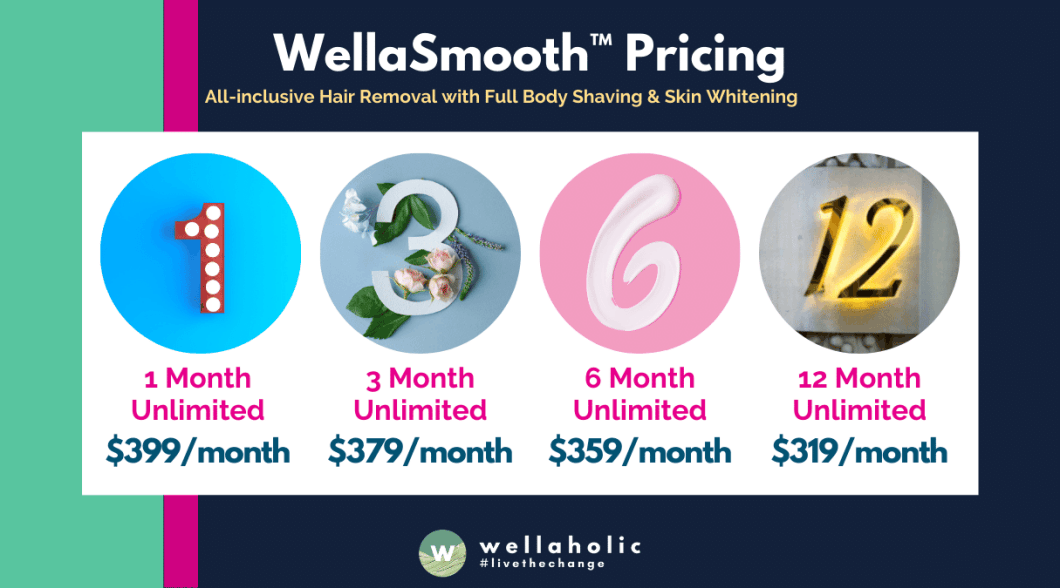 WellaSmooth Price List
1 Month Unlimited $399
3 Month Unlimited $379 x 3 = $1137 (6% savings)
6 Month Unlimited $359 x 6 = $2154 (12% savings)
12 Month Unlimited $319 x 12 = $3828 (19% savings)
---
---