Can Fat Freezing Damage Organs?
---
Introduction: Can Fat Freezing Damage Organs?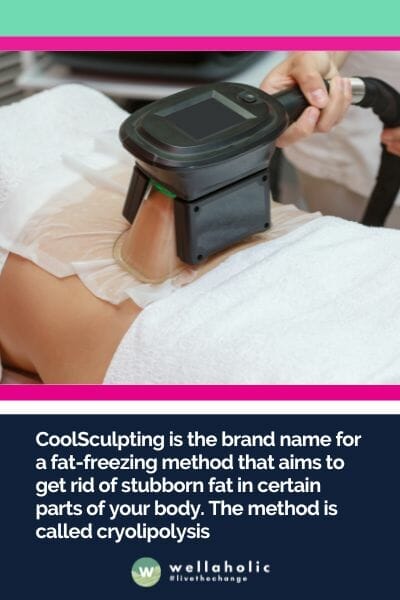 Fact or fiction: can fat freezing actually damage your organs? As more and more people are looking for ways to lose weight, new methods are being developed all the time. One of the latest is fat freezing, which involves subjecting fat cells to extreme cold in order to kill them. But is this method safe? Some experts are concerned that it could damage organs. In this article by Wellaholic, we will explore this topic of interest and share some expert answers with you.
---
What is fat freezing?
Fat freezing, also known as cryolipolysis, is a non-invasive cosmetic procedure that involves the controlled cooling of fat cells to break down and eliminate them from the body. The treatment is said to be effective in reducing fat cells by up to 20% in a single session, with results visible after just a few weeks. Fat freezing can be used to target specific areas of the body, such as the stomach, thighs, or arms, and is often used as an alternative to liposuction.
Although fat freezing is generally considered safe, there are some potential side effects that should be taken into consideration before undergoing the procedure. These include temporary numbness, redness, and swelling in the treated area; bruising; and pain or discomfort during or after the treatment. Fat freezing is not recommended for those who are pregnant or breastfeeding.
How does fat freezing work?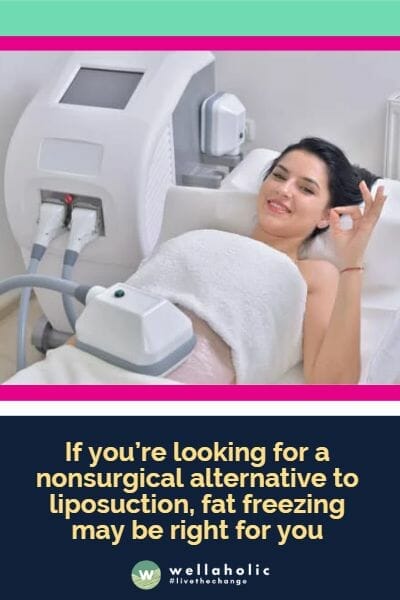 Fat freezing, or cryolipolysis, is a non-invasive cosmetic procedure that uses extreme cold to break down fat cells. The treatment area is numbed with a gel pad and then exposed to freezing temperatures for up to an hour. As the fat cells freeze, they die and are gradually eliminated by the body over the next few weeks.
Fat freezing is a safe and effective way to reduce unwanted fat without surgery or downtime. The results are typically visible within 2-4 weeks, with optimal results usually seen after 8-12 weeks. Multiple treatments may be necessary to achieve desired results. If you're looking for a nonsurgical alternative to liposuction, fat freezing may be right for you.
---
What are the risks of fat freezing?
Fat freezing, or cryolipolysis, is a non-invasive cosmetic procedure used to remove fat cells from the body. The procedure involves exposing the target area to extreme cold temperatures, which damages the fat cells and causes them to die. The dead fat cells are then flushed out of the body through the lymphatic system.
While fat freezing is generally safe and effective, there are some potential risks and drawbacks associated with the procedure. These include:
1. Cold injuries: Fat freezing can cause frostbite or other cold-related injuries to the skin if the temperature is not carefully monitored.
2. Pain: Some people may experience pain during or after the procedure due to the cold temperatures.
3. Bruising: Bruising is another common side effect of fat freezing. This typically goes away within a few days.
Paradoxical Fat Hyperplasia
In a condition called paradoxical fat hyperplasia, small fat cells grow larger instead of dividing into new cells. This can cause lumps under the skin, which may be painful. The condition is seen more often in women than men, and usually occurs on the thighs or buttocks. There is no known cure for paradoxical fat hyperplasia, but treatment can help to reduce the size of the fat cells and relieve pain. Research suggests it's rare, occurring in less than 1 percent of cases. The complication can cause a large, firm, and typically painless mass under the skin in the treatment area. You might also notice a change in bodyweight.
Conclusion: Fat Freezing is Safe and Effective
In conclusion, fat freezing is a safe and effective way to remove unwanted fat. However, it is important to consult with a medical professional to ensure that the procedure is right for you. Additionally, it is important to be aware of the potential risks and side effects of fat freezing, such as organ damage, before undergoing the procedure.
---
WellaFreeze™ 360 Advanced Fat Freeze by Wellaholic
WellaFreeze™ 360 Advanced Fat Freezing uses the latest fat freeze technology and is designed for customers who are looking to fat freeze 4 body parts at once. Similar to Clatuu 360 or CoolSculpting 360, our WellaFreeze 360 Cryolipolysis device is equipped with 4 probes or applicators for concurrent usage. Further more, the latest innovation in our fat freeze 360 probes increases the coverage area – meaning that you can freeze a larger surface area per probe.
What is WellaFreeze™ 360 Advanced Fat Freezing?
WellaFreeze™ 360 Fat Freezing is the latest innovation in fat freezing. It uses a newer device over the traditional WellaFreeze cryolipolysis machine. 
WellaFreeze™ 360 Fat Freezing helps target the stubborn fat and cellulite areas of your body that do not react well to exercise and dieting.
Fat cells are "dissolved" by non-surgical means and controlled cooling at sub-zero temperatures.
WellaFreeze™ 360 Fat Freezing with its newer technology can increase in absolute fat removal by up to 19%, in addition to the 14% to 28% fat reduction from each session.
In addition, customer can treat 4 body parts at one time with WellaFreeze™ 360 Fat Freezing.
Each session is also reduced from 60 minutes to only 30 minutes, due to the increase freezing ability.
WellaFreeze™ 360 uses 360 probes which can freeze and reduce up to 34% of body fat per session with no or minimal bruising to the body.
WellaFreeze™ Fat Freezing Can Target the Following Body Parts
Stomach / Belly / Tummy / Abdomen
Love Handles / Flanks
Under the Neck / Double Chin
Back / Bra Area
Thighs
Male Chest (Pseudo gynecomastia)
Arms
Under Buttocks (Banana Roll)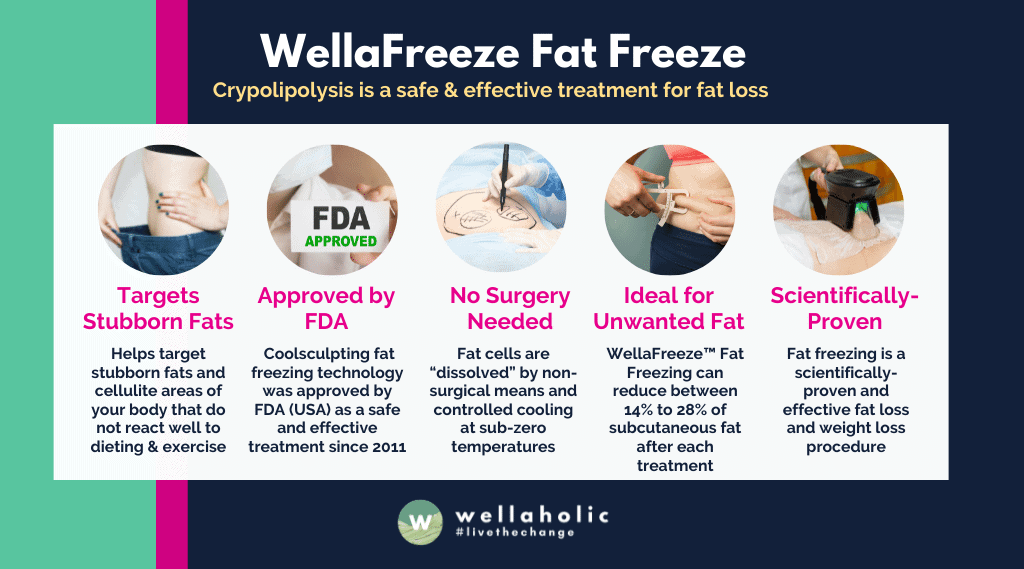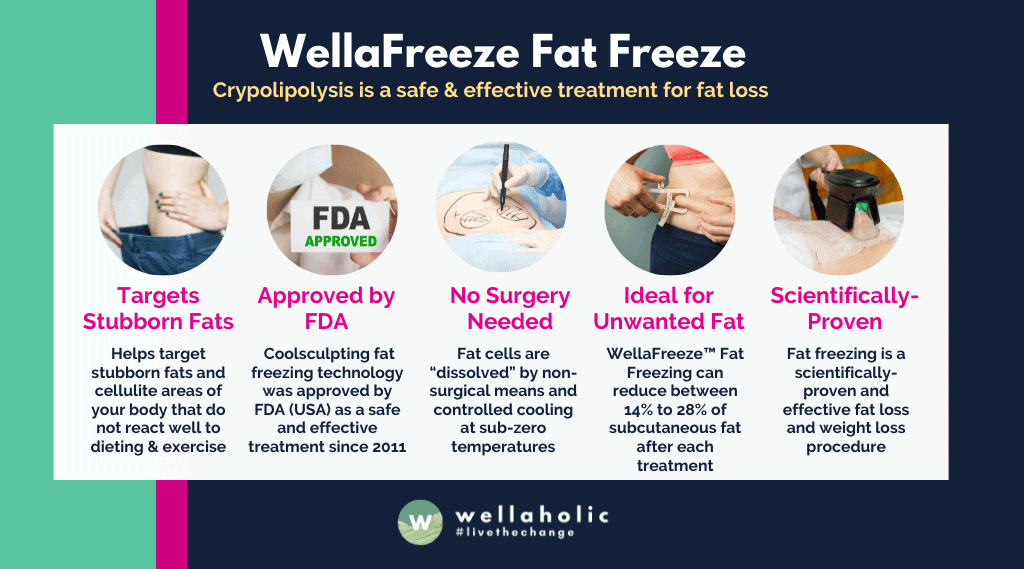 See Over 1800 Positive Reviews of Wellaholic (Customer Verifiable)
Pricing of Slimming Treatments by Wellaholic
Wellaholic believes in providing pricing transparency, and hence all prices are published and updated on its website. Choose from a single-session plan or choose a multi-session plan for greater discounts. Wellaholic's slimming treatments are generally divided into the following categories: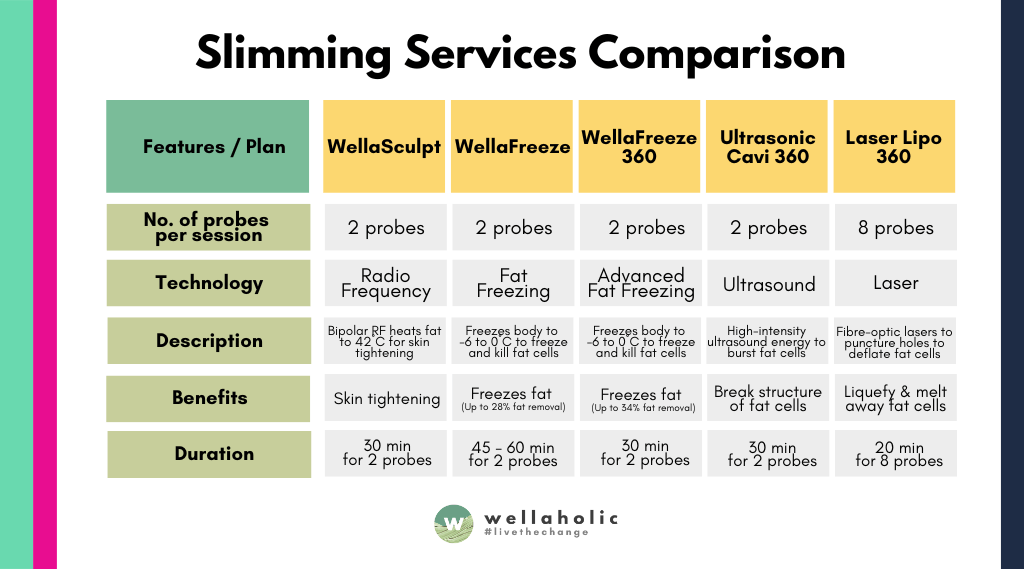 Please click on the menu below to see the pricing for the various slimming treatments by Wellaholic. Prices are nett and inclusive of GST.
---
---