There's A Cure For Hair Loss – 3 Scientific Treatments to Try
Introduction: Hair loss is a common problem that many people face
Many people have lost their hair due to stress, poor nutrition, aging and many other reasons. There are many different hair loss issues that can occur, including alopecia areata, female pattern hair loss, and traction alopecia. There are many treatments available for these issues, but the best option for each person will vary. There are many treatments available that are designed to help you restore your hair. It is important that you choose the best hair loss treatment so that you can get a solution that works for you.
Causes of Hair Loss: There are many reasons why someone might experience hair loss.
Hair loss is a common problem that can be caused by many different things. Here are some of the most common causes of hair loss: genetics, hormones, stress, medications, disease, and age. Some people lose hair because they're born with thin hair or because they have a genetic disorder that makes their hair fall out. Other people lose hair because they're going through a stressful period in their lives or because they're taking certain medications that can damage their hair.
Hereditary hair loss
Hereditary hair loss is a condition that can cause thinning or balding on the scalp. The most common type of hereditary hair loss is called androgenetic alopecia, which is caused by a combination of genes and hormones. This type of hair loss usually starts with a receding hairline in men and thinning hair on the top of the head in women. Hereditary hair loss can also affect other areas of the body, such as the beard, eyebrows, and pubic area. There is no cure for hereditary hair loss, but there are treatments available that can help slow down or stop the progression of the condition. Treatment options include medications like minoxidil (Rogaine) and finasteride (Propecia), laser therapy, and hair transplant surgery.
Alopecia Areata hair loss
Alopecia areata is a condition that results in the sudden loss of hair on the head. The hair may come out in clumps or patches. Alopecia areata typically affects the scalp, but it can also affect other parts of the body where hair grows, such as the beard or eyebrows. Alopecia areata can occur at any age, but it most commonly affects people between the ages of 15 and 30.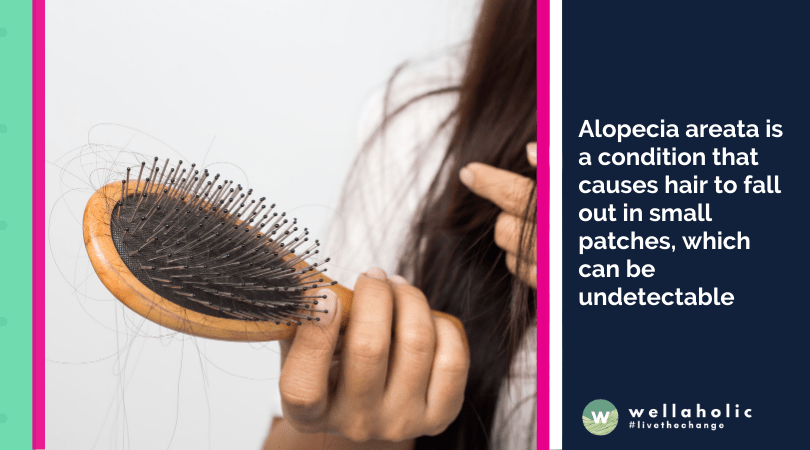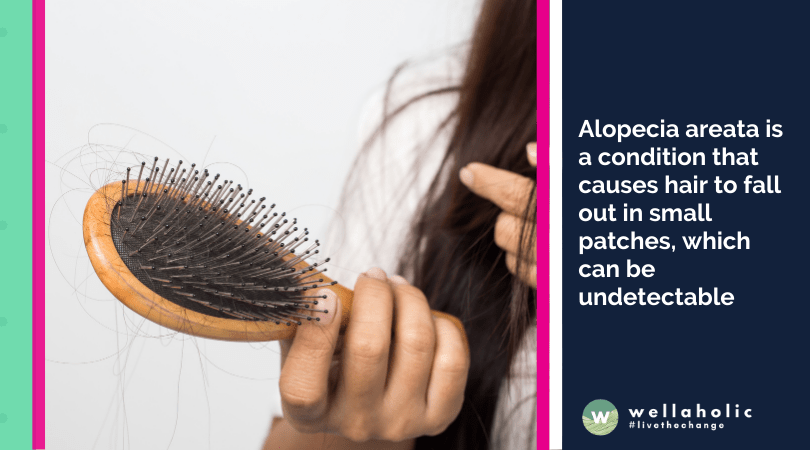 Childbirth, Illness, or other Stressors causing hair loss
It's not uncommon for women to experience hair loss after giving birth. During pregnancy, a woman's body undergoes many changes and her hair is no exception. Hormonal fluctuations can cause hair to become thicker and fuller, but after childbirth the body's hormones return to their pre-pregnancy levels and the extra hair may fallout.
Stress can also be a contributor to hair loss. Severe illness, surgery, or other life-changing events can cause telogen effluvium, a type of hair loss that results in large amounts of hair fallout. Telogen effluvium can be short-term or long-term, but it often resolves on its own within six months. If you are experiencing excessive hair loss after childbirth or another stressful event, it's important to see a doctor for diagnosis and treatment.
Hormonal Imbalance hair loss
Hormonal imbalance hair loss is a common problem that can affect anyone, although it is more common in women. The most common hormonal imbalance that leads to hair loss is an excess of male hormones, or androgens. Androgens are responsible for the growth of facial and body hair, as well as the development of male sex characteristics. When there is an excess of androgens, the hair on the head may thin out or disappear completely.
There are several things you can do to help treat hormonal imbalance hair loss. The most important thing is to identify the underlying cause of the imbalance and address it. If the cause is a medication you are taking, your doctor may be able to prescribe a different medication that does not cause hair loss. If the cause is an underlying medical condition, treating the condition may help improve your hair health.
Treatment for hair loss: Three Scientific Methods to Target Hair loss
Hair loss can be extremely frustrating and embarrassing. There are many treatments available, but not all of them are effective. We will look at three scientific methods to target hair loss. These methods can help you find a treatment that is right for you.
Treatment #1: Microneedling for Scalp
Microneedling for Scalp helps treat hair loss and promote hair regrowth. Microneedling for Scalp is a Collagen Induction Therapy hair loss treatment in Singapore which is also able to cause controlled trauma in the scalp to promote hair growth. Together with the use of Minoxidil 5%, Microneedling can lead to positive effects on hair growth over a 12-week period. Especially effective for patients with Alopecia Areata and Androgenetic Alopecia, or male pattern baldness, receding hairline and thinning hair.
How is Microneedling for Scalp Conducted?
The Microneedling for Scalp procedure is comfortable and easy with no downtime.
Prior to the treatment, please keep your hair washed and cleaned. Avoid applying wax, gel, clay, etc.
Before your treatment, our friendly consultant will check to find areas with hair loss and make a note of it.
The treated area is cleaned with alcohol to disinfect the area.
The Microneedling for Scalp treatment is started. This may take between 20 to 40 minutes depending on the size of the area.
The consultant will apply the 5% Minoxidil and gently massage the area for 5 minutes.
Is Microneedling for Scalp Backed by Science?
There has been numerous research studies which shows the effectiveness of microneedling with Minoxidil for hair growth.
Study 1: A Randomized Evaluator Blinded Study of Effect of Microneedling in Androgenetic Alopecia: A Pilot Study (2013) [source]
In 2013, 100 men with Androgenetic Alopecia (AGA) were recruited to take part in a study which tested the effects of microneedling on hair growth. 94 men completed the study.
The men were randomly split into two groups. The first group, which consisted of 50 volunteers, was treated with both microneedling and minoxidil (5 percent) lotion.
The second group, which consisted of 44 volunteers, was treated with minoxidil (5 percent) lotion.
The group which combined Microneedling with Minoxidil application saw a significant hair growth as compared to the minoxidil-only group
Study 2: Response to Microneedling Treatment in Men with Androgenetic Alopecia Who Failed to Respond to Conventional Therapy (2015) [source]
Treatment #2: HairGrow Scalp Booster
HairGrow Scalp Booster uses two proven technologies of WellaBoost – Method One (High Pressure Jet Spray) and Method Two (Electroporation). This helps to improve the absorption of Minoxidil by the scalp by up to 17 times and is ideal for treating hair loss.
In a study conducted using various interventions for treating alopecia and hair loss, up to 54% found both mesotherapy and minoxidil intervention effective in reducing hair loss when used together. There was ample evidence to support the efficacy and safety of topical minoxidil when used with mesotherapy.
How is HairGrow Scalp Booster Conducted?
The HairGrow Scalp Booster treatment consists of two methods:
METHOD ONE: HIGH PRESSURE JET SPRAY
Minoxidil is instantaneously blasted into small nano-molecules through high-pressure spray technology.
This increases absorption of the active ingredient by the hair follicles.
Thereby dilating blood vessels and improve the flow of blood.
This vasodilating effect causes more nutrients and oxygen to flow through your blood to your hair follicles.
Potentially promoting growth.
METHOD TWO: ELECTROPORATION
The second technology leverages electroporation, which exposes the skin to a light electrical field.
Electroporation makes the skin tissues permeable to macro molecules.
By utilising the skin's water-based channels to allow ingredients to trans-dermally penetrate.
It then uses varying pulse energy to deliver serum into the subcutaneous layer of the skin to stimulate hair restoration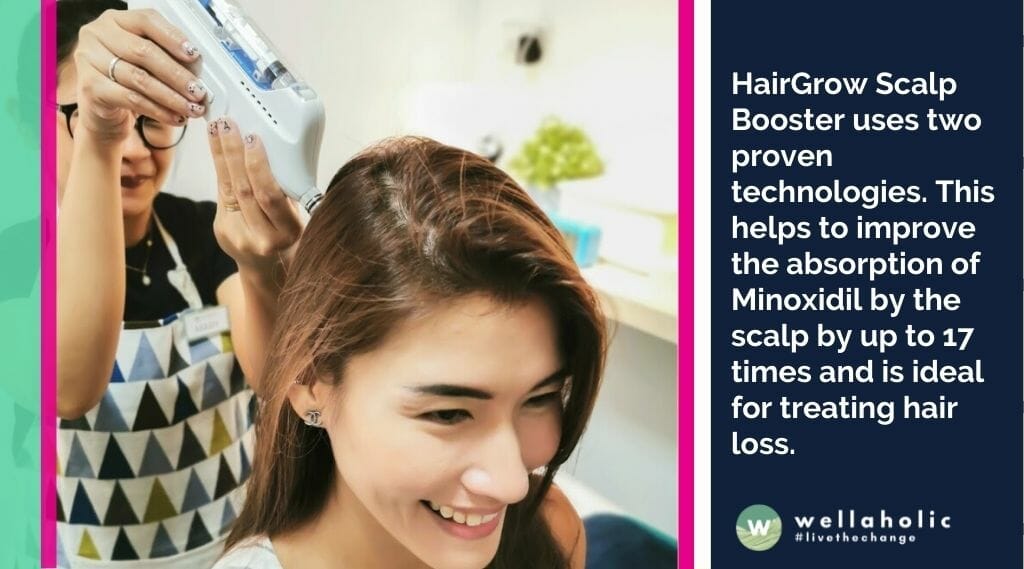 Is HairGrow Scalp Booster Backed by Science?
There are various studies investigating the effects of skin booster for treatment of hair loss and to assist hair regrowth.
Study 1: Excellent response to mesotherapy as adjunctive treatment in male androgenetic alopecia [source]
In the presented case, there was an excellent response to 20th sessions for AGA without any side effects reported.
Obviously, the correct diagnosis is fundamental, and the dermatologist is the specialist qualified for that.
Mesotherapy seems to be a good and safe adjuvant therapeutic option in the treatment of AGA.
Study 2: Mesotherapy for Hair Loss: 2020 Guide [source]
Mesotherapy treatment has now been used for decades to successfully restore luster and volume to thinning hair.
The technology at the root of the treatment is based on the understanding that most hair loss problems are a result of lack of proper nutrients, reduced blood circulation to the scalp, and hormone imbalances (DHT, in particular) around the hair follicle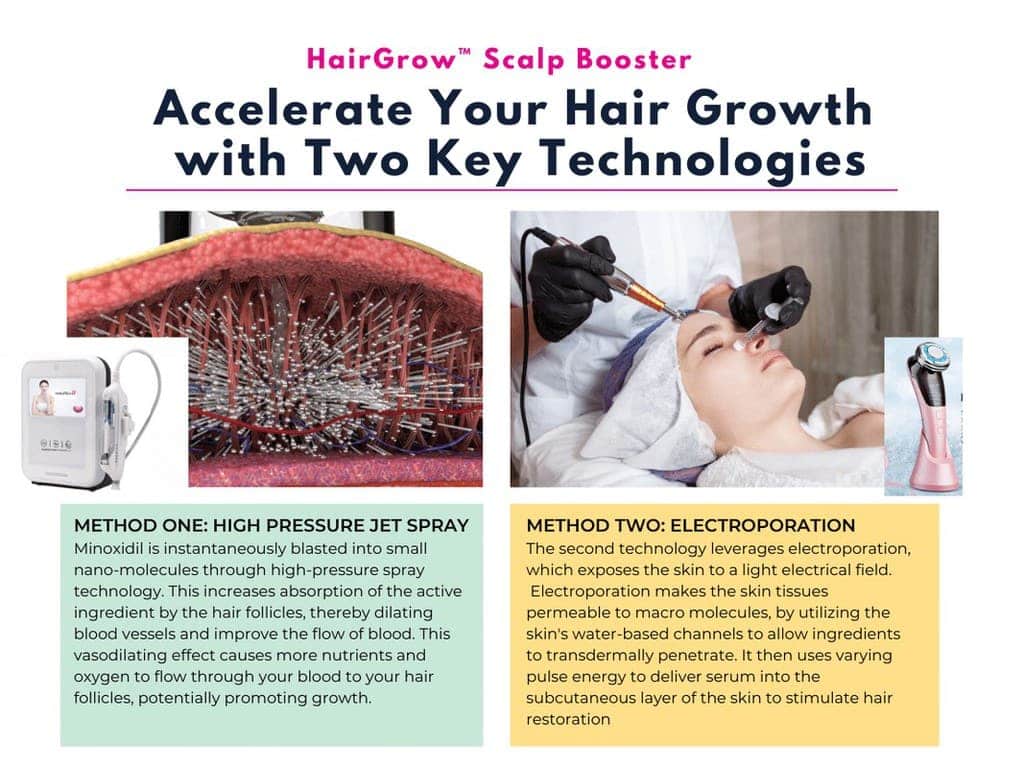 Treatment #3: Low Level Laser Therapy (LLLT)
LLLT is a modern non-surgical hair loss treatment. LLLT uses laser light to stimulate cell growth and supercharge hair follicles. This laser technology helps to combat hair loss and improve the volume and appearance of hair. The LLLT helmet is FDA approved. The LLLT treatment has been proven to have no side effects and takes about 20 minutes per session.
According to a 2014 study, low-level laser therapy appeared to be safe and effective for hair growth in both men and women. A 2013 study of 41 males ages 18 to 48 found that laser hair treatment provided a 39 percent increase in hair growth over a period of 16 weeks.
How is LLLT Conducted?
The LLLT treatment procedure is comfortable and easy with no downtime.
Before your treatment, our friendly consultant will check to find areas with hair loss and make a note of it.
The treated area is cleaned with alcohol to disinfect the area.
If you are opting for the HairGrow™ regime (highly recommended), the consultant will assist with the Microneedling for Scalp treatment first.
The consultant will place the LLLT helmet on for you.
The treatment will take 20 minutes, and you can relax and use your mobile while the treatment is in progress.
The treatment is over. The consultant will keep a record of your progress.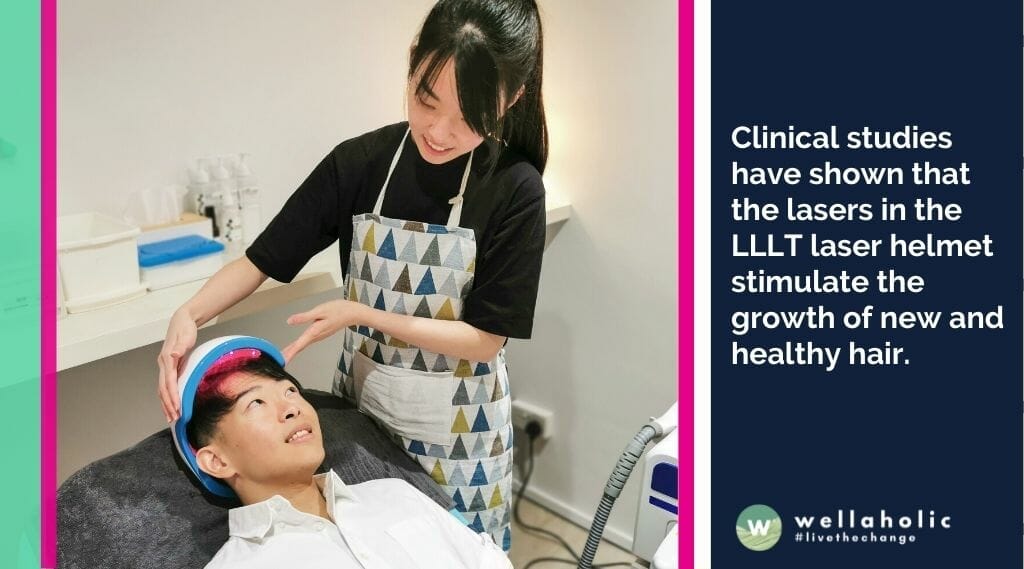 Is LLLT Backed by Science?
Clinical studies have shown that the lasers in the LLLT laser helmet stimulate the growth of new and healthy hair.
The lasers also slow hair loss and can even stop hair loss, even with hereditary hair loss.
In addition, the use of the helmet doubles the hair follicle size of existing hair, so the hair also thickens.
Laser therapy with the LLLT helmet also helps to improve hair growth after a hair transplant or chemotherapy treatment.
The recovery is better and faster. In addition, the quality of the hair is better than without an after-treatment.
Study 1: Low-Level Laser (Light) Therapy (LLLT) for Treatment of Hair Loss (2013) [source]
In 2013, a study was conducted with 15 patients using a device stimulating LLLT (6000 to 1600nm).
The patients' scalps were irradiated regularly with the device.
As a result of this study, 47% of the patients' hair growth occured in 1.6 months earlier in irradiated areas than in non-irradiated areas.
​Study 2: The growth of human scalp hair mediated by visible red light laser and LED sources in males. (2013) [Source]
48 males were recruited. 22 males were subjected to the LLLT helmet with 5MW lasers and 30 LEDS (655+20nm). The remaining 19 were placebo.
Based on this study, there was a 35% increase in hair growth for the males with the LLLT helmet.
LLLT of the scalp at 655 nm significantly improved hair counts in males with androgenetic alopecia.
---
HairGrow™ – Hair Regrowth with 3 Scientific Methods
ULTIMATE HAIR REGROWTH TREATMENT COMBINING ALL THREE TREATMENTS: MICRONEEDLING FOR SCALP, HAIRGROW SCALP BOOSTER AND LOW LEVEL LASER THERAPY (LLLT)
What is HairGrow™ Hair Regrowth Plan?
HairGrow™ is an effective solution for hair loss by combining Wellaholic's three hair regrowth treatments with free additional weekly Low Level Laser Treatments (LLLT) to supercharge your hair regrowth. See results over a 12-week period.
HairGrow combines all three different scientific hair regrowth treatments of Microneedling for Scalp, Scalp Booster and LLLT to accelerate your hair regrowth efforts. Pay for 2 treatments and get the 3rd treatment free. This includes a monthly supply of Minoxidil with Royal Jelly to jumpstart your hair growth.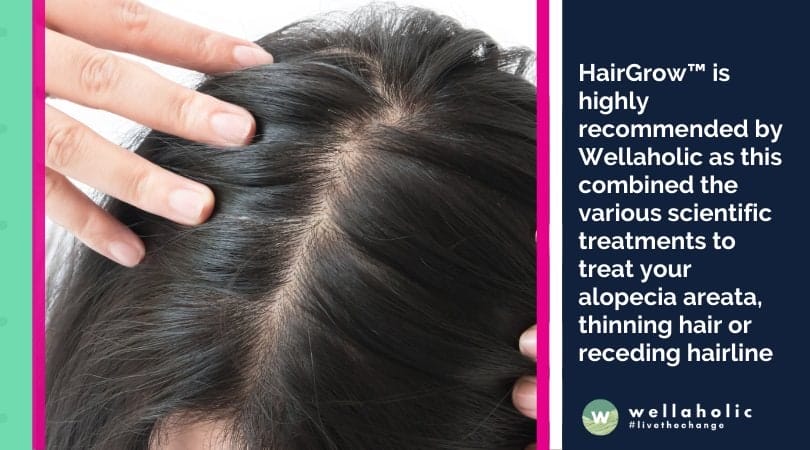 Is HairGrow™ Backed by Science?
HairGrow™ includes three different types of technology treatments.
They have numerous research reports and case studies backing them up. 
Case Study 1 (2013) concluded that the group which combined Microneedling with Minoxidil application saw a significant hair growth as compared to the minoxidil-only group.
Case Study 2 (2014) concluded the boosting effect of microneedling with respect to new hair follicle stimulation in patients with androgenetic alopecia who were poor responders to conventional therapy.
Low Level Laser Therapy (LLLT)
Case Study 3 (2013) concluded that 47% of the patients' hair growth occurred in 7 weeks earlier for the group with LLLT treatment compared to the group without.
Case Study 4 (2013) concluded a 35% increase in hair growth for the males with the LLLT helmet. 
Pricing of Hair Loss Treatments by Wellaholic
Wellaholic believes in providing pricing transparency, and hence all prices are published and updated on its website. Choose from a single-session plan or choose a multi-session plan for greater discounts. Wellaholic's hair loss treatments are generally divided into the following categories:
Please click on the menu below to see the pricing for the various hair loss treatments by Wellaholic. Prices are nett and inclusive of GST.
How Do I Choose the Right Hair Loss Treatment Plan for Me?
Depending on your hair regrowth needs you can choose the following plans:
Wellaholic is well-known in the industry for our transparent pricing and no hard selling.
In fact, we are probably the only aesthetic establishment in Singapore that publishes our prices openly.
All prices are nett and inclusive of GST, and are actual prices (i.e. not trial prices).
You can read our amazing reviews here.
HairGrow™ Unlimited (4 x Microneedling for Scalp + 4 x HairGrow Scalp Booster + 4 x LLLT per month)
---
---