All about Diamond Peel Microdermabrasion – Sandpaper for Your Skin? Not Quite!
Introduction
Diamond peel microdermabrasion is one of the facial treatments many customers seeking better complexion turn to today – and with good reasons. It is an affordable and convenient solution to most of their skincare problems, providing instant results with minimal downtime. But, as with any other skin treatment you're considering to go through, it's only proper to know what is involved in the procedure. In this article, Wellaholic will share with you the key facts about Diamond Peel Microdermabrasion. We offer Diamond Peel as a standalone treatment but it is also bundled with our Elight Facial Collagen Boost Unlimited PRESTIGE plan.
---
Introduction to Diamond Peel Microdermabasion
Diamond peel is a non-invasive and mechanical procedure that helps to remove dead skin cells, dirt and excess oil on the skin surface. It improves the appearance of your skin, by revealing younger and radiant skin underneath in an instant. Diamond Peel is an effective procedure particularly if you're struggling with the following :
Fine scars
Enlarged pores
Sun damage
Slight wrinkles
Acne breakout
Uneven complexion
Non-inflamed whiteheads
Diamond Peel is Effective Against Enlarged Pores
Enlarged pores are a common skin concern. Many people believe that they cannot do anything to improve the appearance of their pores. However, there is one treatment that can help – diamond peel. Diamond peel is a type of exfoliation that uses a diamond-tipped wand to remove dead skin cells and other impurities from the surface of the skin. This treatment can help to reduce the appearance of enlarged pores and can also improve the overall texture and tone of the skin.
Diamond Peel is Effective Against Slight Wrinkles
A diamond peel is a type of microdermabrasion, which is a cosmetic procedure that uses exfoliation to remove the outermost layer of dead skin cells from the face. This treatment can be used to improve the appearance of fine lines and wrinkles, as well as other skin concerns such as sun damage, age spots, and acne scars. Diamond peels are considered safe and effective for most people, and there is typically little to no downtime associated with this treatment.
Diamond Peel is Effective Against Acne Breakouts
Acne breakouts can be a real pain, both literally and figuratively. They can be difficult to get rid of and can leave behind scars. Diamond peel is a new treatment that is proving to be effective against acne breakouts. Diamond peel uses a diamond-tipped wand to exfoliate the skin. This removes the dead skin cells that can clog pores and lead to breakouts. It also stimulates collagen production, which can help to reduce the appearance of scars.
How did Diamond Peel come about?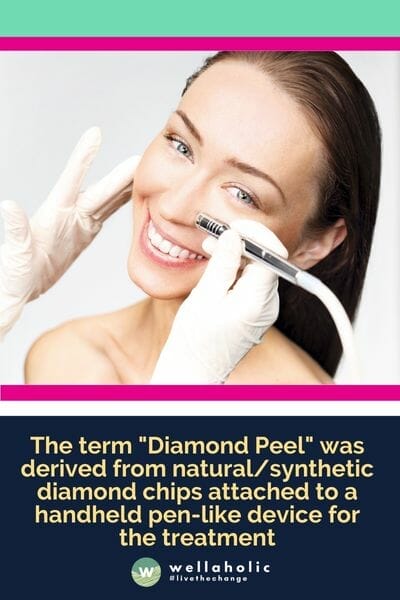 The term diamond peel was derived from the natural/synthetic diamond chips attached to a handheld pen-like instrument used in the treatment. It is in turn attached to a suction pump that vacuums the exfoliated dead skin cells away.
However, before this version of the machine was introduced, the first generation of the diamond tool used fine carbon sand particles that are blasted onto the skin at very high air pressure. But, the downside is that it is prone to cause eye irritation as the crystals would accidentally get into the eyes.
Today, the procedure no longer uses a sandblasting tool, but an instrument with an abrasive diamond tip to loosen dead cells, dirt and excess oil on the skin surface. It is now a painless and non-invasive procedure to improve your skin.
What are the Benefits of Diamond Peel?
Diamond Peel is a non-invasive cosmetic procedure which:
removes excess oil, dirt and dead cells on surface of the skin 
removes blackheads and whiteheads
improves the appearance of fine wrinkles and lines
reduces mild to moderate acne breakouts
stimulates blood circulation in the face
prepares the skin to absorb other skin nutrients (e.g. serums, etc.) better
---
Who Should Opt for Diamond Peel Treatment?
Both men and women of any age are qualified to undergo diamond peel. But, with an exception for those with active acne lesions, open skin or irritated skin. It is particularly recommended for those with:
blogged or enlarged pores 
pores with blackheads and whiteheads
acne scars
What are the side effects of Diamond Peel?
Having this wealth of benefits, it's surprising that the risks of diamond peel are minimal and are only likely to occur when the treatment is carried out by an inexperienced dermatologist. The worst symptoms one may experience include:
Mild redness
Itchiness
Sensitivity
Elight Facial Collagen Boost
You can try our Diamond Peel treatment as a standalone treatment, or as part of the Elight Facial Collagen Boost, in the following sequence (every session):
AfterGlow Infra-Red Facial 
Diamond Peel Microdermabrasion
ReFa with Retinol
LED Cell Regeneration
Elight for Neck 
See Over 1800 Positive Reviews of Wellaholic (Customer Verifiable)
Pricing of Facial Treatments by Wellaholic
Wellaholic believes in providing pricing transparency, and hence all our prices are published and updated on its website. Choose from a single-session plan or choose a multi-session plan for greater discounts. Wellaholic's facial treatments are generally divided into the following categories: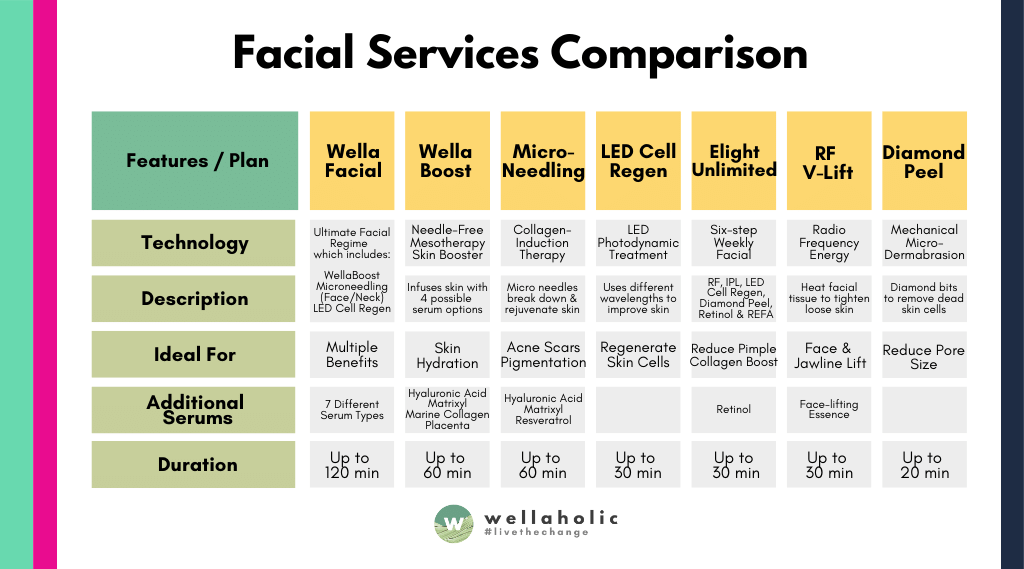 Please click on the menu below to see the pricing for the various facial treatments by Wellaholic. Wellaholic is well-known in the industry for our transparent pricing and no hard selling. In fact, Wellaholic is well-known for not only our transparent and cheap pricing but also without any hidden costs. All prices are nett and inclusive of GST, and are actual prices (i.e. not trial prices).
---