Difference Between Carbamide Peroxide & Hydrogen Peroxide Teeth Whitening Gel
Introduction: Carbamide peroxide & hydrogen peroxide
Many professional-grade teeth whitening products are either hydrogen peroxide or carbamide peroxide, which is the bleaching (or stain removing) agent.
Hydrogen peroxide breaks down faster than carbamide peroxide, and thus releases much of its bleaching power within a half hour to an hour. Conversely, carbamide peroxide releases about 50 percent of its whitening power at the outset and can remain active for six extra hours.
Hydrogen peroxide and carbamide peroxide offer very similar performance, but there is a notable difference in sensitivity when using a product containing a hydrogen sulfate compared to a product containing carbamide peroxide.
In this artice, Wellaholic is going to explain why we prefer carbamide peroxide over hydrogen peroxide for our professional teeth whitening treatments.
Is carbamide the same as hydrogen peroxide?
Both Carbamide Peroxide and Hydrogen Peroxide are similar. Carbamide Peroxide essentially is a more diluted version of Hydrogen Peroxide to reduce risks when used by non-professionals. The great news is that both are considered equally effective in whitening your teeth.
A 16 to 35% carbamide peroxide concentration is generally safe and effective for whitening teeth. A 35% concentration provides significantly more whitening effects compared to a 16% concentration. This is without additional side effects.
Carbamide peroxide release hydrogen peroxide upon contact with teeth, which is a strong oxidizing and bleaching agent. It also release free radicals such as H+ or H3O+. Hydrogen peroxide also acts as an antiseptic, especially in sites with relative anaerobiosis.
Is hydrogen peroxide risky for teeth whitening?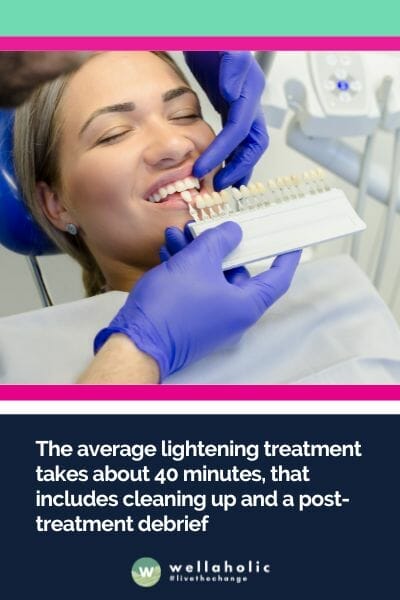 Hydrogen peroxide, chemically expressed as H2O2, is such a highly effective compound, because it oxidizes the second it touches air.
While the oxidation that takes place makes it effective to kill bacteria, it also damages the cell wall and most materials it touches. This makes hydrogen peroxide a pretty aggressive chemical.
Nonetheless, a lot of in-office and at-home treatments use peroxide based agent, carbamide peroxide, to whiten teeth. Carbamide peroxide whitens teeth by breaking down into hydrogen peroxide and urea, which works as an acid to lift up stains in the teeth.
Usually store-bought hydrogen peroxide has a concentration of about 3%, so it's safe for your mouth. At only 3% hydrogen peroxide and 97% water, it's so unstable that it can just turn into water over time.
However, using low-dose peroxide or high concentrations for a long time can inflame your gums, tongue, and the roof of your mouth. Not to mention, swallowing hydrogen peroxide can wreck your esophagus and damage your internal organs.
Wellaholic Uses Carbamide Peroxide to achieve a brighter smile
As bleaching agents, both hydrogen and carbamide peroxide are equally effective. A study conducted by the American Dental Association found that initially, patients using carbamide peroxide had a more significant change. But after 12 weeks, the results were the same for teeth treated with hydrogen peroxide and carbamide peroxide.
Dentists also see little difference in "rebound." Rebound is a term used to describe an initial dramatic change in shade that disappears within a few days. Both carbamide and hydrogen peroxide produce effects that last for a comparable period of time.
TeethWhite™ Teeth Whitening by Wellaholic
What is TeethWhite™ Teeth Whitening?
TeethWhite™ is a premium laser teeth whitening treatment in Singapore, offered at all Wellaholic outlets. 
Your teeth have pores just like your skin.
The nicotine and tar, as well as surface stains from coffee and tea and other beverages, can easily stain your teeth over time, leading to teeth discoloration. 
The primary ingredient in teeth whitening gel is Carbamide Peroxide.
The molecules will convert to hydrogen peroxide and become active when exposed to your teeth and with strong LED light.
The teeth whitening procedure helps target your teeth stains and whitens your teeth thoroughly.
You can see immediate whitening results right after the teeth whitening treatment, resulting in beautiful teeth. 
The whitening effect continues over a period of time, leading to a brighter smile and white smile.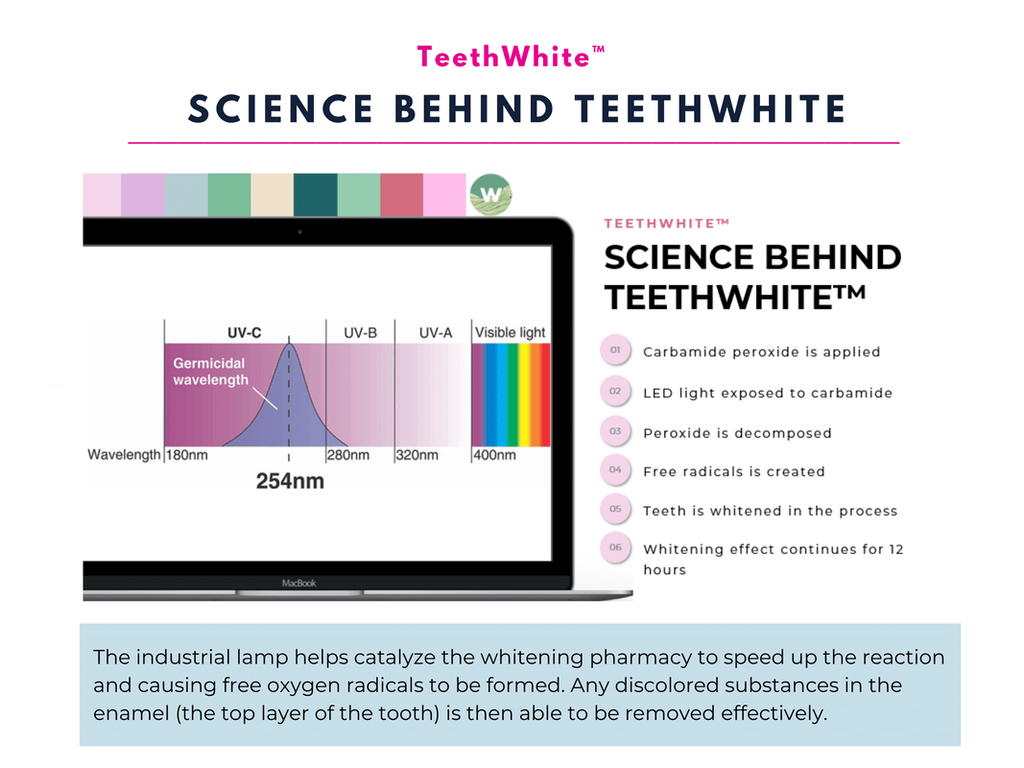 Is TeethWhite™ Teeth Whitening Backed by Science?
TeethWhite™ is a method of teeth whitening or teeth bleaching treatment in Singapore.
The teeth whitening treatment uses the LED blue light and red light to activate the teeth whitening gel.
The 6000w industrial lamp helps catalyse the whitening agent to speed up the reaction and causing free oxygen radicals to be formed. This makes the treatment more effective than teeth whitening kits. 
Any discoloration in the tooth enamel or tooth colour (teeth with external stains) can be removed effectively.
This aesthetic treatment leads to brighter teeth and whiter teeth, for more a beautiful smile.
How do I Maximize Results after my TeethWhite Treatment?
Visit a dental clinic for general cleaning before your TeethWhite™ teeth whitening treatment. This will help to remove any stains or plaque.
Avoid staining foods and drinks for 7 days after TeethWhite™ teeth whitening treatment.
If possible, try to brush you teeth with a normal toothpaste after each meal for 7 days after TeethWhite™. Maintain good oral care to prevent tooth decay. 
Here's to beautiful teeth, and a whiter smile and pearly whites!
See Over 1800 Positive Reviews of Wellaholic (Customer Verifiable)
How are the Prices Like for TeethWhite Teeth Whitening Treatment?
---
---