Does Fat Freeze Really Work?
Introduction: Does Fat Freeze Really Work?
Hey there, fellow skeptics and believers alike! Today we're tackling a question that's been buzzing around the beauty world: does fat freeze really work? We're going to dig deep into the science, share some jaw-dropping before-and-afters, and maybe even try it out ourselves. So if you're curious about freezing your fat off (and who isn't?), grab a snack, sit back, and let's get chilling!
"Freezing fat away may seem too good to be true, but the proof is in the pudding – it works!"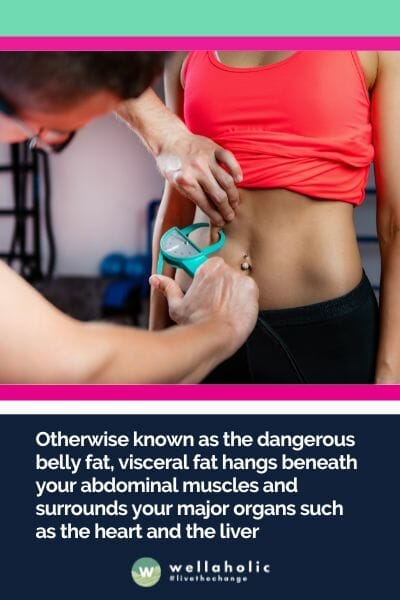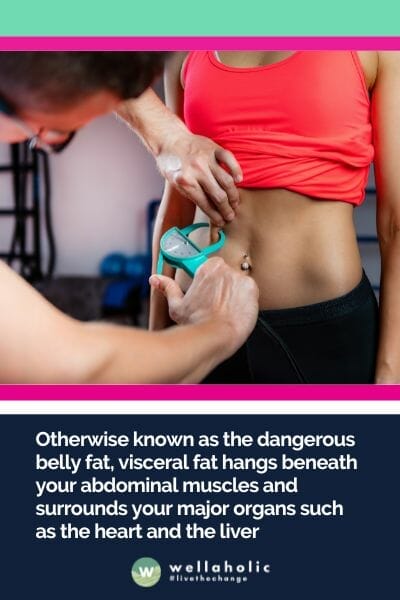 What is Fat Freezing? 
Fat freezing, technically known as cryolipolysis, is an FDA approved non-invasive method of freezing fat cells to get rid of "love handles," double chin, flabby arms and other unwanted bulges of fat. It promises to remove 25 percent of fat and cellulite in a given area, but probably not all in a single treatment.
​Fat freezing works by using paddles that suction your skin into a cup in order to crystallise underlying fat cells. Each procedure can last from 35 minutes to an hour, depending on the target area. The discomfort involved is said to be minimal although the area treated will first feel very cold and then numb.
Cryolipolysis relies on cooling techniques to target and freeze fat cells in the desired area, thus disabling them. These cells and their contents are then flushed out of your body over time through natural processes, getting rid of those fat cells permanently.
Fat Freeze is US FDA-Approved Procedure
The FDA cleared the marketing of the fat freezing method CoolSculpting in 2010 based on results of a study showing that six months after the treatment of love handles in 60 patients, the targeted fat was reduced by an average of 19 percent. Since then, fat freezing has been catching on nationwide. It is offered by dermatologists and medical spas and is heavily promoted in television commercials. Wellaholic's WellaFreeze is premised on the same principles as CoolSculpting.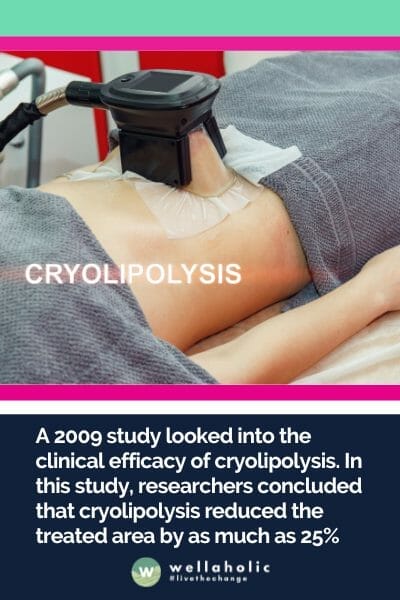 What is the Mechanics of Fat Freezing?
Cryolipolysis works by placing a portion of the fat into two parallel panels which cool the fat and cellulite into a freeze temperature, usually below zero degree celcius. This is also known as CoolSculpting, a branded form of fat and cellulite reduction that's approved by the FDA in USA. 
A 2009 study looked into the clinical efficacy of cryolipolysis. In this study, researchers concluded that cryolipolysis reduced the treated area by as much as 25%. The results were still present six months after the treatment, which proved that the fat loss/reduction was a permanent one. When frozen, the dead fat cells are purged out of the body through the liver within several weeks of treatment. The full results of fat loss can be seen within three months. 
Cryolipolysis is usually treatment on the thighs, lower back, belly, as well as the sides or the "love handles". As WellaFreeze can reduce the appearance of cellulite on the legs, buttocks and also for the arms, it is used extensively in these areas. The process usually takes about an average of one hour. 
Does Fat Freezing Work?
WellaFreeze, together with CoolSculpting and other kinds of fat freezing or cryolipolysis have a high success rate. They work for slashing off areas of fat and cellulite from the body. They are also typically safer and have fewer adverse effects than other procedures such as liposuction, which is both invasive and more dangerous.
Fat Freeze ought to not be seen as a wonder treatment. As much as 25% of the fat can be eliminated after each treatment, however clients need to not expect a total removal of fat and cellulite. As a whole, other elements such as lifestyle and diet also play a big function. A different 2015 evaluation released in the Aesthetic Surgery Journal that took a look at 16 studies, reported that people had a typical fat reduction of 19.55 percent.
Also, WellaFreeze can not tighten loose skin. If the skin has extended around fatty accumulations, other treatments such as WellaSculpt will be required to tighten up the areas with loose skin.
What are the Side Effects of Fat Freezing?
Fat freezing, also known as cryolipolysis, has become an increasingly popular non-invasive method for reducing body fat. However, like any medical procedure, it is important to be aware of potential side effects. According to the BBC, some temporary side effects of fat freezing can include numbness, bruising, itching, and stinging. While these side effects are typically mild and resolve on their own, it is important to speak with a healthcare professional if you experience any persistent or severe symptoms.
A tugging feeling at the treatment area. This will usually go away after 10 – 20 minutes. 
Sensations of pain or achine at the treatment area for about two weeks after treatment. This will usually go away without any further attention. 
Very short-term redness, swelling and/or bruising. 
In addition to these temporary side effects, there have been rare reports of more serious complications, such as Paradoxical Adipose Hyperplasia, a condition in which the treated area becomes enlarged rather than reduced. As with any medical procedure, it is important to thoroughly discuss the potential risks and benefits with a qualified healthcare provider before undergoing fat freezing treatment.
Conclusion
And so, my dear friend, we come to the conclusion of our investigation: Does Fat Freeze Really Work? After sifting through the mountain of hype and marketing surrounding cryolipolysis, we can say with some confidence that the answer is a resounding… maybe. According to Harvard Health Publishing, while there is some evidence that fat freezing can lead to modest reductions in fat, the results are inconsistent and can require multiple sessions. In other words, it might work for some people, but not for others. But fear not! If you're looking for a more reliable method of losing weight and keeping it off, there are plenty of other options out there. From healthy eating to regular exercise, there are a variety of proven methods for shedding pounds and keeping them off. So, whether you decide to give fat freezing a try or stick to the classics, just remember: there's no magic bullet when it comes to weight loss, but with patience, dedication, and a little bit of effort, anything is possible.
---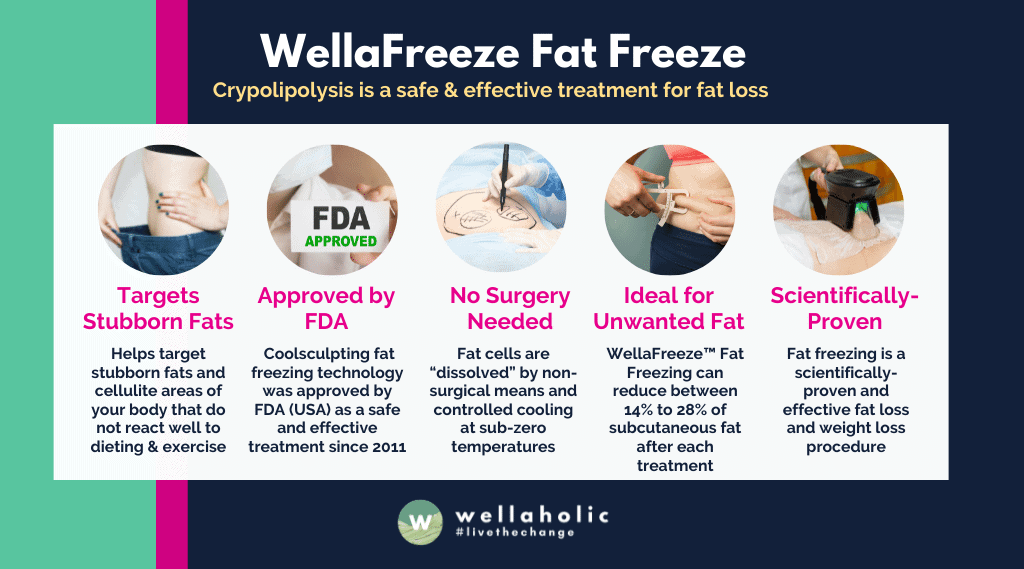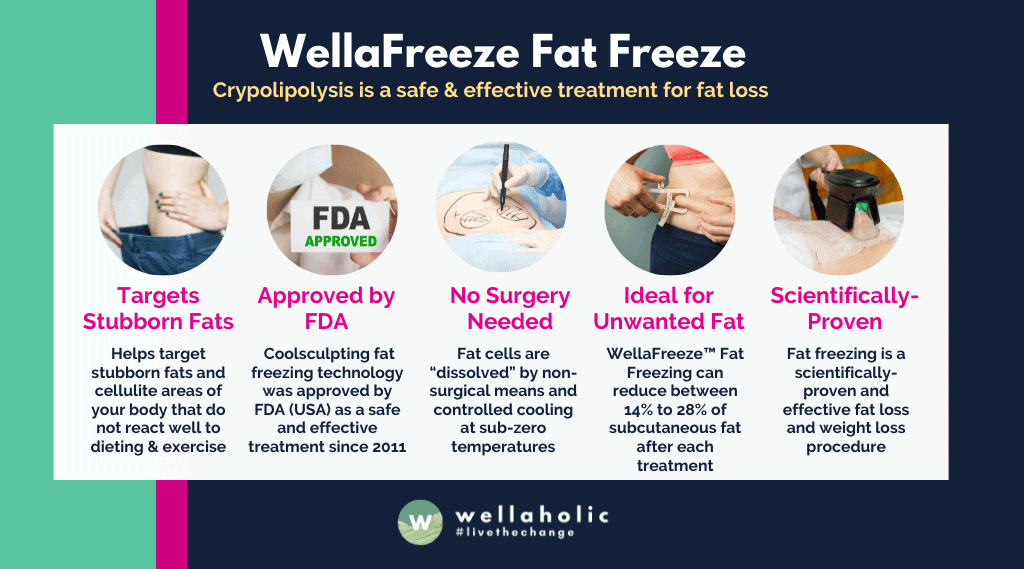 What is WellaFreeze™ 360 Advanced Fat Freezing?
WellaFreeze™ 360 Fat Freezing is the latest innovation in fat freezing. It uses a newer Cryolipolysis model over the traditional WellaFreeze cryolipolysis machine. 
WellaFreeze™ 360 Fat Freezing helps target the stubborn fat and cellulite areas of your body that do not react well to exercise and dieting.
WellaFreeze™ 360 Fat Freezing "dissolves" fat cells controlled cooling at sub-zero temperatures.
WellaFreeze™ 360 Fat Freezing with its newer technology can remove between 17% to 34% of subcutaneous fat from each session.
WellaFreeze™ 360 Fat Freezing can treat up to 4 body parts concurrently.
WellaFreeze™ 360 Fat Freezing takes only 30 minutes per session, due to increased freezing efficiency.

WellaFreeze™ 360 uses 360 probes which can freeze and reduce up to 34% of body fat per session with no or minimal bruising to the body.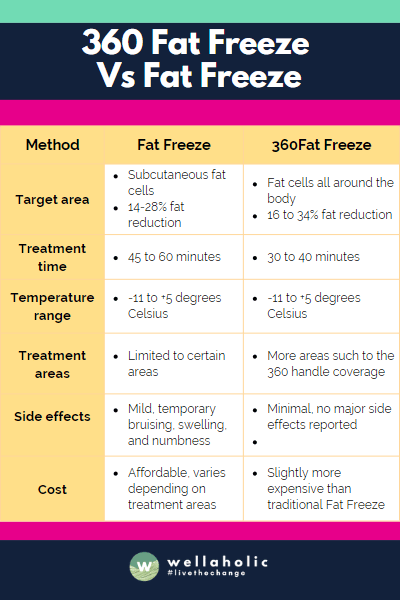 Why Choose WellaFreeze™ 360 Advanced Fat Freeze?
Latest 4th Generation Freezing. WellaFreeze™ 360 advanced fat freezing uses the latest fat freeze technology and is designed for customers who wants to achieve highest fat reduction with fat freezing.
Up to 34% Fat Loss Each Session. Increase in percentage of fat loss due to newer technology and coverage.
360° Surround Cooling Technology. The handles or cooling cups can be adjusted to fit all body curves and contouring for best freezing.
Breathing Technology Reduces Bruising. "Breathing" technology improves freeze while minimising bruising from the suction.
Shorter Time Needed. Each duration is reduced from typical 60 minutes to just 30 minutes.
WellaFreeze™ Fat Freezing Can Target the Following Body Parts
Stomach / Belly / Tummy / Abdomen
Love Handles / Flanks
Under the Neck / Double Chin
Back / Bra Area
Thighs
Male Chest (Pseudo gynecomastia)
Arms
Under Buttocks (Banana Roll)
Pricing of Slimming Treatments by Wellaholic
Price Transparency. Wellaholic offers pricing transparency by publishing and updating all prices on our website.
Flexible Per-Session or Unlimited Plans. Customers can choose from unlimited monthly or per-session slimming price plans.
Mix and Match Easily. Wellaholic's slimming prices are divided into different categories for easy selection.
No Price Shocks. Customers can expect to pay only for the treatments provided instead of being surprised by additional fees or charges at the end of their slimming session.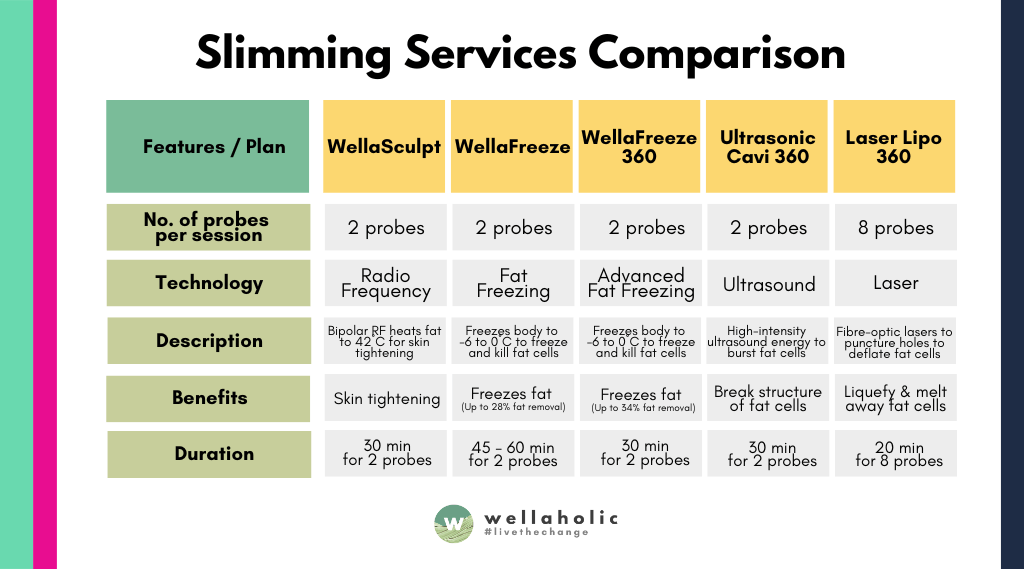 ---
Why Wellaholic is One of the Best Slimming Treatment Providers in Singapore?
Leading Slimming Chain in Singapore. Wellaholic is a leading slimming and body contouring chain in Singapore that is highly sought after by customers.
Quality & Safe Treatments. The company is committed to providing quality and safe treatments with experienced staff.
Wide Range of Slimming Treatments. Wellaholic offers a wide range of slimming treatments for various body parts including chin, upper arms, front armpit fat, bra line, gynecomastia, back, upper abdomen, lower abdomen, love handles, underbutt, thighs and knees.
Trained & Experienced Consultants. All treatments are performed by trained professionals who understand the skincare needs of both female and male customers.
Advanced Slimming Technology. Advanced slimming technologies such as ultrasound, Cryolipolysis, radio frequency and cold wave lasers are used to ensure a safe experience with no downtime or discomfort during the entire process.
Most Affordable Provider. Wellaholic provides competitive pricing for its treatments which makes it one of the most affordable providers in Singapore.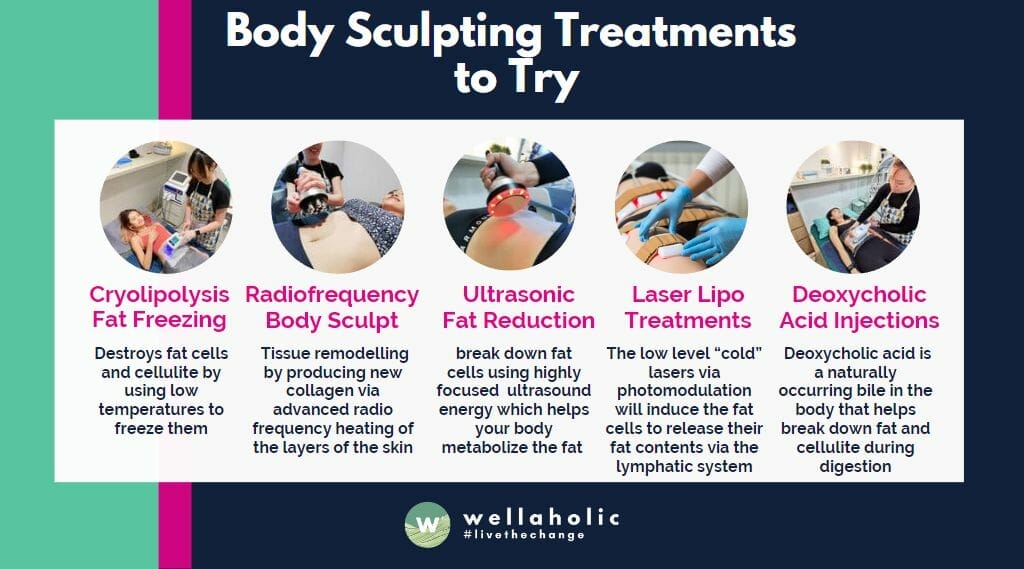 Reason 1: Wellaholic Offers Comprehensive Slimming Services and Expertise at Affordable Prices
Wellaholic offers different types of slimming treatments for your fat management needs. Our slimming packages can be broken down into the following categories:
WellaShape Double Slimming Plan

Double slimming plan combining 2 slimming technologies at a discounted price.
Freeze fat via WellaFreeze™ 360 advanced fat freezing.
Then choose 1 other slimming treatment.
Most cost-effective slimming combo plan.

WellaFreeze 360 Advance Fat Freeze

Latest fat freeze technology with improved freezing and coverage area.
Efficient freeze reduces treatment time to just 30 minutes per session.
Each session can remove up to 34% subcutaneous fat.
Each session includes 2 handles/probes to target 2 body parts concurrently.
Interchangeable probes to effectively target different body areas & curves.
"Breathing" technology regulates vacuum suction to minimise bruising.

WellaFreeze Fat Freezing

Original fat freeze technology, also known as CoolSculpting.
Uses sub-zero temperature to freeze and eliminate fat cells.
Each session can reduce up to 28% subcutaneous fat.
Each session takes about 45 minutes to 60 minutes per session.

WellaSculpt RF Body Sculpting

Advanced RF energy to heat and tighten loose skin.
Ideal for body sculpting and body sculpting.
Works well when used in conjunction with fat freezing.
Each session includes 2 body parts and takes 30 minutes.

Ultrasonic Cavi 360

Ultrasound fat cavitation to vibrate and burst the fat deposits.
Ideal for targeting fats that is less "pinchable" and deeper in the body.
Can lead to reduction of body mass (1cm to 3cm) in as little as 3 treatments.
Each session includes 2 body parts and takes 30 minutes.

Laser Lipo 360

Cold wave lasers to eliminate fat with no downtime.
Fat cells absorb laser energy, causing fat to escape from fat cell membrane.
Each session comes with 8 laser plates for various body parts.
Each session takes 25 minutes.
Compliments other slimming treatments.
You can refer to the table below for a breakdown of Wellaholic's various slimming services and how they can meet your slimming objectives. Our customers generally combine several treatments for the best slimming and body contouring outcome.
Slimming Treatment
Features
Ideal For Customers Who
WellaShape Double Slimming
WellaFreeze 360 + 1 Other Slimming Treatment
– Want quick results
– Want to combine 2 treatments at discount
WellaFreeze 360 Advance Fat Freeze
Latest fat freeze technology with 360 handle coverage
– Want up to 34% fat loss
– Want less bruising
WellaFreeze Fat Freeze
Original fat freeze technology with 2 freeze plates
– Want to try fat freezing for first time
WellaSculpt RF Body Sculpting
Advanced RF energy to tighten loose skin
– Want to get rid of loose skin
– Want to tone the body
Ultrasonic Cavi 360
Ultrasound fat cavitation to vibrate and burst the fat deposits
– Want to target fat that is less "pinchable"
Laser Lipo 360
Cold wave lasers to eliminate fat with no downtime
– Want to shrink fat cells in conjunction with other treatments
Stretch Mark Microneedling
Remove appearance of stretch marks using multiple micro-needles
– Want to remove the appearance of stretch marks (fat loss / pregnancy)
Comparison Between Wellaholic's Various Slimming Services
Reason 2: Wellaholic Has Over 50 Awards and 2000 Genuine Customer Reviews
Over 50 Awards. Wellaholic's WellaFreeze 360 and Ultrasonic Cavi 360 have been recognized by top beauty publications such as Daily Vanity, Beauty Insider, and Tropika Club Magazine, earning prestigious awards from 2018 to 2023.
Over 2000 Verified Customer Reviews. Wellaholic has over 2000 verified positive reviews from our customers in Singapore and beyond.
Verifiable Reviews. The reviews are verified and positive, which indicates the high level of customer satisfaction (see reviews below).
Over 50% Repeat Customers. More than 50% of Wellaholic's customers are repeat and recurring customers.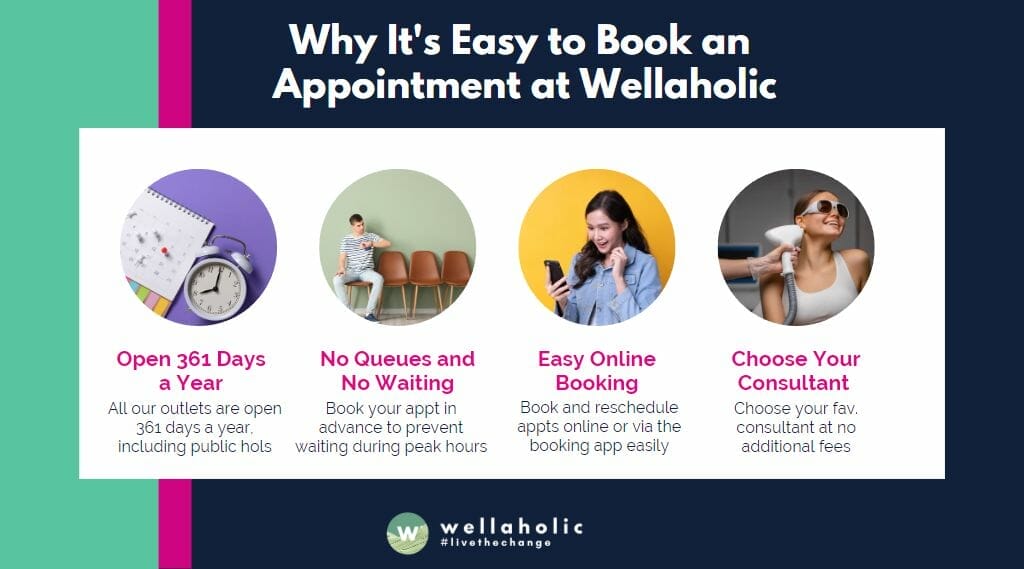 Reason 3: It's Easy to Book an Appointment at Wellaholic
Open 361 Days Per Year. Wellaholic's 8 outlets are open 361 days a year, including public holidays, so that customers can easily book an appointment.
No Queues. All appointments are booked in advanced to prevent the need to queue and wait unnecessarily during peak hours.
Easy Online Booking. Customers can conveniently book and reschedule appointments online or via the booking app.
No Extra Cost for Choosing Consultant. Customers can select their preferred consultant without having to pay any additional fees.
---

​