Embrace the K-Beauty Trend: 10 Tips for a Radiant, Porcelain Complexion
TL:DR Summary
What is K-Beauty? A trend that emphasizes the importance of skincare and focuses on achieving a flawless complexion.
What are the benefits of K-Beauty? K-Beauty can improve various skin issues such as wrinkles, scars, pores, pigmentation, and texture. It can also enhance the absorption of skincare products and boost the skin's natural healing process.
What is the 10-step K-Beauty routine? A multi-step process that includes cleansing, exfoliating, toning, treating, moisturizing, and protecting the skin. Some K-Beauty ingredients like snail mucin, ginseng, and green tea are known for their anti-aging and anti-inflammatory properties.
How to double cleanse? An essential step in the K-Beauty routine that involves using an oil-based cleanser followed by a water-based cleanser to remove makeup, dirt, and impurities from the skin.
How to hydrate the skin? A key factor for glowing skin that involves using products such as toner, essence, serum, ampoule, sheet mask, eye cream, and moisturizer to replenish moisture and nourish the skin.
How to protect the skin? An important part of the K-Beauty routine that involves applying sunscreen every day to prevent premature aging and UV damage.
Introduction: 10 Tips for a Radiant, Porcelain Korean Complexion
Hey there, skincare enthusiast! I bet you've seen those stunning Korean celebrities with their flawless, porcelain skin and wondered, "How do they achieve such a radiant complexion?" Well, you're in luck, because today we're diving into the world of K-Beauty to uncover the secrets behind that enviable glow. Get ready to take notes, because we're sharing 10 tips that'll have you well on your way to achieving a gorgeous, luminous Korean complexion that'll turn heads. Trust us, your skin will thank you! So let's dive in and start embracing the K-Beauty trend together.
The Rise of the K-Beauty Trend in Singapore
Over the past few years, Singapore has witnessed an incredible rise in the K-Beauty phenomenon. Originating from South Korea, this skincare and makeup trend highlights the importance of achieving glowing, youthful, and healthy skin. K-Beauty has truly won the hearts of Singaporeans, thanks to its groundbreaking products and distinct skincare philosophy, making it the go-to choice for anyone looking to enhance their complexion. The growing demand for Korean beauty products and treatments in Singapore has given rise to a thriving market, with countless K-Beauty shops and online platforms popping up to cater to the skincare aficionados.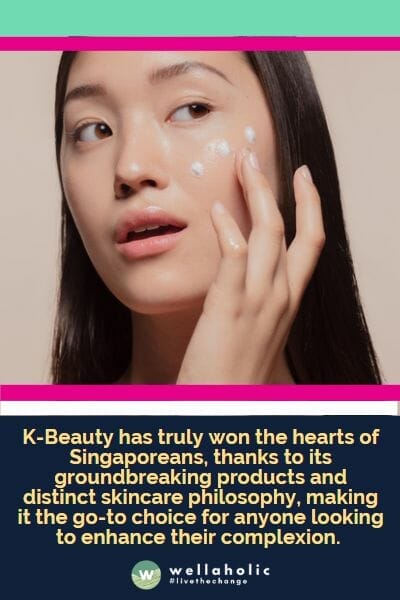 The K-Beauty craze in Singapore goes beyond being a mere fleeting trend; it's a powerful testament to the efficacy and high quality of Korean skincare products and regimens. Singaporeans are attracted to K-Beauty due to its emphasis on natural components, advanced formulations, and a comprehensive approach to achieving and maintaining healthy skin. By prioritizing prevention and regular care, K-Beauty has captured the admiration of Singaporeans and keeps gaining traction, revolutionizing the skincare scene and raising the bar for achieving glowing, porcelain-like skin.
Understanding Your Skin Type
Before you dive into any skincare routine, it's crucial to understand your skin type. Knowing your skin type allows you to select the most suitable products and develop a tailored skincare routine that effectively addresses your unique needs. Here are the main skin types to consider:
Normal Skin
Well-balanced skin
Neither too oily nor too dry
Few or no blemishes
Small, barely visible pores
Oily Skin
Excess oil production
Shiny appearance
Prone to breakouts and acne
Enlarged, visible pores
Dry Skin
Lack of moisture
Tight, rough texture
Flaky or peeling skin
Fine lines and wrinkles
Combination Skin
Mixture of oily and dry areas
Oily T-zone (forehead, nose, and chin)
Dry cheeks and jawline
Requires targeted treatment
Sensitive Skin
Easily irritated
Redness and inflammation
Prone to rashes and itching
Requires gentle, soothing products
By identifying your skin type, you can create a personalized skincare routine that effectively targets your specific concerns and helps you achieve a radiant, healthy complexion.
III. The Korean 10-step Skincare Routine
The Korean 10-step skincare routine has taken the beauty world by storm, offering a comprehensive approach to achieving a radiant, youthful complexion. This multi-step process focuses on layering various products to target specific skin concerns, ensuring optimal absorption and effectiveness.
Step 1: Oil-Based Cleanser
The first step in the Korean skincare routine is using an oil-based cleanser, which is essential for effectively removing makeup, sunscreen, and excess oil from your skin. This type of cleanser works by dissolving oil-based impurities, allowing them to be easily rinsed away without stripping your skin of its natural moisture. By starting with an oil-based cleanser, you're laying the foundation for a thorough, deep cleanse that ensures your skin is prepared for the rest of your routine.
When choosing an oil-based cleanser, look for one that suits your skin type and is gentle enough to use daily. Many oil cleansers are formulated with nourishing ingredients like jojoba, grapeseed, or sweet almond oil, which help to maintain the skin's moisture balance. To use an oil-based cleanser, simply massage it onto dry skin, focusing on areas with heavy makeup or sunscreen. Emulsify the cleanser with a little water, and then rinse thoroughly. This step will leave your skin feeling clean and refreshed, ready for the next stage of your Korean skincare routine.
Step 2: Water-Based Cleanser
After using an oil-based cleanser, it's time to move on to step 2 in the Korean skincare routine: the water-based cleanser. This second cleanse is all about getting rid of any remaining dirt and impurities that the oil-based cleanser might have missed. It's super important because it ensures your skin is squeaky clean and ready to soak up all the goodness from the rest of your skincare products.
So, when you're choosing a water-based cleanser, make sure it's one that suits your skin type and feels gentle on your skin. There are plenty of options out there, like gel, foam, or cream cleansers, so you can definitely find one that feels just right for you. To use it, just wet your face, apply the cleanser, and gently massage it all over your skin. After that, rinse it off with lukewarm water, and you're good to go!
Step 3: Exfoliating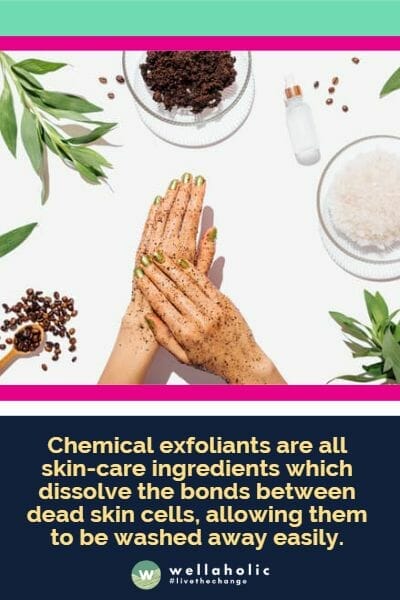 Alright, now that your skin is all nice and clean, let's talk about step 3 in the Korean skincare routine: exfoliating. This step is all about getting rid of those pesky dead skin cells that can make your skin look dull and even cause breakouts. By gently sloughing off the dead skin, you're helping to unclog your pores and reveal a brighter, smoother complexion. Plus, exfoliating can actually help your other skincare products work better since they can penetrate more easily.
But listen, you don't want to go overboard with exfoliating. It's usually best to do this just once or twice a week, depending on your skin type and the type of exfoliator you're using. There are two main types of exfoliators: physical and chemical. Physical exfoliators use tiny particles, like sugar or microbeads, to manually scrub away dead skin cells. Chemical exfoliators, on the other hand, use acids like AHAs or BHAs to dissolve the bonds between dead skin cells, making them easier to wash away.
Step 4: Applying Toner
So, you've cleansed and exfoliated, and now it's time for step 4 in the Korean skincare routine: applying toner. You might be wondering, "What's the deal with toners?" Well, let me tell you! Toners are super important because they help restore your skin's pH balance, which can be thrown off after cleansing. They also prep your skin so it's ready to absorb all those amazing products you're going to apply next.
When you're looking for a toner, try to find one that's suited to your skin type and concerns. There are hydrating toners, calming toners, and even toners with gentle exfoliating properties. The key is to choose a toner that's alcohol-free and packed with skin-loving ingredients, so it's gentle and nourishing for your skin.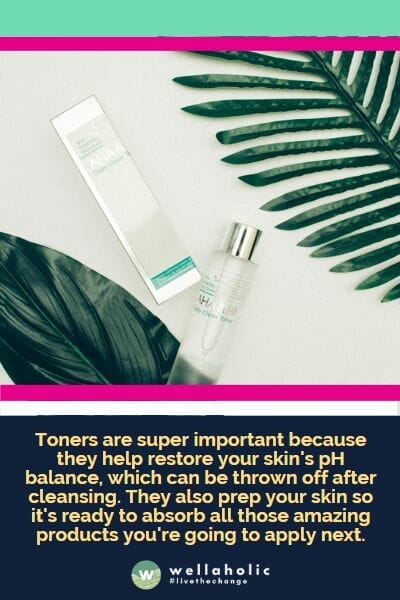 Applying toner is super easy. You can either pour a little bit onto a cotton pad and gently swipe it across your face, or you can simply pour some onto your fingertips and pat it directly onto your skin. The patting motion can actually help the toner absorb better and even boost circulation, giving you a nice, healthy glow.
Remember, the goal of using a toner is to balance and prep your skin, so don't skip this step! Your skin will definitely appreciate the extra TLC, and you'll be one step closer to that gorgeous, radiant complexion you're after!
Step 5: Applying Essence
Okay, now that your skin is all prepped and ready, it's time for step 5 in the Korean skincare routine: applying essence. I know, it might sound fancy and mysterious, but essence is actually a super cool product that's kind of like a hybrid between a toner and a serum. It's usually lightweight and packed with hydrating, skin-loving ingredients that help boost cell regeneration and skin repair. Trust me, your skin is going to love it!
When you're shopping for an essence, look for one that has ingredients that target your specific skin concerns, like hydration, brightening, or anti-aging. The great thing about essences is that they're usually pretty gentle, so you can find one that works well for your skin type.
Applying essence is a piece of cake. After your toner has absorbed, just pour a few drops of essence into the palm of your hand, and then gently pat it onto your face and neck. The patting motion helps the essence absorb more quickly and evenly, so don't be afraid to give your skin a little love!
Step 6: Using Serum or Ampoule
Alright, moving on to step 6 in the Korean skincare routine: using a serum or ampoule. Now, this is where things get really interesting because serums and ampoules are like supercharged skincare products. They're highly concentrated and packed with powerful ingredients designed to target specific skin concerns like dark spots, wrinkles, or dehydration. So, if you've got a skin issue you want to tackle, this is the step for you!
When you're choosing a serum or ampoule, think about what your skin needs most. Are you after hydration, brightening, or maybe some anti-aging action? There's a serum or ampoule out there for pretty much every skin concern, so take your time and find one that's perfect for you.
Using a serum or ampoule is really easy, too. After your essence has absorbed, just apply a few drops of your chosen product to your fingertips and gently pat it onto your skin. Remember, a little goes a long way with these concentrated formulas, so you don't need to use a ton of product.
By incorporating a serum or ampoule into your Korean skincare routine, you're giving your skin a targeted boost that can help you achieve your skincare goals more quickly. So, don't be afraid to get specific and treat yourself to a serum or ampoule that's just right for your unique skin needs!
Step 7: Hydrate with Sheet Mask
Oh, we can't wait to tell you about step 7 in the Korean skincare routine: hydrating with a sheet mask! Seriously, this step is like a mini spa session right in your own home, and it's the perfect way to give your skin some extra love and hydration. Sheet masks are basically thin, face-shaped sheets made of materials like cotton, bio-cellulose, or hydrogel, and they're soaked in nourishing serums or essences that deliver intense hydration and other benefits to your skin.
When you're picking out a sheet mask, look for one that has ingredients that suit your skin's needs. There are sheet masks for pretty much every skin concern, from dryness and dullness to acne and aging. And the best part? They're usually super affordable, so you can try out different ones and see which ones work best for you.
Step 8: Applying Eye Cream
Let's talk about step 8 in the Korean skincare routine: applying eye cream. This step is all about giving some extra care and attention to the delicate skin around your eyes. The skin in this area is thinner and more sensitive than the rest of your face, so it's prone to fine lines, wrinkles, and dark circles. By using a nourishing eye cream, you can help keep this area looking fresh and youthful.
When you're shopping for an eye cream, look for one that's specifically designed to target your concerns, like puffiness, dark circles, or crow's feet. There are tons of different eye creams out there, so you can find one that's perfect for your unique needs.
Applying eye cream is a gentle process. After you've absorbed the serum from your sheet mask, take a pea-sized amount of eye cream on your ring finger and gently dab it around your eye area, focusing on the orbital bone. Remember to be extra gentle, as the skin around your eyes is super delicate – you don't want to cause any unnecessary tugging or pulling.
Step 9: Applying Moisturizer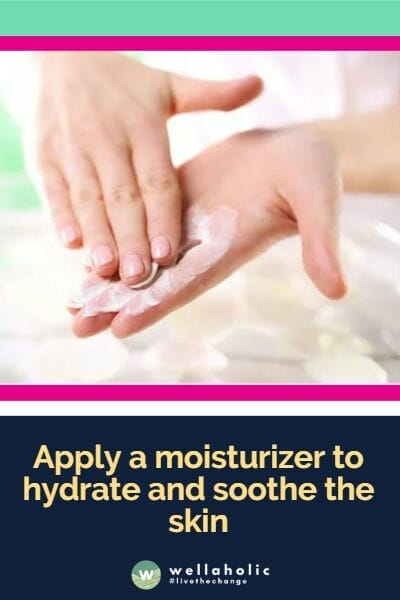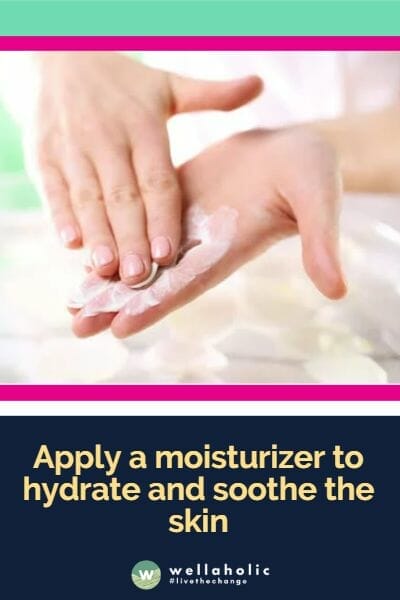 We're almost done with the Korean skincare routine! Step 9 is all about applying moisturizer, which is super important because it helps lock in all the goodness from the previous steps and keeps your skin hydrated and protected throughout the day (or night).
When you're choosing a moisturizer, make sure to pick one that's suitable for your skin type. Whether you have oily, dry, combination, or sensitive skin, there's a moisturizer out there that's perfect for you. Look for one with ingredients that cater to your skin's specific needs and concerns, like hydration, oil control, or soothing properties.
Applying moisturizer is super easy. After your eye cream has absorbed, take a small amount of moisturizer and gently massage it into your face and neck using upward and outward motions. This helps to stimulate circulation and ensures even distribution of the product. And remember, you don't need to use a ton of moisturizer – a little bit goes a long way!
Step 10: Protect with Sunscreen
And here we are, the final step of the Korean skincare routine: protecting your skin with sunscreen! This step is absolutely essential, especially during the day, because it shields your skin from the sun's harmful UV rays, which can cause premature aging, dark spots, and even skin cancer. Trust us, you don't want to skip this one!
When you're looking for a sunscreen, choose one with at least SPF 30 and broad-spectrum protection against both UVA and UVB rays. There are plenty of sunscreens available that are designed specifically for the face, so you can find one that's lightweight, non-greasy, and won't clog your pores. You can also consider Wellaholic's Daily Sunscreen, which protects your skin from Singapore's sun.
By making sunscreen a non-negotiable part of your Korean skincare routine, you're taking a crucial step in keeping your skin healthy, youthful, and radiant for years to come. Remember, prevention is always better than cure, and sunscreen is your best defense against the sun's damaging effects. So, wear it proudly and protect that gorgeous skin of yours!
Incorporating Whitening and Brightening Producst as Part of Skincare
If you're looking to achieve a brighter and more even complexion, incorporating whitening and brightening products into your skincare routine can really help. These products are designed to target uneven skin tone, dark spots, and dullness, giving you that radiant glow you've always wanted. But don't worry, using these products doesn't mean you're trying to change your natural skin color – it's all about enhancing your skin's natural beauty and luminosity!
When you're choosing whitening and brightening products, look for ingredients like niacinamide, vitamin C, and arbutin, which are known to help brighten the skin and fade hyperpigmentation. These ingredients can be found in various skincare products, such as serums, essences, and even sheet masks.
Seeking Professional Facial Treatments to Achieve Korean Skin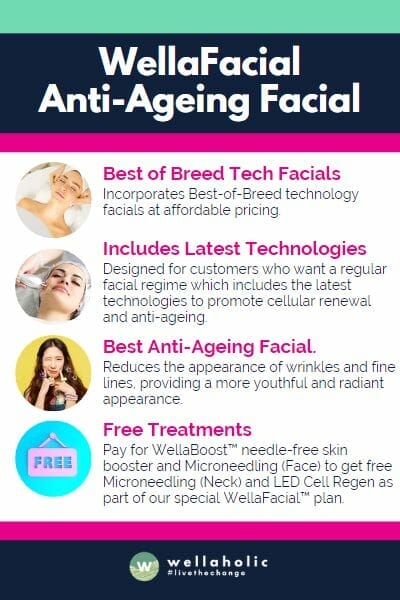 If you're really serious about achieving that flawless, radiant Korean skin, it might be worth considering professional facial treatments. While having a solid at-home skincare routine is important, sometimes your skin needs a little extra boost, and that's where professional treatments can come in handy.
There are various facial treatments out there that can help you achieve a more even, glowing complexion. Some popular options include:
Chemical peels: These treatments use gentle acids to remove the top layer of dead skin cells, revealing brighter, smoother skin beneath. They can help with issues like uneven skin tone, fine lines, and acne scars.
Microdermabrasion: This non-invasive treatment uses a machine to exfoliate the skin's surface, promoting cell turnover and a brighter complexion.
Laser treatments: These advanced treatments use targeted light energy to address specific skin concerns like pigmentation, fine lines, and acne scars. They can also help stimulate collagen production, giving your skin a more youthful appearance.
LED light therapy: This treatment uses different colors of LED lights to target various skin issues, like redness, inflammation, and hyperpigmentation. It's a gentle, non-invasive option that can help improve your skin's overall health and radiance.
---
WellaFacial – Transform Your Skin With Wellaholic's Ultimate Anti-Ageing Facial
Are you tired of looking in the mirror and seeing fine lines and wrinkles staring back at you? Look no further than WellaFacial – the ultimate anti-ageing facial regime from Wellaholic! Our special plan allows you to get free additional treatments when you pay for WellaBoost™ and Microneedling, including free Microneedling for your neck and LED Cell Regeneration treatment worth $138 or more. With our expert team of beauty professionals and advanced treatments, you'll be able to transform your skin and turn back the clock on ageing. So why wait? Book your appointment today and start your journey towards younger, healthier-looking skin with WellaFacial from Wellaholic!
WellaFacial = WellaBoost (4 Serums) + Microneedling Face + Microneedling Neck + LED Cell Regen Facial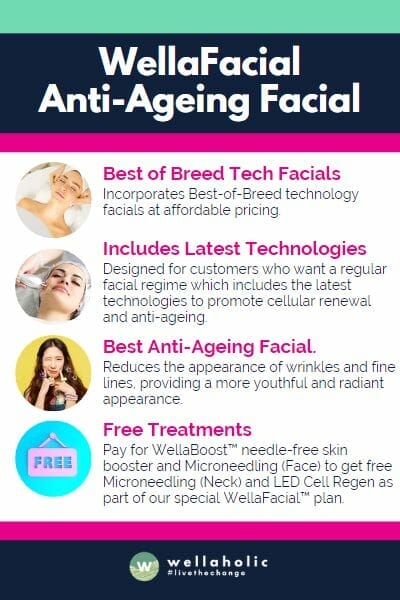 What is WellaFacial?
Best-of-Breed Technology Facials. Incorporates Best-of-Breed technology facials at affordable pricing.
Includes Latest Technologies. Designed for customers who want a regular facial regime which includes the latest technologies to promote cellular renewal and anti-ageing.
Best Anti-Ageing Facial. Nourishes the skin and reduces the appearance of wrinkles and fine lines, providing a more youthful and radiant appearance.
Combo Treatments. WellaFacial™ provides additional free treatments to help our customer look their best at an affordable per-session pricing.
Free Microneedling (Neck) & LED Cell Regen. Pay for WellaBoost™ (4 Serums) needle-free skin booster and Microneedling (Face) to get free additional Microneedling (Neck) and LED Cell Regeneration treatments as part of our special WellaFacial™ plan.
What are the Benefits of WellaFacial™?
​WellaFacial™ allows you to choose the combination of treatments that works best for your skin concerns:
Microneedling: Effective in resurfacing skin and treatment acne scars, pigmentation and stretch marks.
WellaBoost™: Needle-less skin booster with two different technologies to help increase skin hydration, collagen production as well as skin regeneration.​
LED Cell Regeneration: Uses different wavelengths to target the skin for various beneficial effects such as improving skin elasticity, boosting collagen production, minimising blemishes and pimples as well as soothing aggravated skin and even reduce scarring.
Pricing of Facial Treatments by Wellaholic
Price Transparency. Wellaholic offers pricing transparency by publishing and updating all prices on our website.
Flexible Per-Session or Unlimited Plans. Customers can choose from unlimited monthly facial plans for added cost savings, or per-session plans.
Mix and Match Easily. Wellaholic's facial plan prices are divided into different categories for easy selection.
No Price Shocks. Customers can expect to pay only for the treatments provided instead of being surprised by additional fees or charges at the end of their facial session.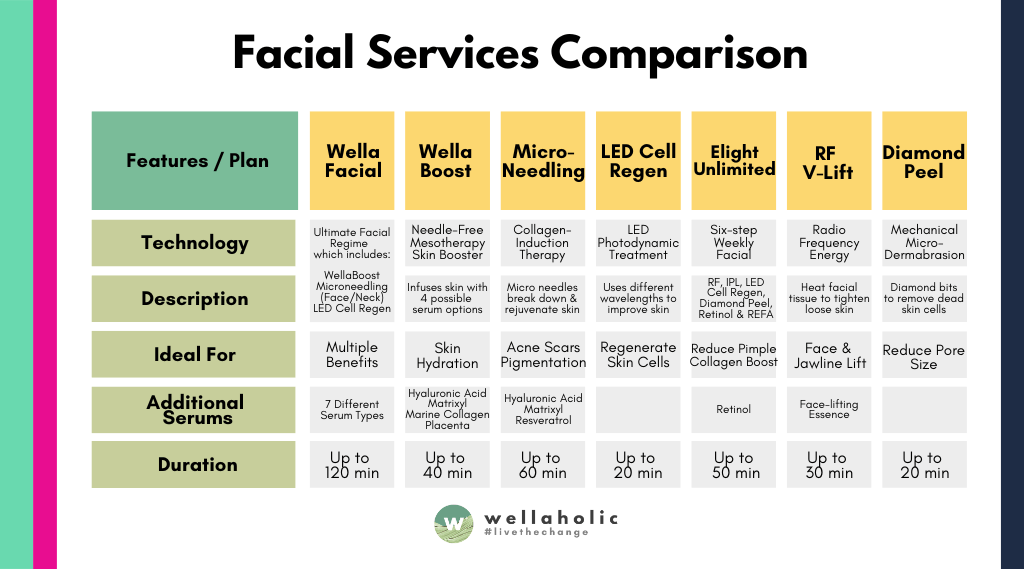 GET IN TOUCH
Book Now Pay Later
Why Wellaholic is One of the Best Facial Providers in Singapore?
Leading Facial Aesthetic Chain in Singapore. Wellaholic is a leading facial and aesthetic chain in Singapore that is highly sought after by customers.
Quality & Safe Treatments. Wellaholic is committed to providing quality and safe treatments with experienced staff.
Wide Range of Facial Treatments. Wellaholic offers a wide range of facial treatments for various skin concerns, and using different technologies such as microneedling, RF, Elight, IPL and mesotherapy.
Trained & Experienced Consultants. All treatments are performed by trained professionals who understand the skincare needs of both female and male customers.
Advanced Facial Technology. Advanced facial technology is used to ensure a safe experience with no downtime or discomfort during the entire process.
Most Affordable Provider. Wellaholic provides competitive pricing for its treatments which makes it one of the most affordable providers in Singapore.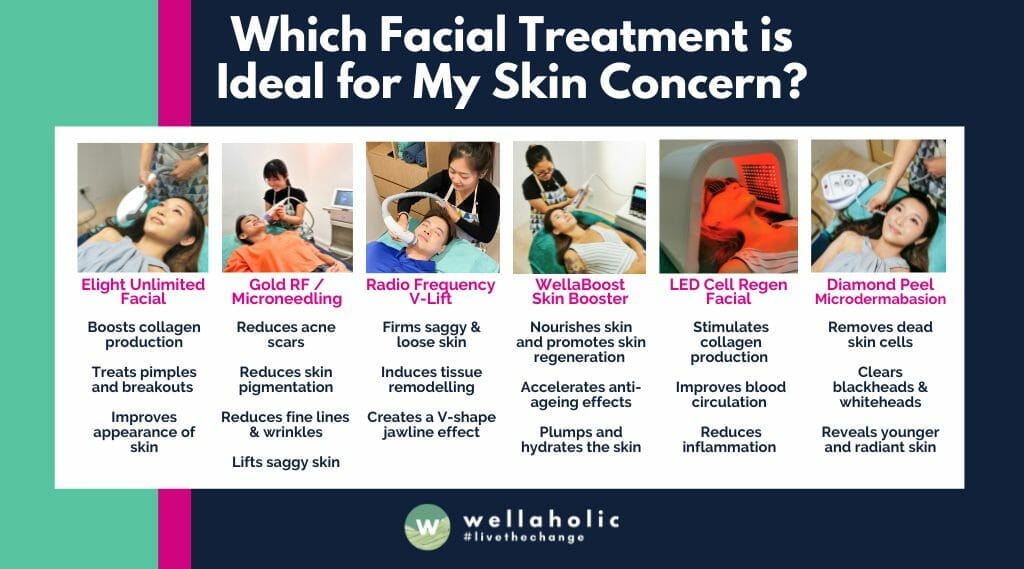 Reason 1: Wellaholic Offers Comprehensive Facial Services and Expertise
Wellaholic offers 7 different types of facial services for your facial and skin needs. Our facials can be broken down into the following categories:
WellaFacial Signature Facial Regime

Extensive all-inclusive facial regime that includes the latest technologies.
Promote cellular renewal and anti-aging.
Ccombines WellaBoost + Microneedling (Face/Neck) + LED Cell Regen Facial to provide multiple benefits at an affordable price.

WellaBoost Skin Booster

Non-invasive facial skin booster which is injection-free.
Combines two different technologies.
Infuses the skin with 4 different types of facial serums.
Helps to promote the increased hydration, collagen production, skin regeneration and healing

Gold RF Microneedling / Microneedling

Revolutionary skin treatment that delivers dramatic anti-ageing results.
Combines fractional radiofrequency (RF) with microneedling.
Effectively treats acne, acne scar, pigmentation, stretch marks & enlarged pores.
Lifts saggy skin and revitalises dull and uneven skin tone.

LED Cell Regen Facial

Uses different wavelengths to target the skin for various beneficial effects.
Able to improve skin elasticity, produce collagen, minimise blemishes and pimples.
Soothes aggravated skin and even reduce scarring.

Elight Unlimited Facial

Six-step technology facial backed by scientific research
Incorporates various technology treatments (RF, IPL, Diamond Peel microdermabrasion, LED Cell Regeneration, Retinol, REFA facial massage, etc.)
Designed as an affordable unlimited monthly package with weekly visits.
Brings out the best consistent results in flawless, younger-looking skin.

RF V-Lift Facial

Uses RF energy to heat tissue and stimulate sub-dermal collagen production.
Reduces appearance of fine lines and loose skin.
Induces tissue re-modelling and production of new collagen and elastin.
Provides an alternative to facelift and other cosmetic surgeries.

Diamond Peel Facial

Non-invasive and mechanical procedure using diamond bits.
Helps to remove dead skin cells, dirt and excess oil on the skin surface.
Improves the appearance of skin, by revealing younger and radiant skin underneath in an instant.
Reason 2: Wellaholic Has Over 50 Awards and 2000 Genuine Customer Reviews
Over 50 Awards. Wellaholic's WellaSmooth and SHR Hair Removal have been recognized by top beauty publications such as Daily Vanity, Beauty Insider, and Tropika Club Magazine, earning prestigious awards from 2018 to 2023.
Over 2000 Verified Customer Reviews. Wellaholic has over 2000 verified positive reviews from our customers in Singapore and beyond.
Verifiable Reviews. The reviews are verified and positive, which indicates the high level of customer satisfaction (see reviews below).
Over 50% Repeat Customers. More than 50% of Wellaholic's customers are repeat and recurring customers.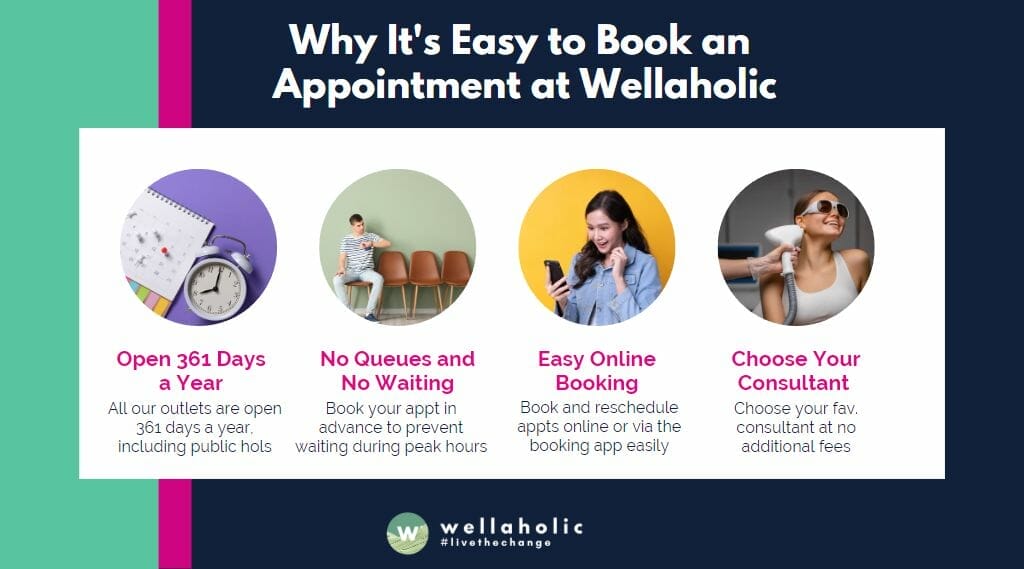 Reason 3: It's Easy to Book an Appointment at Wellaholic
Open 361 Days Per Year. Wellaholic's 8 outlets are open 361 days a year, including public holidays, so that customers can easily book an appointment.
No Queues. All appointments are booked in advanced to prevent the need to queue and wait unnecessarily during peak hours.
Easy Online Booking. Customers can conveniently book and reschedule appointments online or via the booking app.
No Extra Cost for Choosing Consultant. Customers can select their preferred consultant without having to pay any additional fees.