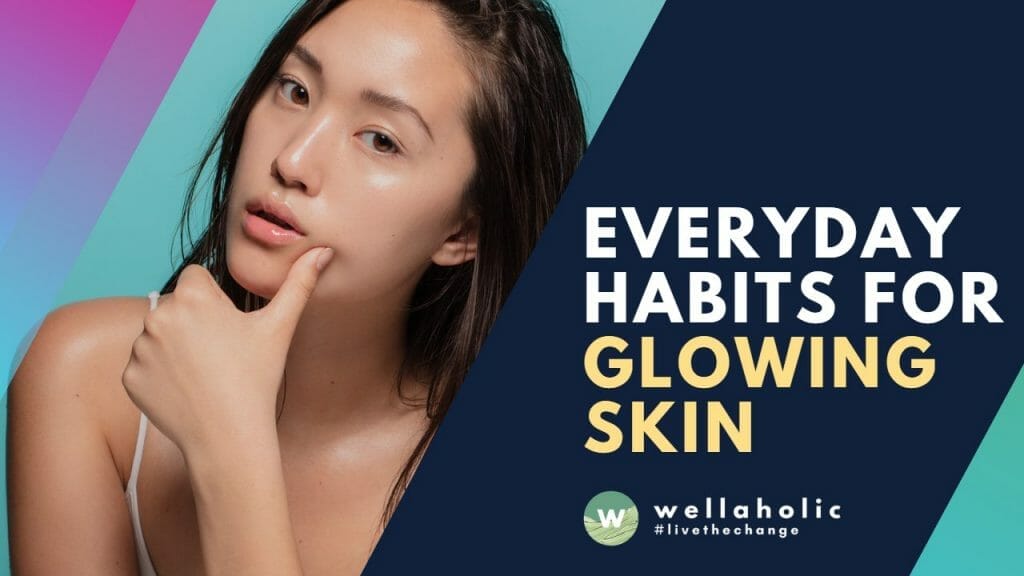 Everyday Habits for Glowing Skin
Introduction: Everyday Habits for Glowing Skin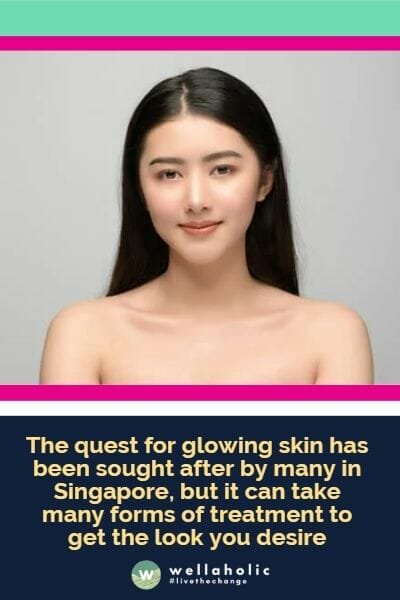 Singaporeans are known for their well-maintained and glowing skin. To achieve healthy, beautiful skin, it takes more than just a good skincare routine. Everyday habits have an immense impact on your skin and can make or break your complexion. In this article, we will explore the top everyday habits that Singaporeans should adopt to maintain glowing skin. From cutting down on sugar to getting enough sleep, these simple tips and tricks will transform your complexion in no time!
---
Cleanse: Clean Skin Daily
Achieving healthy, glowing skin doesn't have to be complicated. By following a simple daily cleansing routine, you can help keep your skin looking and feeling its best.
Cleansing is the key first step in any good skincare routine. To start your day off right, use a gentle cleanser that won't strip away natural oils or irritate sensitive skin. Look for one that is free of harsh chemicals like sulfates and parabens, which can damage the protective layer of your face and cause irritation. An added bonus: Natural cleansers also work well for removing makeup at night before bed!
For an extra boost of hydration, add moisturizing ingredients like hyaluronic acid into your daily cleansing routine after washing with water or toner.
Exfoliate: Gently Remove Dead Skin
Exfoliating is essential for healthy, glowing skin. It helps to remove any dead or dull skin cells, which in turn will help to create a brighter and smoother complexion. Not only does it gently remove these impurities, but it also stimulates circulation and encourages cell renewal.
There are many methods of exfoliation available, such as scrubs, cleansers, masks and peels. A gentle scrub is ideal for everyday use on your face as it contains natural ingredients that buff away the dead skin without being too abrasive. Cleansers are great for removing dirt and impurities from your pores whilst masks help to bring out any remaining debris before you finish with a toner. Peels are a more intense form of exfoliation that should be used once or twice a week depending on the sensitivity of your skin.
Moisturize: Keep Skin Hydrated
Moisturizing your skin is essential for keeping it healthy, hydrated and looking its best. Moisturizers help to protect the skin from environmental damage, reduce the signs of aging, and prevent dryness and irritation. Everyone's skin type is different and knowing which moisturizer will work best for you can be difficult. It's important to choose a product that suits both your skin type as well as lifestyle needs. For those with normal to dry skin, an oil-based moisturizer can provide adequate hydration without being overly greasy or heavy on the face. For those with more oily or combination skin types, lotions are perfect for providing light hydration while also controlling shine throughout the day. Those with sensitive skin should opt for fragrance-free products that won't irritate their complexion further.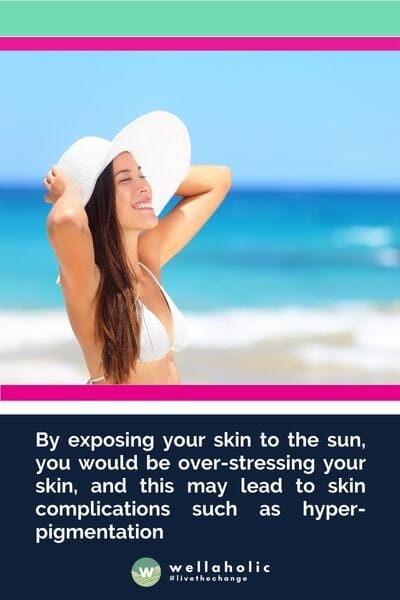 Protect: Wear Sunscreen Daily
The sun may be shining but the effects of UVA and UVB rays can be hazardous to your health. Wearing sunscreen daily is one of the most important steps you can take to protect your skin from sun damage and reduce your risk of developing skin cancer.
Studies have found that a person's risk for melanoma doubles if they've had more than five sunburns in their lifetime. Sunscreen use is key in preventing these burning episodes, reducing their risk levels significantly. Applying sunscreen with an SPF 15 or higher every day is essential when spending time outdoors, even when it isn't sunny or hot outside.
---
Diet: Eat Healthy Foods for Better Skin
Eating the right foods can make all the difference when it comes to having healthy, glowing skin. Eating a balanced diet that is full of nutritious fruits and vegetables is essential for beautiful skin. Not only do these foods provide antioxidants and vitamins, they also help keep your body hydrated which helps skin maintain its elasticity.
Some of the best foods for healthy skin include salmon, avocados, nuts, leafy greens and sweet potatoes. Salmon packs an omega-3 punch which helps keep inflammation at bay while avocados are rich in vitamin E which promotes cell turnover. Nuts contain essential fatty acids and leafy greens provide key minerals such as zinc that helps reduce breakouts. Sweet potatoes are packed with beta-carotene which helps protect your skin from sun damage.
Sleep: Get Enough Rest
Getting enough sleep is an important part of leading a healthy lifestyle. Not getting enough sleep can have many negative effects. Research has shown that lack of sleep can negatively affect our physical and mental health, as well as impair our ability to think clearly and make sound decisions.
Adults need between 7-9 hours of restful sleep each night in order to function optimally during the day. A good night's rest helps restore energy levels, increases alertness, and improves concentration and productivity during the day. Additionally, quality sleep helps regulate hormones which are responsible for growth and development in both adults and children. Regular sleeping patterns help reduce stress levels by providing consistency throughout the day which promotes overall wellbeing.
Conclusion: Improve Skin Health
In conclusion, it is clear that glowing skin is achievable through everyday habits. Eating a balanced diet, drinking plenty of water, and avoiding smoking are essential components of any skin-care routine. By incorporating these habits into your daily lifestyle, you can achieve healthy and radiant skin. Additionally, using quality skincare products and protecting the skin from environmental damage can improve the overall appearance of the complexion. Taking time for yourself to nurture your skin is an important step towards maintaining good health. So why not start today?
WellaBoost Skin Booster – Injection-free Mesotherapy Facial
Are you tired of needles but still want to achieve that perfect, glowing skin? Look no further than WellaBoost™ Skin Booster, the injection-free mesotherapy facial that nourishes your skin with advanced serums. With the base serum of Hyaluronic Acid, customers can choose to add on one or more of the following serums: Matrixyl, Marine Collagen, and Placenta serum, for a customized skincare experience. Say goodbye to needles and hello to the perfect skin with WellaBoost™ Skin Booster!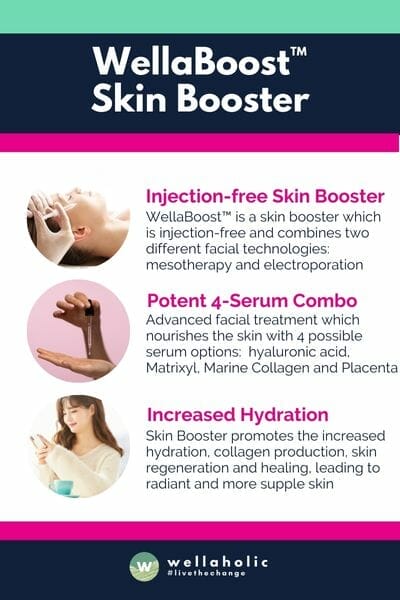 What is WellaBoost™ Skin Booster Facial?
Non-invasive. WellaBoost™ is a non-invasive facial skin booster.
Combines Two Technologies. WellaBoost™ combines two different technologies.
4 Serum Infusions. WellaBoost™ infuses the skin with 4 different types of facial serums.
Superior Hydration for Skin Regeneration. WellaBoost™ helps to promote the increased hydration, collagen production, skin regeneration and healing, leading to healthier and more supple skin.
Reduces Wrinkles. WellaBoost™ injects a mixture of nutrients directly to skin to stimulate production of collagen and elastin.
What Serums Are Includes in WellaBoost™?
WellaBoost™ skin booster nourishes the skin with 4 possible serum options. Hyaluronic Acid is always used as the base serum, and customers can choose to add on one or more of the following serums:
Hyaluronic Acid: Promotes healthier, more supple skin and creates a luminous appearance.
Matrixyl: Promotes collagen and elastin production, and diminishes fine lines.
Marine Collagen: Promotes skin regeneration and heals scars.
Placenta: Promotes anti-ageing properties from stem cells.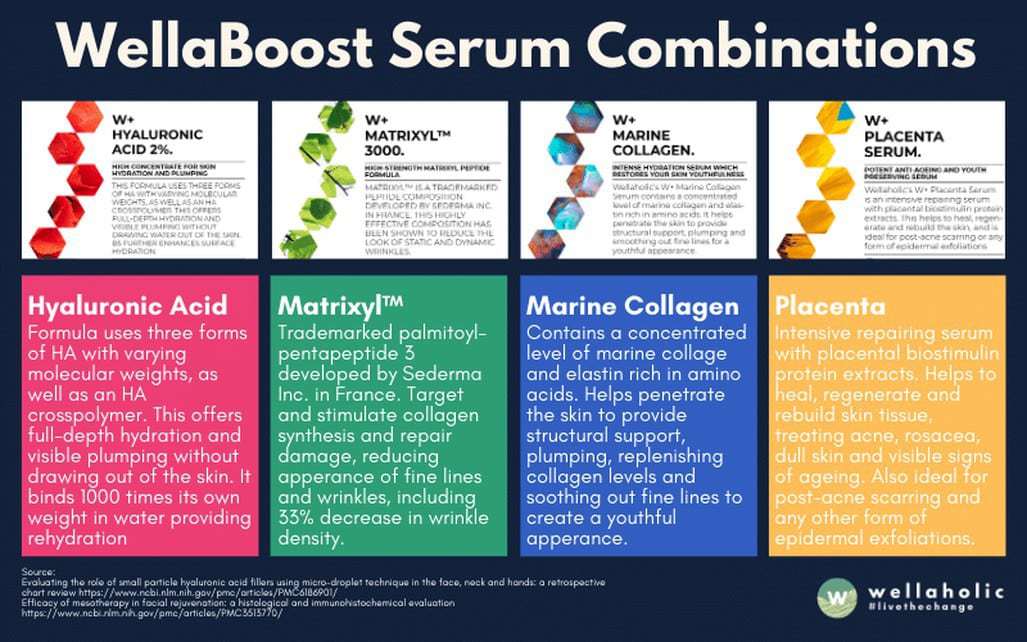 Pricing of Facial Treatments by Wellaholic
Price Transparency. Wellaholic offers pricing transparency by publishing and updating all prices on our website.
Flexible Per-Session or Unlimited Plans. Customers can choose from unlimited monthly facial plans for added cost savings, or per-session plans.
Mix and Match Easily. Wellaholic's facial plan prices are divided into different categories for easy selection.
No Price Shocks. Customers can expect to pay only for the treatments provided instead of being surprised by additional fees or charges at the end of their hair removal session.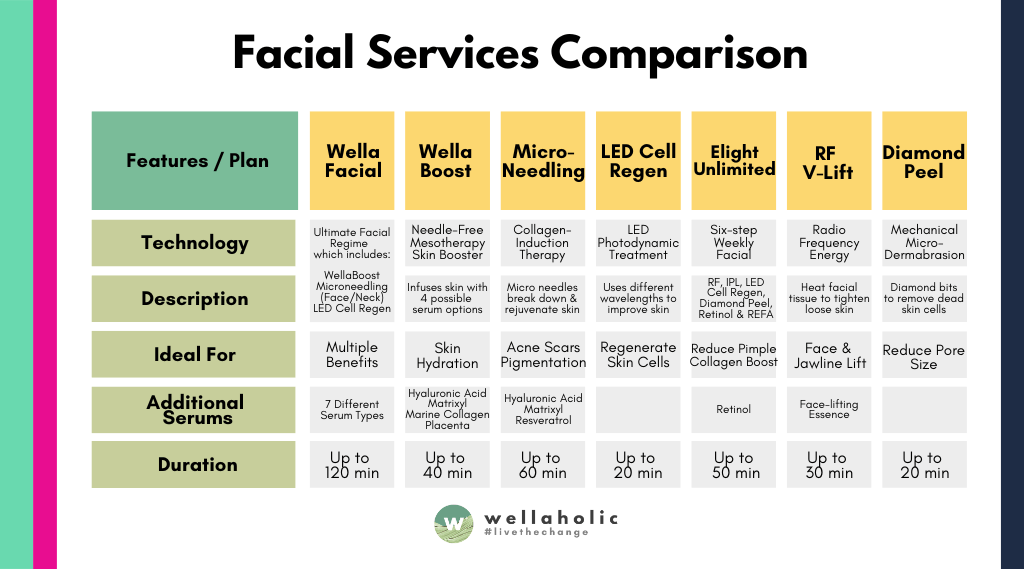 Why Wellaholic is One of the Best Facial Providers in Singapore?
Leading Facial Aesthetic Chain in Singapore. Wellaholic is a leading facial and aesthetic chain in Singapore that is highly sought after by customers.
Quality & Safe Treatments. The company is committed to providing quality and safe treatments with experienced staff.
Wide Range of Facial Treatments. Wellaholic offers a wide range of facial treatments for various skin concerns, and using different technologies such as microneedling, RF, Elight, IPL and mesotherapy.
Trained & Experienced Consultants. All treatments are performed by trained professionals who understand the skincare needs of both female and male customers.
Advanced Facial Technology. Advanced facial technology is used to ensure a safe experience with no downtime or discomfort during the entire process.
Most Affordable Provider. Wellaholic provides competitive pricing for its treatments which makes it one of the most affordable providers in Singapore.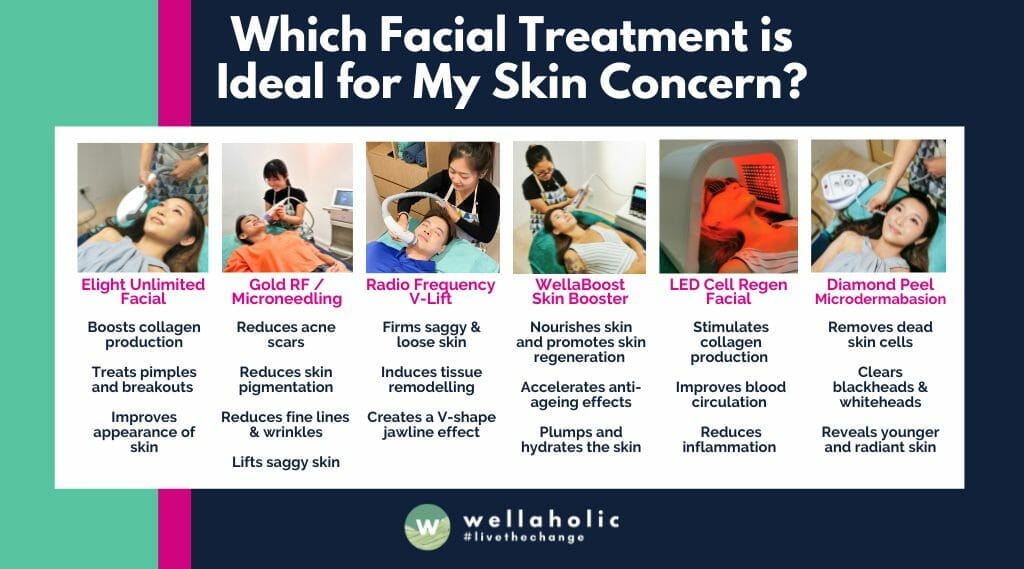 Reason 1: Wellaholic Offers Comprehensive Facial Services and Expertise
Wellaholic offers 7 different types of facial services for your facial and skin needs. Our facials can be broken down into the following categories:
WellaFacial Signature Facial Regime

Extensive all-inclusive facial regime that includes the latest technologies.
Promote cellular renewal and anti-aging.
Ccombines WellaBoost + Microneedling (Face/Neck) + LED Cell Regen Facial to provide multiple benefits at an affordable price.

WellaBoost Skin Booster

Non-invasive facial skin booster which is injection-free.
Combines two different technologies.
Infuses the skin with 4 different types of facial serums.
Helps to promote the increased hydration, collagen production, skin regeneration and healing

Gold RF Microneedling / Microneedling

Revolutionary skin treatment that delivers dramatic anti-ageing results.
Combines fractional radiofrequency (RF) with microneedling.
Effectively treats acne, acne scar, pigmentation, stretch marks & enlarged pores.
Lifts saggy skin and revitalises dull and uneven skin tone.

LED Cell Regen Facial

Uses different wavelengths to target the skin for various beneficial effects.
Able to improve skin elasticity, produce collagen, minimise blemishes and pimples.
Soothes aggravated skin and even reduce scarring.

Elight Unlimited Facial

Six-step technology facial backed by scientific research
Incorporates various technology treatments (RF, IPL, Diamond Peel microdermabrasion, LED Cell Regeneration, Retinol, REFA facial massage, etc.)
Designed as an affordable unlimited monthly package with weekly visits.
Brings out the best consistent results in flawless, younger-looking skin.

RF V-Lift Facial

Uses RF energy to heat tissue and stimulate sub-dermal collagen production.
Reduces appearance of fine lines and loose skin.
Induces tissue re-modelling and production of new collagen and elastin.
Provides an alternative to facelift and other cosmetic surgeries.

Diamond Peel Facial

Non-invasive and mechanical procedure using diamond bits.
Helps to remove dead skin cells, dirt and excess oil on the skin surface.
Improves the appearance of skin, by revealing younger and radiant skin underneath in an instant.
Reason 2: Wellaholic Has Over 50 Awards and 2000 Genuine Customer Reviews
Over 50 Awards. Wellaholic's WellaSmooth and SHR Hair Removal have been recognized by top beauty publications such as Daily Vanity, Beauty Insider, and Tropika Club Magazine, earning prestigious awards from 2018 to 2023.
Over 2000 Verified Customer Reviews. Wellaholic has over 2000 verified positive reviews from our customers in Singapore and beyond.
Verifiable Reviews. The reviews are verified and positive, which indicates the high level of customer satisfaction (see reviews below).
Over 50% Repeat Customers. More than 50% of Wellaholic's customers are repeat and recurring customers.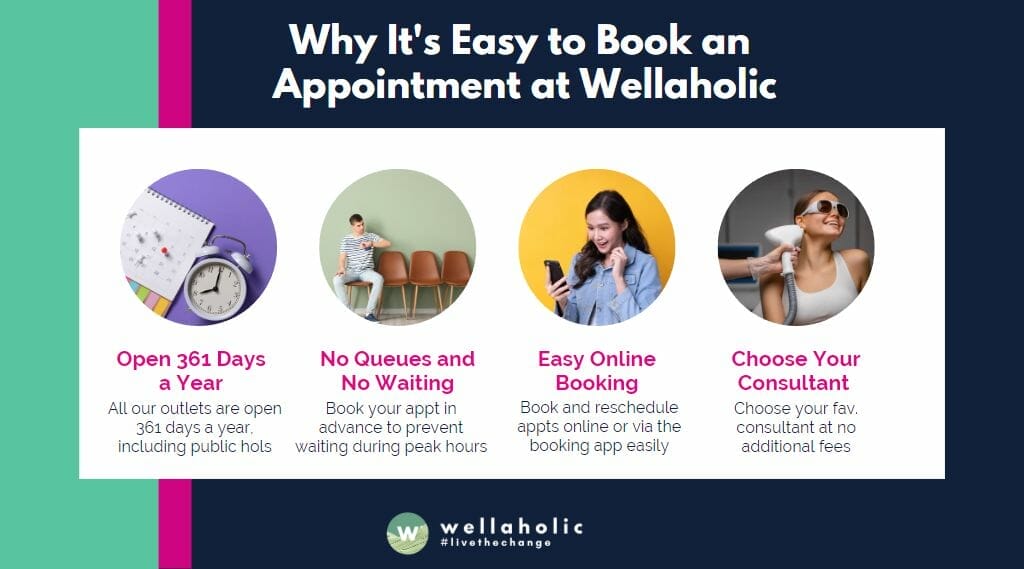 Reason 3: It's Easy to Book an Appointment at Wellaholic
Open 361 Days Per Year. Wellaholic's 8 outlets are open 361 days a year, including public holidays, so that customers can easily book an appointment.
No Queues. All appointments are booked in advanced to prevent the need to queue and wait unnecessarily during peak hours.
Easy Online Booking. Customers can conveniently book and reschedule appointments online or via the booking app.
No Extra Cost for Choosing Consultant. Customers can select their preferred consultant without having to pay any additional fees.