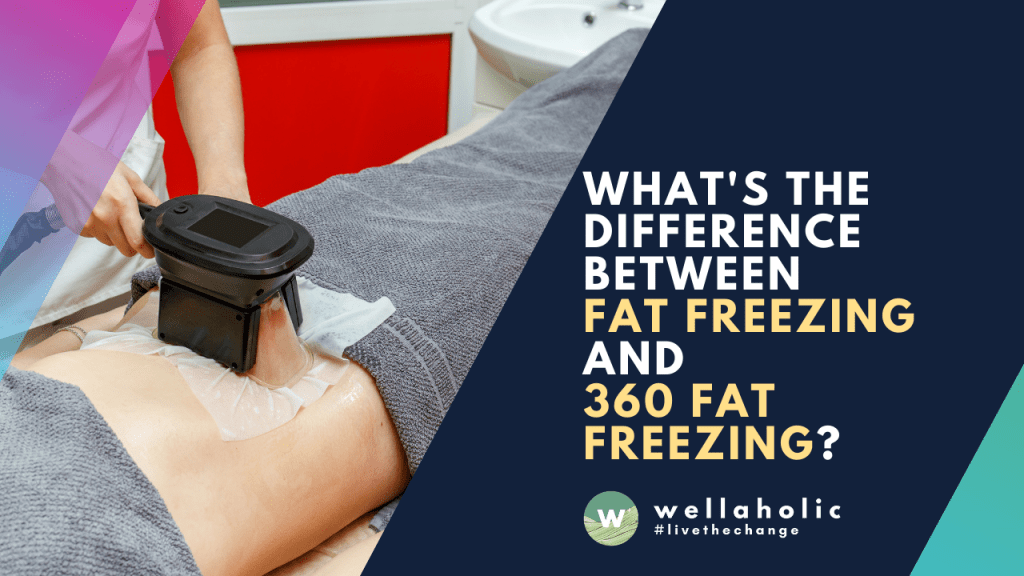 What is the Difference Between Fat Freezing and 360 Fat Freezing?
Introduction to fat freezing
Fat freeze can help get rid of excess fat and can make a huge difference in how other people see you and how you see yourself. That's especially true in Singapore, where everyone wants to have the perfect body and feel amazing. Fat freezing has become popular among both men and woman and can make you target the stubborn fat areas in your body, thereby leading to a more effective body contour. Whether you are planning to love your love handles, or aiming to get your six-pack abs, fat freezing can accelerate the path towards your body sculpting goals.
This fat reduction treatment is the only FDA-cleared procedure to use controlled cooling to safely target and eliminate diet- and exercise-resistant fat. Fat freezing or cryolipolysis results are proven, noticeable, and lasting, so you'll look and feel great from every angle. The 360° fat freeze machine intelligently targets fat cells whilst causing no damage to the surrounding areas. Fat freezing works by causing cell apoptosis (fat cell death) at very cold temperatures. Over the next 2 to 3 months, the body will metabolize these frozen fat cells and remove them naturally from the body.
What are the differences between traditional fat freezing and 360 fat freezing?
The 360 fat freezing is the latest technology in Cryolipolysis and offers several advantages. Whereas in the 1st generation traditional fat freezing (offered by Wellaholic as WellaFreeze Fat Freeze), there are 2 applicators, and each applicator has 2 metal plates which cools a limit part of the body. For 360 fat freezing (offered by Wellaholic as WellaFreeze 360 Fat Freeze), it comes with 4 applicators or probes with an increased coverage area for fat freezing. The applicators has a 360 suction areas which can effectively target the entire treated area for the maximum fat freezing, leading to better results.
WellaFreeze 360 offers 360 degree cooling applicator with 100% cooling effective surface, ensures that the cooling effective area covers more than two cryo plates of other traditional gen-1 cryolipolysis machines. The excellent management of the cooling allows a shorter session with high patient satisfaction rate.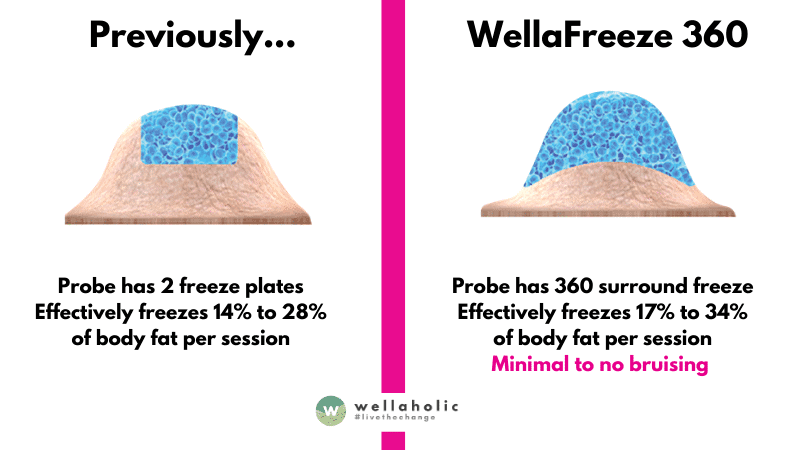 360 fat freezing can provider a better fit to different body parts
With up to 9 different handpieces, the WellaFreeze 360 fat freeze caters to every part of the body. Compared to traditional fat freeze devices whose handpieces only suit large or flat body parts, there is virtually no area on the body that the WellaFreeze 360 cannot reach.
For greater efficacy, these applicators come in different shapes, sizes and contours, some specially curved in order to provider a better fit in areas such as fat pockets below the underarms, love handles and well as for inner thighs. The better grip ensures a better freezing quotient, leading to better fat freezing results.

Lose between 25% to 38% fat per treatment area
Effective Results – Lose between 25% – 38% fat reduction per treatment area with impressive and natural looking results
No Downtime – You can get on with normal activities straight after the treatment whilst the fat is eliminated from your body
Long-lasting Results – You will experience gradual changes in your body shape for months after the treatment
Non-invasive & Non-surgical – It is the most effective body treatment that reduces stubborn fat cells without the need for surgery
Diet and Exercise – Nevertheless, fat freezing works most effectively when combined with a sensible diet and adequate exercise.
Is fat freezing safe and risk-free?
As a whole, most health professionals and also researchers agree that Cryolipolysis is a risk-free and efficient therapy to lower fat deposits in most locations. Over 5 million treatments have been executed world wide, with hundreds of studies, and also providing you don't eat way too much and also put weight on, your results will certainly be long lasting.
To minimise the possibility of unforeseen outcomes, make sure you're the best prospect for the "fat cold" procedure. Several of the criteria, for both males and females, consist of the following:
Being within 6-12 kg of your perfect body weight (much less is also far better). CoolSculpting is not intended to be a significant, 50 kg of weight off kind of treatment. Instead, it works best when just reasonable "spot treatment" of desired locations is called for.
Being usually healthy and balanced as well as not taking any kind of medications that can promote unchecked weight gain
Maintaining a good exercise and also nourishment programs
Being prepared to undertake multiple treatments to achieve ideal outcomes (those may or might not be needed).
Cryolipolysis is a safe, effective procedure that assists do away with stubborn undesirable fat in a lot of areas of the body, such as upper legs, arms, abdominal area, chin, flanks, as well as every little thing in between.
---

WellaFreeze 360 Advanced Fat Freeze by Wellaholic
WellaFreeze 360 uses the latest fat freeze technology and is designed for customers who are looking to fat freeze 4 body parts at once. Similar to Clatuu 360 or CoolSculpting 360, our WellaFreeze 360 cryolipolysis device is equipped with 4 probes or applicators for concurrent usage. Further more, the latest innovation in our fat freeze 360 probes increases the coverage area – meaning that you can freeze a larger surface area per probe.
What is WellaFreeze™ 360 Advanced Fat Freezing?
WellaFreeze™ 360 Fat Freezing is the latest innovation in fat freezing. It uses a newer device over the traditional WellaFreeze cryo machine. 
WellaFreeze™ 360 Fat Freezing helps target the stubborn fat and cellulite areas of your body that do not react well to exercise and dieting.
Fat cells are "dissolved" by non-surgical means and controlled cooling at sub-zero temperatures.
WellaFreeze™ 360 Fat Freezing with its newer technology can increase in absolute fat removal by up to 19%, in addition to the 14% to 28% fat reduction from each session.
In addition, customer can treat 4 body parts at one time with WellaFreeze™ 360 Fat Freezing.
Each session is also reduced from 60 minutes to only 30 minutes, due to the increase freezing ability.
WellaSmooth™ is your ultimate all-inclusive hair removal treatment in Singapore complete with shaving and post-treatment care.
WellaFreeze™ Fat Freezing Can be Done for the Following Body Parts
Stomach / Belly / Tummy / Abdomen
Love Handles / Flanks
Under the Neck / Double Chin
Back / Bra Area
Thighs
Male Chest (Pseudogynecomastia)
Arms
Under Buttocks (Banana Roll)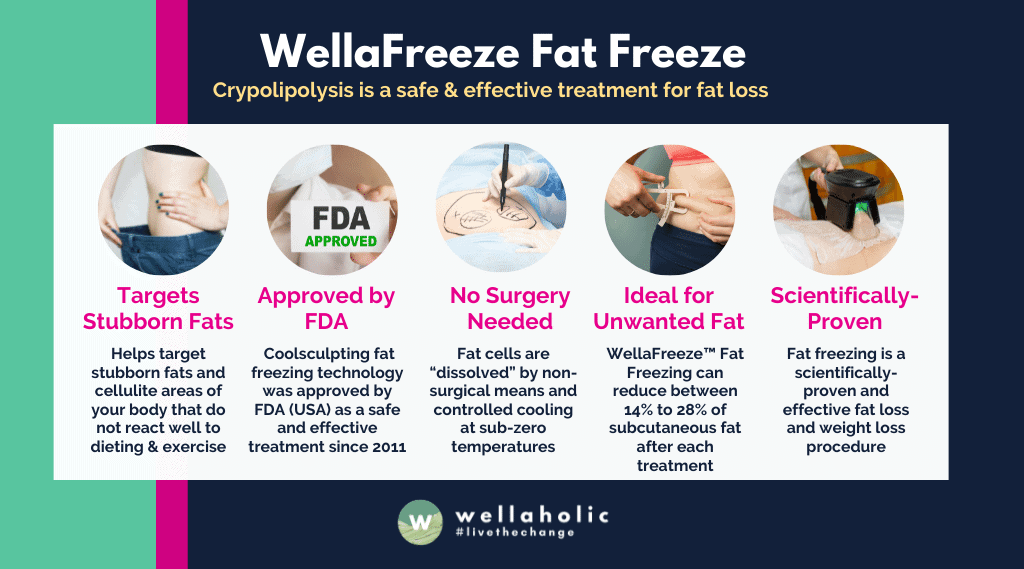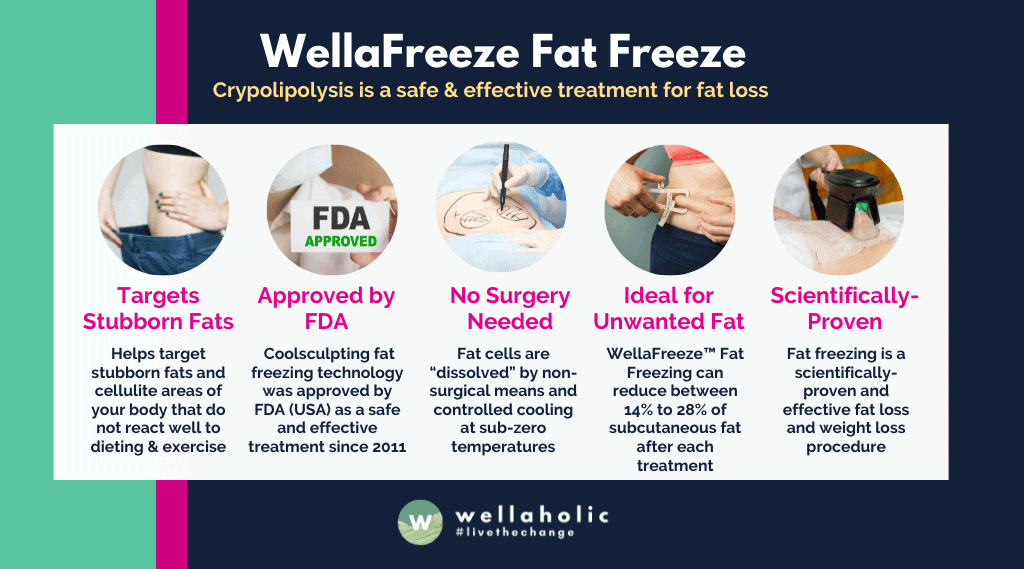 WellaFreeze™ 360 Fat Freeze Price Plan (1 Session = 2 Handles)
1 Session Plan (2 Body Parts) ($279)
4 Session Plan (2 Body Parts)  ($269 x 4 sessions = $1076) (5% savings)
8 Session Plan (2 Body Parts)  ($249 x 8 sessions = $1992) (10% savings)
12 Session Plan (2 Body Parts)  ($219 x 12 sessions = $2628) (15% savings)
WellaFreeze™ Fat Freeze Price Plan (1 Session = 2 Handles)
1 Session Plan ($219)
4 Session Plan ($209 x 4 Months = $836) (5% savings)
8 Session Plan ($199 x 8 Months = $1592) (10% savings)
12 Session Plan ($179 x 12 Months = $2148) (15% savings)
---
---

​