Is Fat Freezing Safe and Risk Free?
Introduction: Is Fat Freezing Safe and Risk Free?
With the rise of body sculpting treatments made available in Singapore (or anywhere else in the world for a fact), an increasingly popular treatment is fat freezing. Also known as cryolipolysis, this non-surgical procedure has been gaining traction among Singaporeans seeking to improve their physical appearance without going under the knife. But is fat freezing truly safe and risk free? In this article by Wellaholic, we will explore the potential risks and benefits of this procedure to help you make an informed decision.
"The key to a healthy life is to find a balance and always trust your body; Fat Freezing can help you do just that safely and without risk."
It is So Easy to Accumulate Fat Deposits
Occasionally it feels like regardless of what you do, just how much you exercise and work out as well as just how religiously you log every morsel of food that enters your mouth right into calorie-counting software, the body composition just does not seem to shift. Certainly, if you have actually made considerable way of life changes– and an initiative to devote to them– it's very not likely that your journey feels entirely meaningless. Nonetheless, what regarding those stubborn fat deposits that just won't go away? Arm, "muffin tops", belly rolls … they can be a significant annoyance for lots of people also at or near to excellent body weight.
There are Safety Issues Regarding Liposuction
Obviously, some people will certainly inform you obtaining a liposuction will certainly solve all your issues. Nonetheless, although highly efficient when performed suitably by a knowledgeable specialist, lipo is not exactly a stroll in the park. This extremely intrusive procedure is associated with substantial downtime, feasible side effects ranging from minor to really significant, as well as considerable costs included as a result of the level of competence as well as treatment required. Besides, not everybody is comfortable with the idea of going under a blade for totally appearance-driven factors.
MOH Guidelines for Liposuction
In Singapore, for liposuction, patients who are planning to go for liposuction are usually given 7 days "cooling off" period to consider their decision. This period is mandatory for liposuction, because MOH has tightened the rules for invasive cosmetic procedures in 2011. Also, A doctor who performed a botched liposuction procedure in 2013 has been found liable for negligence in the death of his patient and ordered to pay about S$5.6 million in damages, as ruled by the Singapore High Court in Nov 2020. This shows the risks and dangers related to liposuction.
If only there was a non-surgical procedure that could dissolve fat with no downtime and also very minimal complications…..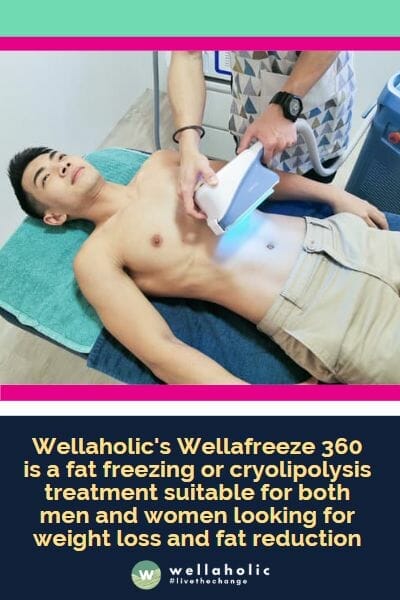 Cryolipolysis is a Safer Alternative to Liposuction
Well, well, well, it looks like someone is considering a bit of body sculpting, hmm? And not just any body sculpting, but Cryolipolysis! What a fancy word, right? But don't be fooled by its big, scientific-sounding name. Cryolipolysis is just a fancy way of saying "fat freezing." And sure, some might say it's a safer alternative to liposuction, but let's not forget that there are still potential complications, my friend. As Healthline reports, the procedure can potentially trigger serious complications in certain people, such as those with blood disorders like cryoglobulinemia. But hey, who needs blood, right? It's overrated. And who cares if you might potentially trigger a serious complication or two? It's all worth it for the sake of looking good, right? So go ahead and freeze away that fat! What's the worst that could happen?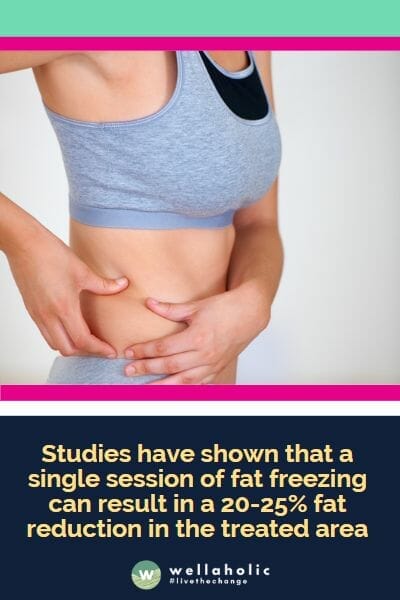 What is Fat Freezing?
In a nutshell, cryolipolysis, or "fat freezing", functions by exposing fat cells in the selected location of the body (e.g. stomach, flanks, thighs– or any other stubborn fat tissue deposits) to really low temperature levels. Therefore, fat cells are frozen to fatality– and also consequently eliminated by the body much like any other waste would certainly. Best of all, the surrounding tissues stay intact and undamaged, unlike after liposuction which undoubtedly promotes scarring!
There is very little pain included, either. Throughout your fat freezing treatment, the operator or therapist will use a suction cup applicator to the body part (or lump of flesh) to be treated via fat freezing. Not going to lie, it really feels a little uncommon, and also you may really feel cool while the device is in operation (it's called freeze for a reason). There is no pain but a generally numbing feeling due to the freezing action, which numbs the treated body area to sub-zero temperatures.
At Wellaholic, we offer the traditional fat freezing machines with probes that contain two paddles. We also have our revolutionary WellaFreeze 360, which is the top-range, best-performing cryolipolysis machine. WellaFreeze 360 increase absolute fat removal by up to 19% more (in addition to the usual 14% to 28% fat reduction from each session). Also painless and no downtime; the body will naturally dispose dead fat cells. What's special about WellaFreeze 360 is that up to 4 probes or applicators can be used concurrently at one session (as short as 30 minutes due to its efficiency and effectiveness) hence saving both time and money for the patient.
For an easy reference, you can refer to the table below for the characteristics of cryolipolysis, CoolSculpting or fat freezing:
| Characteristics | How Fat Freezing Works |
| --- | --- |
| Procedure | Non-invasive cosmetic treatment |
| Target Area | Specific areas of the body with stubborn fat |
| Method | Uses extreme cold to freeze and kill fat cells |
| Mechanism | Crystallizes fat cells, causing cell membranes to rupture |
| Removal | Body's natural waste removal systems flush out dead fat cells |
| Anesthesia | No anesthesia required |
| Incisions | No incisions required |
| Downtime | Minimal downtime |
| Discomfort | Minimal discomfort |
| Weight Loss | Not a weight loss solution |
| Ideal Candidates | Individuals already at or near ideal weight with stubborn pockets of fat |
| Results | Results may vary depending on factors such as body type and specific areas being treated |
| Safety | Safe and low-risk alternative to more invasive fat reduction methods |
| Recovery | Most patients able to resume normal activities immediately following procedure |
| Consultation | Consult with qualified and experienced practitioner to determine if procedure is right for you |
Characteristics of Fat Freezing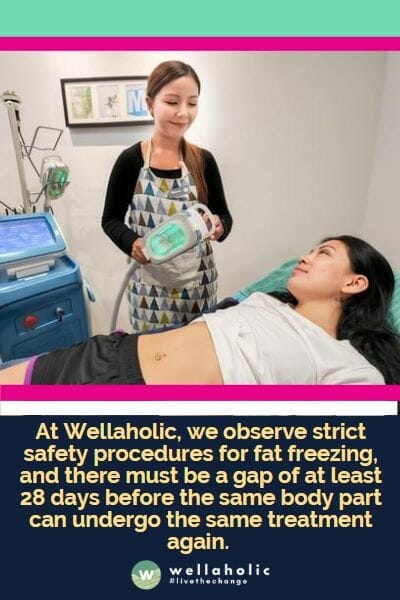 How is the Cryolipolysis Procedure Like?
Cold Temperatures to Break Down Fat Cells
Cryolipolysis is a non-invasive body contouring procedure that uses cold temperatures to break down and eliminate stubborn fat cells in targeted areas of the body. During the procedure, a specially designed device is applied to the skin, which uses suction to draw the targeted area into the device and expose it to controlled cooling. This cooling process freezes the fat cells, causing them to undergo apoptosis, or cell death. Over time, the body naturally eliminates these dead cells, resulting in a reduction in the amount of fat in the treated area [1].
Procedure is Safe with No Downtime
The Cryolipolysis procedure is generally well-tolerated and does not require any anesthesia or downtime. Patients may experience some discomfort or numbness during the procedure, but this typically resolves within a few minutes. The length of the procedure will depend on the specific area being treated, but it typically takes around one hour per treatment area.
Gap of At Least 28 Days at Wellaholic
At Wellaholic, we observe strict safety procedures for fat freezing, and there must be a gap of at least 28 days before the same body part can undergo the same treatment again. Thus, you can expect to see complete outcomes at around 12 weeks Cryolipolysis treatment, so wait up until after that to decide if you need a lot more freezing job done. As a general guide, you can anticipate to lose roughly an inch per treatment– yet this certainly does differ due to aspects such as body part dealt with, your metabolic rate, how big your fat down deposits are to start with, and so forth.
Is Fat Freezing Safe and Risk-free?
As a whole, most health professionals and also researchers agree that cryolipolysis is a risk-free and efficient therapy to lower fat deposits in most locations. Over 5 million treatments have been executed world wide, with hundreds of studies, and also providing you don't eat way too much and also put weight on, your results will certainly be long lasting.
To minimise the possibility of unforeseen outcomes, make sure you're the best prospect for the "fat cold" procedure. Several of the criteria, for both males and females, consist of the following:
Being within 6-12 kg of your perfect body weight (much less is also far better). CoolSculpting is not intended to be a significant, 50 kg of weight off kind of treatment. Instead, it works best when just reasonable "spot treatment" of desired locations is called for.
Being usually healthy and balanced as well as not taking any kind of medications that can promote unchecked weight gain
Maintaining a good exercise and also nourishment programs
Being prepared to undertake multiple treatments to achieve ideal outcomes (those may or might not be needed).
Cryolipolysis is a safe, effective procedure that assists do away with stubborn undesirable fat in a lot of areas of the body, such as upper legs, arms, abdominal area, chin, flanks, as well as every little thing in between.
How Can I Prepare for a Fat Freezing Session?
Ah, so you've finally decided to freeze your fat away! Congratulations on taking the first step towards looking like a Greek god or goddess. Before your fat-freezing session, there are a few things you should do to prepare. First, eat as many donuts and cheeseburgers as possible to maximize the amount of fat you'll be freezing. Trust me, you want to get your money's worth. Second, bring a thick novel or an entire season of your favorite show to keep you entertained during the procedure. And finally, make sure to wear your most unflattering outfit to the session. That way, when you emerge from the clinic, everyone will be even more amazed by your stunning transformation. Jokes aside, no preparation is needed for a fat freezing session. Just make sure you are in a good and healthy state before you start your treatment.
---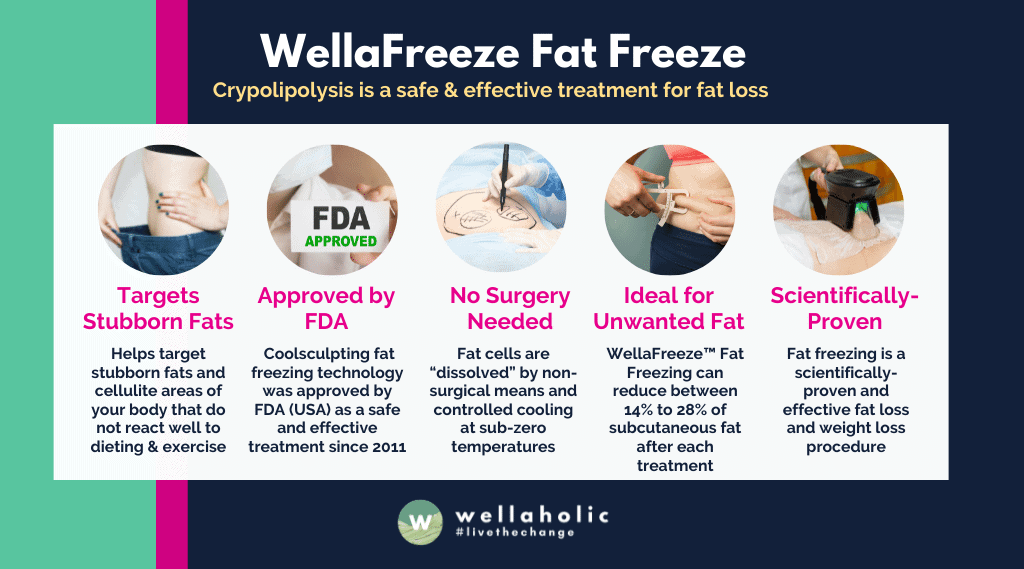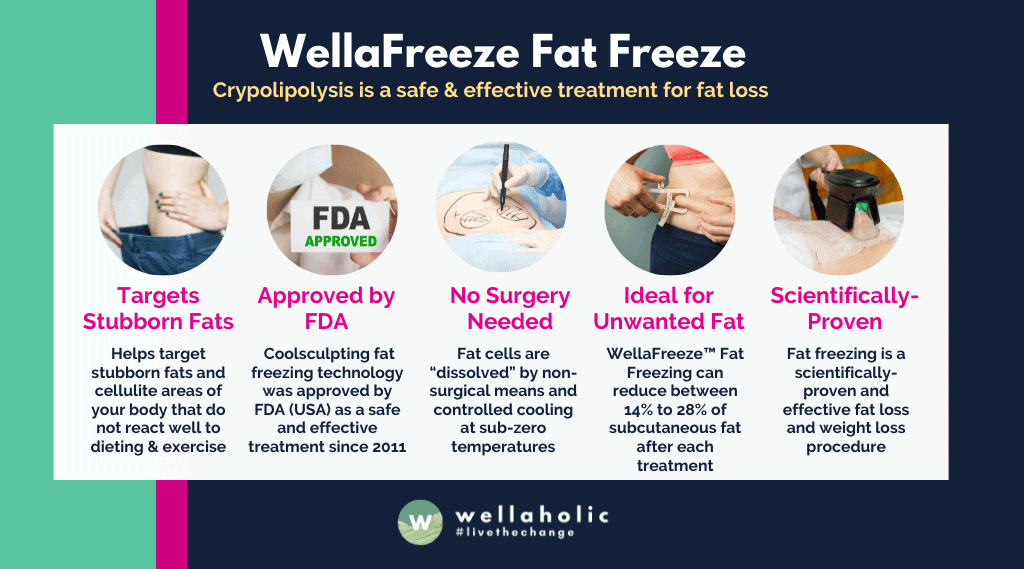 What is WellaFreeze™ 360 Advanced Fat Freezing?
WellaFreeze™ 360 Fat Freezing is the latest innovation in fat freezing. It uses a newer Cryolipolysis model over the traditional WellaFreeze cryolipolysis machine.
WellaFreeze™ 360 Fat Freezing helps target the stubborn fat and cellulite areas of your body that do not react well to exercise and dieting.
WellaFreeze™ 360 Fat Freezing "dissolves" fat cells controlled cooling at sub-zero temperatures.
WellaFreeze™ 360 Fat Freezing with its newer technology can remove between 17% to 34% of subcutaneous fat from each session.
WellaFreeze™ 360 Fat Freezing can treat up to 4 body parts concurrently.
WellaFreeze™ 360 Fat Freezing takes only 30 minutes per session, due to increased freezing efficiency.

WellaFreeze™ 360 uses 360 probes which can freeze and reduce up to 34% of body fat per session with no or minimal bruising to the body.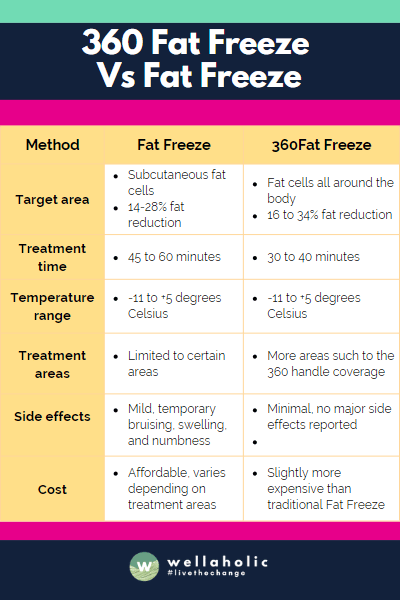 Why Choose WellaFreeze™ 360 Advanced Fat Freeze?
Latest 4th Generation Freezing. WellaFreeze™ 360 advanced fat freezing uses the latest fat freeze technology and is designed for customers who wants to achieve highest fat reduction with fat freezing.
Up to 34% Fat Loss Each Session. Increase in percentage of fat loss due to newer technology and coverage.
360° Surround Cooling Technology. The handles or cooling cups can be adjusted to fit all body curves and contouring for best freezing.
Breathing Technology Reduces Bruising. "Breathing" technology improves freeze while minimising bruising from the suction.
Shorter Time Needed. Each duration is reduced from typical 60 minutes to just 30 minutes.
WellaFreeze™ Fat Freezing Can Target the Following Body Parts
Stomach / Belly / Tummy / Abdomen
Love Handles / Flanks
Under the Neck / Double Chin
Back / Bra Area
Thighs
Male Chest (Pseudo gynecomastia)
Arms
Under Buttocks (Banana Roll)
Pricing of Slimming Treatments by Wellaholic
Price Transparency. Wellaholic offers pricing transparency by publishing and updating all prices on our website.
Flexible Per-Session or Unlimited Plans. Customers can choose from unlimited monthly or per-session slimming price plans.
Mix and Match Easily. Wellaholic's slimming prices are divided into different categories for easy selection.
No Price Shocks. Customers can expect to pay only for the treatments provided instead of being surprised by additional fees or charges at the end of their slimming session.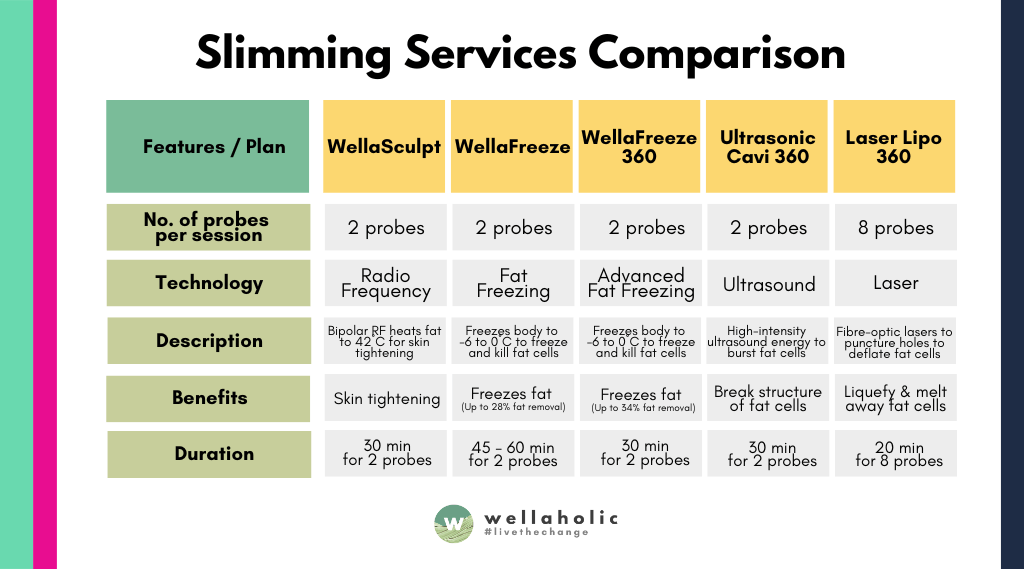 ---
Why Wellaholic is One of the Best Slimming Treatment Providers in Singapore?
Leading Slimming Chain in Singapore. Wellaholic is a leading slimming and body contouring chain in Singapore that is highly sought after by customers.
Quality & Safe Treatments. The company is committed to providing quality and safe treatments with experienced staff.
Wide Range of Slimming Treatments. Wellaholic offers a wide range of slimming treatments for various body parts including chin, upper arms, front armpit fat, bra line, gynecomastia, back, upper abdomen, lower abdomen, love handles, underbutt, thighs and knees.
Trained & Experienced Consultants. All treatments are performed by trained professionals who understand the skincare needs of both female and male customers.
Advanced Slimming Technology. Advanced slimming technologies such as ultrasound, Cryolipolysis, radio frequency and cold wave lasers are used to ensure a safe experience with no downtime or discomfort during the entire process.
Most Affordable Provider. Wellaholic provides competitive pricing for its treatments which makes it one of the most affordable providers in Singapore.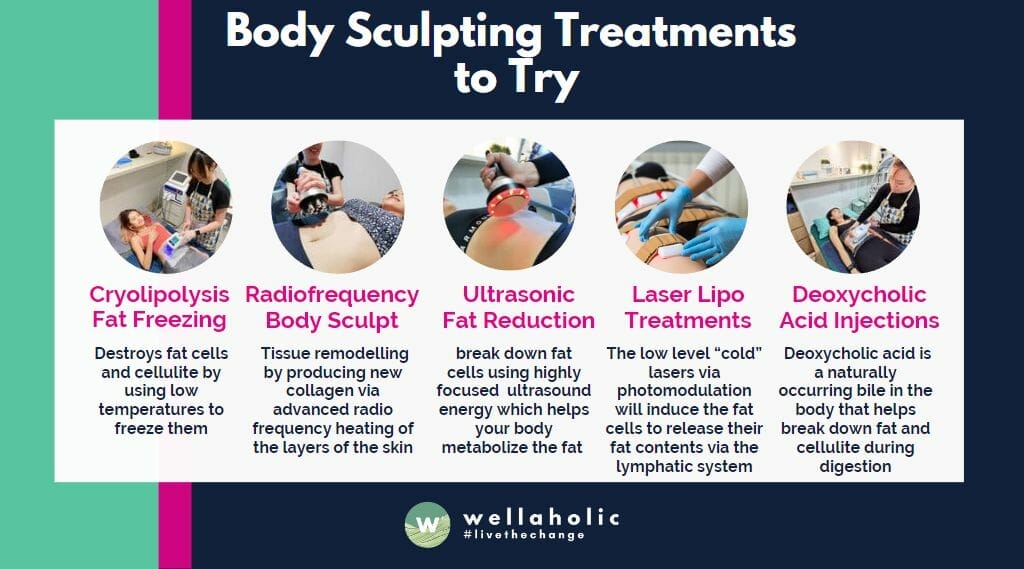 Reason 1: Wellaholic Offers Comprehensive Slimming Services and Expertise at Affordable Prices
Wellaholic offers different types of slimming treatments for your fat management needs. Our slimming packages can be broken down into the following categories:
WellaShape Double Slimming Plan

Double slimming plan combining 2 slimming technologies at a discounted price.
Freeze fat via WellaFreeze™ 360 advanced fat freezing.
Then choose 1 other slimming treatment.
Most cost-effective slimming combo plan.

WellaFreeze 360 Advance Fat Freeze

Latest fat freeze technology with improved freezing and coverage area.
Efficient freeze reduces treatment time to just 30 minutes per session.
Each session can remove up to 34% subcutaneous fat.
Each session includes 2 handles/probes to target 2 body parts concurrently.
Interchangeable probes to effectively target different body areas & curves.
"Breathing" technology regulates vacuum suction to minimise bruising.

WellaFreeze Fat Freezing

Original fat freeze technology, also known as CoolSculpting.
Uses sub-zero temperature to freeze and eliminate fat cells.
Each session can reduce up to 28% subcutaneous fat.
Each session takes about 45 minutes to 60 minutes per session.

WellaSculpt RF Body Sculpting

Advanced RF energy to heat and tighten loose skin.
Ideal for body sculpting and body sculpting.
Works well when used in conjunction with fat freezing.
Each session includes 2 body parts and takes 30 minutes.

Ultrasonic Cavi 360

Ultrasound fat cavitation to vibrate and burst the fat deposits.
Ideal for targeting fats that is less "pinchable" and deeper in the body.
Can lead to reduction of body mass (1cm to 3cm) in as little as 3 treatments.
Each session includes 2 body parts and takes 30 minutes.

Laser Lipo 360

Cold wave lasers to eliminate fat with no downtime.
Fat cells absorb laser energy, causing fat to escape from fat cell membrane.
Each session comes with 8 laser plates for various body parts.
Each session takes 25 minutes.
Compliments other slimming treatments.
You can refer to the table below for a breakdown of Wellaholic's various slimming services and how they can meet your slimming objectives. Our customers generally combine several treatments for the best slimming and body contouring outcome.
Slimming Treatment
Features
Ideal For Customers Who
WellaShape Double Slimming
WellaFreeze 360 + 1 Other Slimming Treatment
– Want quick results
– Want to combine 2 treatments at discount
WellaFreeze 360 Advance Fat Freeze
Latest fat freeze technology with 360 handle coverage
– Want up to 34% fat loss
– Want less bruising
WellaFreeze Fat Freeze
Original fat freeze technology with 2 freeze plates
– Want to try fat freezing for first time
WellaSculpt RF Body Sculpting
Advanced RF energy to tighten loose skin
– Want to get rid of loose skin
– Want to tone the body
Ultrasonic Cavi 360
Ultrasound fat cavitation to vibrate and burst the fat deposits
– Want to target fat that is less "pinchable"
Laser Lipo 360
Cold wave lasers to eliminate fat with no downtime
– Want to shrink fat cells in conjunction with other treatments
Stretch Mark Microneedling
Remove appearance of stretch marks using multiple micro-needles
– Want to remove the appearance of stretch marks (fat loss / pregnancy)
Comparison Between Wellaholic's Various Slimming Services
Reason 2: Wellaholic Has Over 50 Awards and 2000 Genuine Customer Reviews
Over 50 Awards. Wellaholic's WellaFreeze 360 and Ultrasonic Cavi 360 have been recognized by top beauty publications such as Daily Vanity, Beauty Insider, and Tropika Club Magazine, earning prestigious awards from 2018 to 2023.
Over 2000 Verified Customer Reviews. Wellaholic has over 2000 verified positive reviews from our customers in Singapore and beyond.
Verifiable Reviews. The reviews are verified and positive, which indicates the high level of customer satisfaction (see reviews below).
Over 50% Repeat Customers. More than 50% of Wellaholic's customers are repeat and recurring customers.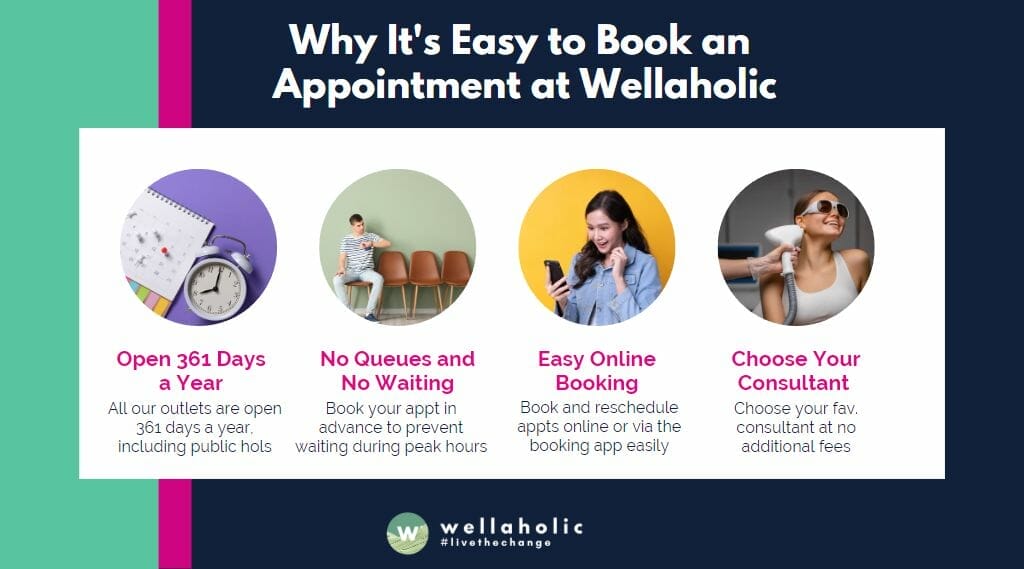 Reason 3: It's Easy to Book an Appointment at Wellaholic
Open 361 Days Per Year. Wellaholic's 8 outlets are open 361 days a year, including public holidays, so that customers can easily book an appointment.
No Queues. All appointments are booked in advanced to prevent the need to queue and wait unnecessarily during peak hours.
Easy Online Booking. Customers can conveniently book and reschedule appointments online or via the booking app.
No Extra Cost for Choosing Consultant. Customers can select their preferred consultant without having to pay any additional fees.
---

​