50% Reduced Rates for WellaShape with Lifetime Maintain Mode
Our Brand Promise to Help You Stay in Shape for a Lifetime
WHAT IS LIFETIME MAINTAIN MODE?
Our LIFETIME MAINTAIN MODE is our commitment to help customers who have completed 12 sessions of WellaFreeze or WellaSculpt treatments with us.
While WellaShape (WellaFreeze + WellaSculpt) uses technology to help remove your fat cells and firm your body, we are going the extra mile as part of our Brand Promise to take care of our customers. We are offering a LIFETIME MAINTAIN MODE to help you stay in shape. For a lifetime!
WHAT ARE THE BENEFITS OF LIFETIME MAINTAIN MODE?
If you qualify for LIFETIME MAINTAIN MODE, you get to enjoy the following prices indefinitely*:
$219 –> $89 – Per WellaFreeze Fat Freeze session (single handle)
$219 –> $89 – Per WellaSculpt Body Sculpting session (per body part)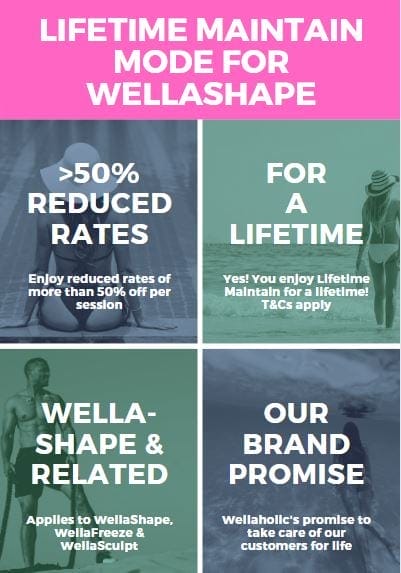 WHAT ARE THE TERMS AND CONDITIONS
Lifetime Maintain Mode is valid for Wellaholic customers with an existing active Membership.
Lifetime Maintain Mode does not expire and customers can make as many repeated sessions as long as they are 30 days apart.

Members cannot pre-purchase any Lifetime sessions in advance.

Members can use cashback credits to pay for Lifetime treatments based on the usual 1:5 ratio.

Lifetime treatments attract no cashback credits.

*The management reserves the right to adjust the pricing based on inflation – the Lifetime Maintain prices will always be around 50% of the ala carte prices.