Hair Loss Treatments for Women in Singapore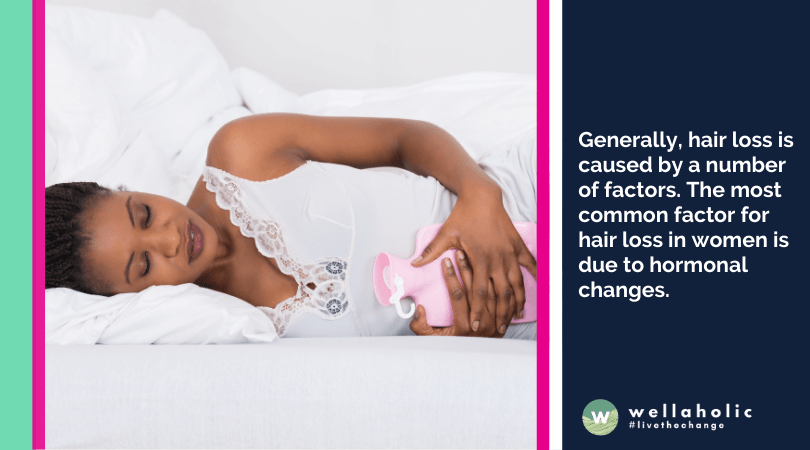 Introduction
There are many reasons to why your hair is thinning or falling out more than the usual. While it can be temporary or even reversible, it is important to quickly address your hair fall issue before it gets even more serious. In this article by Wellaholic, we will share on the possible treatments available to help treat hair loss for women, especially women in Singapore
What are the common causes of Hair loss in Women?
Hormonal Factors
Generally, hair loss is caused by a number of factors. The most common factor for hair loss in women is due to hormonal changes. This can be due to conditions such as menopause or even pregnancy. Stress can also cause hormonal shifts, which in turn causes thinning hair or hair loss in general. When the body adjusts and the hormonal levels return to normal, the hair loss should stop on its own.
Nutrient Deficiencies
If you have a change of diet, or if you are trying a new form of dieting, it can sometimes affect your scalp. Nutrient deficiencies can be solved by readjusting your diet, and by consulting a doctor or a dietitian. Sometimes, there may be an underlying health or medical condition, hence it will be important to check with your doctor on this.
Female Pattern Baldness or Alopecia
About one-third of women experience hair loss (also known as alopecia) at some time in their lives. Hair loss in women often has a greater impact than hair loss does on men, because it's less socially acceptable for them. This type of hair loss is very similar to that experienced by men. It is known as androgenetic alopecia or female pattern hair loss. For women, it usually begins with the gradual thinning at the hair parting line. Then slowly but surely, there will be an increase of diffused hair loss radiating from the top of the head or the hair parting line.
Lidwig Scale for Female Pattern Baldness Classification
The Ludwig scale is a method of classifying female pattern baldness (androgenic alopecia), and ranges from stages I to III. Stage I begins with thinning on the top of the head. In stage II the scalp starts to show. All of the hair at the crown of the head may be lost when the hair loss progresses to stage III. However, the scale is used merely for general categorisation.
---
What is Androgenetic Alopecia?
Androgenetic alopecia relates to the action of the hormones called androgens, which are essential for normal male sexual development and have other important functions in both sexes, including sex drive and regulation of hair growth. The condition may sometimes be inherited and usually involves several different genes. Androgenetic alopecia can be caused by an underlying endocrine condition, such as overproduction of androgen or an androgen-secreting tumour on the ovary, pituitary, or adrenal gland. In either case, the alopecia is likely related to increased androgen activity. But unlike androgenetic alopecia in men, in women the precise role of androgens is harder to determine. On the chance that an androgen-secreting tumor is involved, it's important to measure androgen levels in women with clear female pattern hair loss.
---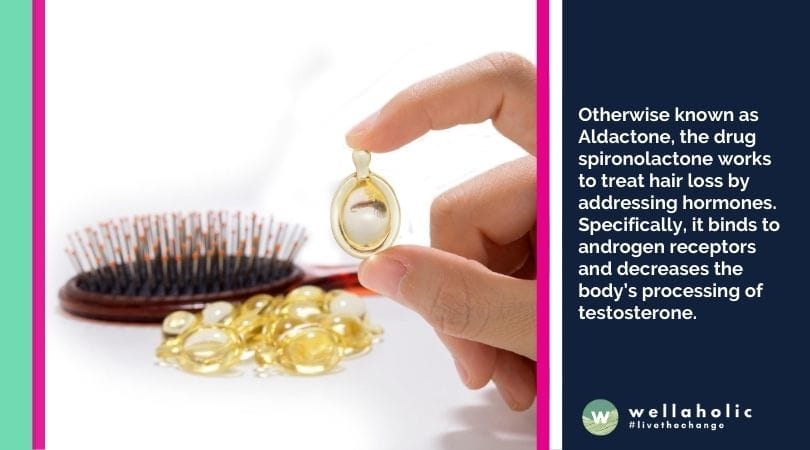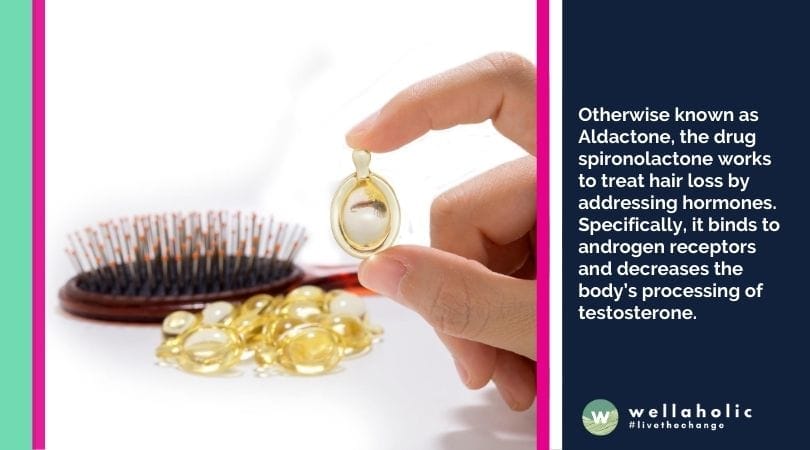 Treating hair loss with minoxidil
Also commonly known as its brand name Rogaine, this over-the-counter (OTC) medication can be used for men or women with alopecia areata or androgenic alopecia. This drug comes in foam or liquid form and is spread on the scalp each day. It may cause more hair loss at first, and new growth may be shorter and thinner than before. You may also need to use it six months or more to prevent further loss and promote regrowth. At Wellaholic, we use this together with our HairGrow and Microneedling for Scalp for Hair Regrowth treatments.
Treating hair loss with spironolactone pills
Otherwise known as Aldactone, the drug spironolactone works to treat hair loss by addressing hormones. Specifically, it binds to androgen receptors and decreases the body's processing of testosterone. It's normally used to treat swelling, high blood pressure, and potassium deficiency. But because Aldactone acts as an anti-androgen, it can help when women are experiencing hair loss due to higher levels of androgens.
​Spironolactone slows down the production of androgens. These are male sex hormones, including testosterone. Reduced production of androgens can slow down the progression of hair loss caused by androgenic alopecia. It can also encourage hair to regrow.
Treating Hair loss with Tretinoin
Retin-A, or topical tretinoin, is sometimes used as a combination therapy with minoxidil for androgenic alopecia. Topical all-trans-retinoic acid (tretinoin) alone and in combination with 0.5% minoxidil has been tested for the promotion of hair growth in 56 subjects with androgenetic alopecia. After 1 year, the combination of topical tretinoin with 0.5% minoxidil resulted in terminal hair regrowth in 66% of the subjects studied. Tretinoin was shown to stimulate some hair regrowth in approximately 58% of the subjects studied. Tretinoin has been shown to promote and regulate cell proliferation and differentiation in the epithelium and may promote vascular proliferation. These factors are important for hair growth promotion.
Treating Hair loss with Corticosteroid injections
Corticosteroid injections, like all treatments for alopecia areata, do not prevent new hair loss from developing. While there are few reported side effects related to this kind of treatment, temporary depressions (called "dells") in the skin may result from the injections. However, these usually improve with time. ​If new hair growth occurs from corticosteroid injections it is usually visible within four weeks. There are few known side effects related to this kind of treatment.
Treating Hair loss with Anthralin
Drithocreme (Anthralin) is a topical medication used to control inflammation at the base of the hair follicles. It is used in conditions such as alopecia areata. ​A few controlled trials have assessed the efficacy of topical anthralin in the treatment of alopecia areata. In an open study, a cosmetic response was seen in 25% of patients with severe alopecia areata treated using 0.5%–1.0% anthralin cream.
---
HairGrow™ – Hair Regrowth with 3 Scientific Methods
ULTIMATE HAIR REGROWTH TREATMENT COMBINING ALL THREE TREATMENTS: MICRONEEDLING FOR SCALP, HAIRGROW SCALP BOOSTER AND LOW LEVEL LASER THERAPY (LLLT)
What is HairGrow™ Hair Regrowth Plan?
HairGrow™ is an effective solution for hair loss by combining Wellaholic's three hair regrowth treatments with free additional weekly Low Level Laser Treatments (LLLT) to supercharge your hair regrowth. See results over a 12-week period.
HairGrow combines all three different scientific hair regrowth treatments of Microneedling for Scalp, Scalp Booster and LLLT to accelerate your hair regrowth efforts. Pay for 2 treatments and get the 3rd treatment free. This includes a monthly supply of Minoxidil with Royal Jelly to jumpstart your hair growth.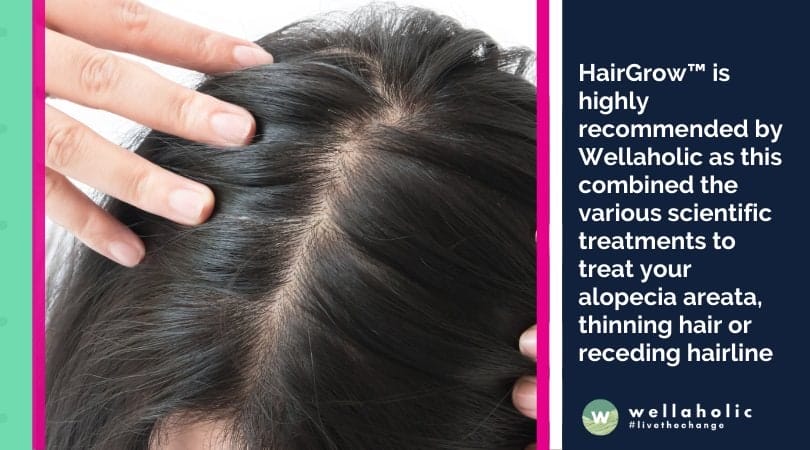 Is HairGrow™ Backed by Science?
HairGrow™ includes three different types of technology treatments.
They have numerous research reports and case studies backing them up.
Case Study 1 (2013) concluded that the group which combined Microneedling with Minoxidil application saw a significant hair growth as compared to the minoxidil-only group.
Case Study 2 (2014) concluded the boosting effect of microneedling with respect to new hair follicle stimulation in patients with androgenetic alopecia who were poor responders to conventional therapy.
Low Level Laser Therapy (LLLT)
Case Study 3 (2013) concluded that 47% of the patients' hair growth occurred in 7 weeks earlier for the group with LLLT treatment compared to the group without.
Case Study 4 (2013) concluded a 35% increase in hair growth for the males with the LLLT helmet. 
Pricing of Hair Loss Treatments by Wellaholic
Wellaholic believes in providing pricing transparency, and hence all prices are published and updated on its website. Choose from a single-session plan or choose a multi-session plan for greater discounts. Wellaholic's hair loss treatments are generally divided into the following categories:
Please click on the menu below to see the pricing for the various hair loss treatments by Wellaholic. Prices are nett and inclusive of GST.
How Do I Choose the Right Hair Loss Treatment Plan for Me?
Depending on your hair regrowth needs you can choose the following plans:
Wellaholic is well-known in the industry for our transparent pricing and no hard selling.
In fact, we are probably the only aesthetic establishment in Singapore that publishes our prices openly.
All prices are nett and inclusive of GST, and are actual prices (i.e. not trial prices).
You can read our amazing reviews here.
HairGrow™ Unlimited (4 x Microneedling for Scalp + 4 x HairGrow Scalp Booster + 4 x LLLT per month)
---
---