Permanent Hair Removal for Men by Male Therapists in Singapore
TL:DR Summary
Why do men need hair removal? Men need hair removal to improve their appearance, hygiene, comfort, and confidence.
What are the common areas for men's hair removal? The common areas for men's hair removal are the face, chest, back, arms, legs, and pubic area.
What are the benefits of laser hair removal for men? Laser hair removal for men is fast, effective, and permanent. It can reduce hair growth by up to 90% and improve skin quality.
What are the challenges of laser hair removal for men? Laser hair removal for men can be more difficult due to thicker and denser hair, larger body surface area, and higher pain tolerance.
How can Wellaholic help men with laser hair removal? Wellaholic offers unlimited sessions of SHR laser hair removal for men at affordable prices. It also provides male therapists for male customers who prefer more privacy and comfort.
Where can you find out more about Wellaholic's laser hair removal for men? You can visit Wellaholic's website, Instagram, or Facebook page for more information and testimonials.
Introduction: Why more men are going for permanent hair removal?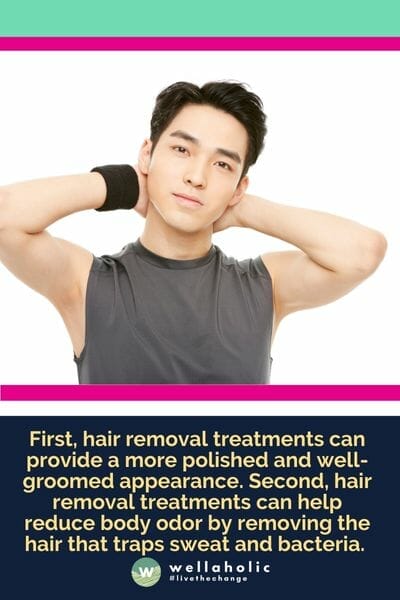 Hair removal options are becoming increasingly popular among men. There are a number of reasons why more men are choosing to undergo these body hair removal. First, hair removal treatments for men can provide a more polished and well-groomed appearance. Second, hair removal treatments can help reduce body odor by removing the hair that traps sweat and bacteria at certain areas of the body. Third, hair removal technology can make it easier to keep the body clean and free of ingrown hairs.
---
Laser Hair Removal for Facial Hair and Body Hair. Understand the Science.
How is the permanent hair removal procedure done? Laser hair removal targets the melanin in the hair follicles. These are pigment in the hair responsible for hair growth. Hair absorbs the light and energy and this travels into the hair shaft, and destroys the hair follicles. Depending on hair type (finer hair, coarse hair, darker hair, hair colour, etc.) the results of laser hair removal will vary. Hair removal works best when the area is shaved, so that the hair root can be exposed to laser power readily. Laser hair removal is safe for all skin types but this kind of hair removal is not recommended for those with tattoos, as the laser will target and burn the tattoo. Ouch!
---
The benefits of hair removal treatments in Singapore for men
In recent years, there has been a growing trend of men removing their body hair. While some men do it for cosmetic reasons, there are actually many benefits to hair removal, particularly for athletes and those who are active. Removing hair can reduce friction and irritation, and also helps to prevent infections. In addition, it can improve the appearance of muscles and help men to feel more confident.
Based on a 2023 survey by Wellaholic to Singaporean males, here are some interesting facts:
🟢 Unwanted Hair. 73.7% of Singaporean men have unwanted hair on their body, and 84.3% of them are bothered by it.
🟢 Common Areas for Hair Removal. The most common areas for hair removal among Singaporean men are the back (43%), chest (37%), underarms (53%), and pubic region (33%).
🟢 Average Cost. The average cost of laser hair removal for men in Singapore ranges from $20 to $750 per session, depending on the area and the type of laser used.
🟢 % Hair Reduction. Laser hair removal is the most effective and permanent method of hair removal over shaving or waxing, as it can reduce hair growth by up to 90% after six to eight sessions.
🟢 Benefits of Laser Hair Removal. Laser hair removal has many benefits for men, such as improved hygiene, comfort, confidence, appearance, and sexual performance.
"Men should feel empowered to take control of their own grooming, and hair removal at the hands of a male therapist can be an empowering experience."
The drawbacks of effective hair removal for men
While hair removal may be seen as a necessary evil for some, others view it as a time-consuming and expensive process with few benefits. For men in particular, hair removal can be a difficult and uncomfortable experience. In addition, there are a number of potential drawbacks that should be considered before undertaking any hair removal regime. These include the risk of skin irritation, ingrown hairs, and even permanent damage to the skin.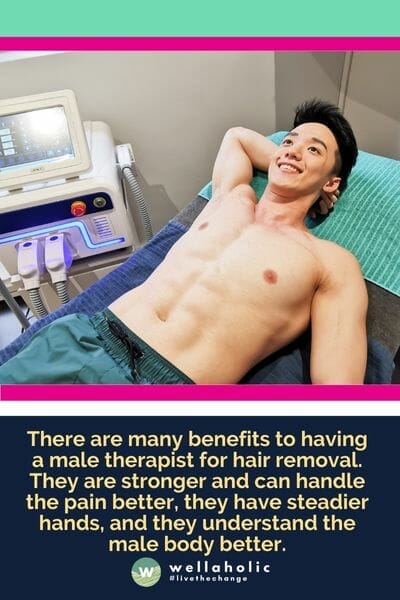 The different types of hair removal treatments available for males
There are many different types of hair removal procedures available for males. These include shaving, waxing, depilation, epilation, and laser hair removal. Each of these methods has its own advantages and disadvantages. Shaving is the most common method of hair removal for males. It is quick and easy, but it can irritate the skin and cause ingrown hairs. Waxing is another popular method, but it is more expensive and time-consuming than shaving. There is also laser hair removal, super hair removal as well as IPL hair reduction, amongst others.
---
Why male therapists are better equipped to handle male clients for hair removal services in Singapore
Hair removal is a personal and sometimes sensitive experience. While it's common for both men and women to seek professional hair removal services, some may feel more comfortable working with a therapist of the same gender. This is especially true for male clients who may prefer male therapists for a variety of reasons. In this article, we'll explore why male therapists are better equipped to handle male clients for hair removal.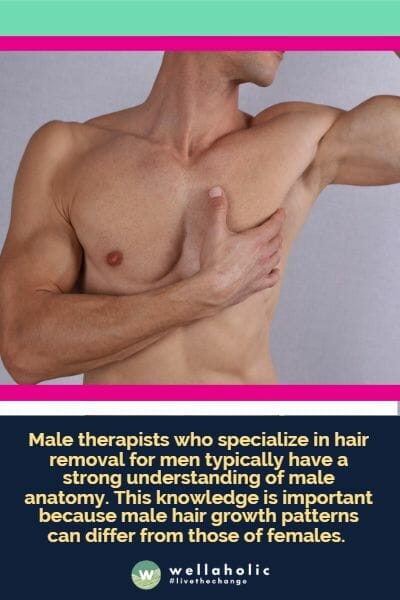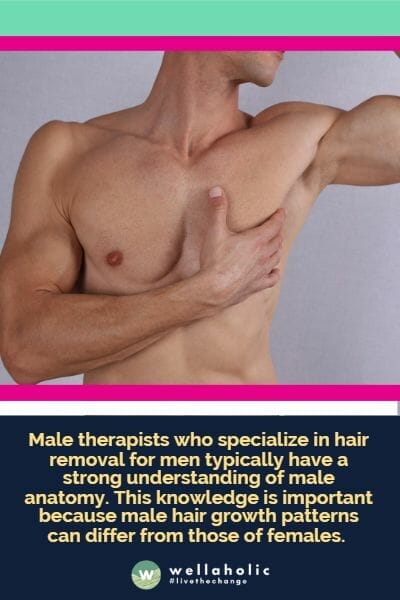 1. Shared experiences and empathy. Male therapists who offer hair removal services for men have likely experienced similar hair growth and removal themselves. This shared experience can create a sense of empathy and understanding that can make male clients feel more comfortable during the hair removal process. It can also help male therapists provide effective and safe treatments for long-lasting hair reduction.
2. Knowledge of male anatomy. Male therapists who specialize in hair removal for men typically have a strong understanding of male anatomy. This knowledge is important because male hair growth patterns can differ from those of females. A male therapist can provide targeted treatments and advice that is specific to male clients.
3. Reduced embarrassment. Embarrassment is a common feeling during hair removal, and male clients may feel more self-conscious when working with a female therapist. Having a male therapist can help alleviate this feeling of embarrassment and create a more relaxed and comfortable environment.
4. Greater privacy and discretion. Hair removal can be a personal and private matter. Male clients may feel more comfortable discussing intimate details of their hair growth and removal with a male therapist who can better relate to their experiences. This can create a greater sense of privacy and discretion during the process.
5. Improved communication and trust. Communication and trust are important aspects of any client-therapist relationship. Working with a male therapist can improve communication and trust for male clients. They may find it easier to discuss their concerns and preferences with a male therapist who they feel can better understand and relate to their experiences.
In conclusion, male therapists can provide a variety of benefits to male clients seeking hair removal services. From shared experiences to improved communication and trust, male therapists can help create a more comfortable and effective hair removal experience for male clients.
Conclusion
Alright, let's wrap things up! So, at Wellaholic, we get it. Hair removal can be a sensitive topic for guys, and it's essential to feel comfortable during the process. That's why we offer hair removal services for men performed by male therapists. We want you to feel at ease, and we believe that our trained and professional male therapists can provide that comfort. Plus, we're located right here in Singapore. Our commitment is to give you an outstanding experience, ensuring you leave our premises feeling refreshed and satisfied. We've got your back – literally – when it comes to hair removal! Come on over and let us take care of your grooming needs because at Wellaholic, your comfort and satisfaction are our priority.
Frequently Asked Questions (FAQ)
What is hair removal for men by male therapists in Singapore?

Hair removal for men by male therapists in Singapore refers to the process of getting rid of unwanted hair from the body using various methods such as laser hair removal, IPL (Intense Pulsed Light) treatment, or other hair removal techniques. This service is specifically catered to men and is performed by male therapists.
How does laser hair removal work?

Laser hair removal works by targeting the hair follicles with concentrated beams of laser energy. The light from the laser is absorbed by the pigment (melanin) in the hair, which damages the hair follicle and inhibits future hair growth. The procedure is safe and effective for permanent hair reduction.
Is laser hair removal suitable for all hair and skin types?

Laser hair removal is generally suitable for most hair and skin types. However, the effectiveness may vary depending on factors such as hair color, skin tone, and hair thickness. It is best to consult with a professional therapist who can assess your specific needs and recommend the most suitable treatment.
How many treatment sessions are required for laser hair removal?

The number of treatment sessions required for laser hair removal can vary depending on individual factors such as hair type, hair color, and treatment area. On average, most individuals require around 6-8 sessions to achieve optimal results. However, additional sessions may be needed for maintenance or touch-ups.
What is the price range for laser hair removal in Singapore?

The price range for laser hair removal in Singapore can vary depending on the treatment area, the number of sessions required, and the clinic or salon you choose. It is advisable to contact different providers and inquire about their pricing to get an accurate estimate for your specific requirements.
Are there any side effects of laser hair removal?

While laser hair removal is generally safe, some individuals may experience mild side effects such as redness, swelling, or temporary skin irritation in the treated area. These effects are usually temporary and subside within a few hours or days.
---
Unleash the Power of Three: Beauty, Confidence, Perfection with WellaSmooth™ 3X
⭐ Tailored Beauty Experience: Select three personalized treatments with WellaSmooth 3X™.
⭐ Quality Skin Solutions: Enjoy our signature permanent hair removal with full body shaving, skin whitening, breast enhancements, butt lifts and more.
⭐ Enhanced Confidence Options: Lift and enhance your bust and butt for a confident new look.
⭐ Luxury at Your Fingertips: Experience luxury with a flexible triple-choice treatment plan.
⭐ Affordable Body Perfection: Transform your body positively and affordably.
⭐ Unbeatable Value & Efficacy: Benefit from high-quality treatments at exceptional value.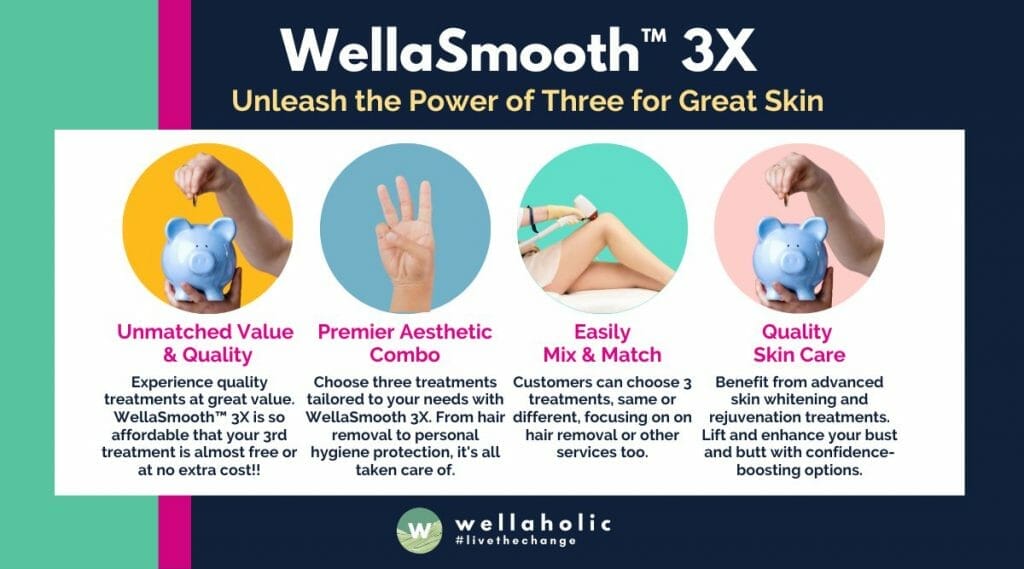 What Treatments Can I Choose with WellaSmooth™ 3X?
For a modest monthly fee, customers can indulge in premium treatments to remove hair, whiten skin, lift and enhance the boops, lift the butt and safeguard the private regions:
⭐ Personalized Hair Removal: Opt for laser hair removal for all hair types.
⭐ All-that-you-need Shaving: Achieve a sleek look with professional full body shaving to prevent ingrown hair.
⭐ Advanced Skin Whitening: Experience innovative skin whitening techniques for radiant skin.
⭐ Butt Lifting Treatments: Lift your butt for a perfectly contoured appearance with EMS technology.
⭐ Bust Enhancement Options: Enhance your bust size and shape with specialized ultrasonic treatments.
⭐ Expert Bust Lifting: Choose professional bust lifting via RF microneedling to make it look bigger and fuller.
⭐ Premium Personal Hygiene Protection: Improve personal hygiene with specialized Blue Light protective treatments.
⭐ Flexible Combo Selection: WellaSmooth™ 3X allows you to select any three of the above treatments.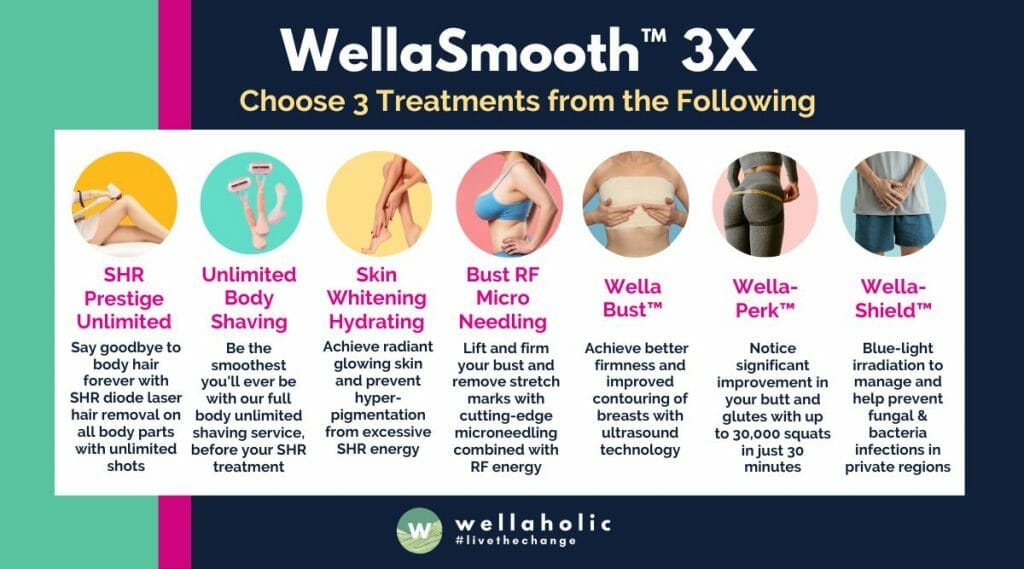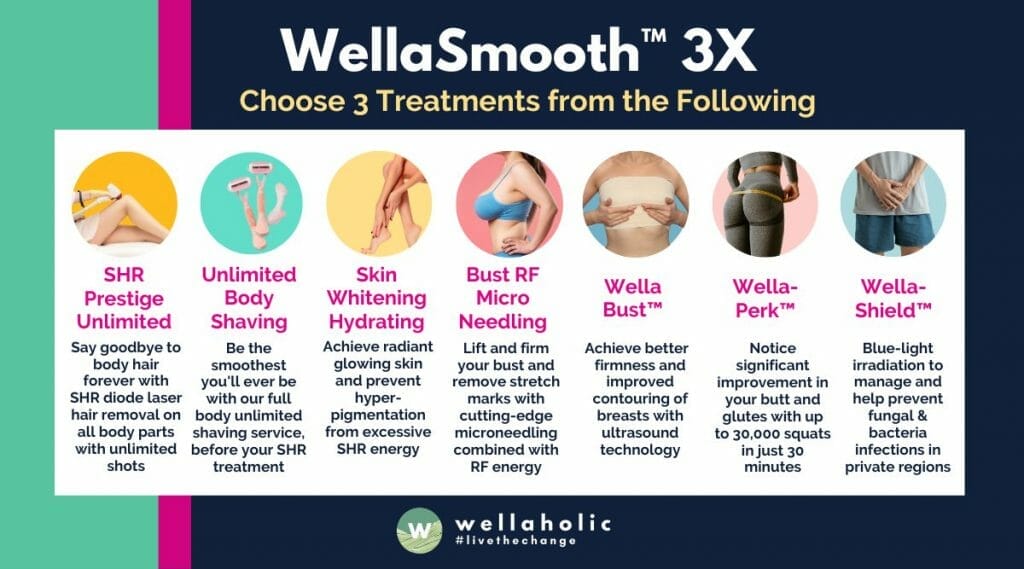 Why Choose SHR Prestige Unlimited Hair Removal?
⭐ SHR Diode Laser. Super Hair removal targets all skin types with 755nm, 808nm, and 1064nm laser wavelengths for the best hair removal treatment in Singapore.
⭐ SHR is better than IPL for Asian skin. SHR is more effective than traditional IPL technology for finer hair and coarse hair.
⭐ Unlimited Shots. Our laser removal uses as many pulses as needed to destroy hair follicles to prevent hair growth.
⭐ Award-Winning. Wellaholic's SHR Hair Removal have won multiple awards making us one of the best hair removal salons in Singapore.
⭐ Ideal for All Skin and Hair Colors. SHR laser hair removal technology works on all hair and skin types, including facial hair and body hair by targeting the melanin in the hair.
⭐ For Everyone. Wellaholic has a team of skilled therapists, both male and female, to attend to your body hair removal needs.
Pricing of Aesthetic Treatments by Wellaholic
💎 Price Transparency. All prices are published and updated on our website.
💎 Flexible Plans. Choose from unlimited monthly or per-session hair removal plans.
💎 Easy to Choose. Mix and match treatments from different categories.
💎 No Hidden Fees. Pay only for the treatments you receive.
GET IN TOUCH
Book Now Pay Later
Why Wellaholic is One of the Best Aesthetic Service Providers in Singapore?
✅ Leading Singapore Aesthetic Chain. Wellaholic is a popular aesthetic chain with 8 outlets around Singapore.
✅ Quality & Safe Treatments. Wellaholic is committed to quality, safe treatments with experienced staff.
✅ Wide Range of Treatments. Wellaholic offers a large range of treatment from effective hair removal, skin whitening, bust enhancement, butt lifts for all areas of the body.
✅ Trained & Experienced Consultants. All treatments are performed by trained professionals who understand skincare needs for both genders.
✅ SHR Technology. Advanced SHR technology provides a safe, comfortable, and painless hair removal experience.
✅ Most Affordable Provider. Wellaholic offers competitive pricing, making it one of the most affordable hair removal providers in Singapore.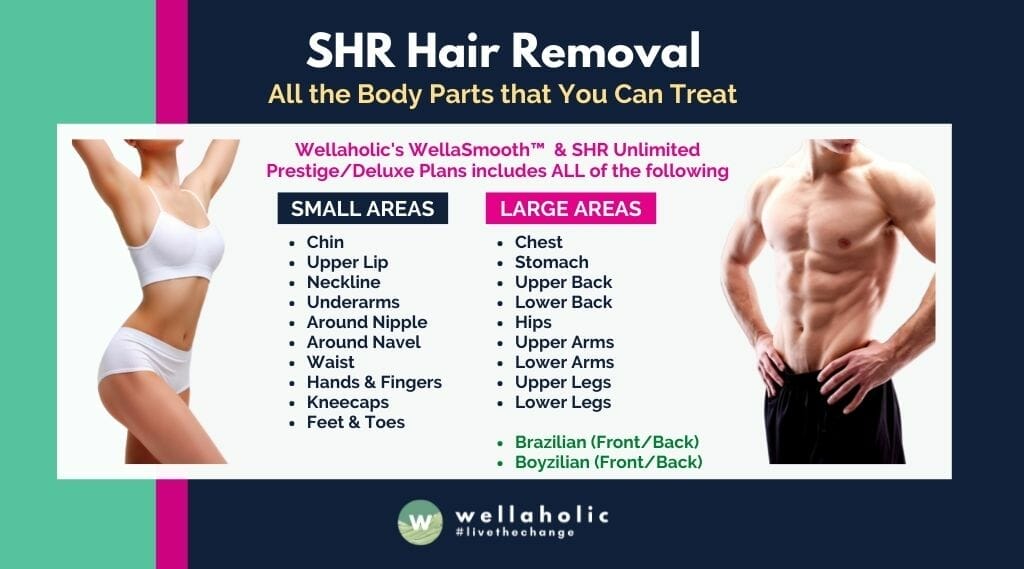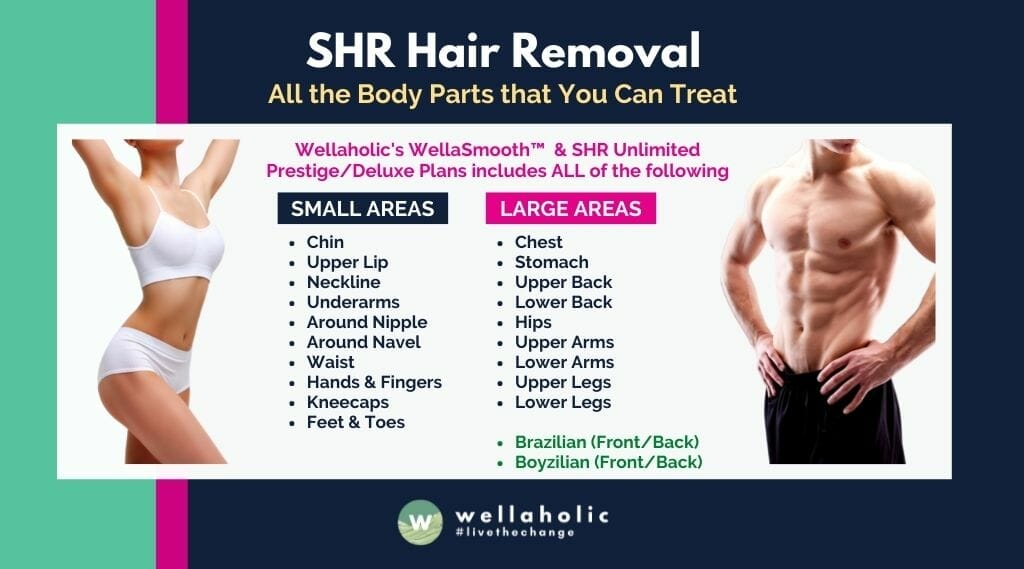 Reason 1: Wellaholic's Unlimited Plans Save You Money
✅ WellaSmooth 3X. Pay a small monthly subscription and choose 3 treatments from the WellaSmooth 3X family of services.
✅ Unlimited Hair Removal. Choose a SHR Prestige Unlimited or SHR Deluxe Unlimited to enjoy hair removal with unlimited shots.
✅ Pay One Price for All Body Parts. For hair removal, pay one price for unlimited hair removal on all body parts.
✅ Huge Cost Savings. Huge cost savings with monthly unlimited plans. No price shocks from hidden costs!
Reason 2: Wellaholic is a Trusted and Award-winning Aesthetic Chain with Over 2000 Positive Reviews.
✅ Over 50 Awards. Wellaholic's WellaSmooth and SHR Hair Removal have won over 50 awards from top beauty publications since 2018.
✅ Over 2000 Verified Customer Reviews. Wellaholic has over 2000 positive reviews from customers around the world. .
✅ Verifiable Reviews. Positive reviews indicate high customer satisfaction. (See reviews below).
✅ Over 50% Repeat Customers. More than 50% of Wellaholic's customers are repeat and recurring customers.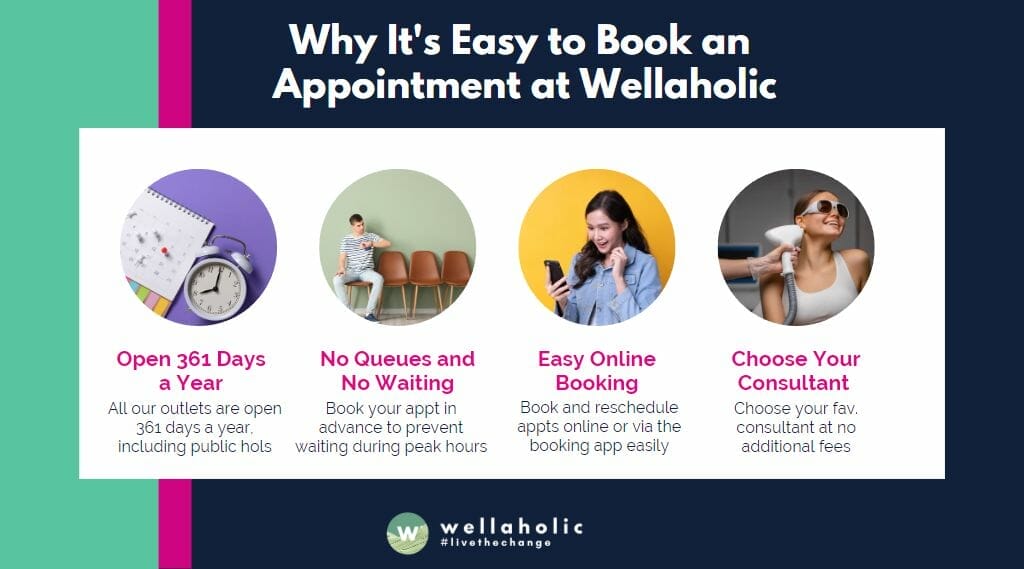 Reason 3: It's Easy to Book an Appointment at Wellaholic
✅ Open 361 Days Per Year. Wellaholic's 8 outlets are open 361 days a year, including public holidays for easy bookings.
✅ No Queues. Book appointments in advance to avoid long wait times.
✅ Easy Online Booking. Customers can conveniently book and reschedule appointments online or via the booking app.
✅ No Extra Cost for Choosing Consultant. Customers can choose their preferred consultant for free.