How Does Low Level Laser Therapy (LLLT) Treat Hair Loss?
Introduction to LLLT
Low level laser therapy or LLLT is a safe form of light and heat treatment under investigation for a variety of health indications. It is being used to effectively treat the genetic forms of hair loss common in men and women, such as androgenetic alopecia or pattern balding.
Low level laser therapy is also called red light therapy, cold laser, soft laser, biostimulation and photobiomodulation.
What is Pattern Balding?
Androgenetic alopecia can affect up to 70% of men (male pattern balding) and 40% of women (female pattern balding) at some point in their lifetime. While men typically present with a distinctive alopecia pattern involving hairline recession and vertex balding, women normally exhibit a diffuse hair thinning over the top of their scalps. For both men and women, losing their hair can be a very frustrating experience. This is because it affects their confidence in social situations. It can also lead to depression in the long term.
The current treatment standard for pattern balding is therapy with minoxidil and finasteride, with hair transplantation as a surgical option. However, low level laser treatment for hair loss is now also promoted as a safe alternative or additional treatment.
How does Low Level Laser Therapy treat Pattern Balding?
Laser therapy used for hair loss treatment depends on devices that emit a light that can penetrate the scalp. Excimer (308 nm), helium-neon (632.8 nm), and fractional erbium-glass (1550 nm) lasers have been used. Low level laser therapy (LLLT) uses devices with diodes that emit red light (wavelength 630-670 nanometers), or infrared radiation, available as:
in-salon hoods or overhead panels
bonnet or head caps
hand-held devices
In Wellaholic's case, we use a head cap, which is not only comfortable but also targets the entire scalp with the LLLT treatment.
LOW LEVEL LASER TREATMENTS: LLLT is one of few products and solutions that use highly effective LLLT stimulating light therapy equipment to promote cellular rejuvenation with laser and LED lights.
CLINICALLY TESTED, FDA CLEARED: In 2 separate, published peer-reviewed clinical studies, LLLT increased hair count by 35% in males and 37% in females in 16 weeks to help stop hair loss.
FOR BEST RESULTS: Full scalp coverage and comfort while the stimulator system promotes faster growth with over 50 medical-grade lasers and LED.
BETTER HAIR: Whether it's male pattern baldness, male or female androgenetic alopecia, a thin or soon to be bald head of hair, LLLT is for all hair: grey, aged, straight, curly, african american etc.
Who are the best candidates for LLLT?
Low level laser therapy (LLLT) is suitable for men and women with thinning hair or pattern baldness caused by a hereditary condition.
Physicians use a system known as the Norwood-Hamilton Classification (men) and the Ludwig-Savin Scale (women) to describe the degree of hair loss. Low level laser therapy (LLLT) is intended to promote hair growth in males who have Norwood Hamilton Classifications of IIa to V and in females who have Ludwig (Savin) I-4, II-1, II-2, or frontal patterns of hair loss and have Fitzpatrick skin phototypes I to IV.
How is Low Level Laser Therapy Supposed to work?
The hair growth cycle consists of three phases: growth (anagen phase), resting (telogen phase) and shedding (catagen phase). Hair loss in androgenetic alopecia depends on a testosterone derivative in the skin, dihydrotestosterone (DHT). Low level laser therapy is believed to increase blood flow in the scalp and stimulate metabolism in catagen or telogen follicles, resulting in the production of anagen hair. In theory:
The photons of light act on cytochrome C oxidase leading to the production of adenosine triphosphate (ATP). This is converted to cyclic AMP in the hair follicle cells, releasing energy and stimulating metabolic processes necessary for hair growth.
Release of nitric oxide from cells leads to increased vascularization to the scalp distributing nutrients and oxygen to the hair roots.
Excessive build-up of DHT is prevented.
HairGrow™ – Hair Regrowth with 3 Scientific Methods
ULTIMATE HAIR REGROWTH TREATMENT COMBINING ALL THREE TREATMENTS: MICRONEEDLING FOR SCALP, HAIRGROW SCALP BOOSTER AND LOW LEVEL LASER THERAPY (LLLT)
What is HairGrow™ Hair Regrowth Plan?
HairGrow™ is an effective solution for hair loss by combining Wellaholic's three hair regrowth treatments with free additional weekly Low Level Laser Treatments (LLLT) to supercharge your hair regrowth. See results over a 12-week period.
HairGrow combines all three different scientific hair regrowth treatments of Microneedling for Scalp, Scalp Booster and LLLT to accelerate your hair regrowth efforts. Pay for 2 treatments and get the 3rd treatment free.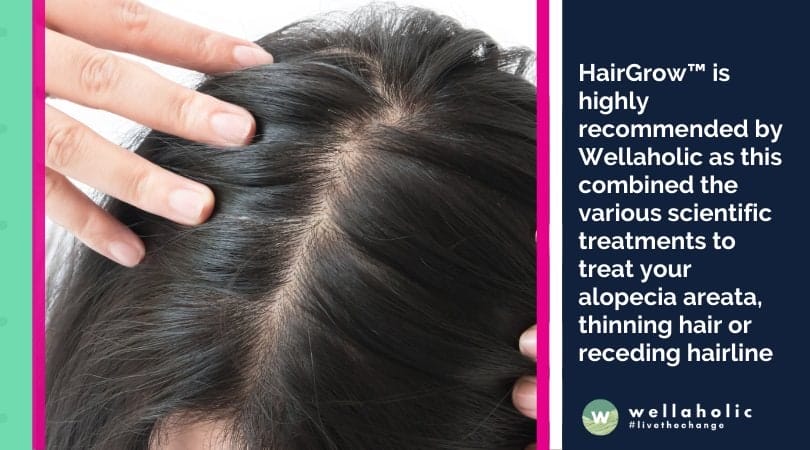 Is HairGrow™ Backed by Science?
HairGrow™ includes three different types of technology treatments.
They have numerous research reports and case studies backing them up.
Case Study 1 (2013) concluded that the group which combined Microneedling with Minoxidil application saw a significant hair growth as compared to the minoxidil-only group.
Case Study 2 (2014) concluded the boosting effect of microneedling with respect to new hair follicle stimulation in patients with androgenetic alopecia who were poor responders to conventional therapy.
Low Level Laser Therapy (LLLT)
Case Study 3 (2013) concluded that 47% of the patients' hair growth occurred in 7 weeks earlier for the group with LLLT treatment compared to the group without.
Case Study 4 (2013) concluded a 35% increase in hair growth for the males with the LLLT helmet. 
Pricing of Hair Loss Treatments by Wellaholic
Wellaholic believes in providing pricing transparency, and hence all prices are published and updated on its website. Choose from a single-session plan or choose a multi-session plan for greater discounts. Wellaholic's hair loss treatments are generally divided into the following categories:
Please click on the menu below to see the pricing for the various hair loss treatments by Wellaholic. Prices are nett and inclusive of GST.
How Do I Choose the Right Hair Loss Treatment Plan for Me?
Depending on your hair regrowth needs you can choose the following plans:
Wellaholic is well-known in the industry for our transparent pricing and no hard selling.
In fact, we are probably the only aesthetic establishment in Singapore that publishes our prices openly.
All prices are nett and inclusive of GST, and are actual prices (i.e. not trial prices).
You can read our amazing reviews here.
HairGrow™ Unlimited (4 x Microneedling for Scalp + 4 x HairGrow Scalp Booster + 4 x LLLT per month)
---
---