How does Red Light Therapy Work?
What is Red Light therapy?
Red light therapy, or infra-red therapy, is a form of phototherapy, which involves being exposed to specific wavelengths of light using various light sources. Red light therapy penetrates deeper into the skin than other light wavelengths and is believed to help rejuvenate skin. Red light is also commonly used to treat skin conditions such as acne, rosacea, as well as help ease pain and even accelerate the healing of wounds. Red Light Therapy or AfterGlow is the stage 2 treatment offered by Wellaholic.
How Does Red Light Therapy Work?
Unlike other wavelengths, red light is absorbed into the skin to a depth of about 10mm where it can heat and positively affect cells within the body. Red light therapy is thought to work by acting on the "power plant" in your body's cells called mitochondria. With more energy, other cells can do their work more efficiently, such as repairing skin, boosting new cell growth and enhancing skin rejuvenation.
What are the Benefits?
Infrared LED light therapy uses concentrated beams of light to help remove skin blemishes, especially on the face. In general, infrared light therapy uses a combination of red light and infrared light to promote skin health because the Light-emitting diode (LED) lights emit light at red and infrared wavelengths. The red light helps stimulate healing, which can treat acne scars, rosacea, age spots and blemishes caused by broken capillaries. Infrared therapy tends to be used to treat wrinkles and other problems caused by poor skin support, such as translucent skin or coarse skin.
​There are many benefits of red light therapy. It has been shown that the red light can increase circulation and therefore oxygenation and nutrient delivery to the skin, as well as increase the activity of fibroblasts, which aid the production of collagen and elastin. The improved circulation can reduce inflammations and aid lymphatic drainage which clears waste products away from the skin. It can also promote the production of DNA and ATP (cell energy).
Red light therapy can, therefore, be used to treat or complement treatment of a number of conditions. From reducing the appearance of fine lines and wrinkles to soothing psoriasis and eczema. When treated using an appropriate light source and regimen it can work very successfully, with noticeably results very quickly.
How long does it take for Red Light therapy to work?
​Patients can experience a reduction in symptoms quickly – even as early as after their first treatments session. Better results are found with more treatments, but results are long-lasting and can continue for weeks after the final treatment.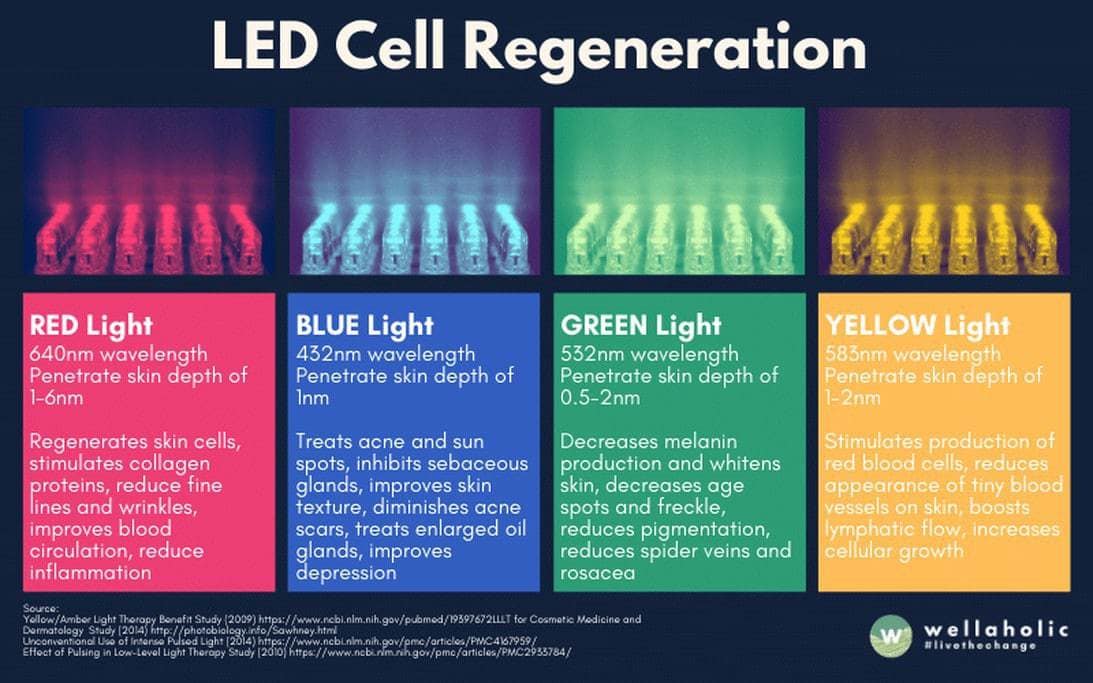 Does Wellaholic offer Red Light Therapy?
Wellaholic's LED Cell Regeneration Facial uses different wavelengths to target the skin for various beneficial effects. They are able to improve skin elasticity, produce collagen, minimise blemishes and pimples as well as to soothe aggravated skin and even reduce scarring.
---