How much Resveratrol Should I take to Slow Ageing?
What is Resveratrol?
There are many documented benefits to taking Resveratrol. This powerful antioxidant has been shown to help combat premature ageing. Resveratrol can also fight off free radicals and prevent cancer. But how much resveratrol should you take? This article by Wellaholic provides an insight to the benefits of resveratrol and why you should take this to take advantage of resveratrol's many benefits for skin and health.
Why is Resveratrol important?
At the moment, resveratrol is still the subject of extensive ongoing research. Much of this centres around the optimum healthy dosage required by humans to attain the various health benefits associated with it.
Studies on mice have shown that resveratrol in high doses can increase longevity and play and active role in the prevention of disease and cancer. Mice on high fat diets, when supplemented with resveratrol, showed increased survival and insulin sensitivity, as compared to mice that were not.
In other rodent studies, anti-ageing effects were observed in mice which received a human equivalent of as little as 20mg of resveratrol a day.
How does resveratrol work?
Resveratrol has a relationship with apoptosis cells (cell death as part of the natural growth and development of the cell). In many studies, it is shown that at a lower dose, resveratrol acts as an anti-apoptotic agent. This protects the heart by increasing cell survival proteins. Also evident at higher doses is the capacity for resveratrol to hinder the growth of existing tumours. Thus, at lower dose, resveratrol can be very useful in maintain not only human health but also slowing down the ageing process.
How does Resveratrol help with Diabetes and Cancer?
A present compound within the skin of red grapes and other botanicals, resveratrol has been shown to possess anti-inflammatory and antioxidant properties. Some studies suggest it's going to help symptoms of type 2 diabetes or arthritis. it's going to also help to guard against thickening of arterial walls and heart condition, but eating a diet rich in resveratrol doesn't lower the danger of dying from cancer or heart condition.
Animal studies suggest that resveratrol may prevent certain cancer cells from dividing, enhance chemotherapy or radiation effects, or protect against radiation side effects. However, human studies are quite limited and haven't established benefit. in a very group of myeloma patients, a special high-dose formulation actually caused harm and also the study was stopped. additionally, resveratrol has hormone-like properties which will stimulate some forms of cancer cells. it's going to also interact with certain drugs. Therefore, larger well-designed trials are needed to see the conditions under which resveratrol would be safe and effective.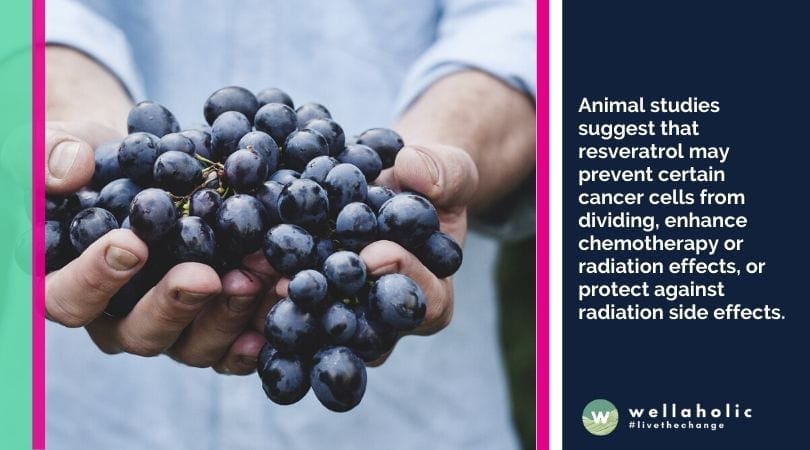 What are the benefits of Resveratrol to the skin?
Resveratrol has been shown to safeguard against damage caused by ultraviolet illumination and stress, Dr. Rabach says. "In addition, resveratrol can form soluble, complex molecules with certain metal ions, inactivating them so that they cannot produce atom formation. This action, together with its powerful antioxidant capability, makes resveratrol highly effective in combating the damaging effect of free radicals that ends up in skin aging." she explains.
Dr. Rabach adds that resveratrol also reportedly stimulates healthy cell proliferation. It's basically a gold mine of anti-aging effects, including protecting the skin from harmful enzymes and improving function of fibroblasts answerable for creating healthy collagen.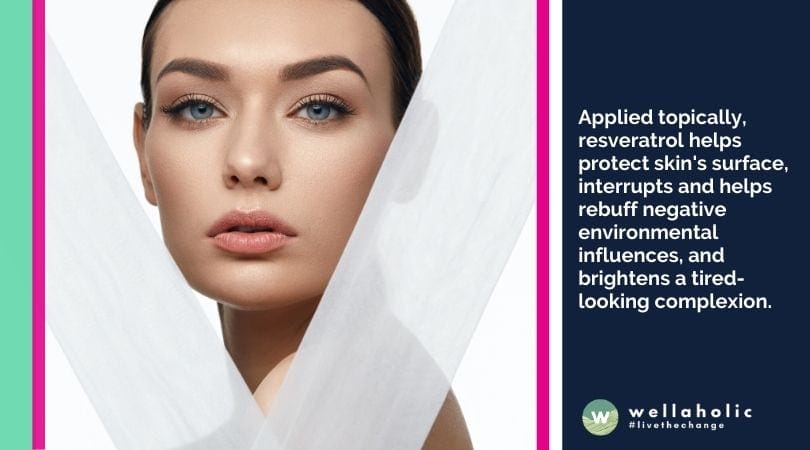 What skin issues are best treated with resveratrol?
Applied topically, resveratrol helps protect skin's surface, interrupts and helps rebuff negative environmental influences, and brightens a tired-looking complexion. It also has significant skin-calming properties that will help minimise the design of redness.
How much resveratrol to take Daily?
In health science circles, 20mg of resveratrol a day is generally agreed to be an appropriate dosage for an adult. This is the lowest effective dosage.
Alternative to taking supplements, you can also drink red wine. However, 30ml of standard red wine averages around 90 micrograms of resveratrol Hence you will need to take 41 glasses of red wine a day to achieve the same effect!
Wellaholic Resveratrol
Resveratrol High Absorption by Wellaholic contains 200mg of daily resveratrol (a month's supply) which can exert impressive changes in critically important genes involved in various ageing processes and degenerative diseases.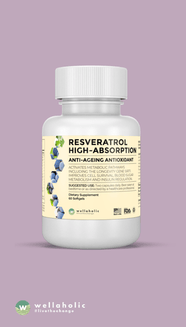 RESVERATROL IS PART OF A GROUP OF COMPOUNDS CALLED POLYPHENOLS. THEY'RE THOUGHT TO ACT LIKE ANTIOXIDANTS, PROTECTING THE BODY AGAINST DAMAGE THAT CAN PUT YOU AT HIGHER RISK FOR THINGS LIKE CANCER AND HEART DISEASE.
Resveratrol is a plant compound that acts like an antioxidant. The top food sources include red wine, grapes, some berries and peanuts. Because of its antioxidant properties, resveratrol is a promising supplement with many health and beauty benefits. Because there are so many touted benefits and increasing numbers of research, from Harvard Medical School to National Center for Complementary and Integrative Health, each benefit would be covered in the following materials.
​Suggested Use: Two capsules daily. Best taken at bedtime or as directed by a healthcare professional. ​
---