How to use Minoxidil Effectively for Hair Loss
What is Minoxidil and How Does it Work?
Minoxidil is a medication that is used to treat high blood pressure. It is also used to promote hair growth in people who are balding. Minoxidil works by widening blood vessels and increasing blood flow to the areas where it is applied. This increased blood flow helps to stimulate hair growth. Minoxidil is available in a topical solution or a foam and is applied to the scalp twice a day.
How to Use Minoxidil Effectively?
If you're concerned about hair loss, you might be considering using minoxidil. Minoxidil is a topical solution that is applied to the scalp. It is thought to work by increasing blood flow to the hair follicles. In this article, we will provide some tips on how to use minoxidil and how to make the most of it.
To apply minoxidil topical solution:
Make sure your hair and scalp are completely dry before applying this medicine. Do not apply over wet or damp hair.
Apply the necessary amount to the area of the scalp that is being treated. Start from beginning in the center of the area. Follow your doctor's instructions on how to apply the solution if needed.
Do not shampoo your hair for 4 to 6 hours after applying minoxidil. Ideally, leave the solution overnight.
Immediately after using this medicine, wash your hands to remove any medicine that may be on them. Maintain hand hygiene.
Do not use a hairdryer or blower to dry the scalp after you apply minoxidil solution. Blowing with a hairdryer on the scalp may make the treatment less effective.
Allow the minoxidil to completely dry for 42 to 6 hours after applying it, including before going to bed. Minoxidil can stain clothing, hats, or bed linen if your hair or scalp is not fully dry after using the medicine, so use a hair net just in case.
Avoid transferring the medicine while wet to other parts of the body. This can occur if the medicine gets on your pillowcase or bed linens or if your hands are not washed after applying minoxidil.
Minoxidil Results: How Long Does it take to Work?
A lot of people ask, "how long does it take for minoxidil to work?" The answer is that it varies from person to person. Some people see results within a few weeks, while for others it may take several months.
How long does minoxidil take to work? It all depends on the individual. Some people see results in as little as a few weeks, while it may take others several months.
Are There Any Side Effects to Minoxidil?
The most common side effect of minoxidil is dizziness. Other side effects include headache, lightheadedness, and nausea. In rare cases, minoxidil can cause serious side effects such as chest pain, fainting, and irregular heartbeat.
Are There any Other Innovative Ways to Use Minoxidil Effectively?
We are glad you asked. At Wellaholic, we have two scientific hair regrowth methods which works in tandem with minoxidil for the most effective hair regrowth.
Method 1: Microneedling for Scalp
Microneedling for Scalp helps treat hair loss and promote hair regrowth. Microneedling for Scalp is a Collagen Induction Therapy hair loss treatment in Singapore which is also able to cause controlled trauma in the scalp to promote hair growth. Together with the use of Minoxidil 5%, Microneedling can lead to positive effects on hair growth over a 12-week period. Especially effective for patients with Alopecia Areata and Androgenetic Alopecia, or male pattern baldness, receding hairline and thinning hair.
The Microneedling for Scalp procedure is comfortable and easy with no downtime.
Prior to the treatment, please keep your hair washed and cleaned. Avoid applying wax, gel, clay, etc.
Before your treatment, our friendly consultant will check to find areas with hair loss and make a note of it.
The treated area is cleaned with alcohol to disinfect the area.
The Microneedling for Scalp treatment is started. This may take between 20 to 40 minutes depending on the size of the area.
The consultant will apply the 5% Minoxidil and gently massage the area for 5 minutes.
Method 2: Scalp Booster
Scalp Booster uses two proven technologies of WellaBoost – Method One (High Pressure Jet Spray) and Method Two (Electroporation). This helps to improve the absorption of Minoxidil by the scalp by up to 17 times and is ideal for treating hair loss.
In a study conducted using various interventions for treating alopecia and hair loss, up to 54% found both mesotherapy and minoxidil intervention effective in reducing hair loss when used together. There was ample evidence to support the efficacy and safety of topical minoxidil when used with mesotherapy.
Scalp Booster has been proven to increase 38% hair cell growth in 4 weeks, and 600% improvement in hair thickness when used with Minoxidil. It can help to reduce hair loss and also treat Alopecia.
Scalp Booster is non-invasive and needle-free.
Scalp Booster can see up to 17x improvement in absorption of active ingredients for hair regrowth.
The treatment is safe, painless, with no downtime and no side effects.
HairGrow™ Ultimate Hair Loss Treatment – Combining 3 Scientific Hair Growth Methods
HairGrow™ is an effective solution for hair loss by combining Wellaholic's three hair regrowth treatments with free additional weekly Low Level Laser Treatments (LLLT) to supercharge your hair regrowth. See results over a 12-week period.
HairGrow™ combines all three different scientific hair regrowth treatments of Microneedling for Scalp, Scalp Booster and LLLT to accelerate your hair regrowth efforts. Pay for 2 treatments and get the 3rd treatment free. This includes a monthly supply of Minoxidil with Royal Jelly to jumpstart your hair growth.
Why Choose HairGrow™ Hair Loss Treatment?
We highly recommend HairGrow™ over the individual treatments for the following reasons:
PAY TWO GET THREE TREATMENTS – Accelerate your hair regrowth by combining all three of our scientific hair regrowth treatments. They are backed by scientific case studies to help you treat alopecia areata, hair loss, baldness, thinning hair and accelerate your hair regrowth.
BEST SAVINGS FOR MULTIPLE TREATMENTS – As all three treatments require between 12 weeks and 16 weeks to see the best results (based on a weekly treatment regime), the HairGrow™ Monthly Unlimited plans offers the best savings you get to enjoy the Low Level Laser Treatment (LLLT) for free.
Is HairGrow™ Ultimate Hair Loss Treatment Backed By Science?
HairGrow™ includes three different types of technology treatments. They have numerous research reports and case studies backing them up.
Microneedling for Scalp
Case Study 1 (2013) concluded that the group which combined Microneedling with Minoxidil application saw a significant hair growth as compared to the minoxidil-only group.
Case Study 2 (2014) concluded the boosting effect of microneedling with respect to new hair follicle stimulation in patients with androgenetic alopecia who were poor responders to conventional therapy.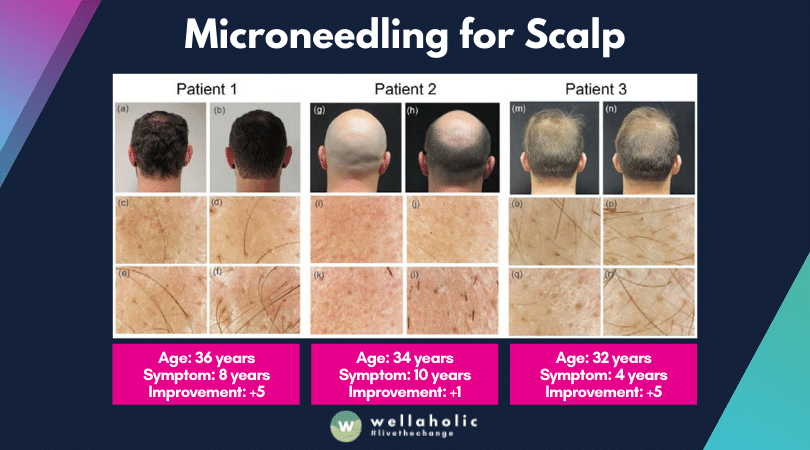 Low Level Laser Therapy (LLLT)
Case Study 3 (2013) concluded that 47% of the patients' hair growth occurred in 7 weeks earlier for the group with LLLT treatment compared to the group without.
Case Study 4 (2013) concluded a 35% increase in hair growth for the males with the LLLT helmet.
Are There Before and After Photos of the Treatment?
See Over 1800 Positive Reviews of Wellaholic (Customer Verifiable)
Pricing of Hair Loss Treatments by Wellaholic
Wellaholic believes in providing pricing transparency, and hence all prices are published and updated on its website. Choose from a single-session plan or choose a multi-session plan for greater discounts. Wellaholic's hair loss treatments are generally divided into the following categories:
Please click on the menu below to see the pricing for the various hair loss treatments by Wellaholic. Prices are nett and inclusive of GST. Wellaholic is well-known in the industry for our transparent pricing and no hard selling. In fact, Wellaholic is well-known for not only our transparent and cheap pricing but also without any hidden costs. All prices are nett and inclusive of GST, and are actual prices (i.e. not trial prices).
---
---