June Promo – FirmTox™ Needle-Free Botox Launch Promotion
Introducing FirmTox™ Needle-free Botox Launch Promotion – Half-Price Offers at Wellaholic this June!
Get ready for a revolutionary skincare treatment at Wellaholic! This June, we are excited to announce the launch of our FirmTox™ Needle-free Botox Alternative Peptide Serum with WellaBoost treatment, and we're offering an amazing promotion to celebrate!
To celebrate this launch, we are offering a whopping 50% discount off the FirmTox facial treatment, as well as 50% discount off a bottle of FirmTox peptide serum. This means you can enjoy a full facial session for only $139.50 (usual price $279) and take home a bottle of FirmTox serum for only $39.50 (usual price $79). But hurry, this offer is only valid until 30 June 2023 and while stocks last!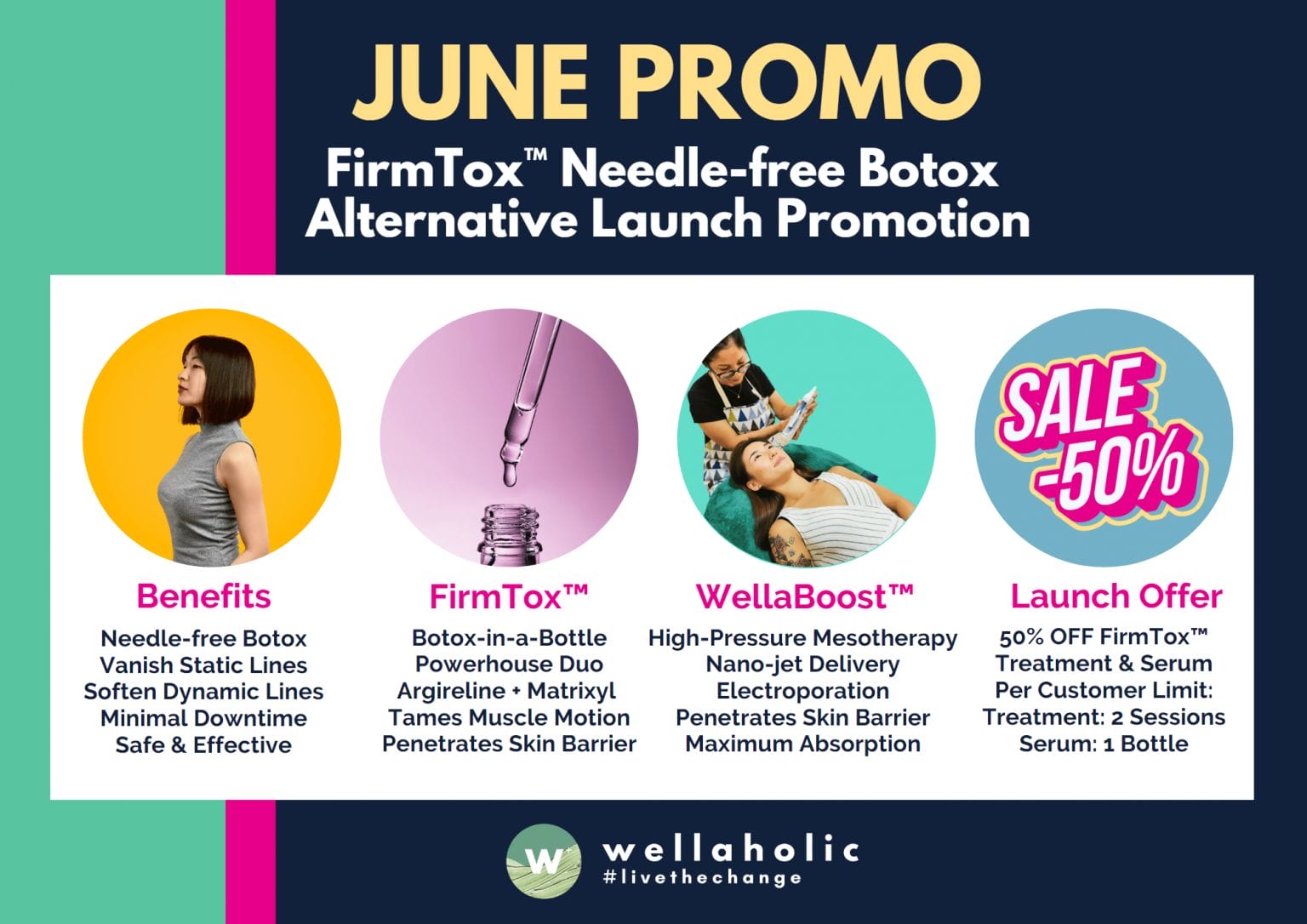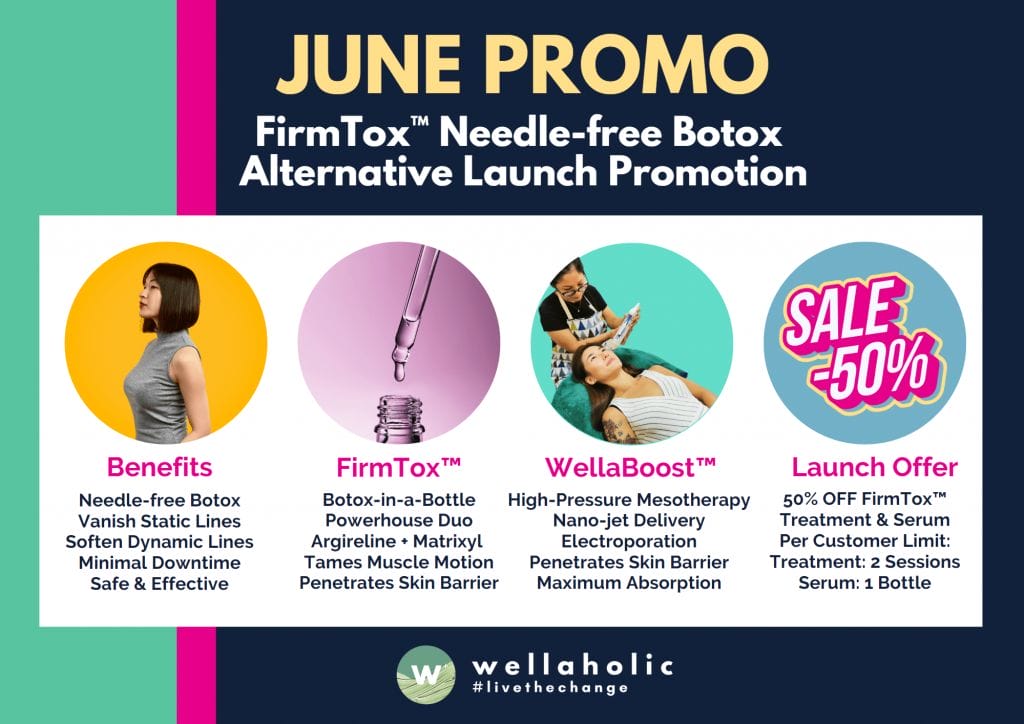 What is FirmTox™ and how does it work?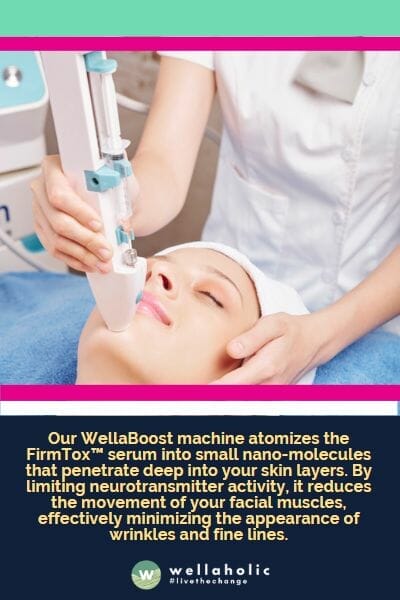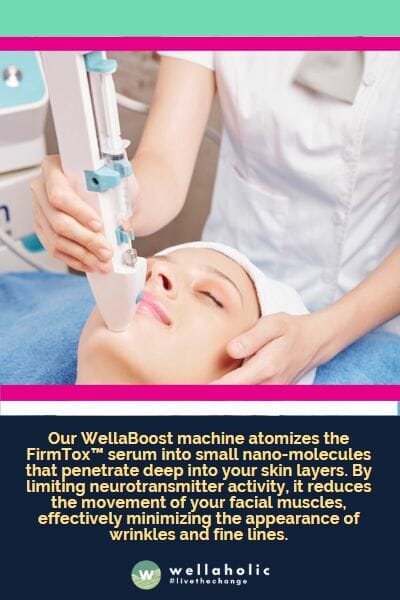 Tired of Wrinkles? Are you tired of looking at those wrinkles in the mirror? Do you wish you could turn back the clock and get your youthful skin back? Well, now you can with FirmTox™, the needle-free Botox alternative! FirmTox™ is a cutting-edge alternative to traditional botox that harnesses the power of innovative skincare technology. It works by utilizing a unique formula that effectively targets wrinkles and fine lines, helping to smooth your skin and restore a youthful appearance.
Peptide Blend to Replicate Botox's Effects. FirmTox™'s unique blend of Argireline and Matrixyl peptides work to inhibit facial muscle movements, smoothing out wrinkles, static lines, and dynamic facial lines. Users can expect to see a significant reduction in the appearance of fine lines and wrinkles, resulting in a more youthful, radiant complexion.
WellaBoost: A Microcurrent Device. Unlike traditional Botox injections, FirmTox™ is applied to the skin using a microcurrent device called WellaBoost. This device gently stimulates the skin with low-level electrical currents, enhancing the absorption and efficacy of the serum. WellaBoost also helps to lift and tone the facial muscles, improving the skin's elasticity and firmness.
So what are you waiting for? Say goodbye to wrinkles with FirmTox™, the needle-free Botox alternative!
What are the benefits of FirmTox™?
FirmTox™ offers many benefits for your skin, such as:
Reducing the appearance of fine lines and wrinkles
Smoothing out static and dynamic facial lines
Improving skin texture and elasticity
Lifting and toning facial muscles
Enhancing skin hydration and radiance
Providing long-lasting results with regular use
How to enjoy this promotion?
To enjoy this promotion, simply book your FirmTox™ facial session online or at any of our Wellaholic outlets. You can also purchase the FirmTox™ serum online or at our outlets.
Please note that this promotion is subject to the following terms and conditions:
Terms & Conditions
This promotion is valid from now until 30 June 2023, at all Wellaholic outlets.
Customers can purchase up to 2 FirmTox™ facial sessions (UP: $279 each) and 1 bottle of FirmTox serum (UP: $79) for this 50% promotion.
Customers must book and use the facial treatments before 30 June 2023 to enjoy the 50% discount.
This promotion cannot be combined with other discounts, vouchers, and credits.
Members can use their cashback for this promotion.
Wellaholic has the right to end the promotion earlier than the stated end-date.
Why Wellaholic is One of the Best Aesthetic Service Providers in Singapore?
✅ Wide range of services. Wellaholic offers a comprehensive range of aesthetic services, from hair removal and facials to body contouring and teeth whitening. With such a diverse range of treatments available, clients can receive all the services they need at one location, which is a convenient and time-saving option.
✅ Advanced technology and equipment. Wellaholic is equipped with advanced technology and equipment to provide clients with the latest and most effective treatments. The use of such technology and equipment ensures that clients receive high-quality and safe treatments that yield visible and long-lasting results.
✅ Affordable prices. Despite offering top-notch services, Wellaholic's prices remain competitive and affordable. This makes us an ideal choice for people who are looking for high-quality aesthetic services but want to stick to a budget.
✅ Trained & Experienced Consultants. All treatments are performed by trained professionals who understand the skincare needs of both female and male customers.
✅ Convenient locations. Wellaholic has multiple outlets located across Singapore, making it convenient for clients to access their services from different parts of the island. This allows clients to choose a location that is most convenient for them and fits into their schedule.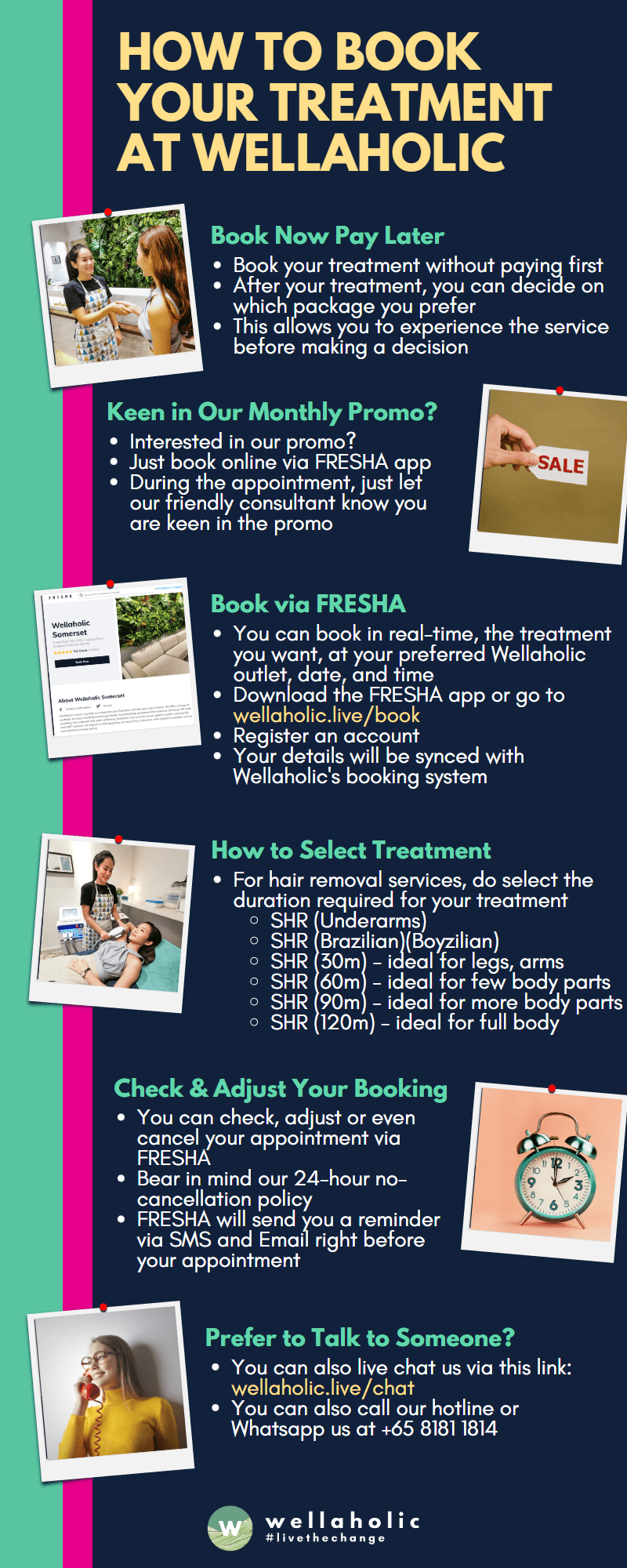 Reason 1: Wellaholic's Unlimited Plans Save You Lots of Money
✅ Unlimited Hair Removal Plans. Wellaholic offers unlimited plans for permanent hair removal with unlimited shots.
✅ Pay One Price for All Body Parts. Customers pay one nett price for hair removal on all body parts, including chin, lips, underarms, back, chest, stomach, legs, and private regions (both front and back).
✅ Huge Cost Savings. With the unlimited plan, there are no separate fees for hair removal on different body parts, leading to huge cost savings.
Reason 2: Wellaholic Has Over 50 Awards and 2000 Genuine Customer Reviews
✅ Over 50 Awards. Wellaholic's WellaSmooth and SHR Hair Removal have been recognized by top beauty publications such as Daily Vanity, Beauty Insider, and Tropika Club Magazine, earning prestigious awards from 2018 to 2023.
✅ Over 2000 Verified Customer Reviews. Wellaholic has over 2000 verified positive reviews from our customers in Singapore and beyond.
✅ Verifiable Reviews. The reviews are verified and positive, which indicates the high level of customer satisfaction (see reviews below).
✅ Over 50% Repeat Customers. More than 50% of Wellaholic's customers are repeat and recurring customers.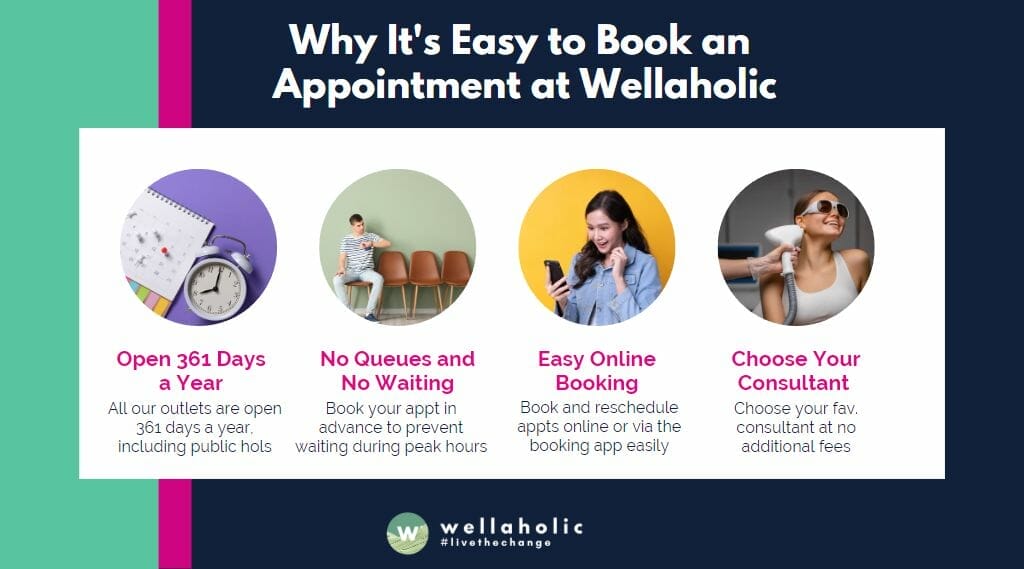 Reason 3: It's Easy to Book an Appointment at Wellaholic
✅ Open 361 Days Per Year. Wellaholic's 8 outlets are open 361 days a year, including public holidays, so that customers can easily book an appointment.
✅ No Queues. All appointments are booked in advanced to prevent the need to queue and wait unnecessarily during peak hours.
✅ Easy Online Booking. Customers can conveniently book and reschedule appointments online or via the booking app.
✅ No Extra Cost for Choosing Consultant. Customers can select their preferred consultant without having to pay any additional fees.