Laser Hair Removal? Answers to your Top 10 Questions
Introduction
Curious about laser hair removal? If you have questions about laser hair removal and seek answers to them, let us help. Laser hair removal is becoming more common in Singapore, and at Wellaholic, we have treated more than a thousand customers with our SHR and IPL laser hair removal. Here are the top 10 questions regarding laser hair removal. Physician assistant Tonianne Grobmyer helps to provide more information on the most common ten questions asked about laser hair removal, whether its IPL hair removal, SHR hair removal or diode hair removal. Establishments which offer IPL include Japan IPL, Musee Platinum, Lush Aesthetics, amongst others. Wellaholic provides both IPL and SHR, though the majority of our customers choose SHR over IPL.
---
1. How does Laser Hair Removal Work?
Laser hair removal is a medical procedure that uses a concentrated beam of light (laser) to remove unwanted hair. ​During laser hair removal, a laser emits a light which is then absorbed by the pigment (melanin) in the hair. The light energy is converted to heat, which damages the tube-shaped sacs within the skin (hair follicles) that produce hairs. This damage inhibits or delays future hair growth. ​Each pulse of the laser takes a fraction of a second and can treat many hairs at the same time. The laser can treat an area approximately the size of a quarter every second. Small areas such as the upper lip can be treated in less than a minute, and large areas, such as the back or legs, may take up to an hour. Depending on a person's pain tolerance, lasers can feel like a gentle pinch or the snap of a hot rubber band.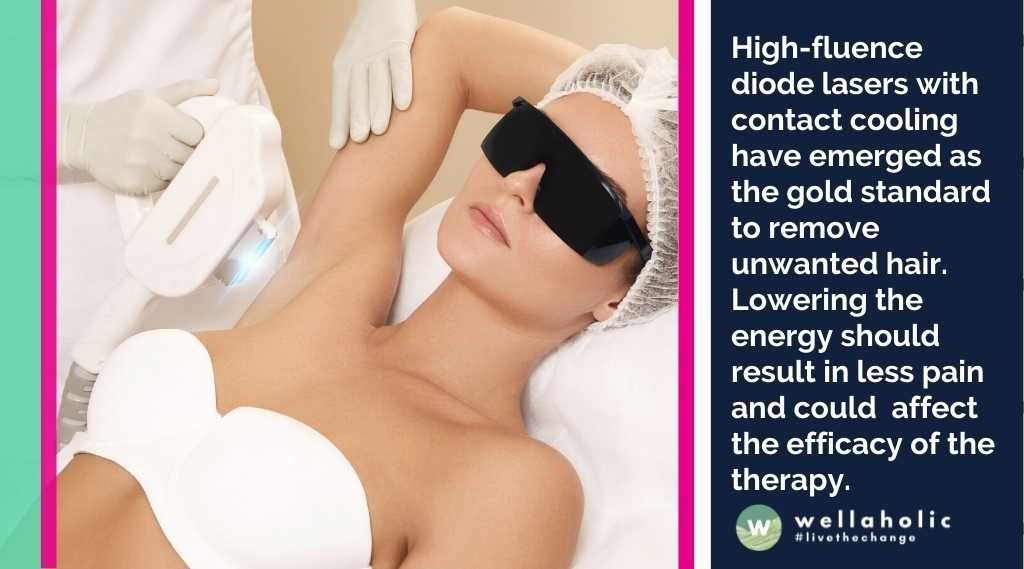 2. How Many Treatments for Laser Hair Removal to work?
The process only works during the hair's growth cycle, so the procedure is often done multiple times. You may have great results after three treatments, or it sometimes takes as many as nine or more. From Wellaholic's experience, it will take several treatments, spaced four weeks (or 28 days) apart to achieve 78 to 80 percent of reduction in hair growth. For best results, always get maintenance treatments done on a yearly basis to keep the follicles in check.
Treatment needs can vary because the laser targets melanin, or dark pigment, in the hair follicles. The darker your skin is, the harder it is to distinguish between the skin colour and the pigment in the follicles. You can still get good results, but it may take more treatments. If you have light skin and dark hair, you will likely get good results after just a few treatments.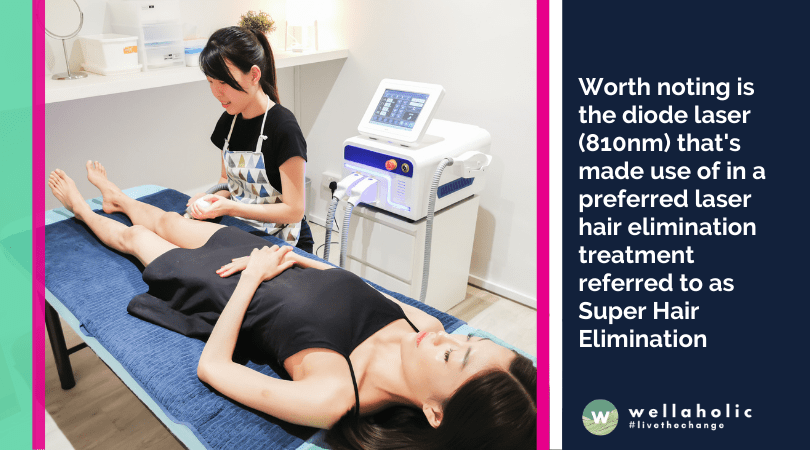 3. Does Laser Hair Removal Work for Everyone?
Laser hair removal is often touted as a method of "permanent" hair removal. That is not necessarily true and laser hair removal might not be able to give you a lifetime of complete hairlessness, either.
Generally, technicians and doctors who perform laser hair removal consider a hair loss of 70 percent to be a success. Many men and women who have gone through a full series of sessions report that it does work, for the most part. It is very common to hear stories of nearly hairless areas after treatment, with the occasional straggler that pops up and needs to be dealt with. Then again, there would be a small minority that would find laser hair removal to be less effective for them.
​Laser treatments are not permanent because hair follicles that were not damaged can grow back over time. That is why you need to commit to multiple sessions in order to have any degree of success. This is not a one-and-done system.
4. Is Radiation Involved?
No radiation is involved. The word "laser" stands for "light amplification by stimulated emission of radiation," but it's not like an X-ray. The treatment simply uses light and heat.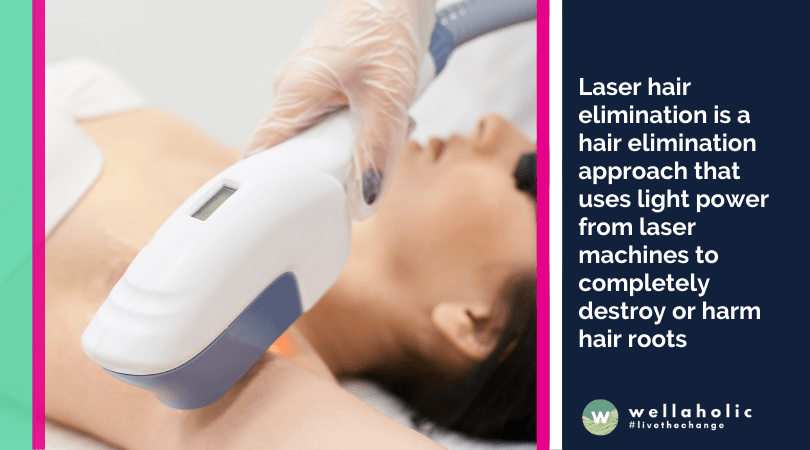 5. How can One Prepare for Laser Hair Removal?
The hair should be shaved a day before your appointment. Otherwise, the entire hair will absorb the energy and heat up, which can burn the skin, as that singed hair hits the skin. It also means less energy will reach the base of the follicle, so the results will be less than optimal.
It is also a good idea to stay out of the sun as much as possible before the procedure. ​Ultraviolet light stimulates melanocytes, which create more melanin in the skin. This makes it harder for the laser technician to distinguish between the skin and follicles, which also makes the treatment more challenging.
6. How Long Does a Laser Hair Removal Session Take?
The length of each laser hair removal session depends on the area being treated. For example, it takes 1 minute to treat the upper lip, 5 to 7 minutes to do both underarms and 25 to 30 minutes to do full legs. Generally, at Wellaholic, for our Unlimited Packages, we provide up to 2 hours per visit for the customer if he or she is doing a full body treatment.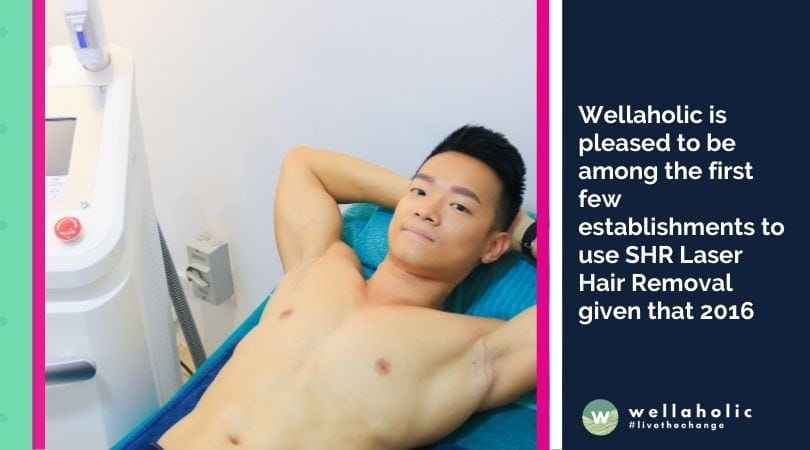 7. Does Laser Hair Removal Hurt?
​Everyone's pain threshold is different and can vary depending on things like where you are in your menstrual cycle or medications that can make the skin more sensitive. "Some clients describe the sensation as warm and tingling likened to the feeling one has after a day on the beach" explains Tonianne. "Others compare the feeling to a rubber band flicking the skin."
8. Are There Areas Where Laser Hair Removal Doesn't Work?
The most popular places are the face, underarms, bikini line, back and chest (for men) and legs but laser removal can be applied anywhere that has hair. ​The only places that are off-limits are ones that can't be seen such as inside the nostrils.
9. What can One Expect After the Laser Hair Removal Treatment?
The treatment is effective for most people and is very safe. The only problems you might experience post-treatment are a little swelling, redness or irritation around the hair follicles. This can last for a couple of days. Nevertheless, at Wellaholic, we see very little occurrence of any post-treatment symptoms or irritation. Hyperpigmentation (skin darkening) also sometimes occurs, but that typically fades pretty quickly. Burns or blisters may arise, but they are very uncommon.
10. Will the Hairs Grow Back Again?
It is entirely impossible to predict. No one can that how successfully the lasers will work on you. It varies man to man or person to person. And the results of a laser hair removal depend on some facts including the type of hair and follicle. It is clinically proved that the laser hair removal provides a long-lasting result. It works very fast over the course of treatment. Nevertheless, all the hair is not in the same growth cycle. Also, not all hair is at the same point in the growth cycle. For this reason, all the hair is not damaged at the time of the laser treatment. So some hair may continue to grow even after the laser hair removal treatment.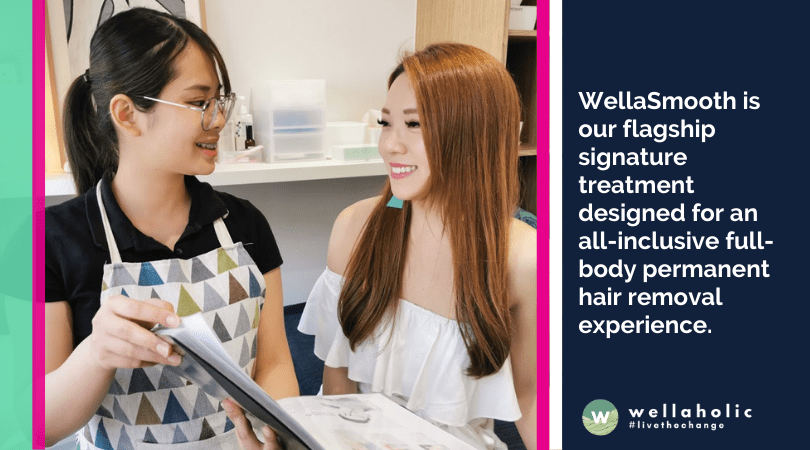 WellaSmooth All-inclusive Hair Removal by Wellaholic
WellaSmooth™ All-Inclusive Hair Removal is designed for an all-inclusive fuss-free full-body permanent hair removal experience with a 5-star rating. WellaSmooth™ All-Inclusive Hair Removal includes all-that-you-require shaving service, followed by SHR Unlimited Prestige hair removal which includes unlimited SHR shots for the entire body (including Brazilian/Boyzilian). Also included is our Skin Whitening / Hydrating post-treatment therapy (PTT) followed by our AfterGlow Red Light therapy.
What is WellaSmooth™ All-inclusive Hair Removal Regime?
Voted Best Hair Removal Treatment by Daily Vanity Spa and Beauty Awards 2021.
WellaSmooth™ All-Inclusive Hair Removal is designed for an all-inclusive fuss-free full-body permanent hair reduction experience.
WellaSmooth™ All-Inclusive Hair Removal is ideal for all skin color, hair color, and all forms of hair.
Also include is all-that-you-require shaving service for all body parts including your private regions.
WellaSmooth™ All-Inclusive Hair Removal also includes the Skin Whitening / Hydrating (PTT) with AfterGlow™, which includes post-hair-removal skin whitening or skin hydration followed by our AfterGlow Red Light therapy for enhanced skin rejuvenation.
Achieve smooth and glowing skin that will wow everyone.
This treatment is ideal for both men and women, by male and female therapists.
Get a package and choose your shaving, SHR permanent hair removal and post-treatment whitening and hydration done at any of our multiple outlets across Singapore.
WellaSmooth™ is your ultimate all-inclusive hair removal treatment in Singapore complete with shaving and post-treatment care.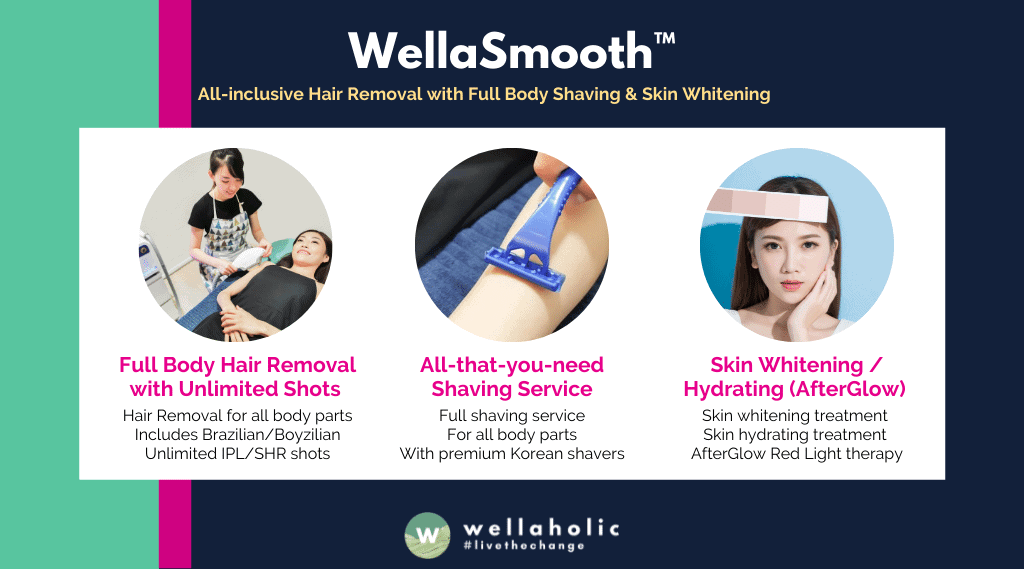 WellaSmooth™ Includes the Following Three Hair Removal Services
SHR Permanent Hair Removal PRESTIGE Unlimited – Enjoy our bestseller SHR hair reduction treatment for all body parts
Unlimited Shaving Service – Enjoy unlimited shaving service on all body parts
Skin Whitening/Hydrating (PTT) with AfterGlow – Enjoy post-treatment whitening or hydrating therapy followed by AfterGlow red-light treatment to rejuvenate your skin
See Over 1800 Positive Reviews of Wellaholic (Customer Verifiable)
Pricing of SHR Hair Removal Treatments by Wellaholic
Wellaholic believes in providing pricing transparency, and hence all prices are published and updated on its website. Choose from unlimited monthly hair removal plans (with unlimited SHR hair removal shots) for unlimited body parts, or choose from per-session hair removal price plans. Wellaholic's hair removal prices are generally divided into the following categories: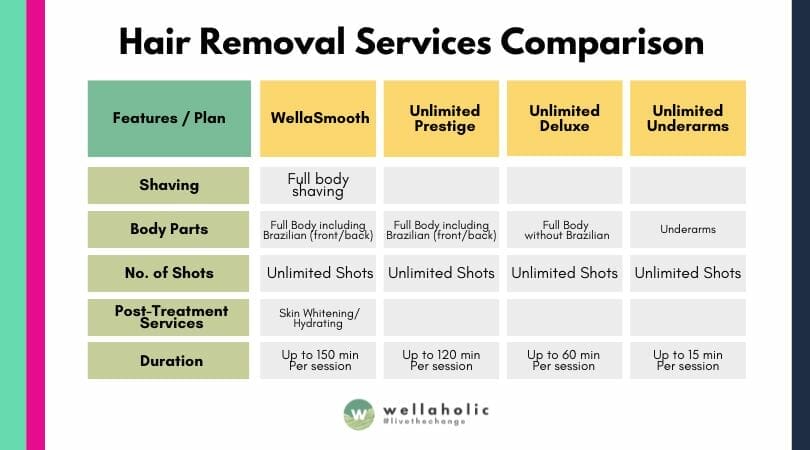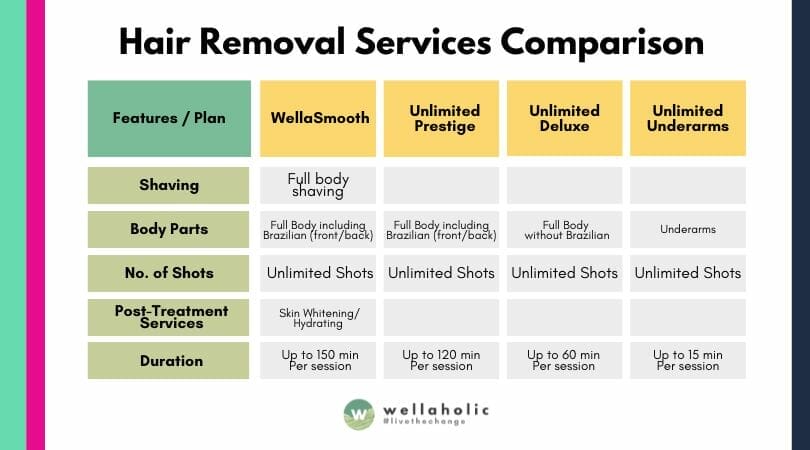 ---
---