No Pain, No Gain? The Truth About Laser Hair Removal Discomfort
TL:DR Summary
Laser hair removal is a popular and effective way to get rid of unwanted hair. It uses beams of light to heat and destroy the hair follicles and prevent hair growth.
Laser hair removal is not painless but tolerable. It feels like a hot snap or a pinch and varies depending on the individual and the area being treated.
Laser hair removal pain can be reduced by various factors. Some of them are choosing the right laser, preparing the skin, using numbing cream and cooling gel.
Laser hair removal pain can be increased by various factors. Some of them are having sensitive skin, hormonal changes, sun exposure and improper shaving.
Laser hair removal pain can be managed by various methods. Some of them are taking painkillers, applying ice packs, moisturizing the skin and avoiding irritants.
Laser hair removal pain is worth it for the results. It can provide permanent hair reduction, smoother skin, less ingrown hairs and more confidence.
Introduction: What is laser hair removal?
Laser hair removal is a popular method of hair removal that uses a concentrated beam of light to remove unwanted hair. The light is absorbed by the pigment in the hair, and the heat from the light destroys the hair follicle.
Areas of Application. This method of hair removal can be used on any area of the body, and is often used to remove unwanted facial hair or body hair.
Safety and Consultation. Laser hair removal is a relatively safe procedure, but it is important to consult with a doctor before undergoing treatment to ensure that it is the right choice for you.
Painless Laser Hair Removal. Laser hair removal can be a painless experience with the right technology. It is essential to learn about different laser types and which one is the best for you.
The pain factor: what does laser hair removal feel like?
Laser hair removal is a popular cosmetic procedure that uses lasers to target and remove unwanted hair. But what does laser hair removal feel like? For most people, laser hair removal feels like a mild snapping sensation against the skin. Some compare it to the feeling of being flicked with a rubber band. The sensation is brief and generally well tolerated. Some people may experience more discomfort, especially if they have sensitive skin or are having a large area treated.
"Laser hair removal may seem intimidating, but with the right preparation and attitude, it can be a painless experience!"
---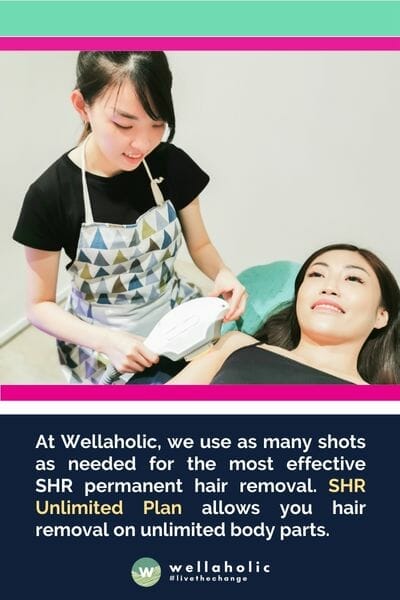 Which is more painful – IPL hair removal vs laser hair removal
IPL Hair Removal. If you're considering IPL hair removal, you may be wondering if it's painful. IPL involves intense pulses of light that are absorbed by the pigment in your hair. This can cause a stinging or burning sensation. If you have sensitive skin, you may find the pain to be unbearable. However, most people tolerate IPL quite well and find the discomfort to be manageable.
Laser Hair Removal. Most patients report that laser hair removal treatment is less painful than IPL. Laser hair removal targets the melanin in the hair follicle with a concentrated beam of light. While it can still cause some discomfort, especially for those with sensitive skin, most people find it to be tolerable. Your individual hair and skin type will determine your experience during the procedure.
So, while both IPL and laser hair removal can cause some level of discomfort, most patients find laser hair removal to be less painful. However, it's important to keep in mind that everyone's pain tolerance and experience is different. It's always best to consult with a doctor or professional technician to determine which method is best for you.
Preference for Permanent Hair Removal: According to a 2022 survey by Wellaholic Research , 62% of respondents in Singapore aged 18-29 years preferred permanent hair removal methods, like laser hair removal or electrolysis.
Which is more painful? SHR hair removal vs IPL hair removal
Although both SHR and IPL hair removal treatments offer long-lasting results, many people wonder which one is more painful. In general, SHR hair removal is more tolerable than IPL hair removal because it uses lower energy levels and can be performed in shorter sessions. SHR is a diode-based laser hair removal for permanent hair removal. However, everyone's pain tolerance is different, so it's important to consult with a professional to see which treatment option is right for you.
The table below summarises the advantages of SHR hair removal over IPL hair removal:
Advantages of SHR Hair Removal Over IPL Hair Removal
SHR is much more comfortable for the client
SHR carries no risk of burning the skin
SHR has a higher success rate in permanently removing hair
SHR treatment time is faster than IPL
SHR is suitable for all skin types
SHR can be used on all parts of the body
SHR has no downtime, allowing for immediate resumption of normal activities
SHR can be used on tanned skin
SHR requires fewer treatments than IPL
SHR is less painful than IPL
SHR produces better results in fewer treatments
Advantages of SHR Hair Removal over IPL Hair Removal
---
How to manage pain during laser hair removal?
Laser hair removal can be a little uncomfortable, but there are several ways to manage pain during the procedure:
Get adequate sleep the night before your treatment. Lack of sleep can affect your mood and pain receptors, so it's recommended to get a full 8 hours of sleep before the procedure.
Avoid laser hair removal immediately before or during menstruation. Changes in hormone levels can increase sensitivity to pain.
Apply a numbing cream to the treatment area. Numbing creams containing lidocaine or prilocaine can help reduce pain during the treatment. Apply the cream 30-60 minutes before the procedure as directed by your healthcare provider.
Use a cooling device during the treatment. A cooling device can help reduce pain and discomfort by cooling the skin during the procedure. Your healthcare provider may have a cooling device or you can use a cold compress or ice pack before and after the procedure.
Here's a table that explains the different steps of aftercare after a laser hair removal session:
Steps of Aftercare
Description
Clean the treated area
– Use mild soap and water
– Clean the treated area to remove any residue or debris
– Avoid using hot water and rough cloths to prevent irritation
Apply cool compress
– Use a cool compress, such as a cold pack or cloth
– To reduce any redness or swelling
– Apply for 10-15 minutes at a time, several times a day
Avoid sun exposure
– Avoid direct sun exposure and tanning beds for at least 48 hours after treatment
– Use sunscreen with SPF 30 or higher when outside
Avoid hot showers and baths
– Avoid hot showers, baths, and saunas for at least 24 hours after treatment
– Use lukewarm water instead
Wear loose clothing
– Wear loose, comfortable clothing
– To prevent friction and irritation in the treated area
– Avoid tight clothing and underwear
Avoid applying makeup or lotions
– Avoid applying makeup, lotions, or perfumes to the treated area for at least 24 hours after treatmen
Avoid strenuous exercise
– Avoid strenuous exercise, swimming, and activities
– That cause excessive sweating for at least 24-48 hours after treatment
Use moisturizer
– Apply a gentle moisturizer to the treated area
– To soothe any redness or irritation
– Avoid moisturizers with fragrances or harsh chemicals
Avoid hair removal methods
– Avoid shaving, waxing, or plucking the treated area
– Between laser hair removal sessions
-To allow the hair to fall out naturally
Follow the recommended schedule
– Follow the recommended schedule for laser hair removal sessions
– To achieve the best results.
– Typically, sessions are spaced 4-6 weeks apart.
Steps of Aftercare After Laser Hair Removal Session
---
WellaSmooth™. Pay One Low Price for Hair Removal for All Body Parts with Unlimited SHR Shots
Unbeatable in Value and Quality. WellaSmooth offers a all-inclusive hair removal solution that is unbeatable in both value and quality.
One Price for All Body Parts. Pay just one low price for a complete hair removal experience for all body parts, including unlimited SHR shots.
Shaving + Hair Removal + Whitening. WellaSmooth also includes full body shaving service and post-treatment whitening/hydration to prevent hyperpigmentation.
Permanent Fuss-Free Solution. Say goodbye to the hassle of expensive and ineffective hair removal methods and trust WellaSmooth to deliver a permanent and fuss-free solution for all your hair removal needs.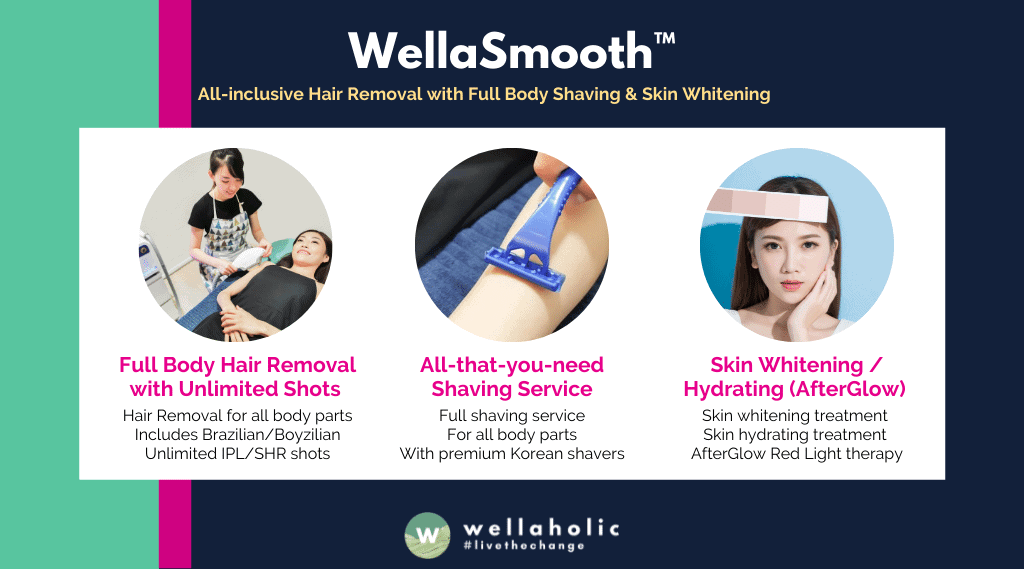 WellaSmooth™ Includes the Following 3 Hair Removal Services
SHR Permanent Hair Removal PRESTIGE Unlimited – Enjoy our bestseller SHR hair reduction treatment for all body parts
Unlimited Shaving Service – Enjoy unlimited shaving service on all body parts
Skin Whitening/Hydrating (PTT) with AfterGlow – Enjoy post-treatment whitening or hydrating therapy followed by AfterGlow red-light treatment to rejuvenate your skin


Why Choose Wellaholic WellaSmooth™?
Diode Laser Technology. Developed by Alma Lasers, SHR combines 755nm, 808nm and 1064nm laser wavelengths to target all skin types.
SHR is Better Than IPL. SHR has been shown to be more effective and less painful, particularly for individuals with Asian skin, without the discomfort associated with IPL.
Unlimited Shots. We use as many shots as needed to effectively target the hair follicles.
Award-Winning. Wellaholic's WellaSmooth and SHR Hair Removal have been recognized by top beauty publications such as Daily Vanity, Beauty Insider, and Tropika Club Magazine, earning prestigious awards from 2018 to 2023.
Ideal for All Skin and Hair Colors. WellaSmooth is perfect for individuals with any skin color or hair color.
For Men and Women. Wellaholic caters to both men and women with our team of skilled therapists, ensuring that every outlet has a diverse and inclusive environment with male and female professionals readily available to attend to your needs.
See Over 2000 Positive Reviews of Wellaholic (Customer Verifiable)
If you're looking for a reliable and trustworthy aesthetic chain, Wellaholic might just be the perfect fit for you. With over 2000 genuine customer reviews and testimonials, you can see for yourself why our hair removal services have won numerous awards.
Pricing of Hair Removal Treatments by Wellaholic
Price Transparency. Wellaholic offers pricing transparency by publishing and updating all prices on our website.
Flexible Per-Session or Unlimited Plans. Customers can choose from unlimited monthly hair removal plans with unlimited SHR hair removal shots for all body parts, or per-session hair removal price plans.
Mix and Match Easily. Wellaholic's hair removal prices are divided into different categories for easy selection.
No Price Shocks. Customers can expect to pay only for the treatments provided instead of being surprised by additional fees or charges at the end of their hair removal session.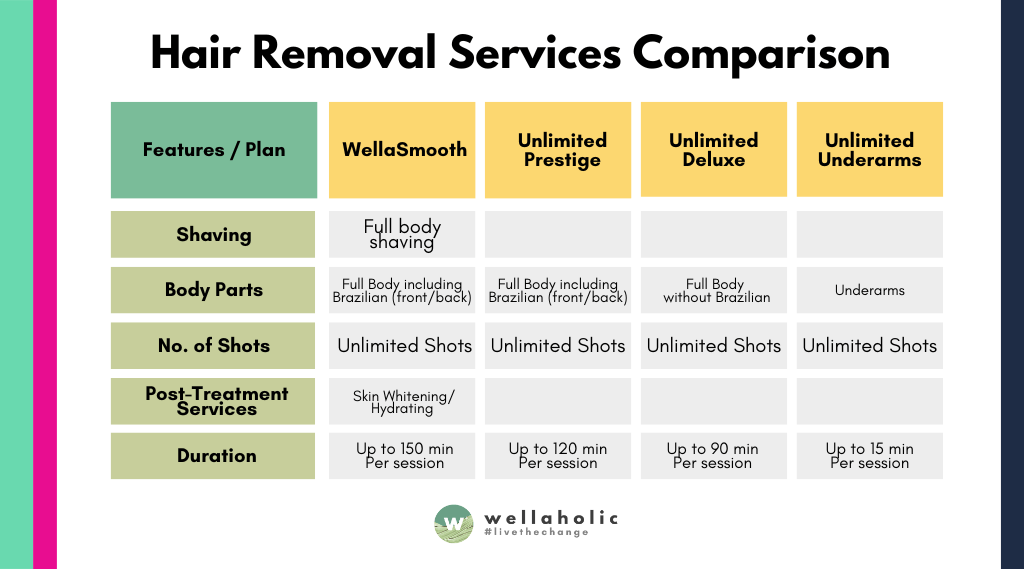 ---
Why Wellaholic is One of the Best Hair Removal Providers in Singapore?
Leading Hair Removal Chain in Singapore. Wellaholic is a leading hair removal company in Singapore that is highly sought after by customers.
Quality & Safe Treatments. The company is committed to providing quality and safe treatments with experienced staff.
Wide Range of Hair Removal Treatments. Wellaholic offers a wide range of laser hair removal treatments for various body parts including Brazilian & Bikini, Underarm, Arms, Back & Shoulder Hair Removal, and Leg Hair Removal.
Trained & Experienced Consultants. All treatments are performed by trained professionals who understand the skincare needs of both female and male customers.
Advanced SHR Technology. Advanced SHR technology is used to ensure a safe experience with no downtime or discomfort during the entire process.
Most Affordable Provider. Wellaholic provides competitive pricing for its treatments which makes it one of the most affordable providers in Singapore.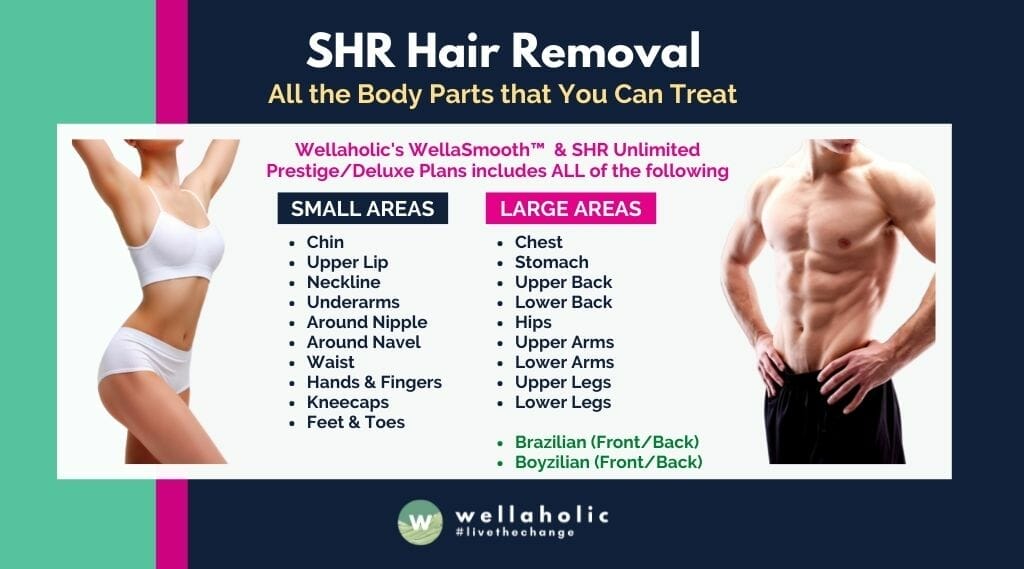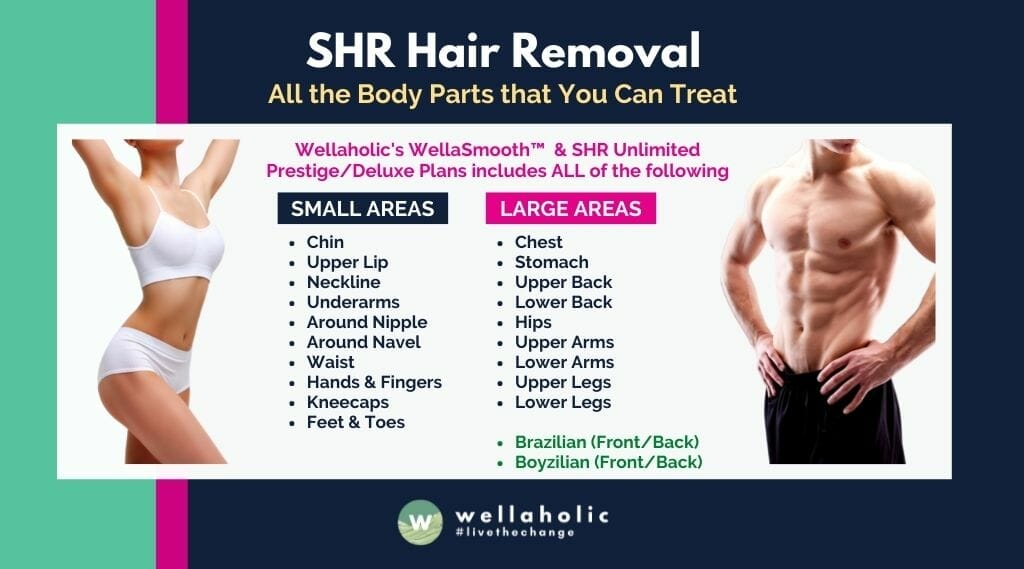 Reason 1: Wellaholic's Unlimited Plans Save You Lots of Money
Unlimited Hair Removal Plans. Wellaholic offers unlimited plans for permanent hair removal with unlimited shots.
Pay One Price for All Body Parts. Customers pay one nett price for hair removal on all body parts, including chin, lips, underarms, back, chest, stomach, legs, and private regions (both front and back).
Huge Cost Savings. With the unlimited plan, there are no separate fees for hair removal on different body parts, leading to huge cost savings.
Reason 2: Wellaholic Has Over 50 Awards and 2000 Genuine Customer Reviews
Over 50 Awards. Wellaholic's WellaSmooth and SHR Hair Removal have been recognized by top beauty publications such as Daily Vanity, Beauty Insider, and Tropika Club Magazine, earning prestigious awards from 2018 to 2023.
Over 2000 Verified Customer Reviews. Wellaholic has over 2000 verified positive reviews from our customers in Singapore and beyond.
Verifiable Reviews. The reviews are verified and positive, which indicates the high level of customer satisfaction (see reviews below).
Over 50% Repeat Customers. More than 50% of Wellaholic's customers are repeat and recurring customers.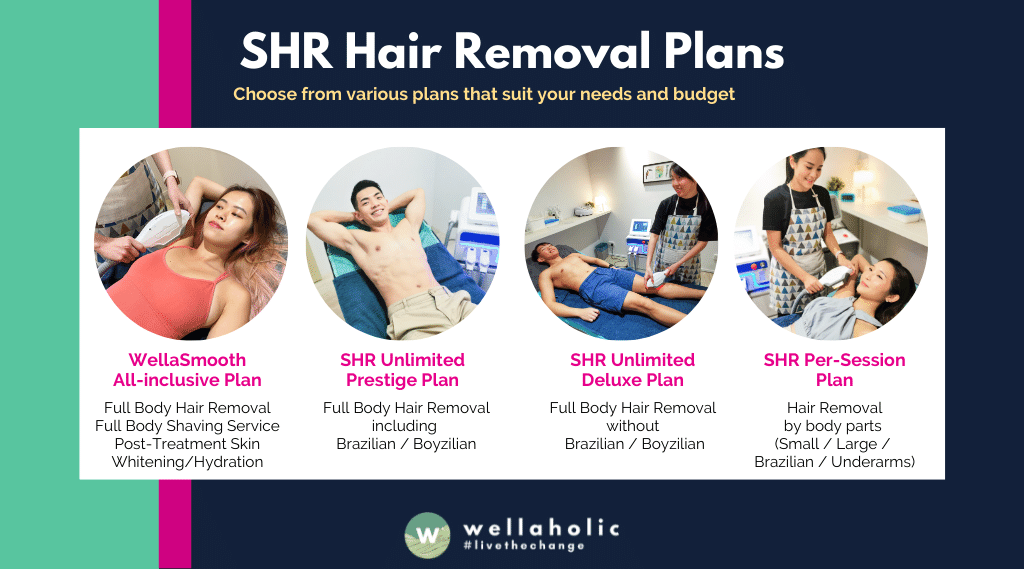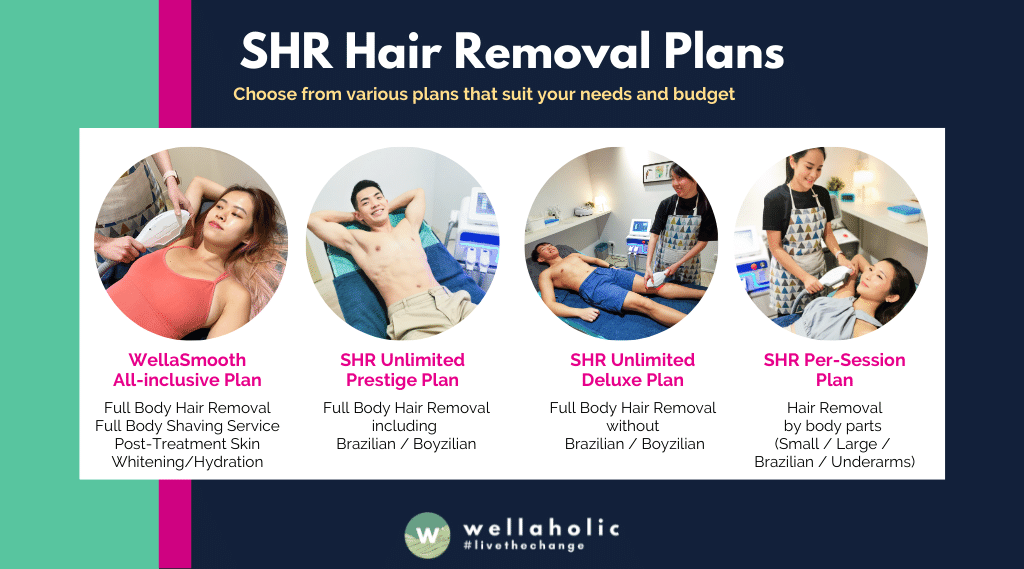 Reason 3: It's Easy to Book an Appointment at Wellaholic
Open 361 Days Per Year. Wellaholic's 8 outlets are open 361 days a year, including public holidays, so that customers can easily book an appointment.
No Queues. All appointments are booked in advanced to prevent the need to queue and wait unnecessarily during peak hours.
Easy Online Booking. Customers can conveniently book and reschedule appointments online or via the booking app.
No Extra Cost for Choosing Consultant. Customers can select their preferred consultant without having to pay any additional fees.
---
---