Lose fat without surgery – find out how!
---
Introduction: Lose fat without surgery – find out how!
Losing fat can be a difficult and frustrating process, but surgery is not the only way to do it. There are many different ways to lose fat, and some of them are non-surgical. If you are looking to lose fat without surgery in Singapore, there are a few things you can do.
---
Section 1: what is fat?
Every day, we are bombarded with commercials and news stories about the latest diet fad or exercise regimen that promises to help us shed those extra pounds. But what is fat, really? Fat is one of the three main macronutrients, along with carbohydrates and protein. It is essential for human health and plays a number of important roles in the body.
Fat is made up of triglycerides, which are molecules composed of three fatty acids bonded together. Fatty acids are chains of carbon atoms with hydrogen atoms attached. They can be either saturated or unsaturated.
Saturated fats are solid at room temperature and are found in animal products such as meat and dairy. Unsaturated fats are liquid at room temperature and are found in plant-based oils such as olive oil and canola oil.
Section 2: how do you lose fat without surgery?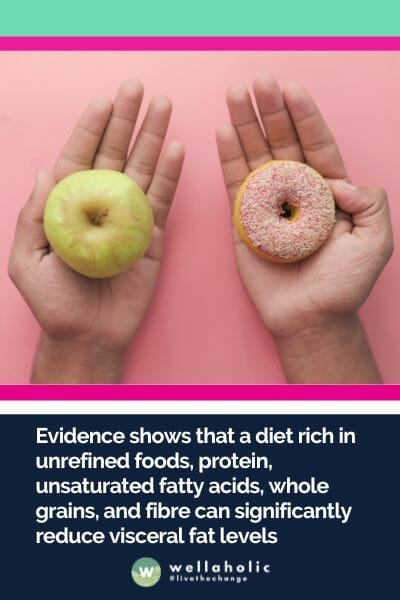 Losing fat can be a difficult and frustrating process, but there are ways to do it without surgery. By making some simple lifestyle changes and following a few tips, you can start to see results.
First, you need to focus on your diet. Eating healthy, whole foods is crucial for losing fat. Cut out processed foods, sugary drinks, and excessive amounts of saturated and unhealthy fats. Instead, fill up on lean protein, fruits, vegetables, and healthy fats.
Second, you need to get moving. Exercise is essential for burning calories and helping to tone your body. Try to get at least 30 minutes of moderate-intensity activity most days of the week. Regular exercise will help you lose fat and keep it off in the long-term.
Finally, don't give up! Losing fat takes time and patience.
Section 3: benefits of losing fat without surgery
Losing fat without surgery may seem like an impossible feat, but there are actually many benefits to be gained from shedding those extra pounds. For one, you'll save a significant amount of money on medical bills and surgeries. Additionally, you'll avoid the risks and complications associated with going under the knife. Finally, you'll get to keep your natural curves and shape – something that's often lost with traditional methods of weight loss.
Section 4: some foods that help you lose fat
There are many different ways to lose fat, but one common goal is to eat foods that help burn fat. Here are a few examples of such foods:
1. Salmon is a great source of protein and omega-3 fatty acids, both of which have been shown to help burn fat.
2. Green tea is another metabolism-boosting food that can help you lose fat. It's also rich in antioxidants, which are important for overall health.
3. Another metabolism-boosting food is grapefruit. This citrus fruit contains a compound called naringin, which has been shown to increase metabolic rate and promote weight loss.
---
Section 5: exercise tips to help lose fat
Looking to shed some fat? Check out these exercise tips to help you slim down!
1. Incorporate cardio into your routine. Cardio exercises help burn calories and promote weight loss. Try adding 30 minutes of cardio to your workout routine four times a week.
2. Add strength training to your regimen. Strength-training helps build muscle, which in turn helps burn more calories and promote weight loss. Aim for two to three strength-training sessions per week.
3. Make sure you're getting enough protein. Protein helps build muscle, which can aid in weight loss. Make sure you're including protein-rich foods in your diet or, if you're not getting enough from food, consider adding a protein supplement to your diet.
Section 5: Consider fat freezing to lose fats
If you're considering fat freezing to lose fat, there are a few things you should know. Fat freezing, also known as cryolipolysis, is a nonsurgical procedure that uses extremely cold temperatures to target and destroy fat cells. The treated area may feel numb and look visibly thinner after the procedure.
---
WellaFreeze™ 360 Advanced Fat Freeze by Wellaholic
WellaFreeze™ 360 Advanced Fat Freezing uses the latest fat freeze technology and is designed for customers who are looking to fat freeze 4 body parts at once. Similar to Clatuu 360 or CoolSculpting 360, our WellaFreeze 360 Cryolipolysis device is equipped with 4 probes or applicators for concurrent usage. Further more, the latest innovation in our fat freeze 360 probes increases the coverage area – meaning that you can freeze a larger surface area per probe.
What is WellaFreeze™ 360 Advanced Fat Freezing?
WellaFreeze™ 360 Fat Freezing is the latest innovation in fat freezing. It uses a newer device over the traditional WellaFreeze cryolipolysis machine. 
WellaFreeze™ 360 Fat Freezing helps target the stubborn fat and cellulite areas of your body that do not react well to exercise and dieting.
Fat cells are "dissolved" by non-surgical means and controlled cooling at sub-zero temperatures.
WellaFreeze™ 360 Fat Freezing with its newer technology can increase in absolute fat removal by up to 19%, in addition to the 14% to 28% fat reduction from each session.
In addition, customer can treat 4 body parts at one time with WellaFreeze™ 360 Fat Freezing.
Each session is also reduced from 60 minutes to only 30 minutes, due to the increase freezing ability.
WellaFreeze™ 360 uses 360 probes which can freeze and reduce up to 34% of body fat per session with no or minimal bruising to the body.
WellaFreeze™ Fat Freezing Can Target the Following Body Parts
Stomach / Belly / Tummy / Abdomen
Love Handles / Flanks
Under the Neck / Double Chin
Back / Bra Area
Thighs
Male Chest (Pseudo gynecomastia)
Arms
Under Buttocks (Banana Roll)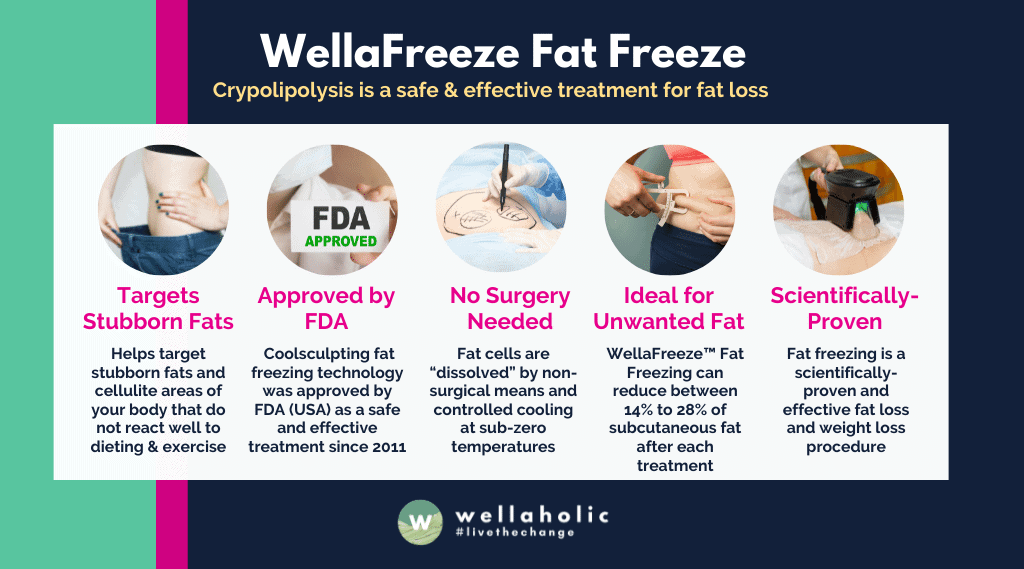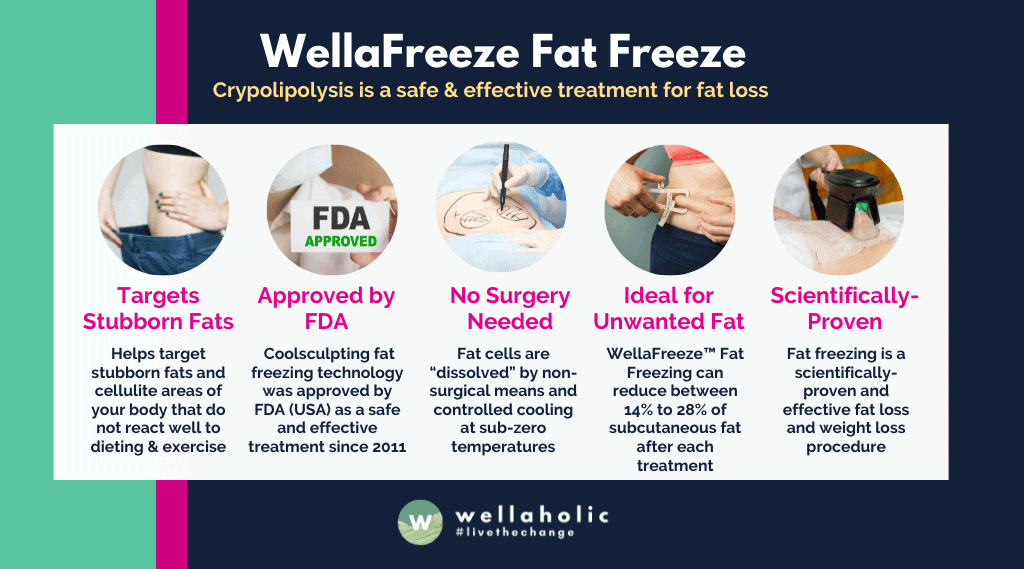 See Over 1800 Positive Reviews of Wellaholic (Customer Verifiable)
Pricing of Slimming Treatments by Wellaholic
Wellaholic believes in providing pricing transparency, and hence all prices are published and updated on its website. Choose from a single-session plan or choose a multi-session plan for greater discounts. Wellaholic's slimming treatments are generally divided into the following categories: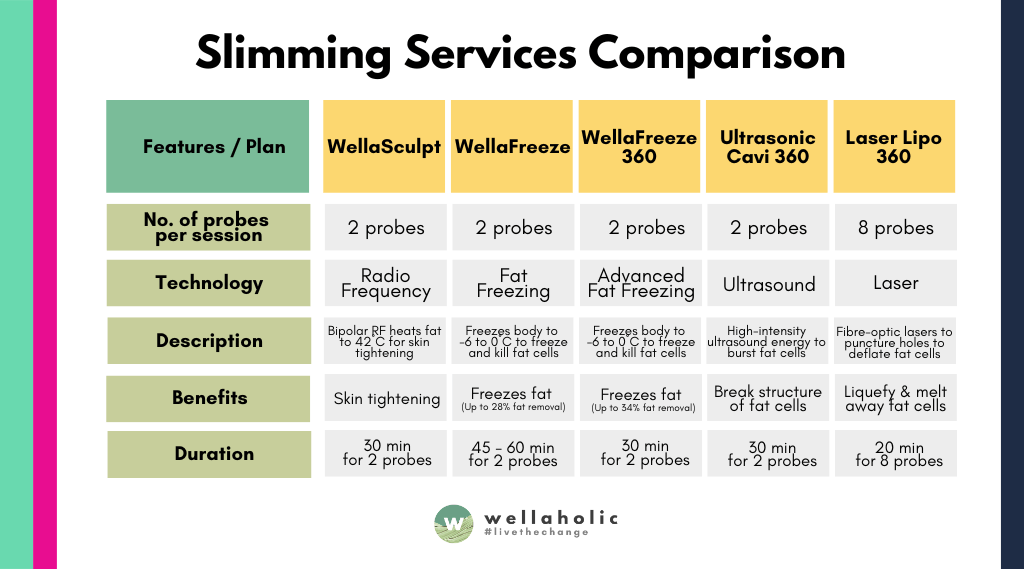 Please click on the menu below to see the pricing for the various slimming treatments by Wellaholic. Prices are nett and inclusive of GST.
---
---