Make a Bright Christmas Impression with Teeth Whitening
Introduction: Make a Bright Impression this Christmas with Whiter Teeth
Christmas is the most wonderful time of year, and a great opportunity to look your best, whether in Singapore or elsewhere in the world. One way to ensure you make a lasting impression on family and friends this festive season is by investing in whiter teeth. A bright smile can take years off your age, boost confidence and make people take notice. With the right dental agency, you can get the Hollywood-style smile of your dreams in no time at all.
---
Benefits of Teeth Whitening
The holidays are just around the corner and it's time to start thinking of ways to make this Christmas extra special. One of the easiest and most affordable ways to give yourself or a loved one a gift that will last all year is teeth whitening. Whitening your teeth can provide many benefits, from improving confidence and self-esteem to giving you an overall brighter, more youthful appearance.
Teeth whitening is not only safe but also less expensive than other cosmetic procedures. It can be done in the comfort of your own home with over-the-counter treatments or at a professional dentist office depending on what look you desire. Professional whitening treatments can lighten teeth up to eight shades lighter in just one visit!
What is Laser Teeth Whitening?
Laser teeth whitening is a new and exciting way to get the smile of your dreams. A revolutionary dental procedure, laser teeth whitening utilizes a state-of-the-art laser device to bleach the tooth enamel and remove deep staining caused by smoking, coffee, or other dark beverages. The end result is a brighter, whiter smile that you can be proud of.
The actual laser teeth whitening treatment takes about one hour to complete in the dentist's office. First, your dentist will apply protective gel around your gums and then will direct the beam from the dental laser over each tooth. This process activates the bleaching agents in special gel that has been applied to each tooth and helps them penetrate deeper into the enamel for maximum effectiveness.
Conclusion: Smile Bright this Christmas
In conclusion,a brighter smile can be the perfect holiday accessory this season. Taking care of your teeth with regular brushing and flossing, in addition to visiting the dentist for professional cleanings, will ensure that you have a beautiful smile to show off during Christmas and beyond. If you're looking for additional dental whitening options, ask your dentist about the various over-the-counter or in office treatments available. A few simple steps can make a big impact on your smile this holiday season.
TeethWhite™ Teeth Whitening – Get Up to 12 Shades Whiter
TeethWhite™ is a premium laser teeth whitening treatment in Singapore. TeethWhite™ can whiten your teeth by up to 12 shades with immediate results, regardless of color of teeth. The treatment is safe and suitable for sensitive teeth. The primary ingredient in teeth whitening gel is Carbamide Peroxide. The molecules will convert to hydrogen peroxide and become active when exposed to your teeth and with strong LED light technology. This whitens your teeth thoroughly, leading to beautiful teeth.
What is TeethWhite™ Teeth Whitening Treatment?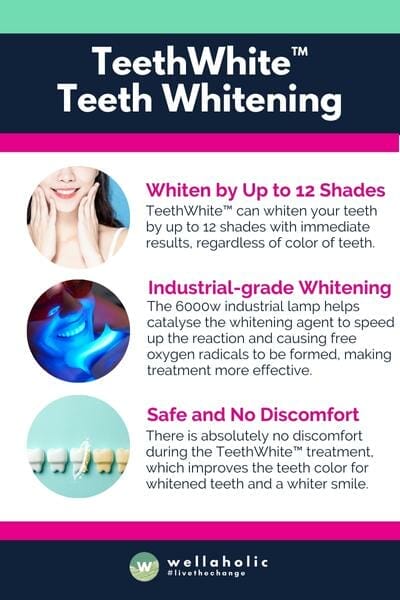 TeethWhite™ is a premium laser teeth whitening treatment in Singapore, offered at all Wellaholic outlets. 
Your teeth have pores just like your skin.
The nicotine and tar, as well as surface stains from coffee and tea and other beverages, can easily stain your teeth over time, leading to teeth discoloration. 
The primary ingredient in teeth whitening gel is Carbamide Peroxide.
The molecules will convert to hydrogen peroxide and become active when exposed to your teeth and with strong LED light.
The teeth whitening procedure helps target your teeth stains and whitens your teeth thoroughly.
You can see immediate whitening results right after the teeth whitening treatment, resulting in beautiful teeth. 
The whitening effect continues over a period of time, leading to a brighter smile and white smile. 
There is absolutely no discomfort during the TeethWhite™ treatment. We have an improved teeth whitening process that eliminates the need to create a custom teeth mold. We use a proprietary process to ensure that the whitening agent binds to your teeth, to increase the rate of whitening to the teeth, while ensuring both safety and comfort.
Is TeethWhite™ Backed By Science?
TeethWhite™ is a method of teeth whitening or teeth bleaching treatment in Singapore.
The teeth whitening treatment uses the LED blue light and red light to activate the teeth whitening gel.
The 6000w industrial lamp helps catalyse the whitening agent to speed up the reaction and causing free oxygen radicals to be formed. This makes the treatment more effective than teeth whitening kits. 
Any discoloration in the tooth enamel or tooth colour (teeth with external stains) can be removed effectively.
This aesthetic treatment leads to brighter teeth and whiter teeth, for more a beautiful smile.
See Over 1800 Positive Reviews of Wellaholic (Customer Verifiable)
Pricing of Teeth Whitening Treatments by Wellaholic
Wellaholic believes in providing pricing transparency, and hence all our prices are published and updated on its website. Choose from a single-session plan or choose a multi-session plan for greater discounts.
Please click on the menu below to see the pricing for the various facial treatments by Wellaholic. Wellaholic is well-known in the industry for our transparent pricing and no hard selling. In fact, Wellaholic is well-known for not only our transparent and cheap pricing but also without any hidden costs. All prices are nett and inclusive of GST, and are actual prices (i.e. not trial prices).
---
---