Wellaholic Research: Microneedling for the Treatment of Scars
Background
Microneedling (MN) is used for the treatment of scars, amongst other indications. Although used in Asia and the Middle East for decades, related to the supposed lack of post-procedure pigmentary alterations even in darker skin types, Microneedling only recently gained attention in the United States as an effective, well-tolerated aesthetic treatment.
Microneedling is a well-tolerated, minimally invasive procedure that can be used for the treatment of scars with a high level of patient satisfaction. Further clinical studies are needed to develop standardized treatment protocols.
Introduction
Microneedling (MN), or percutaneous collagen induction therapy, has been used within the dermatologic subspecialty for skin rejuvenation, skin tightening including treatment of striae, scar remodeling of the face and body, and hair growth. Due to the relative lack of post-inflammatory hyperpigmentation, Microneedling is often considered an alternative to laser procedures in darker skin phototypes (Fitzpatrick IV through VI). Although Microneedling has been a popular, minimally invasive, procedure performed in Asia and the Middle East, only recently has Microneedling garnered attention in the United States (US). Since the first clinical descriptions of subcision and "needle dermabrasion" (using a tattoo gun without ink), the production of Microneedling devices has flourished.1,2 In the US, Microneedling devices exist as both rollers, stampers, and pens (electrically powered or otherwise), and can be combined with radiofrequency (RF) in an effort to deliver energy below the epidermal surface – known as fractional radiofrequency microneedling (FRF-MN), thus avoiding epidermal damage and subsequent dyspigmentation.3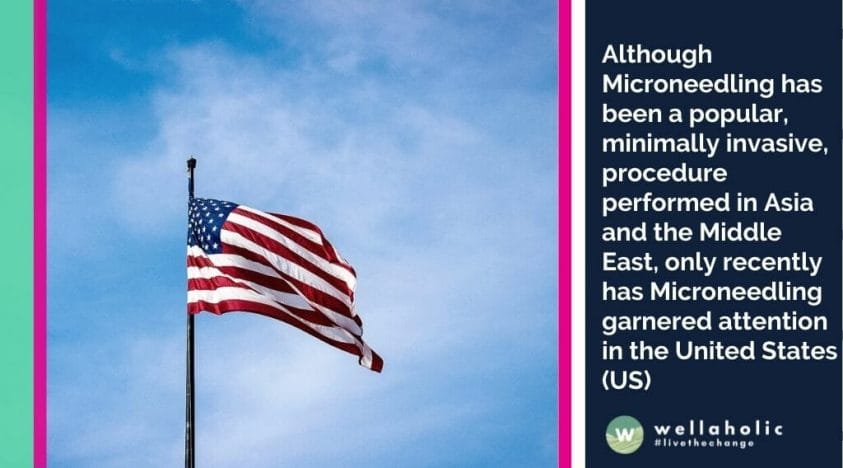 Microneedling devices vary based on their needle length (i.e. depth of skin penetration), diameter, density and material. Disposable needle tips are considered safer from an infectious risk standpoint, especially given the recent concern of bloodborne disease spread especially with the aptly named "vampire facials" for skin rejuvenation,3 and reusable home-use devices. Devices that allow for variation of needle length are advantageous in that varying penetration depths may be necessary to treat different areas of the face or body; sebaceous areas required deeper needle penetration compared to the forehead or periocular areas. Prior studies demonstrate a needle length of 1 mm as being the most desirable and accurate setting, whereas needle lengths of 3 mm may still only penetrate to a depth of 1.5 to 2.0 mm.4,5
Animal models and in vitro examination of human tissue demonstrate that Microneedling creates micro-channels and micro-wounds at the level of the dermis breaking compact, thickened collagen and inducing the wound healing cascade. Micro-channels cause little epidermal damage making Microneedling safe to use in darker skin phototypes. Gene expression profiling before and after Microneedling treatment demonstrates an upregulation in type I collagen expression, as well as glycosaminoglycans, vascular endothelial growth factor (VEGF), fibroblast growth factor (FGF)-7, epidermal growth factor (EGF), and transforming growth factor (TGF)-β, all important signaling molecules for collagen production, as well as neovascularization. Tissue histology after Microneedling shows thickened epidermis, and an increase in dermal collagen and elastic fiber deposition. Over a period of weeks to months, newly formed type III collagen becomes mature type I collagen causing skin tightening and a decrease in the appearance of scars or rhytides.6–11 In this systematic review, we will explore the efficacy and safety of Microneedling for the treatment of scarring.
Methods
A systematic review using the PRISMA (Preferred Reporting Items for Systemic Review and Meta-Analysis) was completed using the Medline database in August 2020 using the search terms "microneedle" or "microneedling" or "micro needle" or "micro needling" and "scar". Included manuscripts were case reports, case series and trials discussing the use of microneedling (rolling device, stamping device, fractional radiofrequency device) for the treatment of scars in humans in English. Reviews, animal models, and in vitro studies were excluded, as were articles not available in English.
Summary of Protocols from Studies Discussing the Use of Microneedling for Scar Treatment
Treatment Protocol
Combination Therapies
Microneedling (n=36)
Number of passes
4–10
Procedural
Platelet-rich plasma (PRP; n=6)
Subcision (n=3)
Incobotulinum toxin (n=1)
Polymethylmethacrylate-collagen gel (n=1)
Clinical endpoint
Uniform pinpoint bleeding
Topicals or peels
Glycolic acid peel (n=3)
Trichloroacetic acid peel (n=2)
Amniotic fluid-derived mesenchymal stem cell, topical (n=1)
Hyaluronic acid (n=1)
Jessner's solution peel (n=1)
Vitamin A and C, topical (n=1)
Needle depth
1.5–3.0 mm
Systemic therapy
Systemic isotretinoin (n=1)
1–12 treatment sessions, every 1–8 weeks
Microneedle patch (n=2)
Continuously for 30 days (n=1), changed every 2–3 days for 4–6 weeks (n=1)
Fractional radiofrequency microneedling (insulated and non-insulated, multiple and single-needle heads, n=20)
Number of passes
2–8
Injectable/procedural
Fractional carbon dioxide (CO2; n=2)
Fractional 1550 nm erbium-glass (Er:glass; n=1)
Hyaluronic acid (n=1)
Subcision (n=1)
Clinical endpoint
Wheal-like papules/plaques
Topicals
Poly-lactic acid (PLA; n=1)
Needle depth
0.8–3.5 mm
Systemic therapy
Systemic isotretinoin (n=1)
Energy
6.82–70 W, 40–82 mJ
Duration
50–400 ms
Total pulses
250–500
1–6 treatment sessions, every 4–12 weeks
In all cases of Microneedling or fractional radiofrequency microneedling treatment, patients received pre-treatment anesthesia. Although the most commonly reported anesthesia was topical (lidocaine and/or prilocaine) applied in the area to be treated with or without occlusion for a total of 30 to 90 minutes, 2 studies originating from Germany mentioned the use of general anesthesia. Prior to starting Microneedling, areas were cleansed with either isopropyl or ethyl alcohol. Two studies utilizing fractional radiofrequency microneedling used epidermal cooling to decrease epidermal damage during the procedure. Post-treatment regimens suggested included sunscreen (n=19 studies), bland emollient (n=11), topical or systemic antibiotic including topical fusidic acid (n=11), topical corticosteroids (n=3), cold packs (n=2), as well as topical benzoyl peroxide, cyclopentasiloxane/cyclohexasiloxine/sodium hyaluronate, hyaluronic gel, L ascorbic acid/α-tocopherol/ferulic acid, non-steroid anti-inflammatory drugs (NSAIDs), and tretinoin/kojic acid/hydroquinone/hydrocortisone (n=1 each).6–63
Acne scarring was by far the most discussed condition (n=43 studies). In all studies, boxcar (U-shaped) and rolling (M-shaped) scars demonstrated the greatest clinical improvement after MN or fractional radiofrequency microneedling, while icepick (V-shaped) scars were often recalcitrant.6,9,11–51 Patients treated with MN or fractional radiofrequency microneedling for other types of scars also demonstrated clinical improvement. Scar improvement was measured using both patient and investigator qualitative assessments, as well as the Echelle d'evaluation Clinique des Cicatrices d'Acne (ECCA), Vancouver Scar Scale (VSS), and Visual Analog Scales (VAS).6–63 Combination treatment with laser, PRP, subcision, glycolic acid peel, Jessner's peel, trichloroacetic acid peel and topical amniotic fluid stem cells resulted in greater scar improvement than Microneedling or fractional radiofrequency microneedlingalone.8,17,24,26,31,32,34,37,40,51,53,55 Fifty to 100% of patients were satisfied with MN or fractional radiofrequency microneedling treatment; 33% of patients reported they would want further treatment,9 while 94% would recommend treatment to others.28 Combining treatment with 1550 nm laser or PRP resulted in higher patient satisfaction.8,34 In addition, patients preferred Microneedling to intralesional triamcinolone (ILTAC) or 1450 nm diode laser.30,56
Adverse events (AEs) due to Microneedling or fractional radiofrequency microneedling were mostly of minimal severity; no serious AEs were reported. Almost all studies reported pain and bleeding during the procedure; the most common post-procedure AEs included transient post-procedure pain/discomfort/burning, erythema and/or swelling. Further AEs are discussed in Table 2. Post-inflammatory hyperpigmentation occurred in 19 studies; 54.5% of studies used FRMN, while 45.5% used Microneedling. There was one case of herpes simplex reactivation which was successfully treated with oral valacyclovir. The most feared AE of Microneedling treatment is the so-called "railroad" or "tramtrack" scarring that can occur with aggressive treatment, and was only reported as an AE in 5 studies.6–63 One female patient with atrophic acne scars developed scarring after an allergic reaction to the nickel contained in the needles, which was subsequently treated with oral prednisolone and topical steroids.38
Summary of Rare AEs Occurring with Microneedling Treatment for Scars
| Adverse Event Description | Number of Studies Reporting (n) |
| --- | --- |
| Post-inflammatory hyperpigmentation | 19 |
| Scabbing/crusting | 9 |
| Purpura/ecchymosis | 5 |
| "Tramtrack"/"railroad" scarring | 5 |
| Acne flares | 4 |
| Cervical lymphadenopathy | 3 |
| Milia | 2 |
| Pustules/bullae | 2 |
| Allergic reaction to nickel | 1 |
| Herpes simplex reactivation | 1 |
Discussion
Microneedling has gained popularity as a minimally invasive aesthetic technique for the treatment of skin aging, scarring, striae, and hair loss, amongst other indications. Although the US Food and Drug Administration (FDA) initially classified Microneedling as class I medical devices, recent developments have elevated their classification to class II (special controls) and they are currently approved for microdermabrasion, scarring and rhytides.64 The literature suggests that Microneedling and fractional radiofrequency microneedling are well tolerated and result in clinical improvement of scarring due to acne or other infectious cause, hypertrophic or keloid scars, and post-operative or traumatic scars, as well as high rates of patient satisfaction. Microneedling and fractional radiofrequency microneedling were reportedly tolerated better by patients than their laser resurfacing counterparts, namely the CO2, Er:glass and diode lasers, with less reported downtime. Microneedling and FRF-MN can be combined with a variety of other surgical therapies including laser resurfacing, chemical peels, PRP, filler and botulinum toxin for greater clinical results.6–63
As with many aesthetic procedures, Microneedling and fractional radiofrequency microneedling suffer from a lack of standardized protocol. Animal and human studies suggest that multiple passes per treatment and multiple treatment sessions demonstrate greater skin regeneration potential.65,66 Further clinical studies need to be completed to determine optimal number of passes, number of treatment sessions, intertreatment duration intervals and maintenance therapy.
Just like non-ablative laser techniques, Microneedling is an effective intraepidermal and intradermal delivery method for pharmaceuticals.5,67 In addition to microneedles designed to contain substances such as bleomycin or triamcinolone for treatment hypertrophic scarring,68,69 Microneedling can enhance the penetration of topicals such as anesthetics, chemical peels, PRP or filler material such as hyaluronic acid as evidenced by this review,6–63 and possibly nanoparticles and siRNA in the future.67,68 Advances in Microneedling delivery, such as the development of patches or use of MN to deliver energy sources below the level of the epidermis have both decreased the amount of discomfort associated with treatment, and increased efficacy by combining multiple treatment modalities.56,58,70 It is important to note that certain topical products may cause allergy, and even granulomatous reaction, when introduced into the skin through micro-channels created by Microneedling devices; physicians should counsel patients appropriately regarding these risks. Substances such as bleomycin, triamcinolone and filler material should presumably be safer to administer through micro-channels given that they are designed as injectables.
Although no serious AEs were associated with Microneedling and fractional radiofrequency microneedling treatment of scars, it is important to note that post-inflammatory hyperpigmentation occurred in over 30% of studies and resolved either spontaneously or with the help of topical bleaching creams within months. Given that the majority of patients treated in this review had a Fitzpatrick skin phototype of IV or greater, AE reporting may have been biased towards events that more commonly occur in this patient groups post-procedure, specifically dyspigmentation and aberrant scarring (such as the "tramtracks"). Physicians should be aware that Microneedling is not without its risks, and appropriately counsel patients during the consent process to avoid patient morbidity post-treatment.
Limitations of this study include its lack of meta-analysis. Given the heterogeneity of data presented by included studies, it was not possible to combine and statistically analyze this data.
Conclusion
Microneedling and its relative fractional radiofrequency microneedling are both well-tolerated, minimally invasive procedures that can be used for the effective treatment of scarring. Although there are no standard treatment protocols, clinical improvement in many types of scars including acne, varicella and smallpox, hypertrophic or keloid, and post-operative or post-traumatic scars have been reported in the literature. Microneedling and fractional radiofrequency microneedling can be used as stand-alone modalities, or can be combined with a variety of topicals and other surgical procedures for superior results. No serious AEs have been reported using Microneedling or fractional radiofrequency microneedling for the treatment of scars; however, physicians should be aware that post-inflammatory hyperpigmentation is still a relatively common event. Large-scale, clinical trials need to be completed to determine optimal, standardized protocols to treat scarring using Microneedling or fractional radiofrequency microneedling.
Source
---
Gold RF Microneedling Facial by Wellaholic
Gold RF Microneedling is a revolutionary skin treatment that delivers dramatic anti-ageing results by combining fractional radiofrequency (RF) with microneedling to effectively treat acne, acne scar, pigmentation, stretch marks & enlarged pores. Gold RF Microneedling can also lift saggy skin and revitalise dull and uneven skin tone.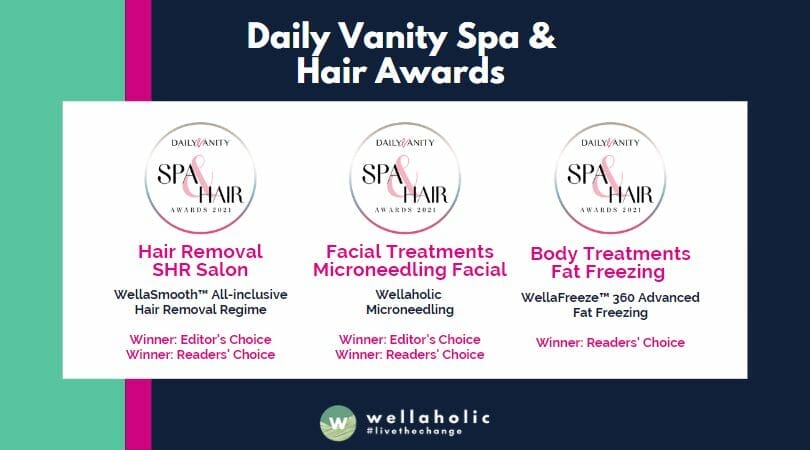 What is Gold RF Microneedling Facial Treatment?
If you are looking for an effective method to clear your acne scars, wrinkles or pigmentation, or if you are looking to tighten saggy skin such as jowl lines and nasolabial folds without any invasive surgery, then Gold RF Microneedling is the right treatment for you. Gold RF Microneedling combines two scientifically-proven techniques, microneedling and fractional radiofrequency (RF) to treat a variety of skin conditions.
Uses Up to 64 Micro Needles. Gold RF Microneedling uses up to 64 needles to penetrate the skin, releasing RF energy to trigger collagen and elastin production for the ultimate anti-ageing treatment for a clearer complexion and firmer skin.
Safe and Minimally Invasive. Gold RF Microneedling is a safe, minimally invasive.
Effectively Treats Acne Scars, Pigmentation & Wrinkles. Extremely effective aesthetic treatment for treating acne scars, pigmentation, fine lines and wrinkles.
Stimulates Collagen Growth. Gold RF Microneedling has the ability to stimulate the growth of collagen and elastin using the combination of Microneedling with Radiofrequency, which is the key to new, youthful-looking skin.
Positive Clinical Results. Gold RF Microneedling has a dermatological treatment has seen extensive positive clinical results. This is an improvement over just doing a Microneedling or Radiofrequency treatment on its own.
What are the Benefits of Gold RF Microneedling Facial?
Gold RF Microneedling has all the skin resurfacing benefits of traditional microneedling, but with the added technology of insulated needles that deliver RF energy to the skin, creating new microchannels linking your skin's layers.
Create Tiny Wounds to Replace Skin Cells. Gold RF Microneedling create tiny wounds in your skin to prompt your body to replace old skin cells with healthy new ones
RF Encourages Collagen Growth. RF energy heats deep layers of your dermis to encourage collagen growth and tissue tightening, leading to visibly healthier skin that continues to improve over the following months.
Faster Cell Turnover. Gold RF Microneedling leads to faster cell turnover and quicker results than traditional microneedling.
Shorter Recovery Time. Gold RF Microneedling has a shorter recovery time as compared to traditional microneedling, laser resurfacing treatments and chemical peels. There is also less risk of hyperpigmentation.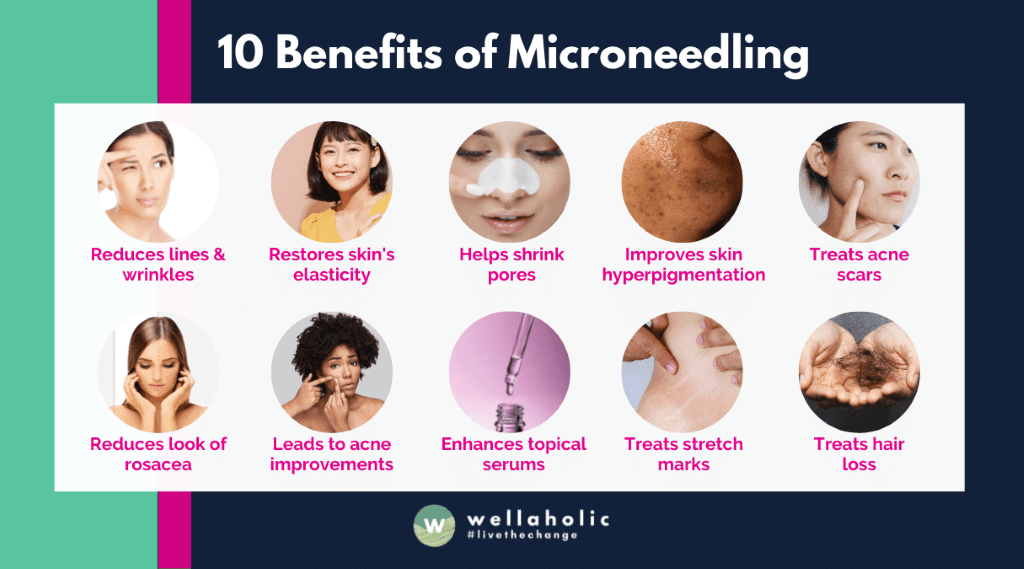 See Over 2000 Positive Reviews of Wellaholic (Customer Verifiable)
Pricing of Facial Treatments by Wellaholic
Price Transparency. Wellaholic offers pricing transparency by publishing and updating all prices on our website.
Flexible Per-Session or Unlimited Plans. Customers can choose from unlimited monthly facial plans for added cost savings, or per-session plans.
Mix and Match Easily. Wellaholic's facial plan prices are divided into different categories for easy selection.
No Price Shocks. Customers can expect to pay only for the treatments provided instead of being surprised by additional fees or charges at the end of their hair removal session.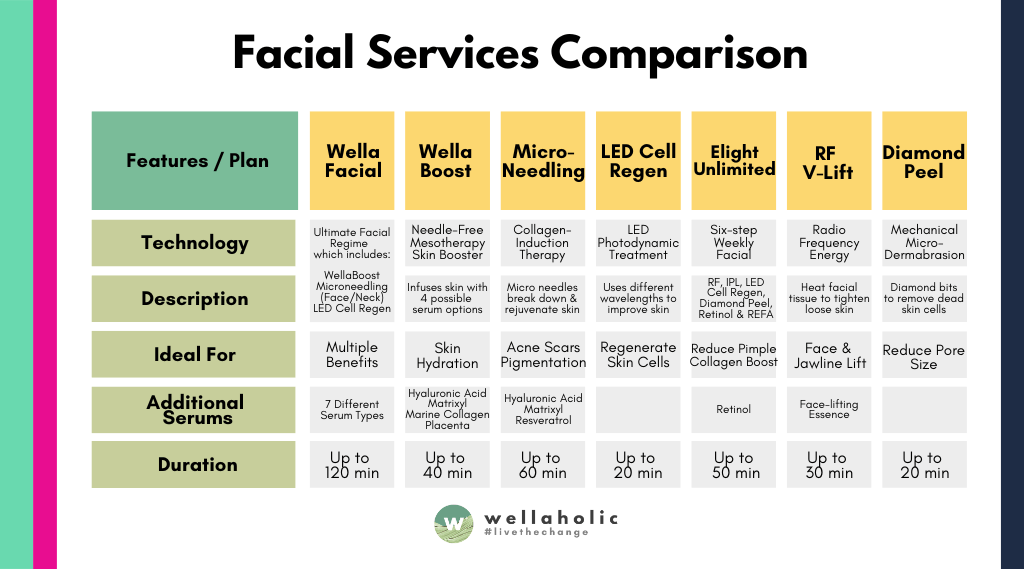 Why Wellaholic is One of the Best Facial Providers in Singapore?
Leading Facial Aesthetic Chain in Singapore. Wellaholic is a leading facial and aesthetic chain in Singapore that is highly sought after by customers.
Quality & Safe Treatments. The company is committed to providing quality and safe treatments with experienced staff.
Wide Range of Facial Treatments. Wellaholic offers a wide range of facial treatments for various skin concerns, and using different technologies such as microneedling, RF, Elight, IPL and mesotherapy.
Trained & Experienced Consultants. All treatments are performed by trained professionals who understand the skincare needs of both female and male customers.
Advanced Facial Technology. Advanced facial technology is used to ensure a safe experience with no downtime or discomfort during the entire process.
Most Affordable Provider. Wellaholic provides competitive pricing for its treatments which makes it one of the most affordable providers in Singapore.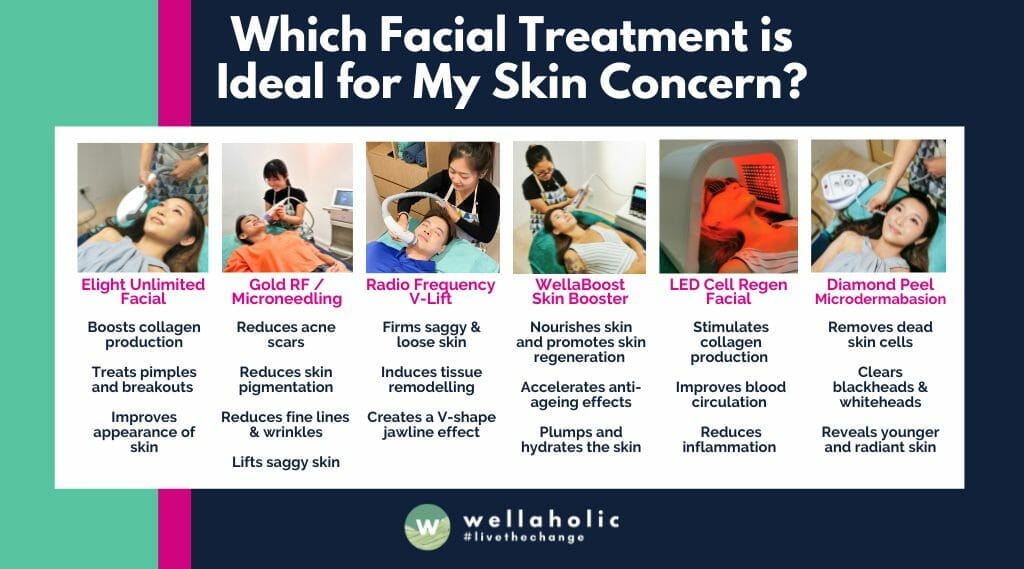 Reason 1: Wellaholic Offers Comprehensive Facial Services and Expertise
Wellaholic offers 7 different types of facial services for your facial and skin needs. Our facials can be broken down into the following categories:
WellaFacial Signature Facial Regime

Extensive all-inclusive facial regime that includes the latest technologies.
Promote cellular renewal and anti-aging.
Ccombines WellaBoost + Microneedling (Face/Neck) + LED Cell Regen Facial to provide multiple benefits at an affordable price.

WellaBoost Skin Booster

Non-invasive facial skin booster which is injection-free.
Combines two different technologies.
Infuses the skin with 4 different types of facial serums.
Helps to promote the increased hydration, collagen production, skin regeneration and healing

Gold RF Microneedling / Microneedling

Revolutionary skin treatment that delivers dramatic anti-ageing results.
Combines fractional radiofrequency (RF) with microneedling.
Effectively treats acne, acne scar, pigmentation, stretch marks & enlarged pores.
Lifts saggy skin and revitalises dull and uneven skin tone.

LED Cell Regen Facial

Uses different wavelengths to target the skin for various beneficial effects.
Able to improve skin elasticity, produce collagen, minimise blemishes and pimples.
Soothes aggravated skin and even reduce scarring.

Elight Unlimited Facial

Six-step technology facial backed by scientific research
Incorporates various technology treatments (RF, IPL, Diamond Peel microdermabrasion, LED Cell Regeneration, Retinol, REFA facial massage, etc.)
Designed as an affordable unlimited monthly package with weekly visits.
Brings out the best consistent results in flawless, younger-looking skin.

RF V-Lift Facial

Uses RF energy to heat tissue and stimulate sub-dermal collagen production.
Reduces appearance of fine lines and loose skin.
Induces tissue re-modelling and production of new collagen and elastin.
Provides an alternative to facelift and other cosmetic surgeries.

Diamond Peel Facial

Non-invasive and mechanical procedure using diamond bits.
Helps to remove dead skin cells, dirt and excess oil on the skin surface.
Improves the appearance of skin, by revealing younger and radiant skin underneath in an instant.
Reason 2: Wellaholic Has Over 50 Awards and 2000 Genuine Customer Reviews
Over 50 Awards. Wellaholic's WellaSmooth and SHR Hair Removal have been recognized by top beauty publications such as Daily Vanity, Beauty Insider, and Tropika Club Magazine, earning prestigious awards from 2018 to 2023.
Over 2000 Verified Customer Reviews. Wellaholic has over 2000 verified positive reviews from our customers in Singapore and beyond.
Verifiable Reviews. The reviews are verified and positive, which indicates the high level of customer satisfaction (see reviews below).
Over 50% Repeat Customers. More than 50% of Wellaholic's customers are repeat and recurring customers.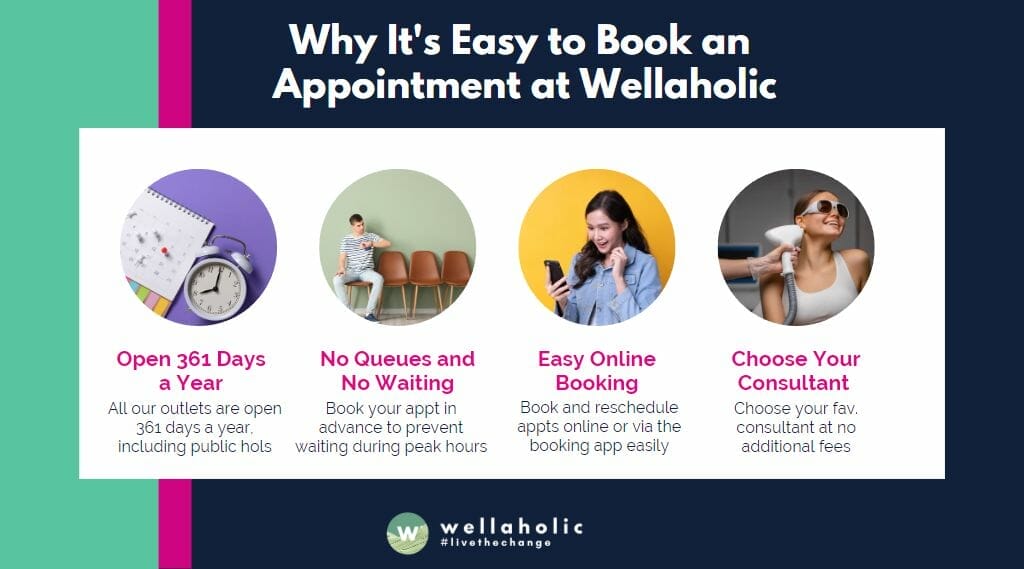 Reason 3: It's Easy to Book an Appointment at Wellaholic
Open 361 Days Per Year. Wellaholic's 8 outlets are open 361 days a year, including public holidays, so that customers can easily book an appointment.
No Queues. All appointments are booked in advanced to prevent the need to queue and wait unnecessarily during peak hours.
Easy Online Booking. Customers can conveniently book and reschedule appointments online or via the booking app.
No Extra Cost for Choosing Consultant. Customers can select their preferred consultant without having to pay any additional fees.