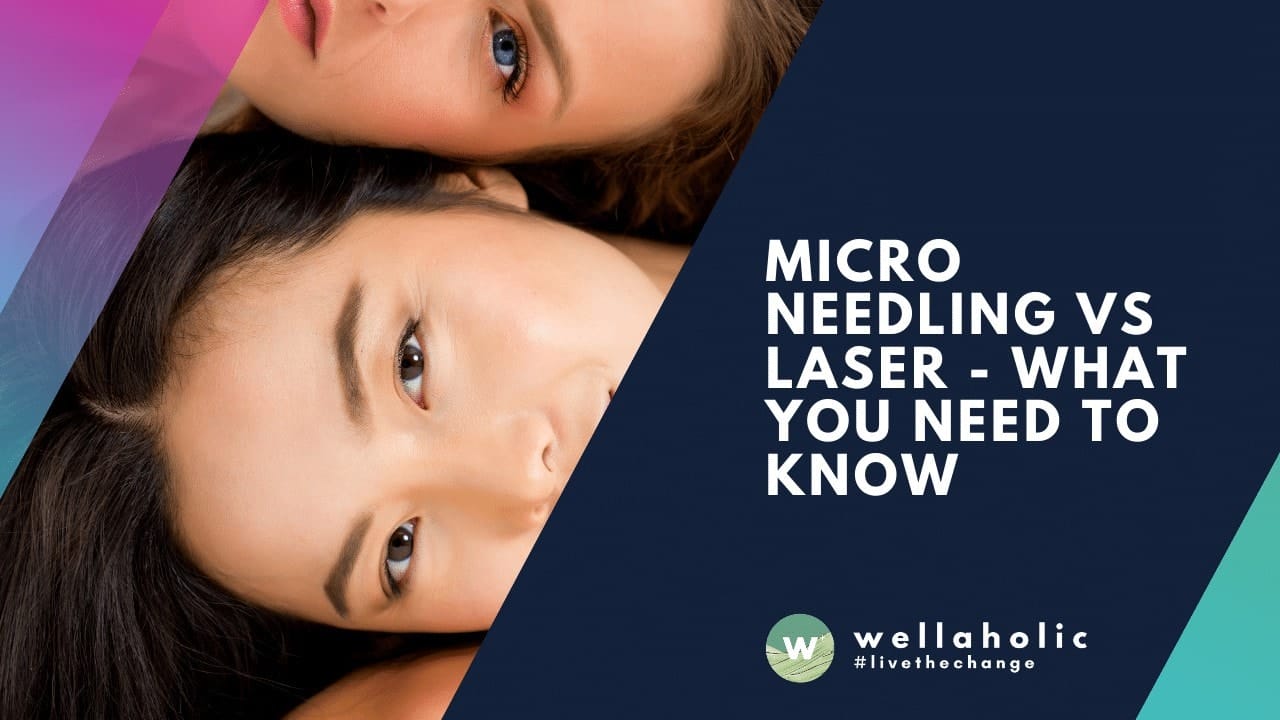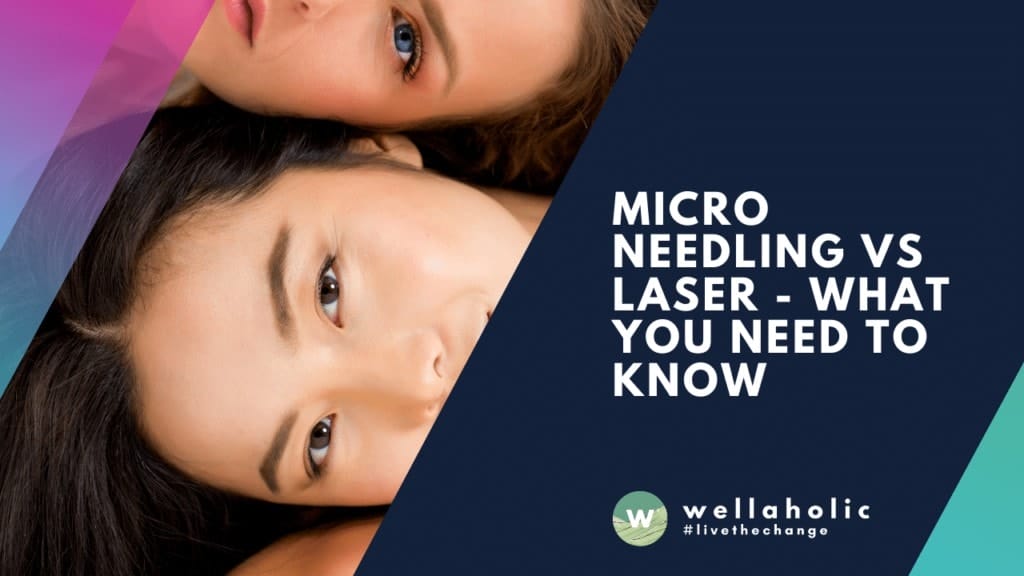 Microneedling vs Laser – What You Need To Know
Introduction to Microneedling and Lasers
Microneedling is an emerging minimally-invasive treatment that is gaining popularity due to its minimum downtime and almost-immediate visible results. Although fractional ablative lasers have bridged the efficacy-versus-downtime gap between the traditional CO2 fractional lasers and nonablative lasers, no laser can treat severe perioral rhytides successfully. In this article, we are going to deep dive into microneedling and lasers, and explain what each one does for your skin and what one is right for you. Read on.
While lasers is effective for tissue tightening, microneedling can quickly and effectively address issues ranging from stubborn wrinkles to stretch marks. Both treatments complement each other very well.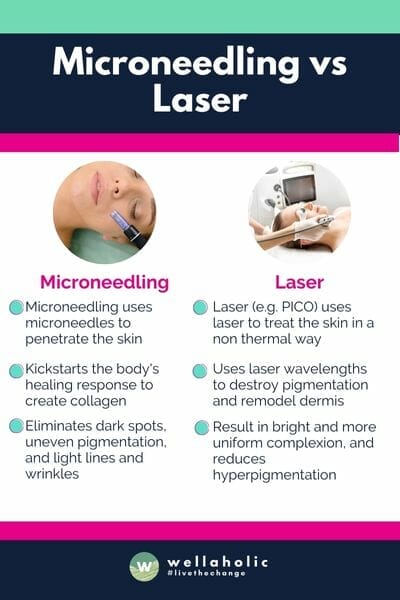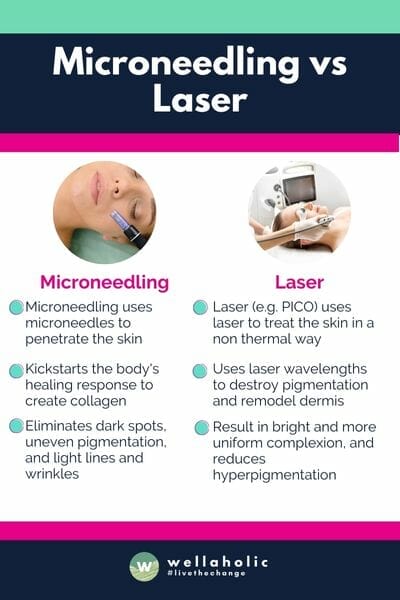 What is the Difference between Laser and Microneedling?
Both laser treatments and microneedling work on a different level. Lasers, by design, use light as energy. This allows lasers to have a specific target on the skin which it will treat. As such, laser skin resurfacing is ideal for conditions such as rolling scars, box scars brown pigmentation spots or broken red veins. This allows the laser to focus on its target without affecting the surrounding tissue and skin types. As such laser treatments are very specific treatments. Laser treatments typically require a longer recovery time (a few days to a few weeks)
Microneedling is a mechanical method of effective treatment
On the other hand, Microneedling is a mechanical method of effective treatment that has grown in popularity in recent years due to its results and benefits. Microneedling creates thousands of tiny channels of injury over a treatment area and forces the treated area to heal. This is ideal for a large area, such as the entire face. The results are not selective to a specific problem. On the contrary, microneedling can tremendously help with collagen regeneration, skin rejuvenation and skin turnover.
What are the Benefits of Microneedling?
On the other hand, microneedling together with micro-wounding creates controlled wounds on the skin surface that encourages healing in a way that tilling a field increases its yield. Microneedling is also affordable and inexpensive, and combines well with other aesthetic procedures as an ideal treatment. 
Most dermatologists would recommended using microneedling devices with disposable tips
Generally, most dermatologists would recommended using microneedling devices with disposable tips (for safety and hygiene reasons) and with as many needles as possible. Drum-shaped needle rollers are hard to clean, and also hard to apply the appropriate pressure to the skin. In addition, the permanent needles dulls quickly and cannot reach the effectiveness of the microneedling pens.
Should I try one before the other?
If you are looking to proactively take care of your skin, and boost your skin or facial collagen, then microneedling is a quick and easy way to do so without much risk. It is also more affordable with less or no downtime. On the other hand, if you have a specific problem or issue that you would like to address and treat, then you might want to consider laser treatments for your specific condition to meet your goals.
What to take note of when doing Microneedling?
Technical Tips to Take Note When Performing Microneedling
For perioral rhytides and other indications, a simple microneedling approach without Radiofrequency (RF) assistance is adequate enough. There are some technical tips to take note of:
Always use manual traction for smooth needle delivery. Always keep the skin taut. The therapist should be able to use the other hand to stretch the skin tight to target the deeper layers.
Holding the device perpendicular to the skin to allow the needles to penetrate the skin at 90 degrees.
Ideally perform multidirectional passes. By moving it back and forth, up and down, or in circular motions, it prevents the patients from looking like they have stripes.
If the patient is able to tolerate it, aim for pinpoint bleeding. Severely photo damaged skin often bleeds immediately, while fibrotic skin or scars, particularly in non-facial areas, may require several passes to elicit pinpoint bleeding.
Can Microneedling Remove Acne Scars?
Treatment for Atropic Scars
For atrophic scars, traditional pulsed CO2 lasers can provide significant improvements with just one treatment. But to avoid post-treatment mismatches, the laser procedure must be delivered to entire cosmetic units or acne scarring. This is not the case with microneedling. With microneedling, a small area of atropic scars within a cosmetic unit can be treated without having to worry about colour mismatches.
Can Microneedling Treat Enlarged Pores?
​Microneeding for Enlarged Pores
Dermatologists, such as Dr. Alster also love using microneedling for enlarged pores. Microneedling disrupts the fibrotic pores, creates micro-injuries and induces new collagen formation. For striae that covers large body areas, microneeding is able to improve both the skin texture and tightness.
Can Microneedling Treat Hyperpigmentation?
​Microneeding for Hyperpigmentation
Microneedling is a popular cosmetic treatment that involves using a device to create tiny punctures in the skin. This can improve the appearance of fine lines, wrinkles, and acne scars. It can also be used to treat hyperpigmentation, which is a common skin concern.
Hyperpigmentation occurs when there is an excess of melanin in the skin. This can be caused by sun exposure, hormone changes, or certain medications. It can lead to patches of dark skin on the face, neck, chest, or hands.
Microneedling can help to improve the appearance of hyperpigmentation by creating microscopic injuries in the skin. This stimulates the production of collagen and elastin, which can help to fade dark spots.
---
Gold RF Microneedling Facial by Wellaholic
Gold RF Microneedling treatment is a revolutionary skin treatment that delivers dramatic anti-ageing results by combining fractional radiofrequency (RF) with microneedling to effectively treat acne, acne scar, pigmentation, stretch marks & enlarged pores. Gold RF Microneedling can also lift saggy skin and revitalise dull and uneven skin tone through the skin's natural healing process.
What is Gold RF Microneedling Facial Treatment?
If you are looking for an effective method to clear your acne scars, wrinkles or pigmentation, or if you are looking to tighten saggy skin such as jowl lines and nasolabial folds without any invasive surgery, then Gold RF Microneedling is the right treatment for you. Gold RF Microneedling combines two scientifically-proven techniques, microneedling and fractional radiofrequency (RF) to treat a variety of skin conditions.
Gold RF Microneedling uses up to 64 needles to penetrate the skin, releasing RF energy to trigger collagen and elastin production for the ultimate anti-ageing treatment for a clearer complexion and firmer skin.
Gold RF Microneedling is a safe, minimally invasive, and extremely effective aesthetic treatment for treating acne scars, pigmentation, fine lines and wrinkles.
Gold RF Microneedling has the ability to stimulate the growth of collagen and elastin using the combination of Microneedling with Radiofrequency, which is the key to new, youthful-looking skin.
Gold RF Microneedling has a dermatological treatment has seen extensive positive clinical results. This is an improvement over just doing a Microneedling or Radiofrequency treatment on its own.
Gold RF Microneedling combines radiofrequency with microneedling to stimulate tissue remodelling, thereby triggering the production of collagen.
What are the Benefits of Gold RF Microneedling Facial?
Gold RF Microneedling has all the skin resurfacing benefits of traditional microneedling, but with the added technology of insulated needles that deliver RF energy to the skin, creating new microchannels linking your skin's layers.
Gold RF Microneedling create tiny wounds in your skin to prompt your body to replace old skin cells with healthy new ones, the RF energy heats deep layers of your dermis to encourage collagen growth and tissue tightening, leading to visibly healthier skin that continues to improve over the following months.
Gold RF Microneedling leads to faster cell turnover and quicker results than traditional microneedling.
Gold RF Microneedling has a shorter recovery time as compared to traditional microneedling, laser resurfacing treatments and chemical peels. There is also less risk of hyperpigmentation.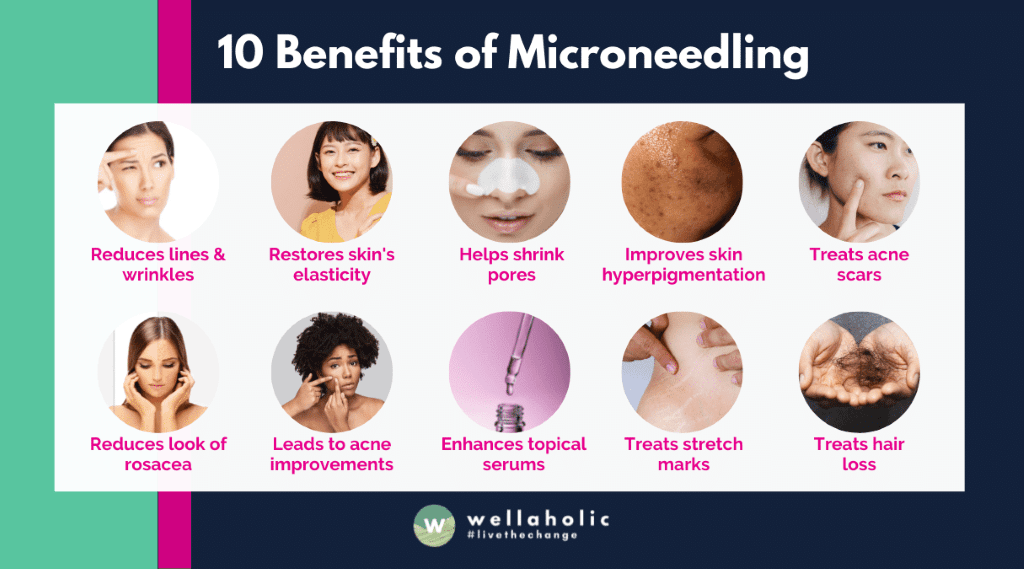 See Over 1800 Positive Reviews of Wellaholic (Customer Verifiable)
Pricing of Facial Treatments by Wellaholic
Wellaholic believes in providing pricing transparency, and hence all our prices are published and updated on its website. Choose from a single-session plan or choose a multi-session plan for greater discounts. Wellaholic's facial treatments are generally divided into the following categories: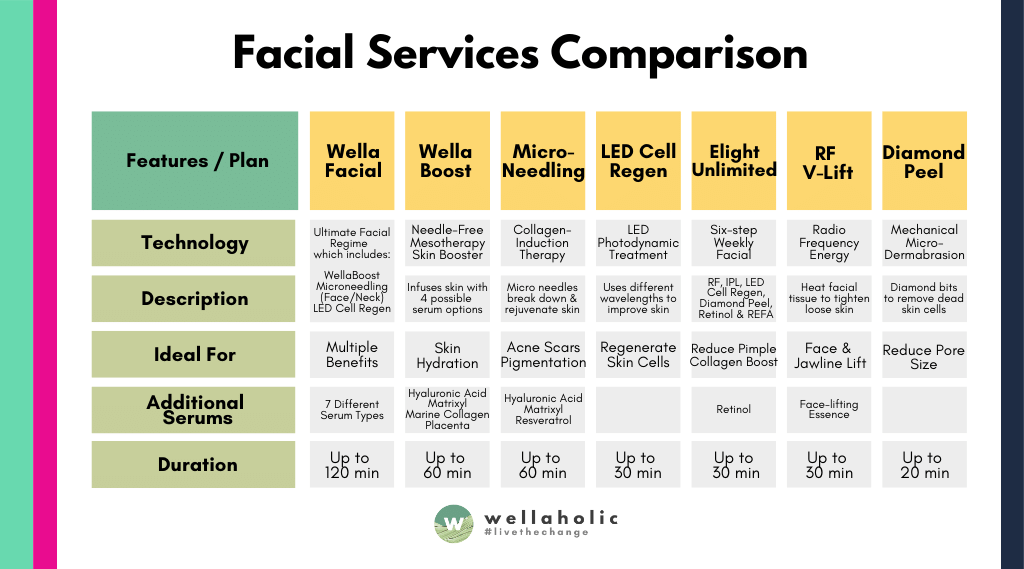 Please click on the menu below to see the pricing for the various facial treatments by Wellaholic. Wellaholic is well-known in the industry for our transparent pricing and no hard selling. In fact, Wellaholic is well-known for not only our transparent and cheap pricing but also without any hidden costs. All prices are nett and inclusive of GST, and are actual prices (i.e. not trial prices).
---
---