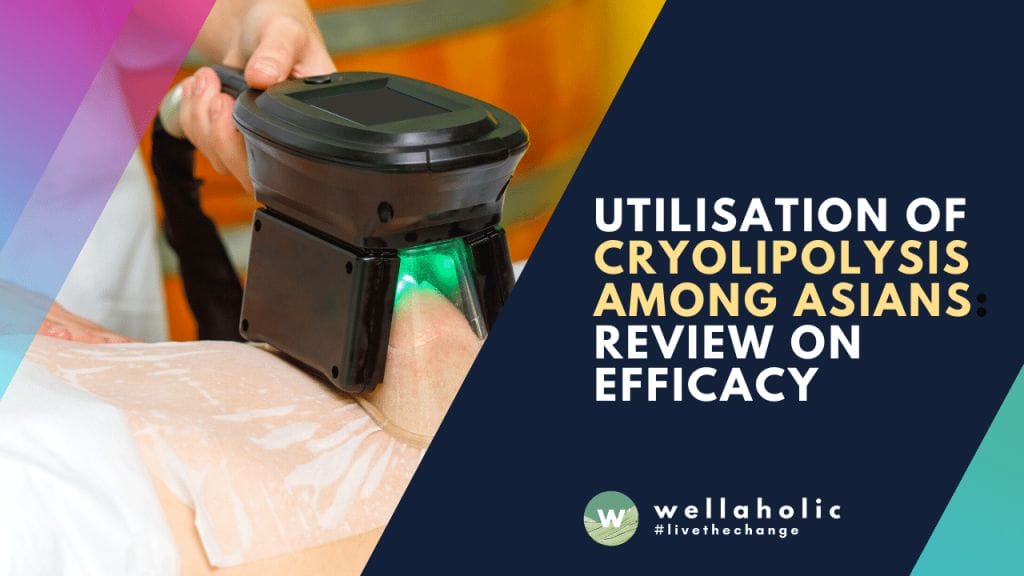 Wellaholic Research: Utilisation of Cryolipolysis among Asians: A Review on Efficacy and Safety
Wellaholic Research: Utilisation of Cryolipolysis among Asians: A Review on Efficacy and Safety
Wellaholic conducts in-house research on slimming as part of our efforts to keep current with the latest slimming, fat freezing, body sculpting and body contouring technologies and trends. We also examine case studies, research reports from various dermatological journals and medical journals. This helps us to improve our slimming treatments to improve efficacy, safety as well as comfort for Wellaholic's customers who choose us as their slimming service provider.
In this 2019 research paper by Iman Budi Putra, Nelva Karmila Jusuf and Nani Kumala Dewi, the team investigated and concluded a comprehensive review regarding utilisation, efficacy and safety profiles of cryolipolysis among Asians. Currently, there are only four clinical trials conducted exclusively in an Asian population. Two studies were conducted in Korea, whereas others in China and Thailand. (Source)
Read on below to find out more.
Background of Research
Body contouring (sculpting) has increased in demands around the globe and become one of the most popular cosmetic procedures in the past decade. In 2015, there were 230,000 procedures done by dermatologic surgeons in the United States (US) [1]. According to a consumer survey by American Society for Dermatologic Surgery (ASDS) from more than 3,500 participants in 2018, body contouring is the most popular treatment, with 57% of them had done at least once and 86% were overweight [2]. Until 2014, United States Cosmetic Surgery National Data Bank Statistics claimed that liposuction is the most popular cosmetic surgery procedure and effective in reducing focal fat tissue [3].
However, this invasive procedure is associated with a higher risk of side effects, such as infection, nerve damage, hematoma, anaesthesia complications, and high cost. Therefore, non-invasive procedures have gained more popularity among patients and physicians in recent years, with 42% increment of non-surgical fat reduction procedures reported in the US in 2014 [4]. Some of the most leading non-invasive body contouring treatment, including low-level laser therapy (LLLT), cryolipolysis, radio frequency (RF) and high intensity focused ultrasound (HIFU), have shown steady effectiveness in reducing circumference of local fat tissue for more than 2 cm without any serious or permanent side effects [5].
Cryolipolysis is an advanced non-invasive fat reduction method, which is capable of decreasing subcutaneous adipose deposit significantly without harming the surrounding tissues [6]. This US Food and Drug Administration (FDA) approved method is based on highly selective apoptosis of adipocytes with cold exposure, leading to fat thickness reduction up to 20% in just one session.
Cryolipolysis is known with good efficacy and safety profile; as reported in several studies and systematic reviews, this non-invasive body contouring method has a short recovery period, minimal side effects and significant improvement will be noticed in 4 months after one session treatment [7]. However, the majority of the clinical studies were done among Caucasians, and an only a small proportion of these studies included Asians.
The use of cryotherapy in darker skin is associated with a higher risk of hypopigmentation. Asian population on average have darker skin compared to Caucasians, with predominant Fitzpatrick skin type III, IV, and V [8]. Therefore, a review of cryolipolysis usage among Asians is necessary to bridge the gap of information in efficacy and safety profile, especially in this population.
History
The development of cryolipolysis is based on the observation of adipocyte cell sensitivity to cold trauma as reported back in 1902 [10]. In 1941, the term of "adiponecrosis e frigore" was used by Haxthausen for the wound inflicted by exposure to extremely low temperature [11]. Between 1940 to 1970, there were some clinical reports about cold-induced panniculitis that become the principle behind the use of this method for body contouring [12], [13]. In 1970, Epstein and Oren proposed the term "popsicle panniculitis" as reporting an incidence of erythematous indurated nodules following transient fat necrosis on the cheek of a baby after sucking popsicle [14]. Along with that, cold panniculitis also had been reported in adult patients, which supported the concept that fat-rich tissue is more prone to cold trauma compared to its surrounding water-rich tissue [15].
In 2007, Manstein et al. conducted a pre-clinical study on Yucatan pigs to assess the effect of low-temperature exposure (0, -1, -3, -5, and -7°C for 10 minutes) on subcutaneous fat tissue. They found 80% reduction of superficial fat tissue and a 40% decrease of fat thickness on treatment area within 3.5 months after treatment, without any damage observed in surrounding tissues. Furthermore, the effects were more prominent on a lower temperature (-7°C and -5°C) and after 28 days post-treatment. Histological examination revealed a significant reduction of adipocytes interseptal distance and no changes in lipid profiles had been reported up to 3 months after treatment. Based on these findings, a non-invasive fat reduction by freezing procedure was introduced, known as cryolipolysis in 2007 [16]. Another animal experimental study by Zelickson et al., also supported these findings that 33% reduction of superficial fat layer thickness was achieved only by one session of cyolipolysis, without any observed side effects [17].
Some clinical studies on human have been conducted to assess the efficacy and safety profiles of cryolipolysis to reduce fatty tissue. FDA initially approved cryolipolysis (CoolSculpting System, ZELTIC Aesthetics) to reduce waist fat in 2010, followed by the approval on abdomen area (2012); thigh (2014); submental region (2015); arm, brassiere roll, back, and buttock (2016) [2]. The earlier device applicator (CoolCore) used negative pressure from 2 plates with a temperature of -10°C to suck fat tissue under the skin for 60 minutes. The latest applicator and device settings recommendation can reach lower temperature within the shorter duration, with a lower risk of hematoma, none vacuum pressure handle, and higher patient's satisfaction rate [18], [19].
In 2012, Shek et al. reported the first commercial experience on the use of cryolipolysis exclusively in Chinese population [20]. The following years, there were few studies done to report the use of this novel non-invasive fat reduction method for thighs in Korea [21], arms and thighs in Thailand [22] and submental regions among Koreans [23].
The Utilisation of Cryolipolysis and Its Efficacy
Some clinical studies have been conducted to assess the efficacy of cryolipolysis to reduce the subcutaneous fat tissue thickness; in which the results are consistent with the preclinical data [24]. In 2009, Dover et al. conducted a prospective study on 32 subjects who received cryolipolysis treatment for 60 minutes. There were 84% of participants who have fat reduction based on photographic assessment. After 4 months, there were 10 participants with a 22% reduction of fatty tissue without any reported side effects [25]. One of the earlier clinical study by Coleman et al., reported that the fat tissue reduction on 10 patients was 20.4% at 2 months and 25.2% at 6 months post-treatment [26]. A multicenter retrospective study by Dierickx et al. reported 86% improvement of photography documentation and calliper measurement reduction at 23% in 94% of 518 subjects, either male or female. The treatment was more effective in the abdomen, back, and waist areas [27]. Furthermore, Garbiyan et al., have evaluated with a 3-D camera and found that reduction of fat volume after cryolipolysis was 56.2 ± 25.6 cc; compared to control area 16.6 ± 17.6 cc (p < 0.0001) with a mean difference of 39.6 cc at 2 months post-treatment [28]. Ferraro et al., combined this method with shock waves to have a synergistic effect. There was a significant reduction of the circumference at 6.7 cm and subcutaneous fatty tissue reduction was 4.5 cm at 12 weeks after 3-4 sessions [29]. However, the long term effect of cryolipolysis has not been evaluated at a large scale. There was only one case report, which observed the persistent effect of fat reduction on 2 patients for 5 years after therapy, regardless of body weight fluctuation [30].
According to a systematic review by Ingargiola et al., (2015), the common treatment areas of cryolipolysis are the abdomen, bra roll, lumbar area, waist, inner thighs, mid-knee, peritrochanter area, arms, and ankle. After 2 – 6 months observation, the mean reduction of calliper measurement was 14.67 – 28.5% and ultrasonography revealed a 10.3 – 25.5% reduction in subcutaneous fat tissue volume on treatment area [15]. A comprehensive review in Canada has reported the efficacy and safety profile of cryolipolysis on reducing the fat excess in thighs, abdomen, arms, and back. This study evaluated procedures on 464 sites within 3 years, in which the most common treatment areas were in the abdomen and back. In addition, the skin texture, elasticity, and cellulite showed 25 – 30% improvement after the procedure [31]. Aside from the previously mentioned area of treatment, some studies have reported the use of cryolipolysis on submental and chest region to reduce the excess fat deposit. Bernstein et al. conducted a study of submental fat reduction with 2 sessions of cryolipolysis by using small cup applicator for 45 minutes. There was declining of fat tissue thickness observed on 81% of participants with a mean average of 2.3 ± 0.8 mm reduction in calliper measurement. The 3-D imaging has also revealed 4.82 ± 11.42 cm3 volume reduction, 1.29 ± 1.42 cm2 skin surface area reduction, and 3.77 ± 3.59 mm fat thickness reduction [32]. Furthermore, cryolipolysis also has been used to reduce the excess fat deposit in the case of male pseudogynecomastia, in which there was fat deposit thickness reduction at 1.6 ± 1.2 mm by ultrasonographic evaluation on day 120th after 2 sessions with 60 days interval [33].
Some researchers have evaluated the effect of after-treatment massage to increase the efficacy of cryolipolysis. Sasaki et al. found that the average fat reduction with 5 minutes massage on the treatment area was 21.5% by calliper measurement after 6 months [34]. Furthermore, Boey and Wasilenchuk have done a controlled trial to compare the efficacy of additional 2 minutes massage versus the control group with only standard cryolipolysis. At 2 months post-treatment, the average fat tissue reduction in massage group 68% higher (21%) vs. control (12%, p = 0.0007). However, the difference gradually became less prominent, as the reduction in message area was only 44% higher compared to the control area 4 months after the treatment [35]. Multiple treatment sessions also were reported to increase fat tissue reduction, but not significant compared to the single procedure [15].
Efficacy Comparison with Other Non-Invasive Fat Reduction Methods
In recent years, literature have supported the usage of non-invasive fat reduction methods as a replacement instead of adjunction to liposuction which is known for higher risk of side effects and complications. There are 4 leading non-invasive fat reduction methods in the market, including LLLT, cryolipolysis, RF and HIFU.
In a systematic review by Kennedy et al., cryolipolysis has found to be more superior than the other non-invasive procedures in achieving fat reduction on abdomen area with average 6.86 cm decrease in circumference, as compared to LLLT (2.15 – 6.83 cm), HIFU (2.1 – 4.7 cm), and RF (1.4 – 4.93 cm). Furthermore, similar findings reported for inner thighs which cryolipolysis has the highest circumference reduction rate 5.78 cm in combination with shock waves, compared with 2.97 – 3.81 cm in LLLT, 1.6 cm in HIFU and only 1.2 cm in RF.
On the other hand, LLLT has shown better effectiveness in reducing arm's subcutaneous fat with 3.7 cm circumference reduction, higher than cryolipolysis with only 2.75 cm. However, in terms of overall patients' satisfaction rate, cryolipolysis is leading with 80 – 100%, followed by RF (71 – 97%), HIFU (47.5 – 85%) and LLLT (31.9 – 80%) [5]. Therefore, with the highest efficacy and satisfaction rate, cryolipolysis can be the first line treatment for non-invasive fat reduction.
Efficacy and Safety Profiles in Asian Population
In most clinical studies, the majority of the subjects were Caucasians. Steven et al. reported the clinical and commercial experience of cryolipolysis with most of the subjects were Caucasian (67%), and only about 4% were Asian. Fitzpatrick skin type II was found in 40 % subjects, and other 42% had Fitzpatrick skin type III, IV, and V; which were common in the Asian population. However, there was no significant difference in either efficacy or reported side effects of cryolipolysis among these groups. No pigmentary changes were reported post-treatment in all skin types [45]. In contrast to the initial hypothesis that pigmentary disorder is more prominent in darker skin type after cryolipolysis, as found in cryotherapy. This might be explained by the principle that fat tissue is highly sensitive to cold temperature, thus cryolipolysis become highly selective in inducing adipocyte apoptosis with sparing of surrounding tissues [16], [17].
To date, there are only a few studies that have been done in the Asian population. In this systematic review, we only found 4 reports that include Asians exclusively. However, none of them is randomised controlled trials with a sufficient number of patients that have been performed and published so far. The first study in the Asian population by Shek et al. was conducted among Chinese in 2012 to compare single session of cryolipolysis on 21 patients and two sessions with 3 months interval on 12 patients. In a single session group, there was 81% improvement in the treatment area after 2 months with average 14.67% reduction on calliper measurement. In the group that received two sessions of treatment, the average additional reduction after the second procedure was 14%, with only 7.2% additional reduction in the abdomen area, and insignificant extra 4.3% reduction on the waist area. The reported side effects were erythema (23.8%), hematoma (9.5%), and numbness (28%). No pigmentary changes were observed among the enrolled subjects [20].
In 2013, Lee reported the use of cryolipolysis to reduce fat tissue in thighs of 14 premenopausal Koreans. There was 19.5% reduction of fat tissue, and side effects were found in only 4 out of 14 subjects; such as pain (26.67%), hematoma (20%), and numbness (20%) [21]. In 2015, Wanitphakdeedcha et al., evaluated the new prototype handle (CoolCup) to reduce the excess fat on arms and thighs during 40 treatment sessions in Thailand. The reduction of circumference was 0.41 cm (0.87%) at 3 months post-treatment and 0.72 cm (1.52%) at 6 months post-treatment. The observed side effects include pain, erythema, dysesthesia, and purpura in the treatment area. Post-inflammatory hypopigmentation, scarring formation, and paradoxical adipocyte hyperplasia were not reported in this study [22]. Another study by Suh et al., in 2017, reported the effect of cryolipolysis on submental fat of 10 Korean subjects and found that 9 out of 10 participants had average reduction at 4 mm or 23.2% on submental tissue thickness 8 weeks after the treatment. In ultrasonography evaluation, there was a reduction of submental fat in 9 subjects at an average of 35.2%. The side effects were mild, such as erythema and oedema, without any risk complications, such as purpura, pain, paresthesia, and post-inflammatory hypopigmentation [23]. Those studies revealed that cryolipolysis in an Asian population with darker skin type has the same efficacy and safety profiles as Caucasian population.
Conclusion
Cryolipolysis is a novel and effective method for non-invasive local subcutaneous fat reduction with highly selective cold-induced adipocyte apoptosis as the main principle without harming the surrounding tissues. Various preclinical animal studies and clinical trials have shown the effectiveness and efficacy of this treatment in reducing excess fat with consistent results in many populations. This procedure has a better safety profile in comparison with liposuction, and it is applicable in a variety of races regardless of their skin colour. Overall, cryolipolysis has higher efficacy and become leading among non-invasive fat reduction methods. Although only limited data available in the Asian population, cryolipolysis has shown good efficacy and safety profile, this might become the first treatment choice for patients who opted to do body contouring.
Source
---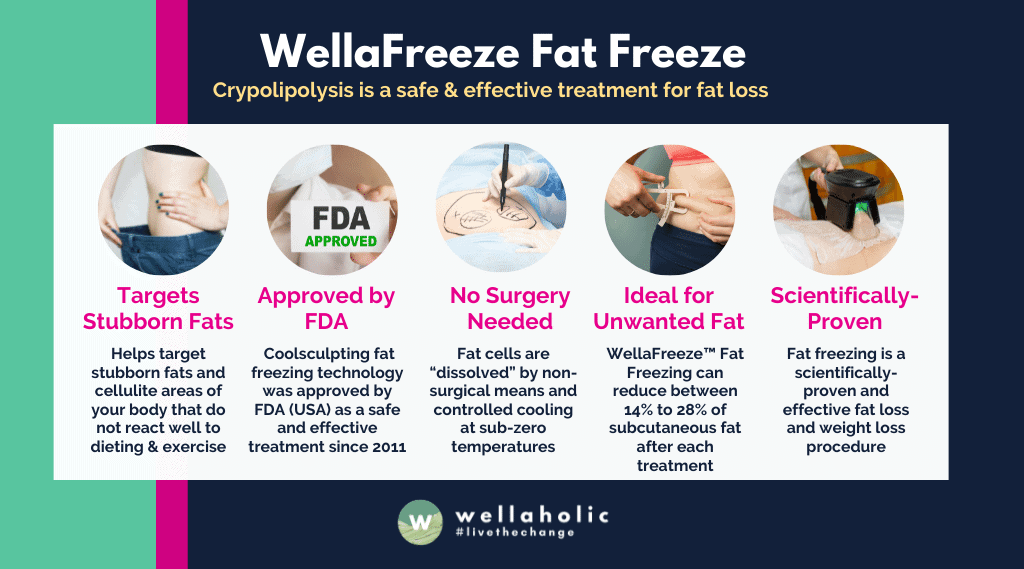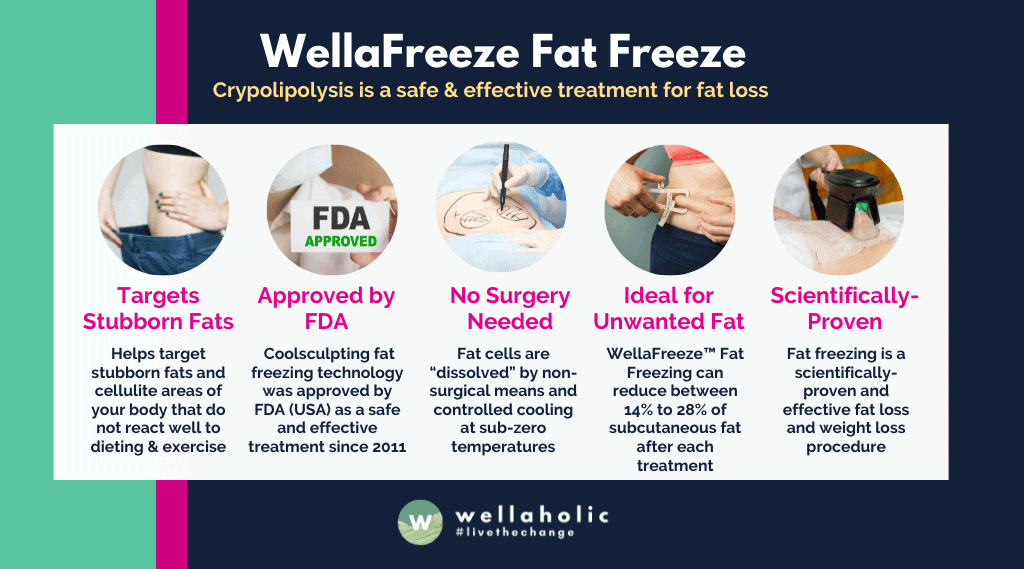 What is WellaFreeze™ 360 Advanced Fat Freezing?
WellaFreeze™ 360 Fat Freezing is the latest innovation in fat freezing. It uses a newer Cryolipolysis model over the traditional WellaFreeze cryolipolysis machine.
WellaFreeze™ 360 Fat Freezing helps target the stubborn fat and cellulite areas of your body that do not react well to exercise and dieting.
WellaFreeze™ 360 Fat Freezing "dissolves" fat cells controlled cooling at sub-zero temperatures.
WellaFreeze™ 360 Fat Freezing with its newer technology can remove between 17% to 34% of subcutaneous fat from each session.
WellaFreeze™ 360 Fat Freezing can treat up to 4 body parts concurrently.
WellaFreeze™ 360 Fat Freezing takes only 30 minutes per session, due to increased freezing efficiency.

WellaFreeze™ 360 uses 360 probes which can freeze and reduce up to 34% of body fat per session with no or minimal bruising to the body.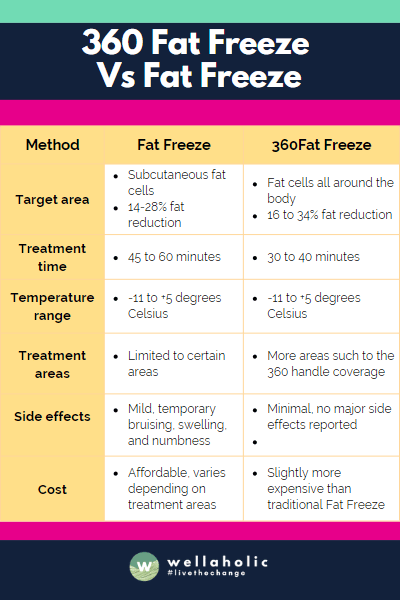 Why Choose WellaFreeze™ 360 Advanced Fat Freeze?
Latest 4th Generation Freezing. WellaFreeze™ 360 advanced fat freezing uses the latest fat freeze technology and is designed for customers who wants to achieve highest fat reduction with fat freezing.
Up to 34% Fat Loss Each Session. Increase in percentage of fat loss due to newer technology and coverage.
360° Surround Cooling Technology. The handles or cooling cups can be adjusted to fit all body curves and contouring for best freezing.
Breathing Technology Reduces Bruising. "Breathing" technology improves freeze while minimising bruising from the suction.
Shorter Time Needed. Each duration is reduced from typical 60 minutes to just 30 minutes.
WellaFreeze™ Fat Freezing Can Target the Following Body Parts
Stomach / Belly / Tummy / Abdomen
Love Handles / Flanks
Under the Neck / Double Chin
Back / Bra Area
Thighs
Male Chest (Pseudo gynecomastia)
Arms
Under Buttocks (Banana Roll)
Pricing of Slimming Treatments by Wellaholic
Price Transparency. Wellaholic offers pricing transparency by publishing and updating all prices on our website.
Flexible Per-Session or Unlimited Plans. Customers can choose from unlimited monthly or per-session slimming price plans.
Mix and Match Easily. Wellaholic's slimming prices are divided into different categories for easy selection.
No Price Shocks. Customers can expect to pay only for the treatments provided instead of being surprised by additional fees or charges at the end of their slimming session.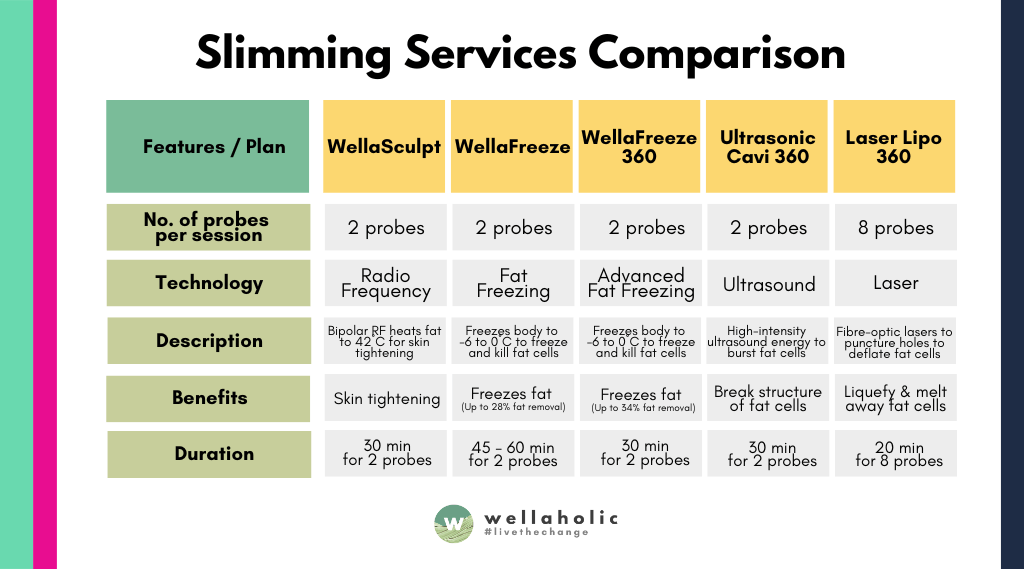 ---
Why Wellaholic is One of the Best Slimming Treatment Providers in Singapore?
Leading Slimming Chain in Singapore. Wellaholic is a leading slimming and body contouring chain in Singapore that is highly sought after by customers.
Quality & Safe Treatments. The company is committed to providing quality and safe treatments with experienced staff.
Wide Range of Slimming Treatments. Wellaholic offers a wide range of slimming treatments for various body parts including chin, upper arms, front armpit fat, bra line, gynecomastia, back, upper abdomen, lower abdomen, love handles, underbutt, thighs and knees.
Trained & Experienced Consultants. All treatments are performed by trained professionals who understand the skincare needs of both female and male customers.
Advanced Slimming Technology. Advanced slimming technologies such as ultrasound, Cryolipolysis, radio frequency and cold wave lasers are used to ensure a safe experience with no downtime or discomfort during the entire process.
Most Affordable Provider. Wellaholic provides competitive pricing for its treatments which makes it one of the most affordable providers in Singapore.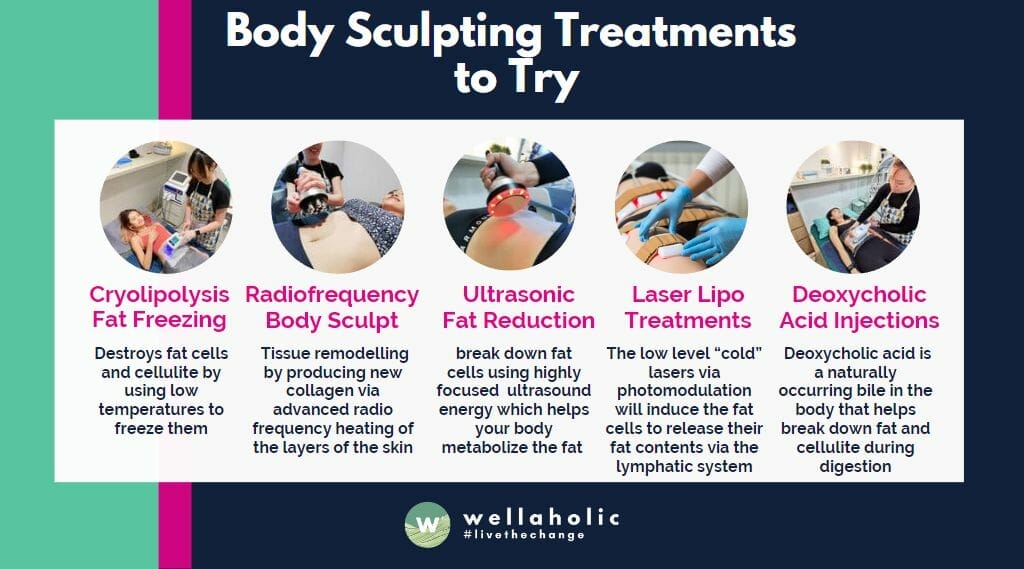 Reason 1: Wellaholic Offers Comprehensive Slimming Services and Expertise at Affordable Prices
Wellaholic offers different types of slimming treatments for your fat management needs. Our slimming packages can be broken down into the following categories:
WellaShape Double Slimming Plan

Double slimming plan combining 2 slimming technologies at a discounted price.
Freeze fat via WellaFreeze™ 360 advanced fat freezing.
Then choose 1 other slimming treatment.
Most cost-effective slimming combo plan.

WellaFreeze 360 Advance Fat Freeze

Latest fat freeze technology with improved freezing and coverage area.
Efficient freeze reduces treatment time to just 30 minutes per session.
Each session can remove up to 34% subcutaneous fat.
Each session includes 2 handles/probes to target 2 body parts concurrently.
Interchangeable probes to effectively target different body areas & curves.
"Breathing" technology regulates vacuum suction to minimise bruising.

WellaFreeze Fat Freezing

Original fat freeze technology, also known as CoolSculpting.
Uses sub-zero temperature to freeze and eliminate fat cells.
Each session can reduce up to 28% subcutaneous fat.
Each session takes about 45 minutes to 60 minutes per session.

WellaSculpt RF Body Sculpting

Advanced RF energy to heat and tighten loose skin.
Ideal for body sculpting and body sculpting.
Works well when used in conjunction with fat freezing.
Each session includes 2 body parts and takes 30 minutes.

Ultrasonic Cavi 360

Ultrasound fat cavitation to vibrate and burst the fat deposits.
Ideal for targeting fats that is less "pinchable" and deeper in the body.
Can lead to reduction of body mass (1cm to 3cm) in as little as 3 treatments.
Each session includes 2 body parts and takes 30 minutes.

Laser Lipo 360

Cold wave lasers to eliminate fat with no downtime.
Fat cells absorb laser energy, causing fat to escape from fat cell membrane.
Each session comes with 8 laser plates for various body parts.
Each session takes 25 minutes.
Compliments other slimming treatments.
You can refer to the table below for a breakdown of Wellaholic's various slimming services and how they can meet your slimming objectives. Our customers generally combine several treatments for the best slimming and body contouring outcome.
Slimming Treatment
Features
Ideal For Customers Who
WellaShape Double Slimming
WellaFreeze 360 + 1 Other Slimming Treatment
– Want quick results
– Want to combine 2 treatments at discount
WellaFreeze 360 Advance Fat Freeze
Latest fat freeze technology with 360 handle coverage
– Want up to 34% fat loss
– Want less bruising
WellaFreeze Fat Freeze
Original fat freeze technology with 2 freeze plates
– Want to try fat freezing for first time
WellaSculpt RF Body Sculpting
Advanced RF energy to tighten loose skin
– Want to get rid of loose skin
– Want to tone the body
Ultrasonic Cavi 360
Ultrasound fat cavitation to vibrate and burst the fat deposits
– Want to target fat that is less "pinchable"
Laser Lipo 360
Cold wave lasers to eliminate fat with no downtime
– Want to shrink fat cells in conjunction with other treatments
Stretch Mark Microneedling
Remove appearance of stretch marks using multiple micro-needles
– Want to remove the appearance of stretch marks (fat loss / pregnancy)
Comparison Between Wellaholic's Various Slimming Services
Reason 2: Wellaholic Has Over 50 Awards and 2000 Genuine Customer Reviews
Over 50 Awards. Wellaholic's WellaFreeze 360 and Ultrasonic Cavi 360 have been recognized by top beauty publications such as Daily Vanity, Beauty Insider, and Tropika Club Magazine, earning prestigious awards from 2018 to 2023.
Over 2000 Verified Customer Reviews. Wellaholic has over 2000 verified positive reviews from our customers in Singapore and beyond.
Verifiable Reviews. The reviews are verified and positive, which indicates the high level of customer satisfaction (see reviews below).
Over 50% Repeat Customers. More than 50% of Wellaholic's customers are repeat and recurring customers.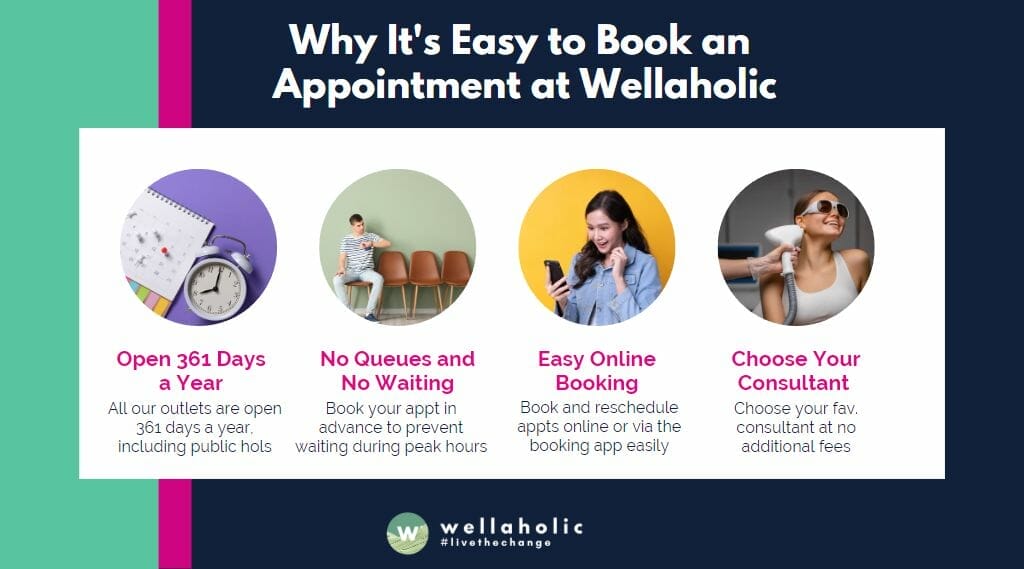 Reason 3: It's Easy to Book an Appointment at Wellaholic
Open 361 Days Per Year. Wellaholic's 8 outlets are open 361 days a year, including public holidays, so that customers can easily book an appointment.
No Queues. All appointments are booked in advanced to prevent the need to queue and wait unnecessarily during peak hours.
Easy Online Booking. Customers can conveniently book and reschedule appointments online or via the booking app.
No Extra Cost for Choosing Consultant. Customers can select their preferred consultant without having to pay any additional fees.
---