What are the Risks of Ultrasonic Cavitation?
Is Ultrasonic Cavitation Slimming Treatment Risky? Let's Find Out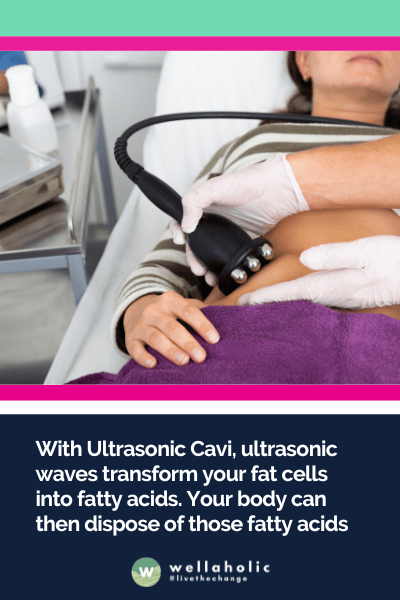 Are you now prepared to sculpt the curvy body you aspire to have? In today's world, there are many slimming and fat reduction procedures and treatment options to select from. Different routines and treatments feel comfortable for some, while they may not be good for you.
Due to this, it is important to consider the benefits and carefully weigh the pros and cons. In this article by Wellaholic, we will examine the risks and dangers involved with Ultrasonic Cavitation slimming treatment.
Ultrasonic Cavi is Safety with NO Harmful Risks
Ultrasonic cavitation is a great choice with no harmful side effects. It is a non-surgical, fat-targeting procedure with no incisions, no anesthesia, no scars, no pain, and is a very easy method of sculpting and shaping your curves. You can reduce cellulite and localized fat today!
What is Ultrasound Cavitation?
As we're growing up, our cells start to store fat. When we gain weight later in life, we are not building new fat cells, we're just enlarging the fat cells that were formed when we were younger. The Ultrasonic Cavitation treatment breaks down those enlarged fat cells. The treatment dissolves the fat cells and eliminates them from the body.
Ultrasonic cavitation can be used in specific areas with no dangerous effects on your skin or inner surface. A handheld device uses low-frequency sound waves to penetrate the more swollen areas of your glowing skin. This process heats, contracts, and emulsifies the layer of fat cells underneath your skin.
The Cavitation treatment causes an emulsification of fat that ruptures the fat cell membrane, which releases its fat content. In a sentence, the device vibrates fat cells until they burst. It then converts the fat into a liquid substance that later goes through the sweat gland, liver, and lymphatic system, to be eliminated through urine.
Does Ultrasonic Cavitation Work on Your Body?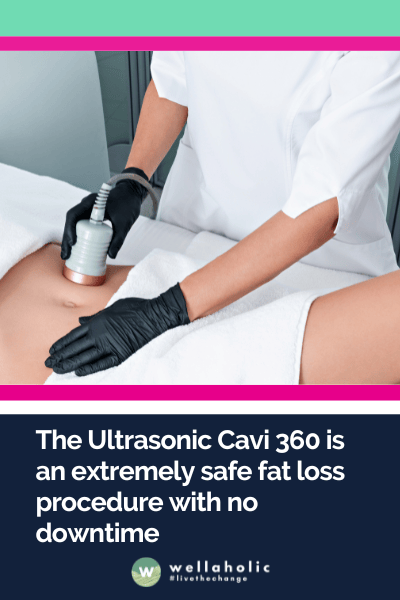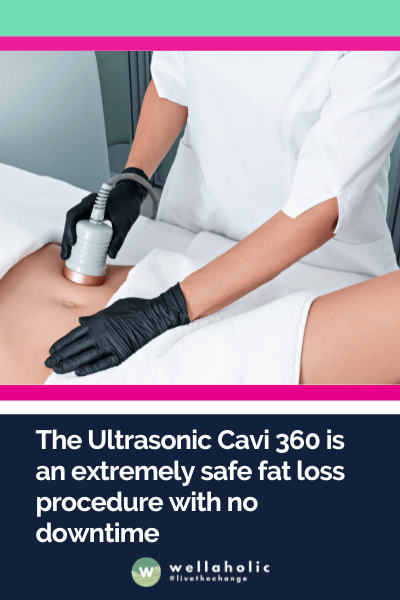 The FDA has approved ultrasonic cavitation to help reduce cellulite and adipose fat. This treatment boosts the body's physical appearance and decreases its circumference. Ultrasonic Cavitation reduces subcutaneous fat deposits that may be hard to get rid of no matter how much one exercises.
Ultrasound cavitation is sometimes billed as an alternative to liposuction. It is anther unique way of liposuction to remove excess fat from the body. However, keep in mind that it only works in certain areas, and you won't see overnight results. Be patient, because you'll see your best results weeks or months after treatment.
The results will also vary based on your health history, body type, and other unique factors. These factors affect not only the results you see but how long they'll last. You may observe results after just a single procedure, but most people will need a combination of treatments before achieving their goals.
The Ultrasonic Fat Cavitation Process
Now, let's take a look at the process of trying ultrasonic fat cavitation, from start to finish.
1. Make Sure You Are Ideal for Ultrasonic Fat Cavitation
The best way to know you're a candidate for ultrasound fat cavitation is to book an appointment. However, it's a good idea to review the factors that make a good candidate first.
Provided that you're not obese, the particular treatment won't work. Rather, you should limit your treatment to particular regions or parts.
People with bleeding problems shouldn't do this treatment. Certain health problems, like heart or liver disease, will mean you're not a good candidate either. If you're nursing or pregnant, you should also avoid it.
Also, medical implants in the body will exclude you from treatment. These might include cochlear implants, pacemakers, and more.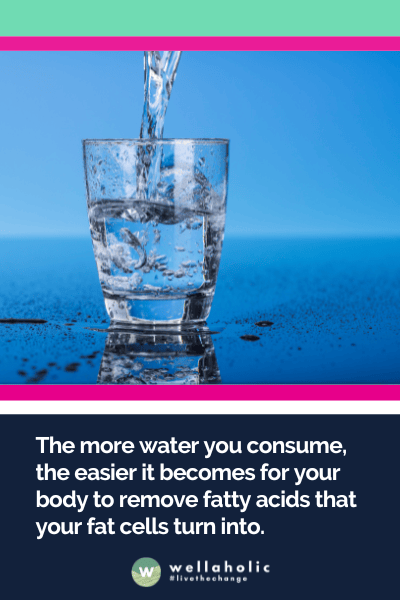 2. You Have to Commit to the Process of Ultrasonic Cavitation
Losing weight with fat cavitation isn't as simple as just stepping into an office and getting the procedure done. You'll need to commit to keeping your side of the deal so you can get good results.
This includes eating healthy, drinking plenty of water, and exercising regularly before and after your treatments. The more water you consume, the easier it becomes for your body to remove fatty acids that your fat cells turn into.
3. Prepare for the Cost of Ultrasonic Cavitation
It's important to not try to cut corners on the cost of this procedure. If you opt for the cheapest clinic, you probably won't get the best results. As with all things, you get what you pay for.
Fortunately, at Wellaholic, we offer Ultrasonic Cavi 360, at just S$179 for a session targeting 2 body parts. This makes it affordable for you to undergo regular Ultrasonic Cavitation treatments.
4. Know What to Expect with Ultrasonic Cavitation
Ultrasound fat cavitation empties out your fat cells, rather than destroying them like liposuction does.
In some ways, that's a good thing. With liposuction, your body will continue to make fat. Since it can't put new fat deposits in cells that have been destroyed, you may end up with fat deposits in new areas of your body. The fat will almost always come back, but with fat cavitation, at least it won't appear where you least expect it.
Ultrasonic Cavi 360 uses ultrasound cavitation technology to break down fat deposits in body.
Patients can see immediate result and will continue to see results in reduction of fat over a few weeks.
Ultrasonic Cavi 360 is a much safer alternative to other surgical options such as liposuction.
This fat cavitation treatment is ideal for targeting small areas of fat for better body contouring and sculpting.
To make your results last longer, you'll need a great diet and plenty of regular exercise. If your calorie intake rises above your body's chances to burn off fat, you'll see the fat come back.
5. Check if You are Suitable for Ultrasonic Cavitation
Should be a casual smoker or not be smoking at all. 
Ideally within 8kg of target or optimal weight. 
Patients who have more than mild excess fat in areas to be treated tend to see less improvements from one treatment.
In this case, multiple treatments are needed to see great results. 
Ultrasonic Cavi 360 by Wellaholic to Break Apart Fat Cells
What is Ultrasonic Cavi 360?
Ultrasonic Cavi 360 uses ultrasound cavitation technology to break down fat deposits in body.
Patients can see immediate result and will continue to see results in reduction of fat over a few weeks.
Ultrasonic Cavi 360 is a much safer alternative to other surgical options such as liposuction.
This fat cavitation treatment is ideal for targeting small areas of fat for better body contouring and sculpting.
Ultrasonic Cavi 360 works well on upper arms, belly, love handles, thighs, and back—where fat cells accumulate.
The consultant will glide the cavitation machine's handheld probe over the desired area, delivering low-frequency sound waves.
The wave will "vibrate" the walls of fat cells until they burst and turn into free fatty acids the body can expel.
Ultrasonic Cavi 360 works extremely well with WellaFreeze and WellaSculpt to accelerate fat disposal via the lymphatic system.
Clinical studies have shown 15.2% average fat layer or cellulite reduction in the thighs after cavitation.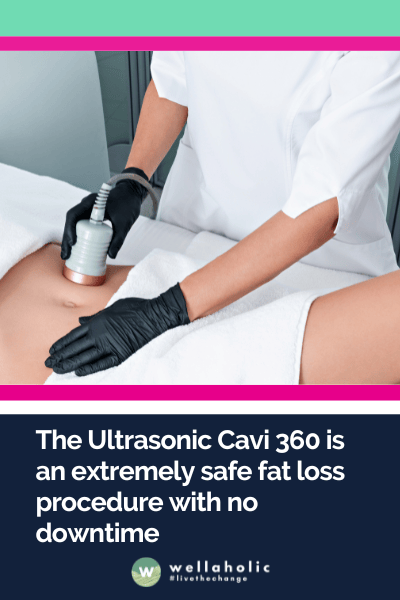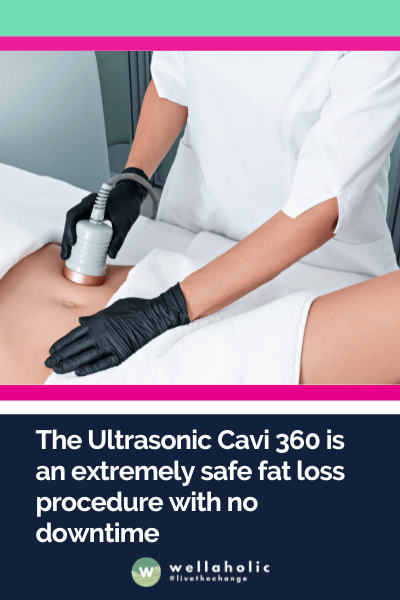 What Happens During Ultrasonic Cavi 360 Treatment?
Consultant will run through with you the Ultrasonic Cavi 360 procedure and steps.
You will review the safety instructions and sign the indemnity form.
Consultant will usher you to the treatment room.
You will lie on the treatment bed.
Depending on the treatment area, there may be a need for you to remove your clothing.
Consultant will apply the cavitation cream at the area(s) to be treatment.
Consultant will configure the cavitation machine and apply the probe/applicator on the treated area in a circular motion.
There will be a high pitch ultrasound high frequency sound together with some vibration. This might be initially shocking, but there will be no pain, and you will get used to it very quickly.
The treatment will take about 15 minutes per treated area.
Treatment is over!
Are There Any Before and After Photos of Ultrasonic Cavi 360 Treatment?
You can refer to the before/after photos below for the results of Ultrasonic Cavi 360 over treatment regime of 4 to 8 sessions.
While some results may be almost immediate, your best results usually will not be visible until four to six weeks after the procedure.
Patient results may vary.
See Over 1800 Positive Reviews of Wellaholic (Customer Verifiable)
Pricing of Slimming Treatments by Wellaholic
Wellaholic believes in providing pricing transparency, and hence all prices are published and updated on its website. Choose from a single-session plan or choose a multi-session plan for greater discounts. Wellaholic's slimming treatmentes are generally divided into the following categories: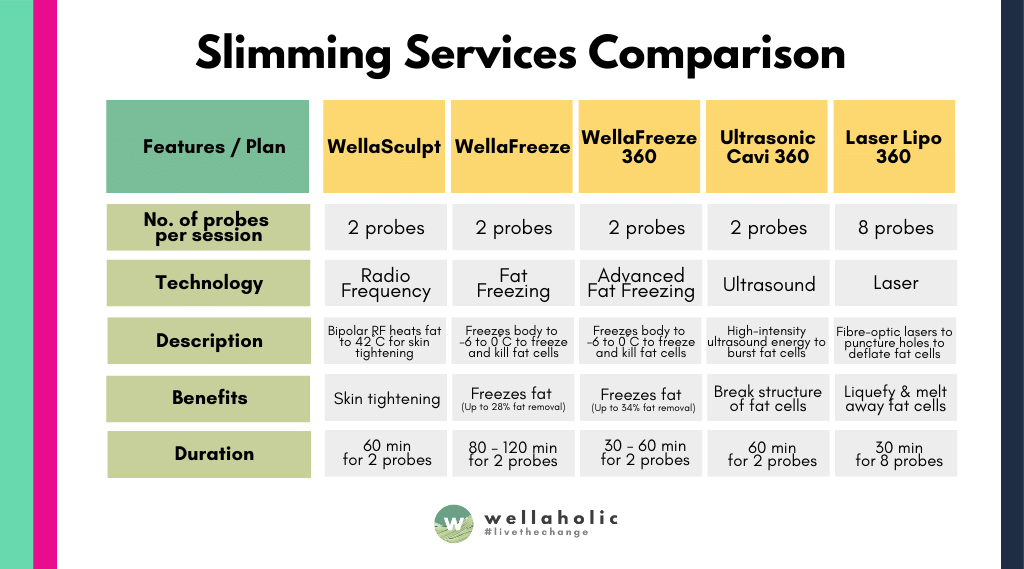 Please click on the menu below to see the pricing for the various slimming treatments by Wellaholic. Prices are nett and inclusive of GST.
---
---