Sayonara, Stray Hairs: The Ultimate Guide to Banishing Chin Hair
Introduction: Say Goodbye to Chin Hair Forever: Here's the Trick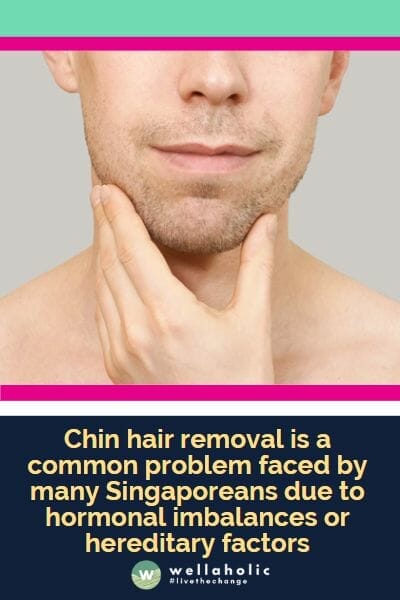 Chin hair: it's the pesky little guest that just won't leave the party. And let's face it, no one wants to be the host to this uninvited fuzz. It's like a rogue mustache that decided to take a detour and make a home on your chin. But fear not, my hairy friends! There is a way to say goodbye to chin hair forever, and it doesn't involve magic potions or sacrificing a goat under a full moon. No, it's a simple trick that can be done in the comfort of your own home (or bathroom, if we're being specific). So grab a glass of wine (or a bottle), and let's get ready to bid adieu to the most unwelcome of facial hair.
---
Removing Chin Hair
Removing chin hair can be a frustrating and time consuming task for many women or men. While some may want to remove the hair permanently, others may just want to keep it at bay temporarily. Whatever the reason, there are multiple options available when it comes to removing chin hair.
The most common way of removing unwanted chin hair is by shaving or depilating with a cream or waxing kit. This method is relatively inexpensive and can be done in the comfort of your own home with no special equipment needed. However, these methods don't offer permanent results and must be repeated every few weeks depending on how quickly your hair grows back.
If you're looking for a more permanent solution, then laser treatments may be an option for you. During laser treatment, intense pulses of light penetrate the skin's surface and target individual hairs without damaging surrounding tissue.
"You don't have to live with chin hair – take control and banish it for good!"
Causes of Chin Hair
Chin hair is an issue that many people face, especially women. It can be caused by a number of different factors, ranging from genetics and hormones to lifestyle choices and medical conditions. While some causes are out of our control, others can be managed or avoided altogether.
Genetics play an important role in determining if someone will have chin hair or not. For those who have a family history of facial hair growth, it's likely that they too will experience this problem. Hormonal imbalance is also a common cause of chin hair; when the body produces too much testosterone or other male hormones, unwanted hair may start to appear on the face and other parts of the body. Additionally, lifestyle choices such as smoking and drinking alcohol excessively can lead to increased facial hair growth due to hormonal changes from these activities.
Options for Removal of Chin Hair
Chin hair can be an embarrassing and frustrating problem for many women, but there are several options available when it comes to removal. The ideal method for dealing with chin hair will depend on the individual's preferences and budget. For those who prefer a longer-term solution, laser hair removal is a viable option. It uses intense beams of light to target and reduce the growth of unwanted hairs, usually requiring multiple treatments over several months in order to achieve results. Another option is electrolysis, which uses electric current to destroy individual follicles so they can no longer produce hairs. This process may require multiple appointments as well but may ultimately provide better results than laser treatment since it targets each individual follicle instead of just reducing overall growth. For those looking for a more affordable short-term solution, waxing and tweezing can be effective options as well.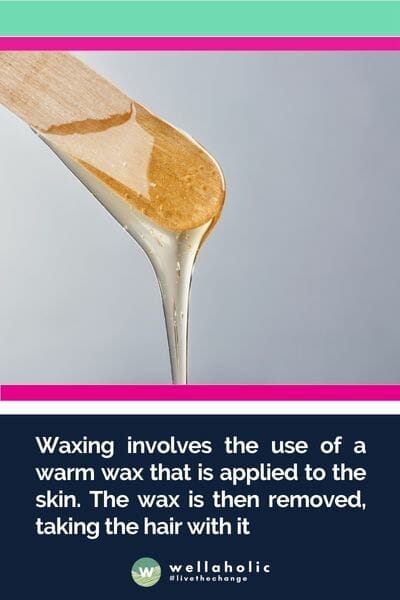 At Home Solutions for Chin Hair Removal
A few simple solutions might offer just that – plus a little extra money saved on salon visits! Here are some at-home tips for chin hair removal that you can add to your self-care routine. For starters, waxing is probably one of the most popular methods for chin hair removal. You can find ready-made kits from the drugstore or beauty supply store with all the tools you need; warm up your wax and apply it accordingly before quickly removing the strips. For more sensitive skin types, consider using a depilatory cream specifically designed for facial use instead. The application process is much simpler than waxing and more time efficient too!
Professional Treatments for Chin Hair Removal
Chin hair is a common issue for many women and can be quite bothersome. Fortunately, there are a variety of professional treatments available that can help remove chin hair in a safe and effective way.
For those who want to get rid of their chin hair without the use of razors or tweezers, laser treatment may be the best option. This type of treatment works by targeting the pigment in the hairs and destroying them with light energy. The results are often permanent after several sessions, though some patients may need additional treatments to maintain results. Another popular option is electrolysis which works by using an electric current to destroy each individual hair follicle at its root. While it is more time consuming than laser treatments, it also provides long-term results with minimal discomfort during the procedure.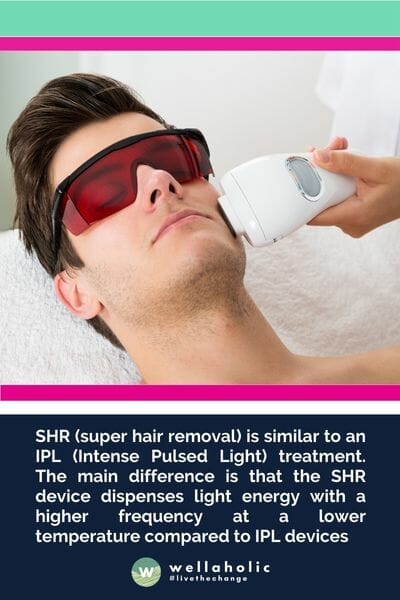 Laser Hair Removal for Chin at Wellaholic
At Wellaholic, we offer SHR diode laser hair removal treatments for the chin that are safe, effective, and fast. Our highly-trained therapists use advanced laser technology with a combination of 3 laser wavelengths to effectively target the pigment in hair follicles with precision for all skin tones and hair colours. This results in permanent reduction of unwanted hairs on the face without any downtime or scarring.
Our treatment is suitable for both men and women looking to reduce or remove undesirable chin hairs. It is also suitable for all skin types and colors as our lasers are specially designed to eliminate unwanted facial hair without causing any damage to your skin. Please note that multiple sessions will be required for permanent hair reduction due to the sensitive nature of the facial and chin areas.
Please see the table for the effectiveness of laser hair removal on different body parts.
| Body Part | Effectiveness of Laser Hair Removal |
| --- | --- |
| Face | Very effective |
| Underarms | Very effective |
| Arms | Effective |
| Legs | Very effective |
| Bikini area | Very effective |
| Back | Effective |
| Chest | Effective |
| Stomach | Effective |
| Buttocks | Effective |
| Feet and toes | Not very effective |
Effectiveness of Laser Hair Removal on Different Body Parts
Conclusion: Deciding the Best Option for Chin Hair Removal
In conclusion, chin hair removal can be a difficult decision for many. There are several options for removing chin hair, including waxing, threading, tweezing, laser treatment, and electrolysis. Each of these methods has its own pros and cons that should be carefully evaluated in order to determine which one is the most suitable for each individual. Additionally, it is important to consider cost, convenience, and comfort level when considering your options.
---
SHR Permanent Hair Removal with Unlimited Shots
Unbeatable in Value and Quality. Wellaholic's SHR Unlimited Plans offer a hair removal solution that is unbeatable in both value and quality.
One Price for All Body Parts. Pay just one low price for a complete hair removal experience for all body parts, including unlimited SHR shots.
Permanent Fuss-Free Solution. Say goodbye to the hassle of expensive and ineffective hair removal methods and trust WellaSmooth to deliver a permanent and fuss-free solution for all your hair removal needs.
Why Choose SHR Unlimited Prestige and Deluxe Plans?
Diode Laser Technology. Developed by Alma Lasers, SHR combines 755nm, 808nm and 1064nm laser wavelengths to target all skin types. 
SHR is Better Than IPL. SHR has been shown to be more effective and less painful, particularly for individuals with Asian skin, without the discomfort associated with IPL.
Unlimited Shots. We use as many shots as needed to effectively target the hair follicles.
Award-Winning. Wellaholic's WellaSmooth and SHR Hair Removal have been recognized by top beauty publications such as Daily Vanity, Beauty Insider, and Tropika Club Magazine, earning prestigious awards from 2018 to 2023.
Ideal for All Skin and Hair Colors. SHR Unlimited Plans (Prestige or Deluxe) are perfect for individuals with any skin color or hair color.
For Men and Women. Wellaholic caters to both men and women with our team of skilled therapists, ensuring that every outlet has a diverse and inclusive environment with male and female professionals readily available to attend to your needs.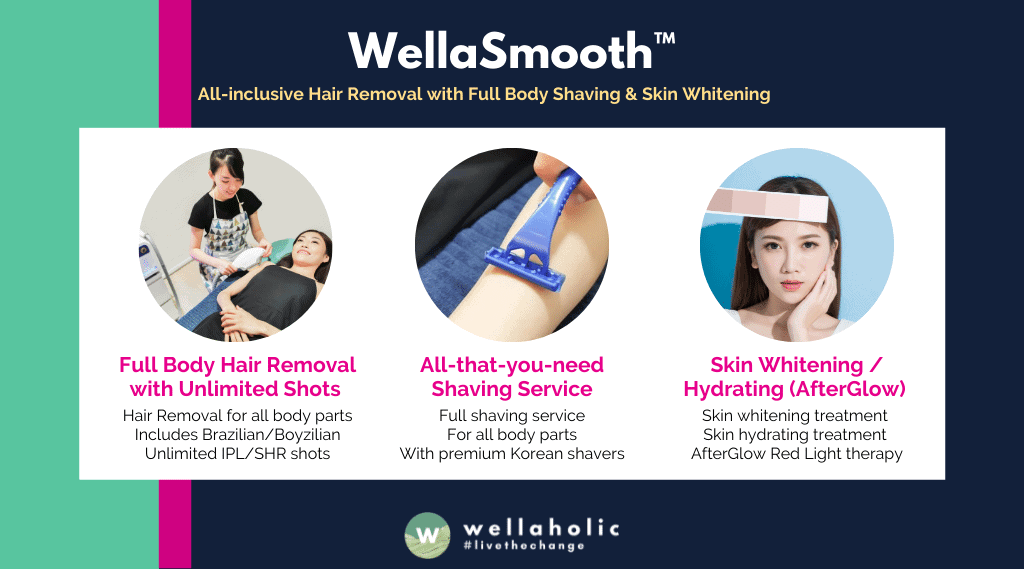 WellaSmooth™ Includes the Following Three Hair Removal Services
Wellaholic's Wellaholic All-inclusive Hair Removal regime includes the following three services:
SHR Permanent Hair Removal PRESTIGE Unlimited – Enjoy our bestseller SHR hair reduction treatment for all body parts
Unlimited Shaving Service – Enjoy unlimited shaving service on all body parts
Skin Whitening/Hydrating (PTT) with AfterGlow – Enjoy post-treatment whitening or hydrating therapy followed by AfterGlow red-light treatment to rejuvenate your skin


See Over 2000 Positive Reviews of Wellaholic (Customer Verifiable)
If you're looking for a reliable and trustworthy aesthetic chain, Wellaholic might just be the perfect fit for you. With over 2000 genuine customer reviews and testimonials, you can see for yourself why our hair removal services have won numerous awards.
Pricing of SHR Hair Removal Treatments by Wellaholic
Price Transparency. Wellaholic offers pricing transparency by publishing and updating all prices on our website.
Flexible Per-Session or Unlimited Plans. Customers can choose from unlimited monthly hair removal plans with unlimited SHR hair removal shots for all body parts, or per-session hair removal price plans.
Mix and Match Easily. Wellaholic's hair removal prices are divided into different categories for easy selection.
No Price Shocks. Customers can expect to pay only for the treatments provided instead of being surprised by additional fees or charges at the end of their hair removal session.
---
Why Wellaholic is One of the Best Hair Removal Providers in Singapore?
Leading Hair Removal Chain in Singapore. Wellaholic is a leading hair removal company in Singapore that is highly sought after by customers.
Quality & Safe Treatments. The company is committed to providing quality and safe treatments with experienced staff.
Wide Range of Hair Removal Treatments. Wellaholic offers a wide range of laser hair removal treatments for various body parts including Brazilian & Bikini, Underarm, Arms, Back & Shoulder Hair Removal, and Leg Hair Removal.
Trained & Experienced Consultants. All treatments are performed by trained professionals who understand the skincare needs of both female and male customers.
Advanced SHR Technology. Advanced SHR technology is used to ensure a safe experience with no downtime or discomfort during the entire process.
Most Affordable Provider. Wellaholic provides competitive pricing for its treatments which makes it one of the most affordable providers in Singapore.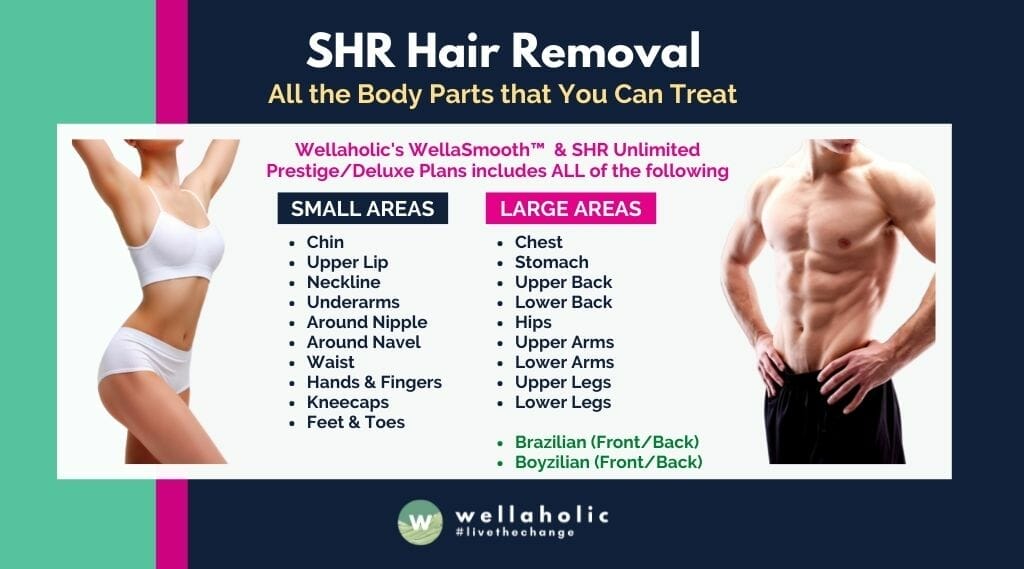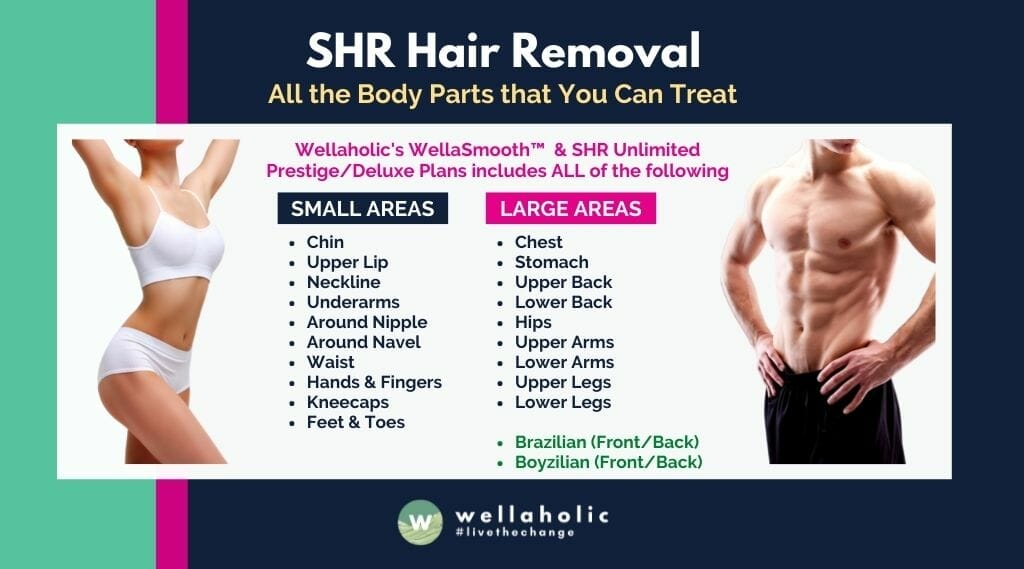 Reason 1: Wellaholic's Unlimited Plans Save You Lots of Money
Unlimited Hair Removal Plans. Wellaholic offers unlimited plans for permanent hair removal with unlimited shots.
Pay One Price for All Body Parts. Customers pay one nett price for hair removal on all body parts, including chin, lips, underarms, back, chest, stomach, legs, and private regions (both front and back).
Huge Cost Savings. With the unlimited plan, there are no separate fees for hair removal on different body parts, leading to huge cost savings.
Reason 2: Wellaholic Has Over 50 Awards and 2000 Genuine Customer Reviews
Over 50 Awards. Wellaholic's WellaSmooth and SHR Hair Removal have been recognized by top beauty publications such as Daily Vanity, Beauty Insider, and Tropika Club Magazine, earning prestigious awards from 2018 to 2023.
Over 2000 Verified Customer Reviews. Wellaholic has over 2000 verified positive reviews from our customers in Singapore and beyond.
Verifiable Reviews. The reviews are verified and positive, which indicates the high level of customer satisfaction (see reviews below).
Over 50% Repeat Customers. More than 50% of Wellaholic's customers are repeat and recurring customers.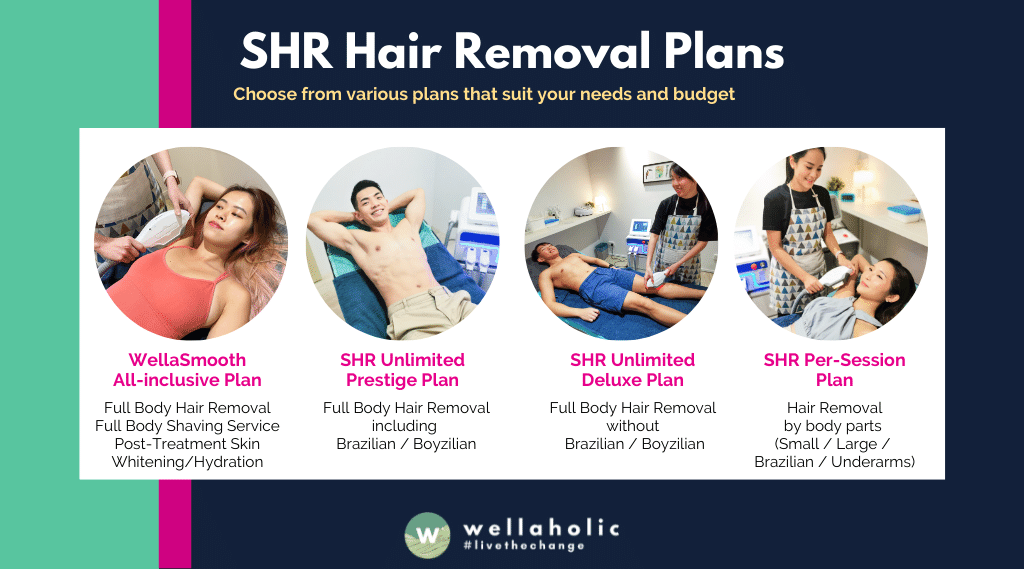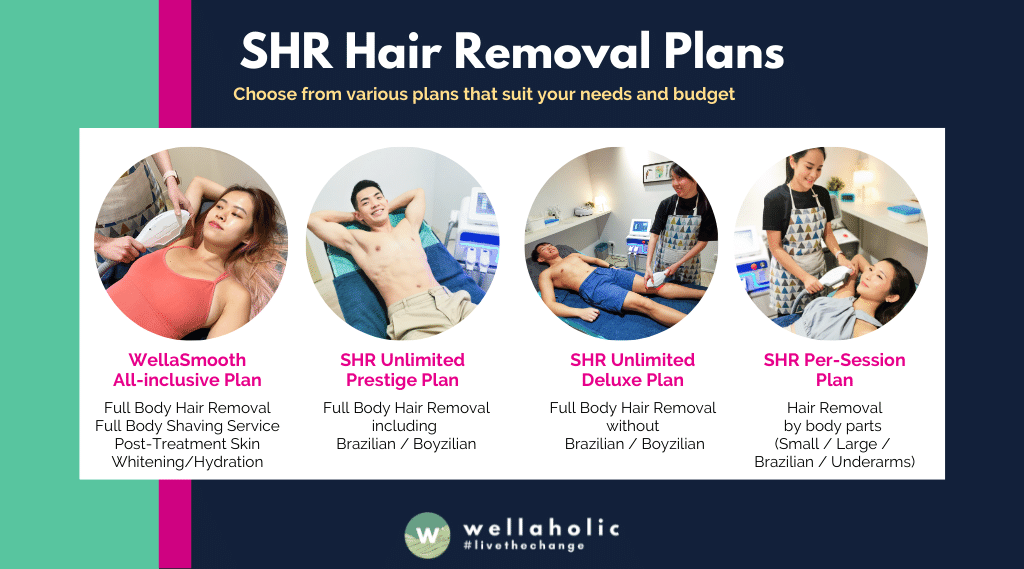 Reason 3: It's Easy to Book an Appointment at Wellaholic
Open 361 Days Per Year. Wellaholic's 8 outlets are open 361 days a year, including public holidays, so that customers can easily book an appointment.
No Queues. All appointments are booked in advanced to prevent the need to queue and wait unnecessarily during peak hours.
Easy Online Booking. Customers can conveniently book and reschedule appointments online or via the booking app.
No Extra Cost for Choosing Consultant. Customers can select their preferred consultant without having to pay any additional fees.
---
---