5 Shaving Tips to Get That Amazing Bikini Line
Say Yes to that Amazing Bikini Line with our Shaving Tips
Besides obtaining expert Brazilian hair removal treatments in Singapore, all ladies agree that shaving is the second-best approach to remove pubic hair to acquire a flawless bikini line. While shaving is undoubtedly the quickest and most cost-friendly method to remove unwanted hair down below, there are some tips you ought to bear in mind while grooming to attain a smooth, beautiful coating.
When cutting pubic hair, you are managing a sensitive, fragile area. You wish to be equipped with the right devices and also vital info to avoid getting razor burns, nicks, and also bumps in your swimwear region. The team at Wellaholic has have actually compiled an extensive, fail-safe overview on just how to properly shave your pubic area throughout.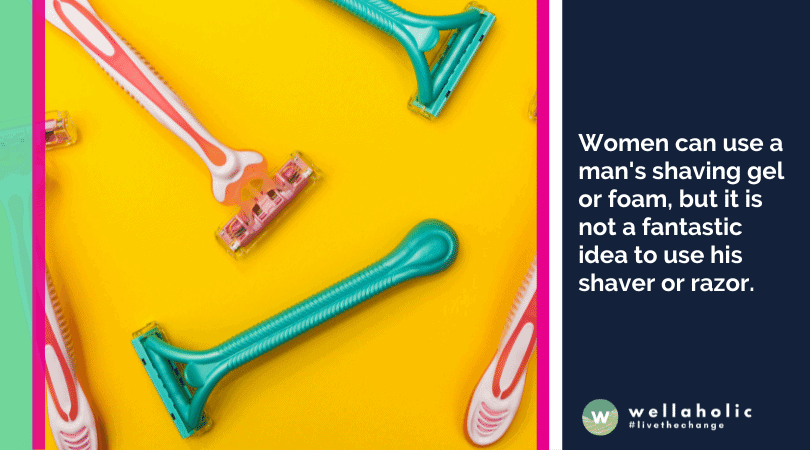 Tip 1: Start by Trimming Unwanted Pubic Hair
Whether you are new to the hair removal game or looking to enhance and improve your present grooming routine, the first step that you ought to take in the past shaving is to cut or trim your pubic hair. Cutting is so much easier and also workable when the hair is shorter. In addition, keeping your length neat and also brief prevents razor obstruction.
As a rule of thumb, if your pubic hair is longer than a quarter of an inch, cut them as short as feasible with a set of disinfected scissors. When cropping hair around specific locations of your private area that are not visible, an idea is to order a mirror for a much better sight of your skin and also instructions of hair growth to minimise possibilities of errors as well as accidents.
Tip 2: Scrub to remove dead skin cells
Do you wish to shave your pubic area without obtaining stubble? It might look like a difficult chore, but the trick is to prioritize exfoliation and peeling on your swimwear area quickly after trimming off long, unruly strands to stay clear of ingrown hairs! Scrubbing your skin prior to shaving helps stop dead skin cells as well as dirt from building up on the blades of your razor, which can use them out as well as prevent a close shave.
An easy scrub-down is all you need to achieve smooth skin down below. You can make use of a loofah, clean cloth, or bath scrub to scrub the skin along your swimwear line gently. It is best to pick odorless product items that cater to your skin type so as not to not create any irritation on your pubic areas.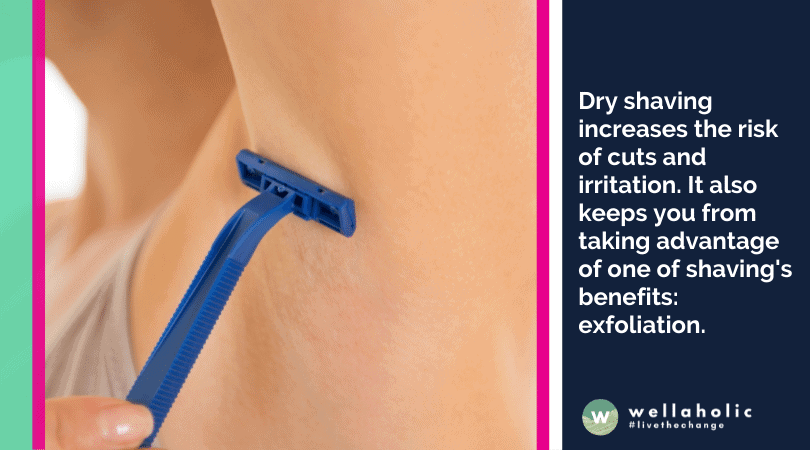 Tip 3: Lubricate with Shaving Cream or Gel
Shaving your pubic area must never ever be done while your skin is completely dry. Your skin needs to be completely moisturised as well as lathered with cutting lotion or gel for the smooth moving of the razor. Utilizing fragrance-free, natural foams or gels created specifically for shaving maintains your skin soft and supple, in addition to avoids possible razor burns.
Additionally, most women are of the concept that soaps are amazing lubricating substances for shaving. Nevertheless, we are below to disprove that misconception– soaps are not substitutes for shaving cream as they might have astringents creating your skin to be dry and also flaky. Your swimwear line is a delicate area, so make sure to indulge it with appropriate items and utmost treatment.
Tip 4: Remember to Shave in the Direction of Hair Growth
It is lastly time for the shaving task. Because your pubic area has the coarsest hair on your body, you should always use a clean, sharp razor to obtain the closest shave on your bikini line possible. Draw your skin tight with one hand and gradually cut in the direction of the hair development. This implies shaving with the grain! By doing so, you reduce bumps as well as razor burns.
If you are brave enough to shave around your vulva, it is important that you initially find a comfortable angle before shaving downwards gradually. This is because the skin on that particular area is unbelievably fragile. One incorrect nick as well as your skin will certainly be at risk to redness and inflammation.
Tip 5: Don't Forget the Aftercare
After you dry off, apply moisturizer or oil, preferably alcohol-free, to both sides of your bikini line. Since soap can dry out your skin, using a lotion or moisturizing oil after you shave helps prevent itchy irritation and maintain moisture your skin needs.
Or Skin the Shaving and Try Wellaholic's Fuss-Free WellaSmooth Hair Removal
Considered that your pubic area is particularly delicate, you may want to take additional care in choosing a fuss-free, painless hair elimination treatment done by experts. Nevertheless, looking for the help of a qualified hair removal specialists will constantly defeat do-it-yourself treatments.
WellaSmooth™ All-Inclusive Hair Removal is designed for an all-inclusive fuss-free full-body permanent hair removal experience with a 5-star rating. WellaSmooth™ All-Inclusive Hair Removal includes all-that-you-require shaving service, followed by SHR Unlimited Prestige hair removal which includes unlimited SHR shots for the entire body (including Brazilian/Boyzilian). Also included is our Skin Whitening / Hydrating post-treatment therapy (PTT) followed by our AfterGlow Red Light therapy.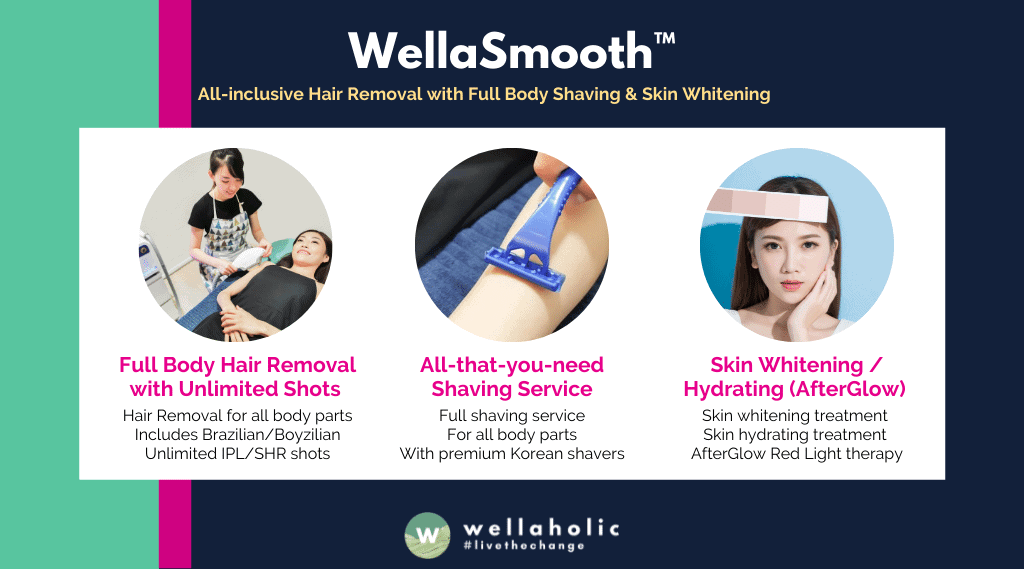 WHAT IS WELLASMOOTH™ ALL-INCLUSIVE HAIR REMOVAL REGIME?
Voted Best Hair Removal Treatment by Daily Vanity Spa and Beauty Awards 2021.
WellaSmooth™ All-Inclusive Hair Removal is designed for an all-inclusive fuss-free full-body permanent hair reduction experience.
WellaSmooth™ All-Inclusive Hair Removal is ideal for all skin color, hair color, and all forms of hair.
Also include is all-that-you-require shaving service for all body parts including your private regions.
WellaSmooth™ All-Inclusive Hair Removal also includes the Skin Whitening / Hydrating (PTT) with AfterGlow™, which includes post-hair-removal skin whitening or skin hydration followed by our AfterGlow Red Light therapy for enhanced skin rejuvenation.
Achieve smooth and glowing skin that will wow everyone.
This treatment is ideal for both men and women, by male and female therapists.
Get a package and choose your shaving, SHR permanent hair removal and post-treatment whitening and hydration done at any of our multiple outlets across Singapore.
WellaSmooth™ is your ultimate all-inclusive hair removal treatment in Singapore complete with shaving and post-treatment care.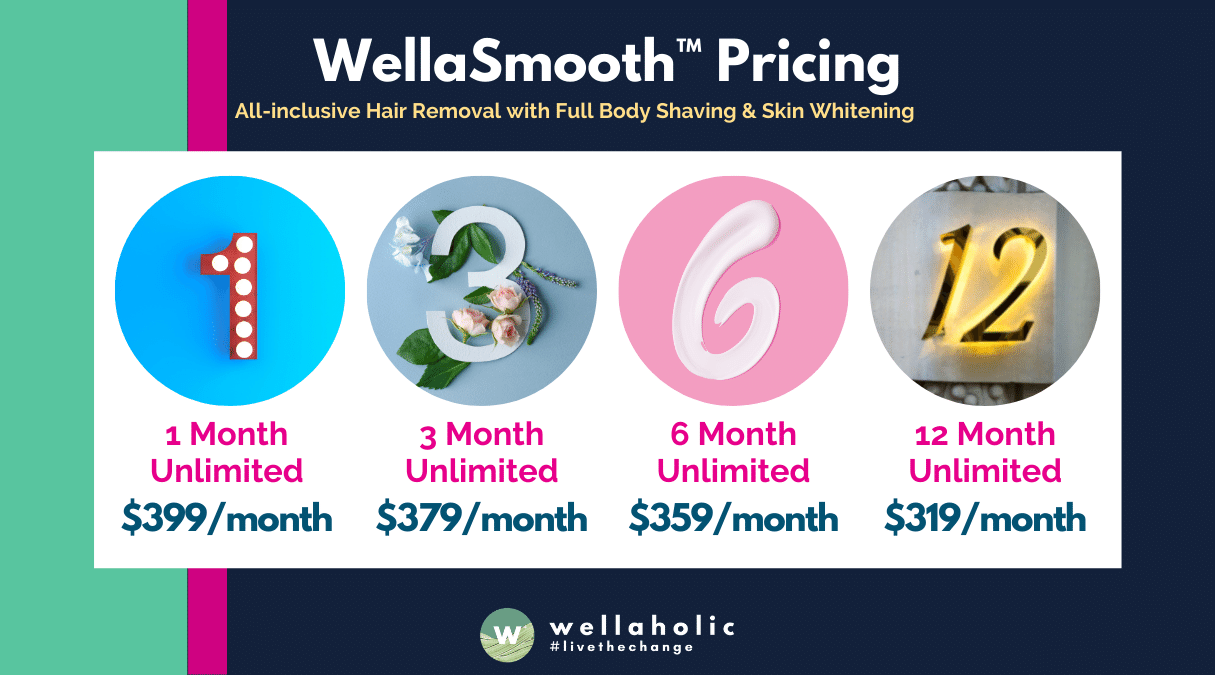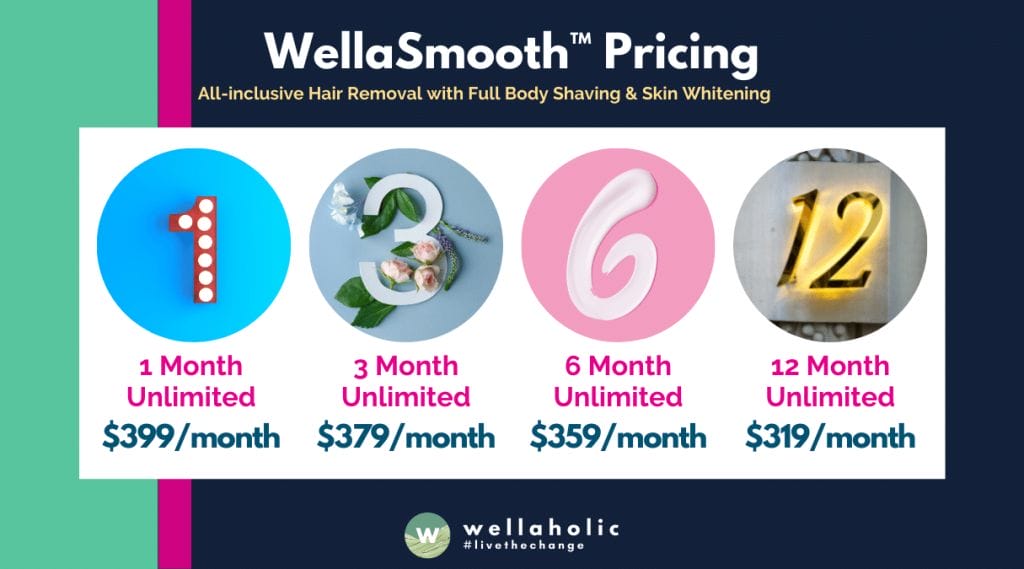 HOW IS THE PRICING LIKE FOR WELLASMOOTH™?
Wellaholic's prices are in line with our vision to make aesthetics treatments affordable for our customers, with transparent pricing with no hard-selling.
This is why Wellaholic publishes our prices online. All prices are actual prices and not trial prices. Prices are also nett and inclusive of GST.
Instead of locating in shopping malls with expensive rents, Wellaholic locates our outlets at convenient locations near MRT stations, which are lower in rental.
Wellaholic removes all the frills involved in the treatment (e.g. no warm towels, no ginger tea, etc.), but we ensure a high level of consistency and efficacy in our technology treatments to focus on what matters – treatments which work.
Wellaholic then passes our cost-savings back to our customers in the form of more affordable treatments.
Conclusion: Happy repeat customers, as seen from our reviews too.
Price List
1 Month Unlimited $399
3 Month Unlimited $379 x 3 = $1137 (6% savings)
6 Month Unlimited $359 x 6 = $2154 (12% savings)
12 Month Unlimited $319 x 12 = $3828 (19% savings)
---