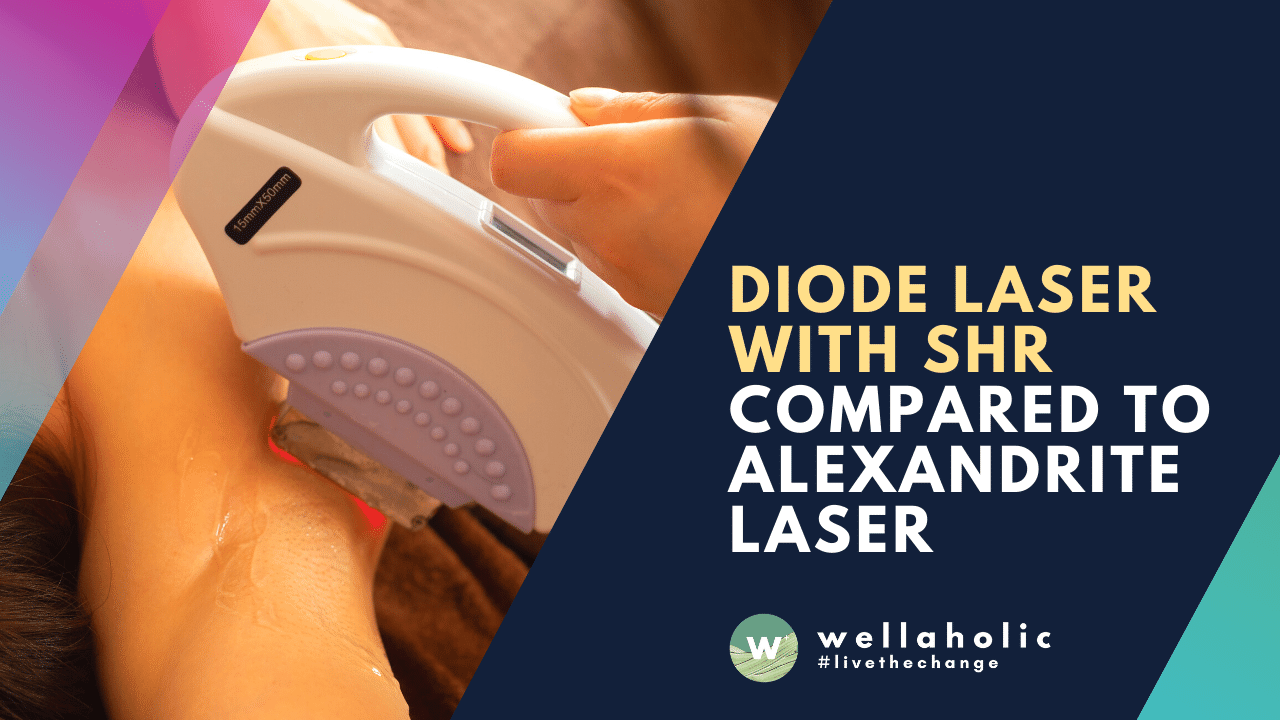 Wellaholic Research: Diode Laser with SHR (Super Hair Removal) compared to Alexandrite Laser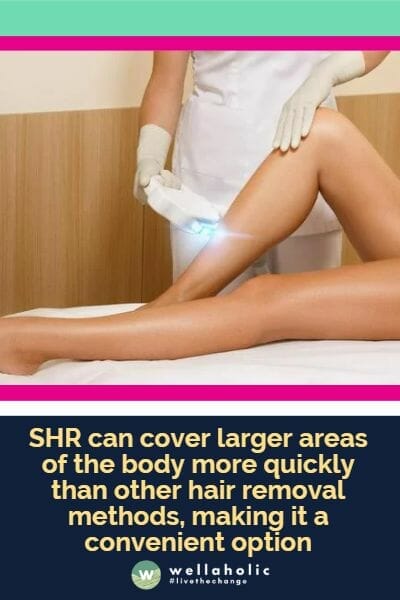 Wellaholic Research: Comparing SHR Laser Hair Removal with Alexandrite Laser Hair Removal
Wellaholic conducts in-house research on hair removal as part of our efforts to keep current with the latest hair removal technologies and trends. We also examine case studies, research reports from various dermatological journals and medical journals. This helps us to improve our hair removal treatments to improve efficacy, safety as well as comfort for Wellaholic's customers who choose us as their hair removal service provider.
In this 2016 comparative study by S. Hammes, H.M. Ockenfels, H. R. Metelmann, C. Raulin and S. Karsai, (in German), a controlled study with 18 patients were conducted to compare the effect of laser hair removal between long-pulsed alexandrite laser and the long-pulsed diode laser in SHR (or Super Hair Removal) mode. The findings concluded that SHR hair removal, while proficient for all skin types, was additionally effective in dark skin types while offering less or no pain to its patients.
Read on below to find out more.
Background of Research
Photoepilation has been an essential field of application of dermatologic laser therapy for many years. The present article evaluates whether the use of a new operation mode of a long-pulsed diode laser can be effective, nearly painless, with few side effects and independent of the skin type. To this aim, its use has been compared to an established method of photoepilation.
"The power of Diode Laser with SHR is unstoppable – unlock your ultimate potential with Wellaholic Research!"
Material and methods
In a controlled prospective study with 18 (♀=12, ♂=6) patients aged between 22 and 58 years, the effects of photoepilation with the long-pulsed alexandrite laser and the long-pulsed diode laser, operated in the Super Hair Removal mode (SHR), were compared.
Result of Study
The alexandrite laser is slightly more effective with fair skin types; the SHR mode is clearly more effective with dark skin types. Regarding painfulness, the SHR mode is clearly superior. In terms of speed, the two systems are comparable. The alexandrite laser is more user-friendly because of its light and small handpiece.
Conclusion
The major advantages of the SHR mode are its effectiveness in dark skin types and its lack of pain. The alexandrite laser is slightly more effective with fair skin types, slightly faster and its handling is considerably more comfortable. None of the two systems has yet brought about a breakthrough with fair hair.
SHR Permanent Hair Removal with Unlimited Shots
Unbeatable in Value and Quality. Wellaholic's SHR Unlimited Plans offer a hair removal solution that is unbeatable in both value and quality.
One Price for All Body Parts. Pay just one low price for a complete hair removal experience for all body parts, including unlimited SHR shots.
Permanent Fuss-Free Solution. Say goodbye to the hassle of expensive and ineffective hair removal methods and trust WellaSmooth to deliver a permanent and fuss-free solution for all your hair removal needs.
Why Choose SHR Unlimited Prestige and Deluxe Plans?
Diode Laser Technology. Developed by Alma Lasers, SHR combines 755nm, 808nm and 1064nm laser wavelengths to target all skin types. 
SHR is Better Than IPL. SHR has been shown to be more effective and less painful, particularly for individuals with Asian skin, without the discomfort associated with IPL.
Unlimited Shots. We use as many shots as needed to effectively target the hair follicles.
Award-Winning. Wellaholic's WellaSmooth and SHR Hair Removal have been recognized by top beauty publications such as Daily Vanity, Beauty Insider, and Tropika Club Magazine, earning prestigious awards from 2018 to 2023.
Ideal for All Skin and Hair Colors. SHR Unlimited Plans (Prestige or Deluxe) are perfect for individuals with any skin color or hair color.
For Men and Women. Wellaholic caters to both men and women with our team of skilled therapists, ensuring that every outlet has a diverse and inclusive environment with male and female professionals readily available to attend to your needs.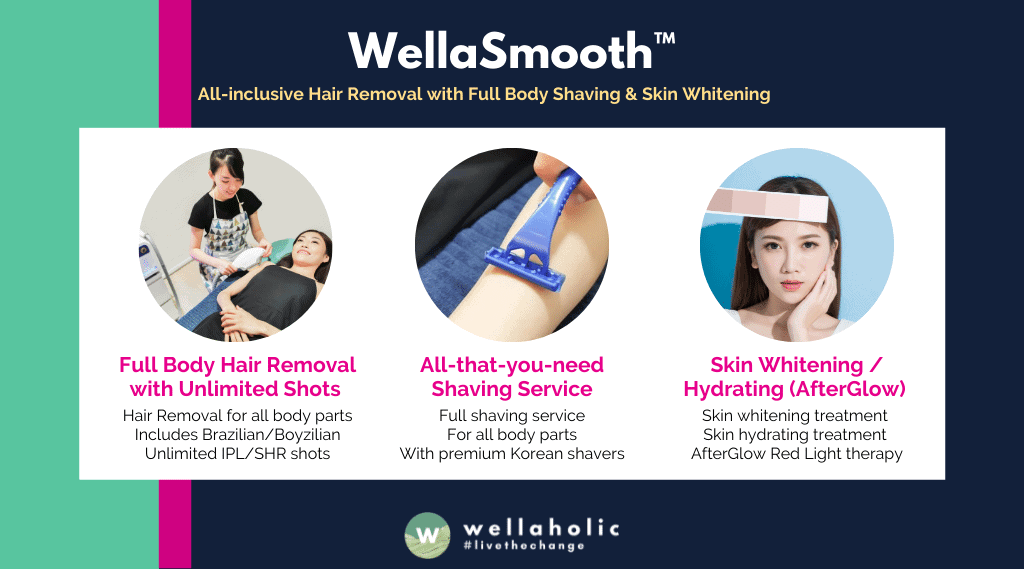 WellaSmooth™ Includes the Following Three Hair Removal Services
Wellaholic's Wellaholic All-inclusive Hair Removal regime includes the following three services:
SHR Permanent Hair Removal PRESTIGE Unlimited – Enjoy our bestseller SHR hair reduction treatment for all body parts
Unlimited Shaving Service – Enjoy unlimited shaving service on all body parts
Skin Whitening/Hydrating (PTT) with AfterGlow – Enjoy post-treatment whitening or hydrating therapy followed by AfterGlow red-light treatment to rejuvenate your skin


See Over 2000 Positive Reviews of Wellaholic (Customer Verifiable)
If you're looking for a reliable and trustworthy aesthetic chain, Wellaholic might just be the perfect fit for you. With over 2000 genuine customer reviews and testimonials, you can see for yourself why our hair removal services have won numerous awards.
Pricing of SHR Hair Removal Treatments by Wellaholic
Price Transparency. Wellaholic offers pricing transparency by publishing and updating all prices on our website.
Flexible Per-Session or Unlimited Plans. Customers can choose from unlimited monthly hair removal plans with unlimited SHR hair removal shots for all body parts, or per-session hair removal price plans.
Mix and Match Easily. Wellaholic's hair removal prices are divided into different categories for easy selection.
No Price Shocks. Customers can expect to pay only for the treatments provided instead of being surprised by additional fees or charges at the end of their hair removal session.
---
Why Wellaholic is One of the Best Hair Removal Providers in Singapore?
Leading Hair Removal Chain in Singapore. Wellaholic is a leading hair removal company in Singapore that is highly sought after by customers.
Quality & Safe Treatments. The company is committed to providing quality and safe treatments with experienced staff.
Wide Range of Hair Removal Treatments. Wellaholic offers a wide range of laser hair removal treatments for various body parts including Brazilian & Bikini, Underarm, Arms, Back & Shoulder Hair Removal, and Leg Hair Removal.
Trained & Experienced Consultants. All treatments are performed by trained professionals who understand the skincare needs of both female and male customers.
Advanced SHR Technology. Advanced SHR technology is used to ensure a safe experience with no downtime or discomfort during the entire process.
Most Affordable Provider. Wellaholic provides competitive pricing for its treatments which makes it one of the most affordable providers in Singapore.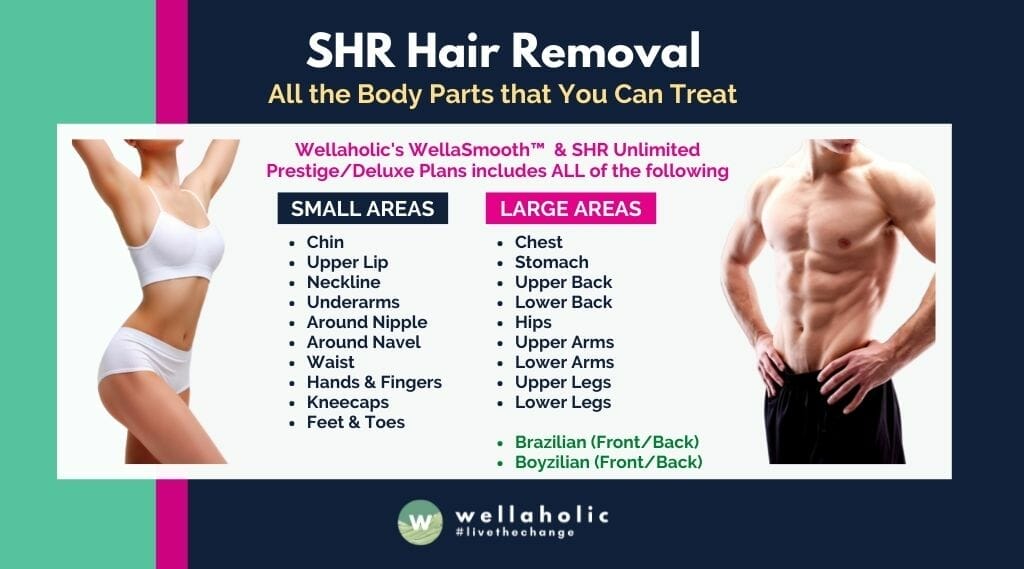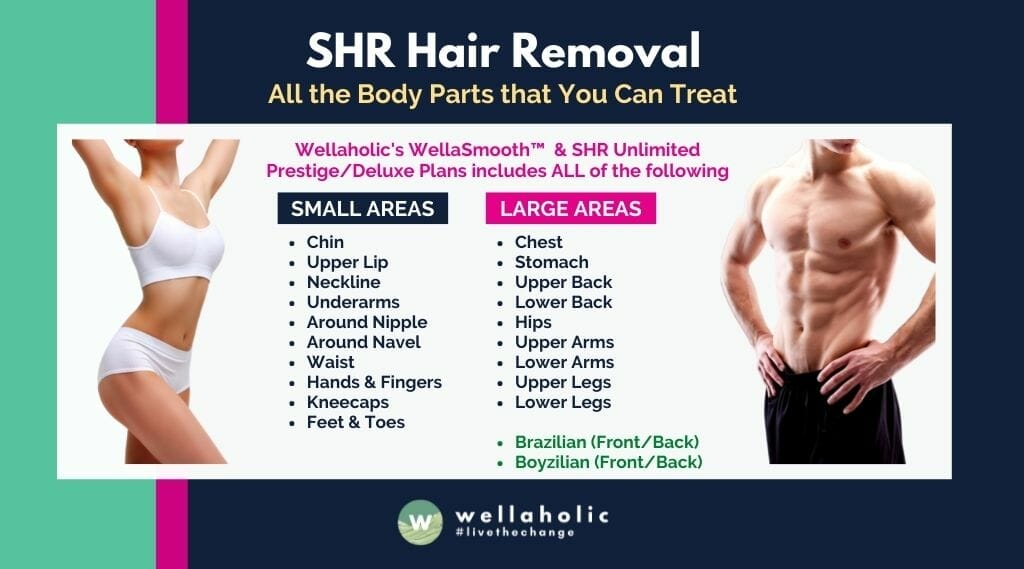 Reason 1: Wellaholic's Unlimited Plans Save You Lots of Money
Unlimited Hair Removal Plans. Wellaholic offers unlimited plans for permanent hair removal with unlimited shots.
Pay One Price for All Body Parts. Customers pay one nett price for hair removal on all body parts, including chin, lips, underarms, back, chest, stomach, legs, and private regions (both front and back).
Huge Cost Savings. With the unlimited plan, there are no separate fees for hair removal on different body parts, leading to huge cost savings.
Reason 2: Wellaholic Has Over 50 Awards and 2000 Genuine Customer Reviews
Over 50 Awards. Wellaholic's WellaSmooth and SHR Hair Removal have been recognized by top beauty publications such as Daily Vanity, Beauty Insider, and Tropika Club Magazine, earning prestigious awards from 2018 to 2023.
Over 2000 Verified Customer Reviews. Wellaholic has over 2000 verified positive reviews from our customers in Singapore and beyond.
Verifiable Reviews. The reviews are verified and positive, which indicates the high level of customer satisfaction (see reviews below).
Over 50% Repeat Customers. More than 50% of Wellaholic's customers are repeat and recurring customers.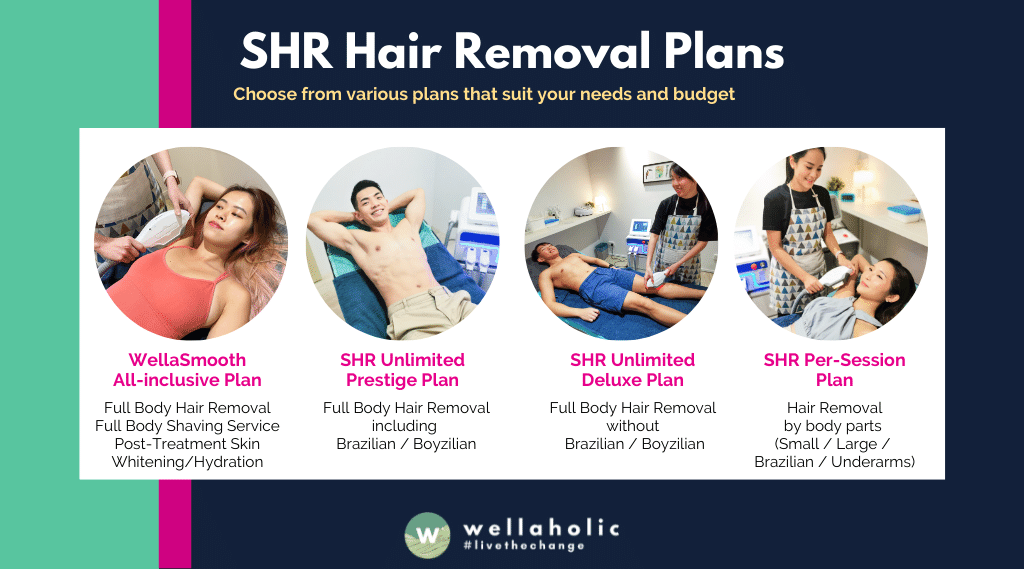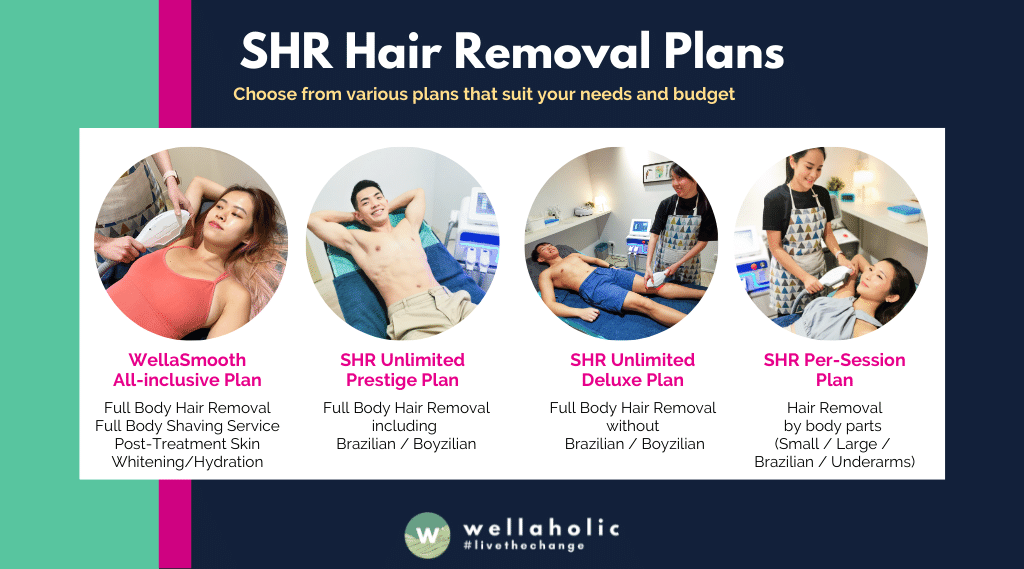 Reason 3: It's Easy to Book an Appointment at Wellaholic
Open 361 Days Per Year. Wellaholic's 8 outlets are open 361 days a year, including public holidays, so that customers can easily book an appointment.
No Queues. All appointments are booked in advanced to prevent the need to queue and wait unnecessarily during peak hours.
Easy Online Booking. Customers can conveniently book and reschedule appointments online or via the booking app.
No Extra Cost for Choosing Consultant. Customers can select their preferred consultant without having to pay any additional fees.
---
---