Get Rid of Stretch Marks with Microneedling
---
Introduction to Stretch Marks
Do you have stretch marks? Are you suffering from unsightly stretch marks on your skin and body and unsure of how to make the marks or lines more faint? Have you developed stretch marks from your last pregnancy or weight gain and you are looking at methods of stretch mark removal? There's nothing to be ashamed of stretch marks as they are a common phenomenon, be it pregnancy, weight gain or even muscle gain. But if you would like to remove them altogether, there are several methods you can choose to have these marks removed. Let us at Wellaholic help you remove them.
---
What are Stretch Marks?
Let us first find out what are stretch marks and how they are formed. Stretch marks essentially are wavy or curvy bands of skin that sometimes look purple, faint-red or flesh-coloured. These marks are created when the collagen and elastin are damaged by a sudden spurt or change in body growth. Their severity is affected by several factors, including your genetics and the degree of stress on the skin. Basically, when your skin heals, stretch marks are formed, and usually appears on different parts of the body where the skin has been stretched (hence the term stretch mark). They can appear on layer of skin including stomach, chest, arms, thighs as well as the back.
A significant number of women develop stretch marks during pregnancy as the skin stretches to create room for the developing baby. Changes in your hormones during pregnancy can also soften the fibres of your skin, making it more prone to developing stretch marks. Stretch marks seems to be the most common during or immediately after the sixth month of pregnancy. Commonly affected areas are the abdomen and the breasts due to lactation. Statistics indicate that between 50% and 90% of pregnant women develop stretch marks before or after birth.
The more weight you gain and the faster you gain it, the more likely you are to develop stretch marks. Putting on muscle mass rapidly as most bodybuilders sometimes do, can also cause stretch marks.
Teenagers in their puberty tend to either put on a significant amount of weight or grow significantly taller within a short period of time. Although the skin is fairly elastic at a young age, collagen production may have difficulties in keeping up with rapid stretching of the skin during puberty. This may then lead to scarring in the form of stretch marks.
---
Common variations of Stretch Marks
Not all stretch marks look the same. They vary based on skin tones and skin types, but are generally classified in the following:
a. Pink red, black, blue or even purple streaks or lines
b. Bright streaks which fades away to a lighter colour 
c. Indented streaks or fainter looking lines on different parts of the body
d. Streaks covering a large portion of the body
---
How do you Treat Stretch Marks?
Generally, if you are willing to wait for a long period of time, the stretch marks are likely to fade away in time to go. They are harmless and does not cause any problems, except that they might affect the appearance of your skin tone. There are many methods to treat stretch marks, from laser treatments from a certified dermatologist, or using mechanical treatments such as microneedling to remodel the surface of the skin. The degree of lightening depends on several factors, including the intensity of the treatment as well as the frequency of the treatments. You can also apply topical stretch mark creams and retinoids to treat the stretch mark areas, but this may take a prolonged period of time to see good results. If you are keen to lighten or completely remove stretch marks, Wellaholic has a proven treatment, also known as stretch mark microneedling, that helps to fade away stretch marks over time.
---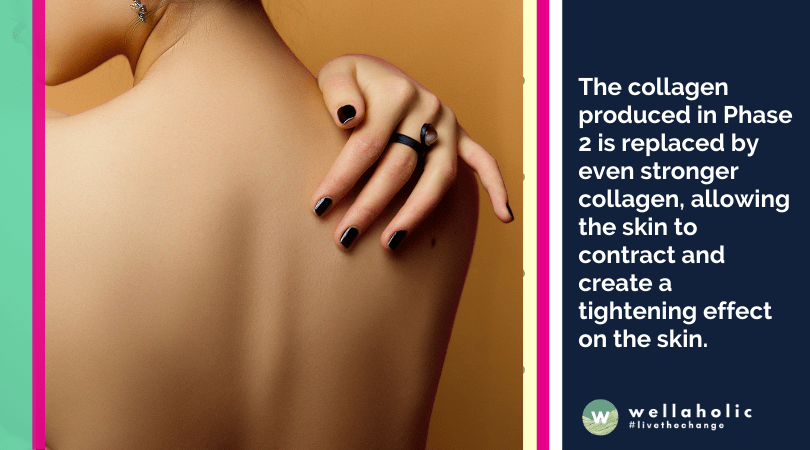 How can Microneedling Treat Stretch Mark?
As stretch marks are formed from a lack of collagen when the skin needs to be elasticated, microneedling can stimulate collagen production. By puncturing micro needle columns which penetrate the dermis, the skin recognises these wounds and start the healing process, thereby restructuring and smoothing the appearance of stretch marks. Microneedling uses tiny micro-needles to create small punctures on the top layer of the skin and penetrating the dermis. The wounds creates trauma for the skin and trigger the body's natural response of creating more collagen and elastin to heal the wounds. This leads to improved texture and firmness, and a reduction in stretch marks, in the following phases:
Inflammation – Once the skin is pierced, it triggers the response from the immune system to naturally disinfect the wounds, remove debris, increase the blood flow, and create new tissue.
Proliferation – The wound starts to rebuild itself with the new cells and the temporary collagen and elastin, as well as a new network of blood vessels.
Remodelling – The collagen produced in Phase 2 is replaced by even stronger collagen, allowing the skin to contract and create a tightening effect on the skin. 
To effectively treat stretch marks, you'll need to participate in more than one treatment over a course of months. Microneedling has been shown to be an effective treatment for reducing stretch marks, specifically for patients with darker skin.
---
Is there any Pain or Downtime to Stretch Mark Microneedling Treatment?
There is minimal pain and no downtime. The recommended needle length (millimetres) for treating stretch marks is 1.5 to 2.0mm. At Wellaholic, we use professional derma-pens with 36 needles. Each needle is one-time use only for hygiene safety reasons. To take the results to the next level, we apply Hyaluronic Acid (HA) serum after treatment to hydrate, heal and increase collagen production.
---
How Long and How Frequent Does the Stretch Mark Microneedling Treatment take?
The Stretch Mark Microneedle procedure is comfortable and easy with no downtime.
Before your stretch mark treatment, our friendly consultant will check your stretch marks and make a note of it.
The treated area is cleaned with toner to disinfect the area.
During the treatment, the consultant will use a professional derma-pen (with 36 needles) across the stretch mark area to create micro wounds.
The treatment will take 20 to 40 minutes, depending on the size of the area. Four to six passes would be made over the target area.
We recommend between 4 to 6 treatments spaced 2 to 4 weeks apart for the best results.
---