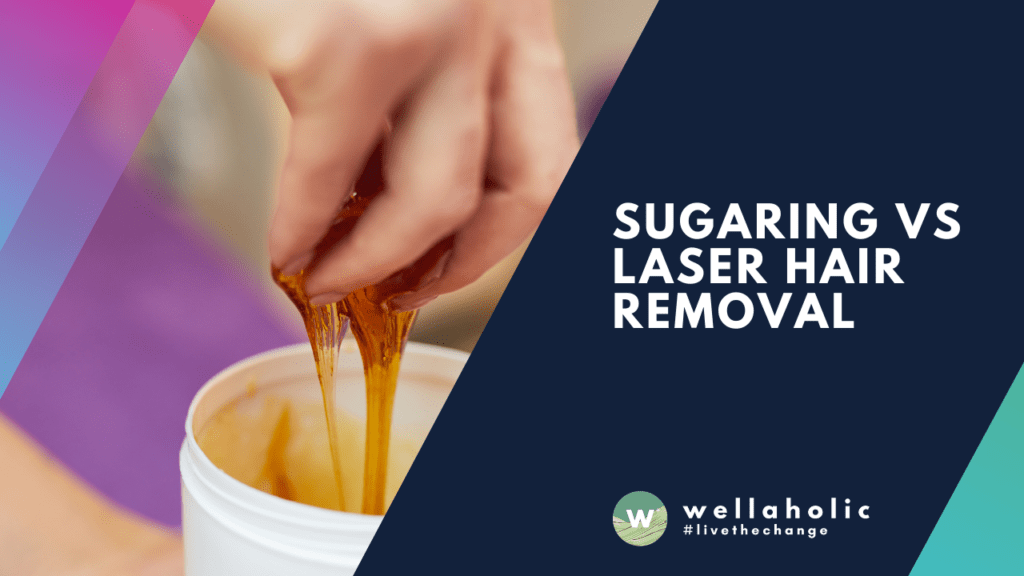 Sugaring vs Laser Hair Removal – Benefits and Drawbacks of Each Technique
Introduction: Sugaring vs Laser Hair Removal
There is a world of choices for hair removal. From the standard methods of shaving, sugaring and waxing to definitive approaches like laser hair removal, everyone gets to select the most appropriate for their skin, pocket, and anticipated outcomes. Plucking, shaving, and waxing are a few of the typical hair removal strategies out there. However today, there are two popular methods that are gaining steam: sugaring, and laser hair removal. This time, we're going to be comparing two really various ways to eliminate unwanted hair: sugaring vs. laser. Is it much better to go natural and have your hair grow back or lose it for good? Let's find out! Say hello to smooth skin!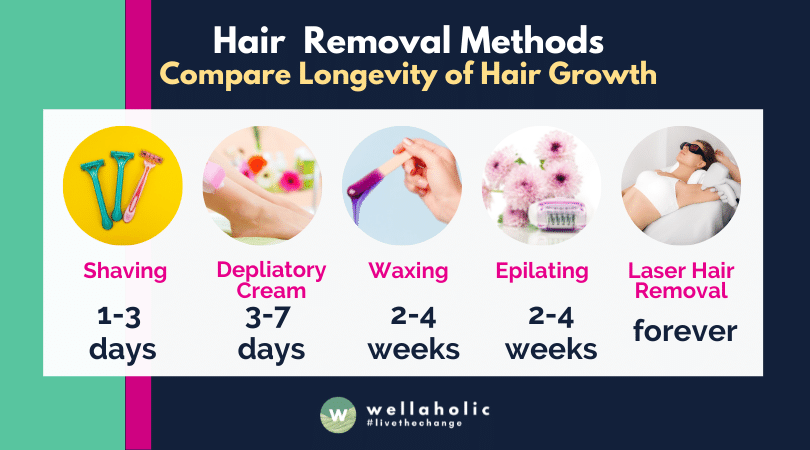 Sugaring: Hair-Free the Natural Way
Sugaring is an ancient hair removal method really comparable to waxing. It is thought to have actually been among the very first hair elimination treatments ever utilized, as it had its origins in ancient Persia where it had actually been used since 1900 BC. It is still used worldwide today. Expert sugaring paste is made with 100 % natural active ingredients, and there is no heat needed in the process, so it is believed to be gentler than regular waxing. Sugaring is done by spreading a ball of sugaring paste versus the skin and versus the direction of hair development, then snapping the paste with the instructions of hair growth. In this sense, it's the opposite to waxing. Sugaring paste is eco-friendly and safe, due to the fact that this concoction does not reproduce germs and the exact same ball of paste can be used throughout the procedure, so you'll save on material. The clean-up is likewise really simple because this paste is water soluble. While sugaring can be done in your home, we suggest getting it done by a licensed aesthetician at a correct centre, and with expert products.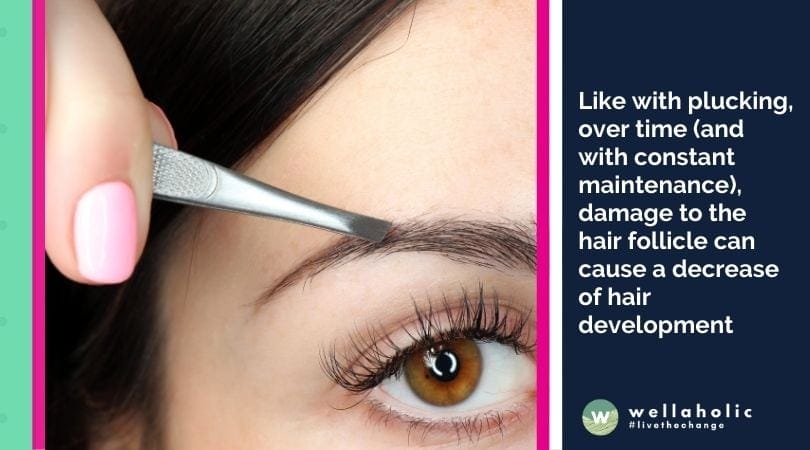 Like with plucking, over time (and with constant maintenance), damage to the hair follicle can cause a decrease of hair development. Even better, the hairs that do grow may be thinner, finer, and sparser. One caution: You'll need about an eighth- to a quarter-inch of hair growth in order for the sugar to be able to capture the hairs. Just like with waxing, you'll need to be OK with a little fuzz in between consultations.
Regardless of your skin and hair type, you can most definitely attempt sugaring. It deals with most body parts like armpits, arms, and legs, among others. However, sugaring can be harder on the face because it's harder to be exact with the shaping. Nearly anybody can get sugaring done on many parts of the body. Nevertheless, some medications might prevent you from being sugared. There are likewise a couple of small stipulations to being sugared, such as no tanning within 24 hours, and no working-out (sweating) after your appointment.
Sugaring lasts for about Three to Five Weeks
Sugaring results usually last around 3 to 5 weeks depending upon the location and the rate at which your hair grows. The charm of sugaring is that it might decrease hair growth in time, implying you'll have less hair to sugar each time a new consultation rolls around. Accardo suggests reserving your hair removal appointments on a regular upkeep schedule (every 4 to 6 weeks) to make sure the smoothest result and most pain-free service possible.
While sugaring is a pretty straight-forward process, there are some things to keep in mind in terms of aftercare, particularly when it comes to your woman bits or male parts. "After a Brazilian, using loose clothing is very important to let your skin breathe," advises Accardo. "Avoid exercising and sitting in a tub, Jacuzzi, sauna, or anything with high heat the area will be sensitive and is more prone to bacteria." She keeps in mind that showering is allowed, however exfoliation ought to wait an extra 24 hours, as need to skin-to-skin contact (yep, that consists of sex). Also, you need to be wary of ingrown hairs.
Laser Hair Removal – A Modern Advanced Technique
Getting Rid of Hair with Advanced Science Laser hair removal, on the other hand, is a more contemporary procedure. This technology consists of a laser beam causing localized damage by targeting and heating dark matter (melanin) located in the hair roots. The heat brought on by a laser causes damage to the cells in the hair follicle to the point where it can not produce more hair, that's why this type of procedure is long-term or at least long-lasting. We'll talk more about that later. The expert aims the laser at the hairs, which get scorched on the spot (and the hair follicle gets damaged due to the fact that laser permeates the skin layers). Laser certainly needs to be done by a professional. Make sure you put yourself in the hands of a knowledgeable skin specialist or aesthetician because it's a medical procedure.
Unlike other techniques of hair elimination like waxing, shaving, plucking, or sugaring, laser hair elimination is a specific treatment that assists permanently eliminate undesirable hair. Plus, if the appropriate lasers, safety measures, and settings are used, laser hair removal also involves less injury to the skin. (Whereas the 4 previous will only remove hair momentarily and administer repetitive tension to the location not ideal.) As Herrmann described to me throughout our pre-treatment consultation (an important action that's constantly suggested prior to you go through laser hair removal!), the method works by using a particular type of laser that targets pigment or the dark colour of the hair in order to destroy the hair roots for good.
Laser hair removal is best for people with light skin and dark hair. Those with light skin and light hair are not candidates for laser hair elimination and will not experience much distinction in hair development. Though individuals with dark skin and dark hair can get laser, they will not receive the very same positive results as those with light skin and dark hair.
Variety Of Laser Hair Removal Session Required
Treatment time and the variety of sessions are customized for your needs. For instance, underarms and bikini area typically require five to six treatments. Facial hair has a finer diameter shaft and is lighter in colour than body hair, so more sessions might be needed. Just arrange your next appointment when you see evidence that another growth cycle is beginning. Laser elimination can be a timesaving and cost-efficient way to accomplish permanent hair decrease.
In licensed hands, no injuries are created, so there is no downtime and no specific aftercare required. You might see some minor swelling or soreness, comparable to a mild sunburn, which resolves rapidly. All clients need to wear everyday sunscreen to promote even complexion.
Degree of Pain for Sugaring and Laser Hair Removal
It's challenging to pinpoint which one of these procedures is more agonizing for a single person or another. There are a number of elements that require to be taken into consideration, such as skin level of sensitivity, individual discomfort limit, and, in the particular case of laser treatments, skin/hair colour. Sugaring paste usually doesn't require heat, and it only follows hair, not to skin, so it is said to be a lot less uncomfortable than routine waxing. The pain will most likely feel similar to that of waxing as the paste is pulled and flicked. Laser hair removal has been normally described as having an elastic band continuously snapped versus the skin. For darker skin tones, it tends to be more uncomfortable, as the laser targets melanin. The darker your skin tone is, the more melanin you have, so your skin might get hurt in the process.
The discomfort levels of sugaring and laser can vary significantly depending on the person receiving the treatment. Some clients do not experience any discomfort from sugaring, while some do. Whatever your pain tolerance may be, it is popular that with constant sugaring, each consultation will be less uncomfortable than the last. The location of the body on which you are getting laser hair removal will impact the level of discomfort you will feel. Many people explain laser as 'having a rubber band snapped on your skin continually.' If you discover the pain to be overwhelming, your professional will have the ability to turn the device to a lower setting.
Laser hair removal is a procedure where a specific beam of light bypasses the epidermis and targets the follicle. This disables the reproductive cycle of the hair without hurting the skin. As laser hair removal destroys the follicle, the hair shaft becomes weak and limp, and with repeated treatments – about 6 to 12 treatments – the follicle dies and no hair grows. For areas with a dense hair follicles, there are more hair follicles to treat, and hence more treatments are necessary to target all hair follicles with varying hair growth cycles. Based on our experience, facial hair and hair at the private areas require 12 or more treatments to fully stop hair growth.
If you have sensitive skin, start with a lighter energy setting. While you may require more treatments, it will help to prevent any undesirable side effects.
Can you Sugar while doing a Laser or IPL/ SHR Hair Removal?
IPL, SHR and Laser hair removal are great hair elimination techniques because they cause permanent hair reduction of as much as 98%. Specially if your hair is dark and you do not experience hormone imbalances, you should attempt laser, SHR or IPL. Costs are now so inexpensive that for only a few more dollars you can be rid of hair completely. Nevertheless, because of the development cycle of the hair you need several treatments, about 6 to 8, and they are spaced every 6 weeks. So, how do you deal with the hair in between treatments?
Unfortunately there are no research studies of the effectiveness of IPL or Laser hair elimination when combined with frequent sugaring and till then I would err in the side of caution. Unless you don't mind the extra expense of extra IPL or Laser sessions if so happens the combination with sugaring doesn't work, We would advise you to shave in between treatments and wait at least 4 weeks after sugaring to begin treatment.
---
WellaSmooth All-inclusive Hair Removal by Wellaholic
WellaSmooth™ All-Inclusive Hair Removal is designed for an all-inclusive fuss-free full-body permanent hair removal experience with a 5-star rating. WellaSmooth™ All-Inclusive Hair Removal includes all-that-you-require shaving service, followed by SHR Unlimited Prestige hair removal which includes unlimited SHR shots for the entire body (including Brazilian/Boyzilian). Also included is our Skin Whitening / Hydrating post-treatment therapy (PTT) followed by our AfterGlow Red Light therapy.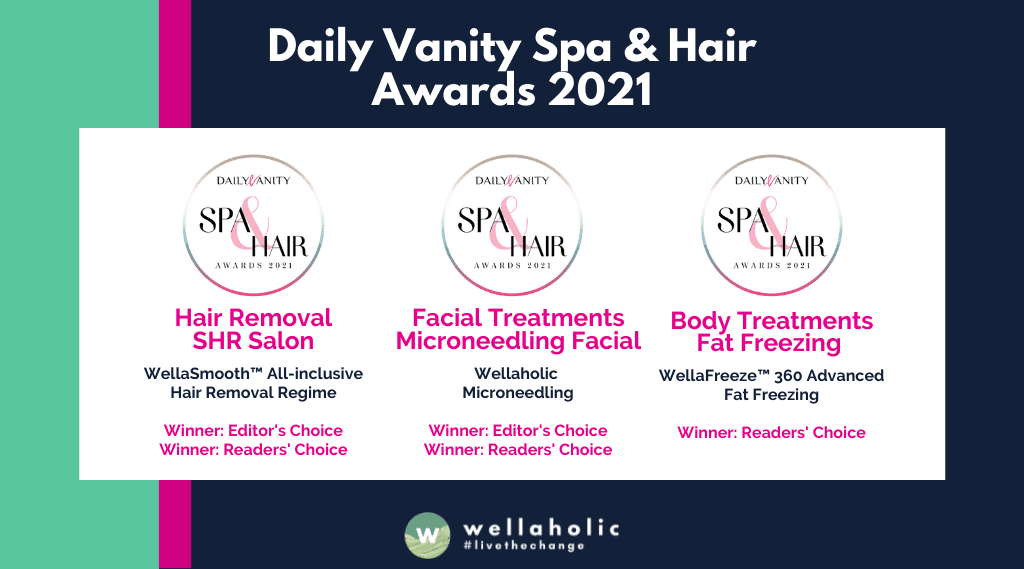 What is WellaSmooth™ All-inclusive Hair Removal Regime?
Voted Best Hair Removal Treatment by Daily Vanity Spa and Beauty Awards 2021.
WellaSmooth™ All-Inclusive Hair Removal is designed for an all-inclusive fuss-free full-body permanent hair reduction experience.
WellaSmooth™ All-Inclusive Hair Removal is ideal for all skin types and all skin color, hair color, and all forms of hair.
Also include is all-that-you-require shaving service for all body parts including your private regions.
WellaSmooth™ All-Inclusive Hair Removal also includes the Skin Whitening / Hydrating (PTT) with AfterGlow™, which includes post-hair-removal skin whitening or skin hydration followed by our AfterGlow Red Light therapy for enhanced skin rejuvenation.
Achieve smooth and glowing skin that will wow everyone.
This treatment is ideal for both men and women, by male and female therapists.
Get a package and choose your shaving, SHR permanent hair removal and post-treatment whitening and hydration done at any of our multiple outlets across Singapore.
WellaSmooth™ is your ultimate all-inclusive hair removal treatment in Singapore complete with shaving and post-treatment care.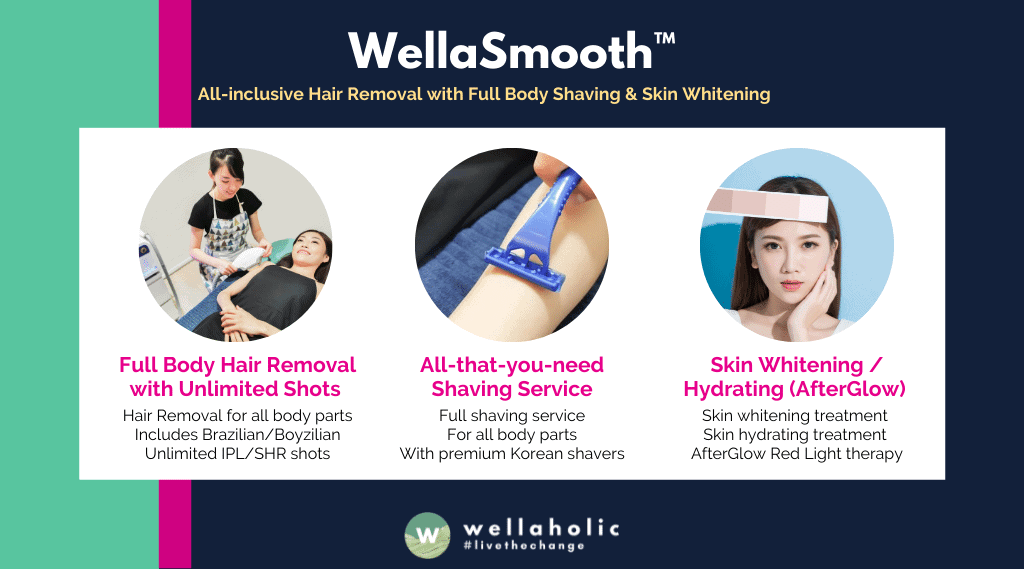 WellaSmooth™ Includes the Following Three Hair Removal Services
SHR Permanent Hair Removal PRESTIGE Unlimited – Enjoy our bestseller SHR hair reduction treatment for all body parts
Unlimited Shaving Service – Enjoy unlimited shaving service on all body parts
Skin Whitening/Hydrating (PTT) with AfterGlow – Enjoy post-treatment whitening or hydrating therapy followed by AfterGlow red-light treatment to rejuvenate your skin
Pricing of SHR Hair Removal Treatments by Wellaholic
Wellaholic believes in providing pricing transparency, and hence all prices are published and updated on its website. Choose from unlimited monthly hair removal plans (with unlimited SHR hair removal shots) for unlimited body parts, or choose from per-session hair removal price plans. Wellaholic's hair removal prices are generally divided into the following categories: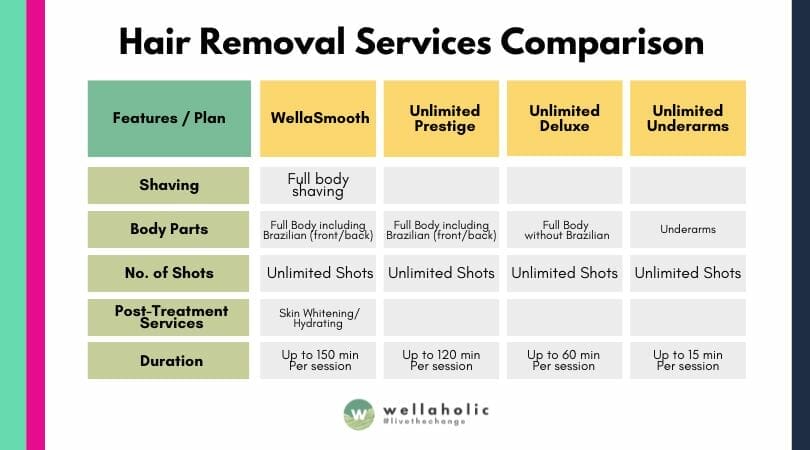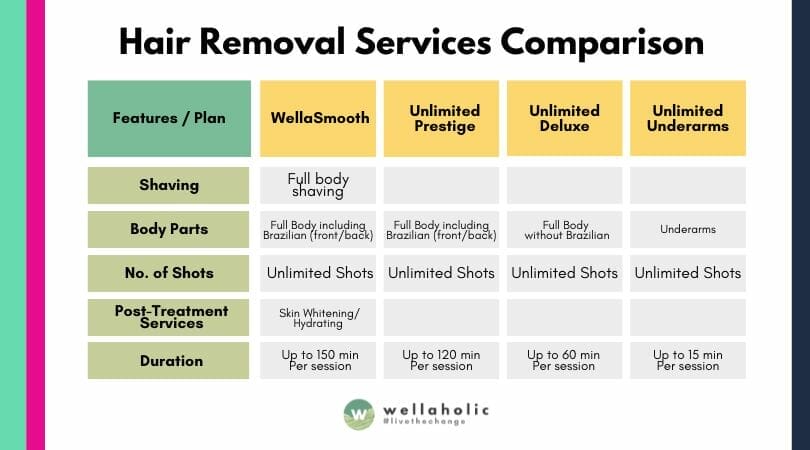 ---
---