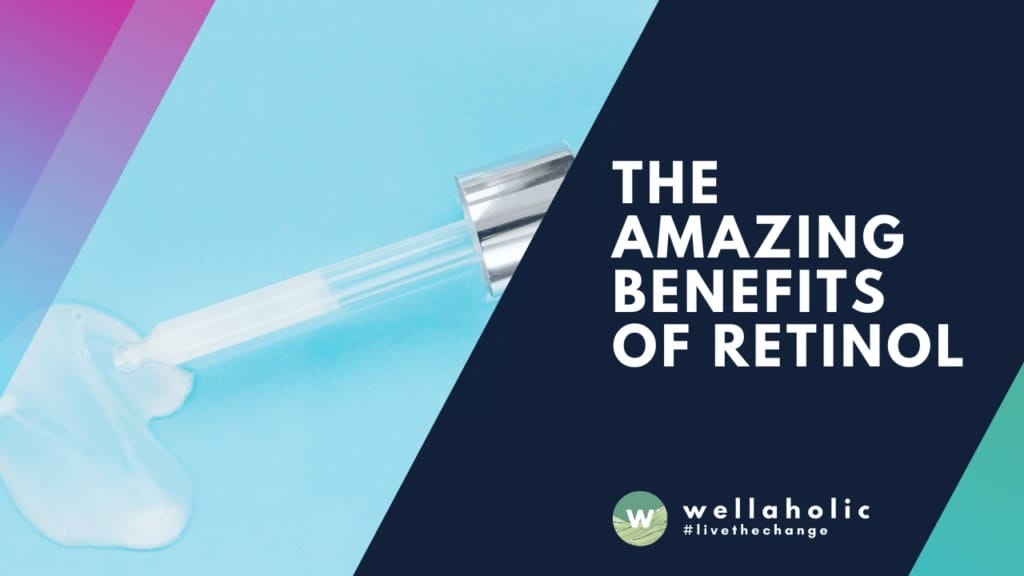 The Amazing Benefits of Retinol
Introduction
While a few basic skincare ingredients have become household names, one is constantly part of the conversation: retinol. We have all heard of it, but we're not all exactly sure what it is—or how it works. An informative article by Byrdie's Hallie Gould peels the layers off retinol. In short, retinol is an amazing ingredient for your skin! To find out more, read on.
In an effort to get educated , we checked with both a top dermatologist and a celebrity aesthetician for the full rundown. Dr. Rachel Nazarian of Schweiger Dermatology Group and celebrity facialist Renée Rouleau eagerly and thoroughly answered all of her burning questions, as well as the ones she crowd-sourced from co-workers and friends.
What is Retinol?
"Retinol is a vitamin A derivative that has been used for anti-aging and found in many skincare products," Nazarian explains.
Rouleau adds, "It can stimulate the metabolism of skin cells and encourage collagen production. Retinol can be absorbed within the skin and, when combined with certain enzymes, it's converted into tretinoin (the acid form of vitamin A, also known as retinoic acid). Using a well-formulated and stable product with retinol will visibly reduce the appearance of sun damage, brown spots, lines, wrinkles and large pores. Its magic is in its ability to resurface the skin's texture for a smoother, more even-toned look."
What's the difference between retinol, Retin-A, and retinoid?
"Both Retin-A and retinol are considered types of retinoids (which is a class of medication)," says Nazarian. "Both can help with promoting faster skin cell turnover, and both are proven options for helping reverse signs of skin aging. But retinol over-the-counter—it requires conversion in the skin to the active form, while a Retin-A is a prescription product that is more potent and slightly more effective at diminishing wrinkles and fighting acne. You will need to speak to a dermatologist about getting a prescription."
"Retin-A restores the organization of cells through cellular turnover in the epidermis, so they are less likely to fall into the pores and block them—resulting in fewer clogged pores and small breakouts," says Rouleau. "It also improves the look of wrinkles by retexturing and smoothing the skin's surface and reducing pore size."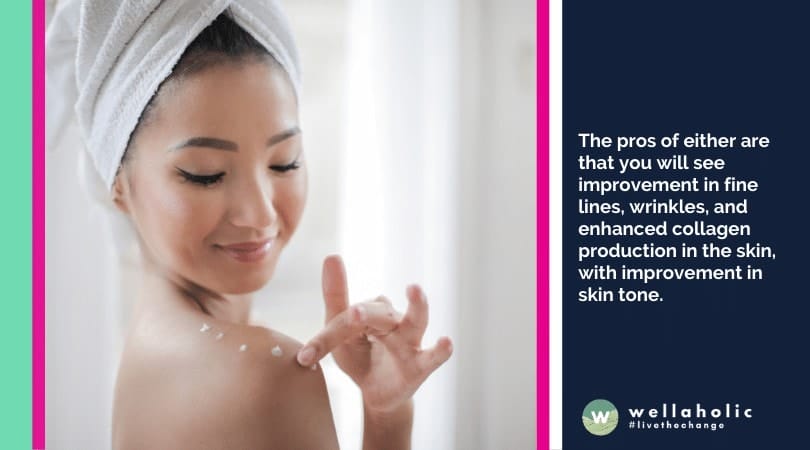 What are the pros of Retinol?
"The pros of either are that you will see improvement in fine lines, wrinkles, and enhanced collagen production in the skin, with improvement in skin tone. Retin-A is just a stronger prescription version that works faster and more effectively not only for anti-aging but also for acne," explains Nazarian.
Retin-A can be helpful for those with certain types of acne prone skin. "A prescription retinoid is very beneficial for anti-aging and works on some types of acne," Rouleau explains, "specifically whiteheads, blackheads, closed comedones, and general clogged pores."
What are the cons of Retinol?
"The cons of either," says Nazarian, "are that over-usage can cause drying and irritation of skin. Some people with super-sensitive skin conditions like rosacea may not be able to tolerate either. Both topicals also make you more sensitive to sunlight, leading to quicker and easier sunburns. Both are also contraindicated in pregnancy," says Nazarian.
She continues, "Retinoids can only be damaging to skin if you have a super-sensitive underlying skin condition like eczema or rosacea and can flare and enhance inflammation. Still, patients with sensitive conditions like rosacea may still be able to use a retinoid, but they need to gradually introduce it into their skincare regimen, perhaps only one time weekly, and prep their skin with a topical moisturizer before applying the retinoid.
"Lastly, I don't recommend Retin-A or retinol it for anyone who doesn't take sun safety seriously. Daily use of sunscreen is crucial to seeing successful results with a retinoid," says Rouleau.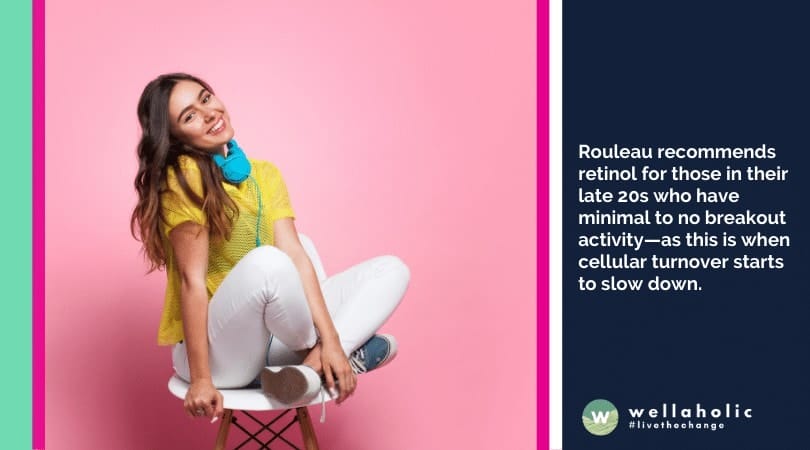 At what age should you start using retinol?
Nazarian recommends, "There are no true guidelines on how early you can start a retinoid, but if you're old enough to be thinking about wrinkles, you should be doing something to prevent them! I find that most women benefit from starting a retinoid treatment in their late teens or early 20s."

Similarly, Rouleau recommends retinol for those in their late 20s who have minimal to no breakout activity—as this is when cellular turnover starts to slow down. She continues, "Simply put, the best candidate is for those whose breakout years are behind them. If someone has sensitive, easily irritated skin, retinol is a good ingredient to prevent the look of aging whereas a prescription retinoid could be too irritating. With continued use, retinol works to fade hyper-pigmentation (brown spots and patches) and give the look of smoother skin in a gentler, non-drying way than a prescription form."
What time of day should you apply Retinol?
"Most retinoids are not photo stable or sunlight stable, meaning they should be kept in an opaque well-sealed container and used only at night. Generally speaking, I suggest all of my patients begin using a pea-size amount once weekly over their moisturizer. They would gradually increase how often, but not how much, they are using based on how their skin response. If any redness or irritation is noted the next day, you should skip that night's application."
Rouleau adds, "Apply your retinol serum to the entire face and neck. Wait three minutes and apply a small amount of moisturiser, if needed. Use the retinol serum for two nights on, one night off, alternating with an exfoliating acid serum and a nourishing treatment serum."
---
Retinol Moisturiser
ADVANCED ANTI-AGEING DAILY SKIN LOTION WITH MOISTURE-RICH ALOE VERA AND RETINOL TO PROMOTE A NATURAL GLOW WHILE REDUCING WRINKLES AND FINE LINES. . Learn More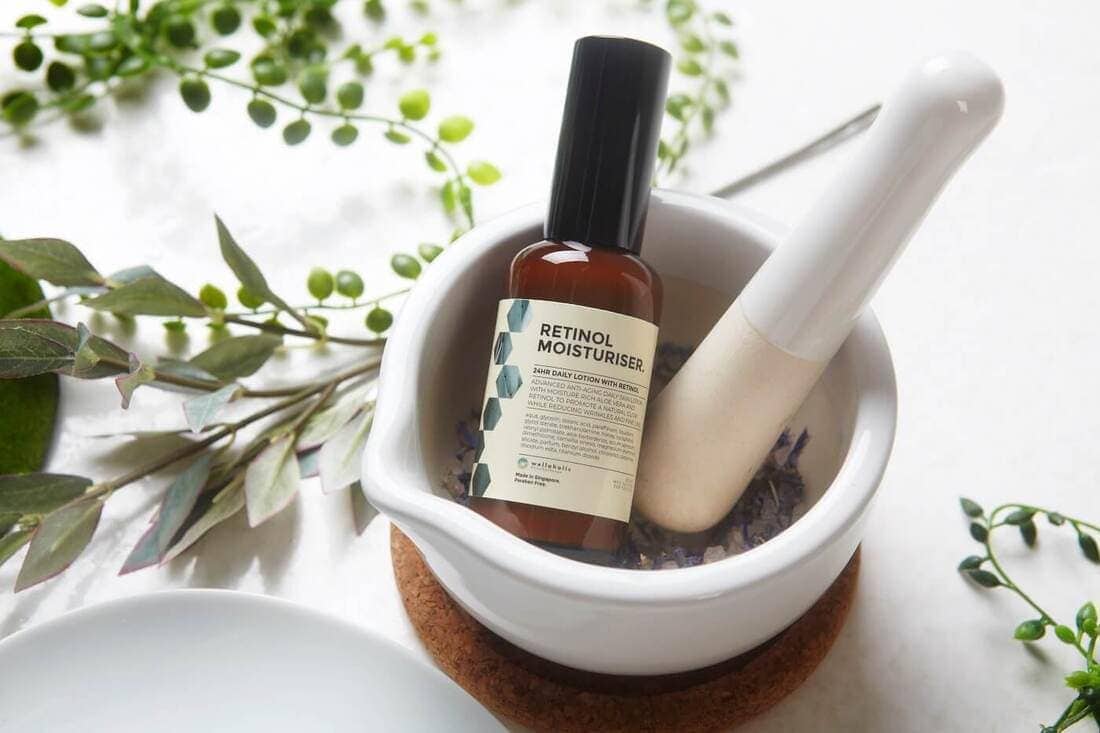 ---