Traction Alopecia: Causes and Treatment
TL:DR Summary
Traction alopecia is a type of hair loss that occurs from pulling or tugging the hair too tightly for a prolonged period of time.
Traction alopecia can affect anyone who wears hairstyles such as braids, cornrows, ponytails, buns, extensions, or dreadlocks that put stress on the hair follicles.
Traction alopecia can cause symptoms such as receding hairline, bald patches, redness, itching, inflammation, and infection of the scalp.
Traction alopecia can be prevented by changing your hairstyle frequently, avoiding tight or heavy hairstyles, using gentle products and tools, and moisturizing your scalp and hair.
Traction alopecia can be treated by stopping the cause of the hair loss, consulting a doctor or a hair specialist, and using treatments such as minoxidil, microneedling, or low-level laser therapy to stimulate hair growth.
Traction alopecia can be reversed if the hair loss is detected early and the hair follicles are not permanently damaged. However, if the hair loss is severe or chronic, it may be irreversible and require hair transplant surgery.
Introduction to Traction Alopecia

At Wellaholic, we know that looking good often starts with great hair. But hey, some hairstyles can actually harm your hair and scalp, leading to something called Traction Alopecia. Yep, some ways of styling your hair can mess up your hair roots, making your hair fall out over time.
So, what's Traction Alopecia, and why should people in Singapore care? It's a kind of hair loss that happens when you pull your hair too tightly in ponytails, braids, or other styles. And it's not just a one-time thing; doing this often can cause permanent damage.
In this article, we'll break down what Traction Alopecia is, especially for folks in Singapore, and give you tips on how to prevent it. With our experienced team and evidence-based approach, we aim to help you keep your hair healthy while looking your best. So, let's get into it!
What is Traction Alopecia?
Understanding Traction Alopecia: The Effects of Hair Stress
Traction alopecia refers to hair loss caused by repeated pulling stress or tension on the hair, hair roots, and follicles. You might have heard people talking about feeling their hair being "tugged" at the edges and experiencing unexplained patchy hair loss. This mysterious cause is likely traction alopecia.
Areas Affected by Traction Alopecia
But traction alopecia doesn't just affect your hairline. It can impact other parts of your scalp as well, leading to significant hair loss in various areas beyond the typically affected edges.
Traction Alopecia: A Common Issue in Specific Ethnic Groups
It's estimated that traction alopecia affects approximately one-third of women of African descent, making it the most common type of hair loss in this group. However, it's important to note that traction alopecia also affects both men and women of Asian origin.
Traction alopecia can occur at any age, but it is most common in women between the ages of 15 and 35, based on a study compiled by Wellaholic.
What are the causes of Traction Alopecia
Not every lady can to these beauty salon horror tales certainly, however that doesn't imply they are risk-free from traction alopecia. This kind of hair loss is frequently self-inflicted as well as may be triggered by:
Tight braids, weaves, chignons, ponytails, dreadlocks, and other scalp-pulling hairstyles which is common in Asian hairstyles
The weight of excessively long hair- if hairs are long and tightly tied they too might cause traction alopecia below the chin;
Hair extensions- especially if they are tightly tied or glued to the base of your hair
Chemical treatments such as hair relaxers- they may alter the structure and chemical composition of the hair strands and follicles, thus leading to hair loss
Hair Rollers – especially if the hair is put up in rollers overnight for different types of hair
Wearing hair accessories, e.g., hair grips or slides the same way every day
Headwear, e.g., helmets and tight elastic bands
Essentially what these hairstyling procedures do is produce traction. When this occurs repetitively, as well as for a long term duration, inflammation creates around the hair origin, as well as the hair shaft ends up being loosened in its roots. Ultimately, the hair might wind up falling out in clumps, which can lead to adverse effects and psychological effects to your well-being.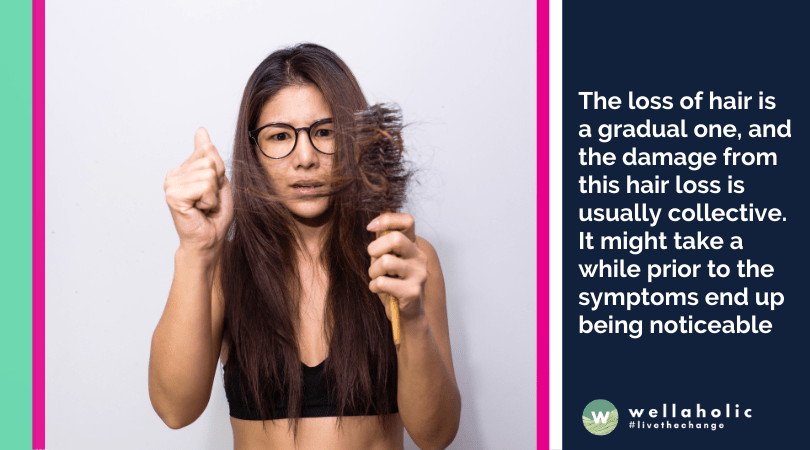 What are the signs that you are suffering from Traction Alopecia?
The loss of hair is a gradual one, and the damage from this hair loss is usually collective. It might take a while prior to the symptoms end up being noticeable. Nonetheless, the following signs might be indicative of traction alopecia:
Several short or broken hairs around your hairline or in position where your hair is under substantial strain
A declining hairline particularly on the temples, temple or neck
Scalp redness, tenderness, irritability, or itching over a period of time
Little small pimples which you can notice on the scalp
Sudden hair loss, especially patchy hair loss for all forms of hair 
Initially, traction alopecia doesn't trigger scarring. Nonetheless as time passes, and the traction to the hair continues, you will start to see reddish and scarred skin, which is also tied to the loss of hair density and thinning hair. Traction alopecia symptoms might vary from person to person. A person's hair care methods primarily identify them. The problem most frequently impacts the sides (temporal) and also front (frontal) of the scalp. This has actually led to the description of the fringe sign as a helpful marker of this kind of hair loss or alopecia.
Can Traction Alopecia be reversed?
The Impact of Tension on Hair: Traction Alopecia's Development
Any action that places stress on your hair, like tightly-pulled hairstyles, can damage your hair roots and trigger traction alopecia. The damage tends to occur slowly and in stages, so if caught early, the hair loss or thinning can be effectively reversed.
Traction Folliculitis: The First Sign of Damage
Usually, when a hairstyle is done too tightly, the first signs are small pimples and discomfort. This condition, known as traction folliculitis, results from the tension placed on the hair, leading to inflammation within the hair follicles.
Long-Term Effects of Traction Alopecia: Irreversible Damage
If traction alopecia remains untreated and the hair follicle is subjected to constant stress, irreversible damage can occur. This involves the hair follicle becoming inflamed and eventually ceasing to produce new hair, leading to permanent scarring and hair loss. Proper hair care practices can prevent this permanent hair loss condition.
How can you treat Traction Alopecia?
Reducing Traction: Hairstyle Adjustments
A key treatment for traction alopecia is giving your hair a break from any style that may cause traction or a "tugging action." You could try wearing your hair up or down, or rotating between the two. If it's essential to pull your hair back, opt for a style that's low and loose. Avoiding tight hairstyles can give your hair follicles a much-needed break. Regularly review your scalp for any risk factors and treat early to prevent permanent damage.
Considering a Haircut: Dealing with Long Hair
If your hair is long, and therefore more prone to pulling and tension, consider cutting it short. A shorter hairstyle can significantly reduce the strain on your hair follicles and potentially halt the progression of traction alopecia.
Treatments for Hair Regrowth: Topical Minoxidil
If you have already lost hair due to traction alopecia, consider using treatments such as topical minoxidil. This FDA-approved solution can stimulate hair regrowth and help fill in sparse areas, reversing some of the effects of this hair loss condition.
You can treat Traction Alopecia with Microneedling for Scalp
Microneedling for Scalp: A Promising Treatment for Hair Loss
Microneedling is an innovative treatment that helps tackle hair loss and stimulate hair regrowth. Known as Collagen Induction Therapy, this hair loss treatment creates controlled trauma in the scalp to encourage hair growth. When used in conjunction with Minoxidil 5%, a topical hair loss solution, Microneedling can lead to significant improvements in hair growth over a 12-week period. This treatment is particularly effective for individuals suffering from Traction Alopecia, Alopecia Areata, and Androgenetic Alopecia, which includes conditions like male pattern baldness, receding hairline, and thinning hair.
Understanding Hair Loss Solutions: Working with Hair Follicle Stages
Topical hair loss solutions begin working at the follicular level, which is crucial for treating hair loss. However, as each individual may have a unique cause behind their hair loss, the effectiveness and timeframe of the treatment can vary. It's essential to understand that the specific situation and treatment type dictate the duration required for noticeable results.
Wellaholic's Microneedling for Scalp: A 12-week Program
Wellaholic's Microneedling for Scalp is a treatment regimen requiring weekly sessions over a period of 12 weeks. This program is supported by various case studies which have shown microneedling to be an effective treatment for hair loss. By committing to this schedule, patients have a good chance of seeing substantial improvement in their hair growth.
Scalp Microneedling for Hair Loss – Achieve Hair Regrowth with Science
Confronting Hair Loss: You're Not Alone
Feeling like your hair is falling out faster than your favorite sports team loses games? Rest assured, you're not alone. Hair loss affects millions globally. However, a novel, effective treatment offers hope: microneedling.
Microneedling: A Cutting-Edge Solution for Hair Regrowth
Microneedling is a minimally invasive procedure, employing tiny needles to create micro-injuries on the scalp. This technique triggers the body's innate healing response, stimulating hair growth. Microneedling, proven to effectively treat male and female pattern hair loss, increases hair growth up to 40%, as per clinical studies. Importantly, it is well-tolerated and does not carry significant side effects.
What is Scalp Microneedling for Hair Loss?
⭐ Treat Hair Loss and Promote Hair Growth. Scalp Microneedling for Hair Loss, a collagen induction therapy in Singapore, combats hair loss and promotes regrowth.
⭐ Controlled Trauma to Scalp. Scalp Microneedling for Hair Loss causes controlled trauma to the scalp to stimulate hair growth.
⭐ Effective with Minoxidil. Combined with 5% minoxidil, microneedling boosts hair growth over 12 weeks.
⭐ Ideal to Treat Alopecia Areata. Microneedling benefits those with Alopecia Areata, Androgenetic Alopecia, male pattern baldness, receding hairlines, and thinning hair.
⭐ 12-Week Regime is Ideal. Wellaholic's Scalp Microneedling for Hair Loss is a 12-week treatment, with weekly sessions. Case studies show it is effective.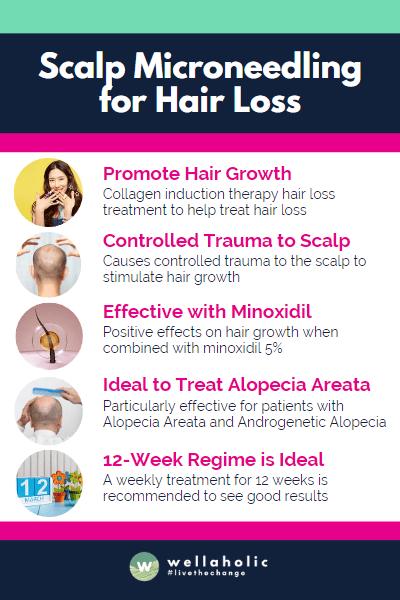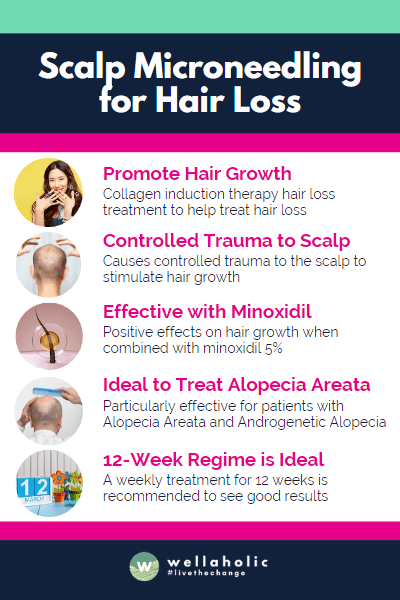 What are the Benefits of Scalp Microneedling for Hair Loss?
⭐ Stimulates collagen production. Microneedling triggers healing, boosts collagen & elastin for healthier hair.
⭐ Increases blood flow to hair follicles. Improved circulation delivers vital nutrients and oxygen, supporting hair growth and overall follicle health.
⭐ Enhances nutrient delivery. Tiny micro-channels created during microneedling allow topical treatments to penetrate deeper, maximizing their effectiveness.
⭐ Promotes hair regrowth. By activating dormant hair follicles, microneedling encourages new hair growth for a fuller appearance.
⭐ Improves hair thickness and density. Consistent microneedling treatments can result in thicker, denser hair, combating thinning and baldness.
⭐ Effective for various hair loss types. Microneedling aids individuals with Alopecia Areata, Androgenetic Alopecia, male pattern baldness, receding hairlines, and thinning hair.
⭐ Complements other hair loss treatments. Microneedling can be combined with other treatments like minoxidil or finasteride for enhanced hair regrowth outcomes.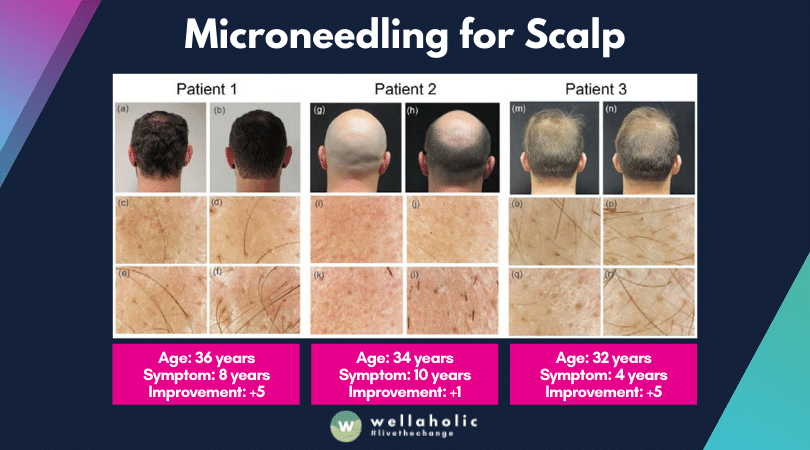 Is Scalp Microneedling for Hair Loss Backed By Science?
There has been numerous research studies which shows the effectiveness of microneedling with Minoxidil for hair growth.
​Study 1: A Randomized Evaluator Blinded Study of Effect of Microneedling in Androgenetic Alopecia: A Pilot Study (2013) [source]
🔵 In 2013, 100 men with Androgenetic Alopecia (AGA) were recruited to take part in a study which tested the effects of microneedling on hair growth. 94 men completed the study.
🔵 The men were randomly split into two groups. The first group, which consisted of 50 volunteers, was treated with both microneedling and minoxidil (5 percent) lotion.
🔵 The second group, which consisted of 44 volunteers, was treated with minoxidil (5 percent) lotion.
🔵 The group which combined Microneedling with Minoxidil application saw a significant hair growth as compared to the minoxidil-only group
Study 2: Response to Microneedling Treatment in Men with Androgenetic Alopecia Who Failed to Respond to Conventional Therapy (2015) [source]
🔵 In 2015, researchers recruited four men who had been on 5 percent minoxidil solution for the past two to five years (9). While their hair loss didn't continue, there were no signs of growth.
🔵 The four men were subjected to microneedling sessions over a six-month period combined with their current therapies.
🔵 A 7-point evaluation scale was used to track results, and the men were followed up with for 18 months to assess treatment sustainability.
The patients experienced a +2 or +3 on the standardised evaluation scale, and new hair growth was noted after 8 – 10 sessions. Even further, these results were sustained over 18 months.
This is the first case series to report the boosting effect of microneedling with respect to new hair follicle stimulation in patients with androgenetic alopecia who were poor responders to conventional therapy.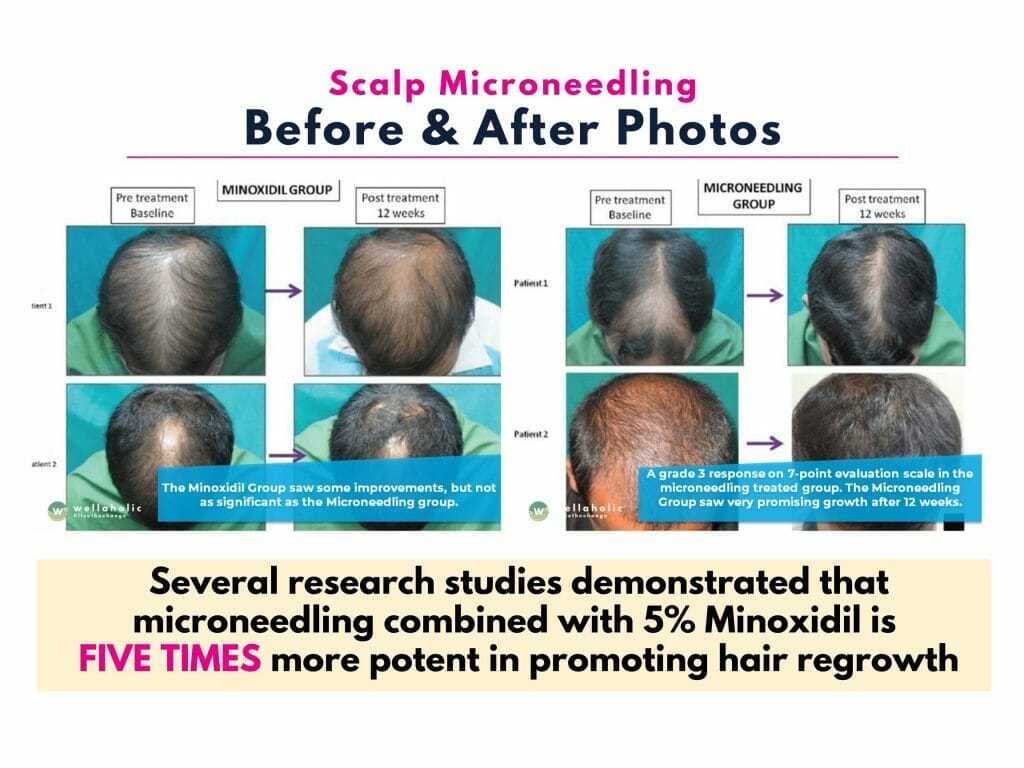 Are There Before and After Photos of the Treatment?
Pricing of Hair Loss Treatments by Wellaholic
💎 Price Transparency. Wellaholic publishes all prices on its website.
💎 Flexible Per-Session or Unlimited Plans. Customers can choose from unlimited monthly hair regrowth plans for the best cost-savings, or per-session hair regrowth price plans.
💎 Mix and Match Easily. Wellaholic's hair regrowth prices are categorized for easy selection.
💎 No Price Shocks. No hidden fees. Pay only for the treatments you receive.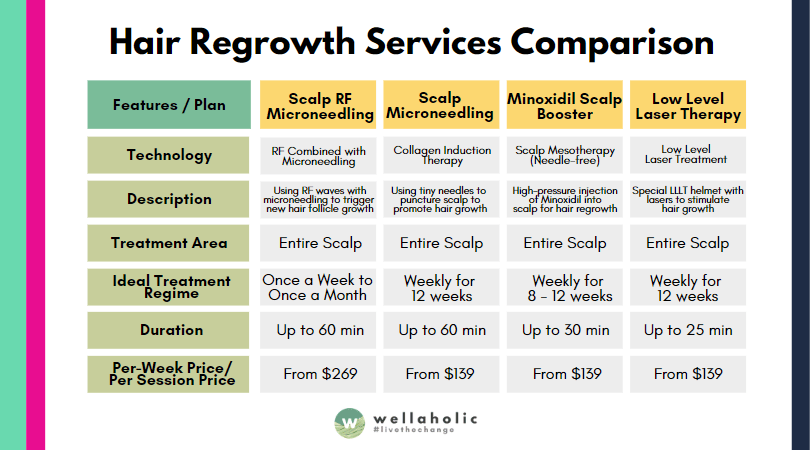 GET IN TOUCH
Book Now Pay Later
Why Wellaholic is One of the Best Hair Loss Treatment Providers in Singapore?
✅ Advanced Hair Regrowth Technologies. Wellaholic offers hair loss treatments with microneedling, RF and laser technologies.
✅ Customised Treatment Plans. Customized hair loss treatment plans based on individual concerns and needs.
✅ Experienced Staff. Wellaholic's experienced therapists use top-of-the-line products and equipment for effective results
✅ Price Transparency with No Hidden Costs. Wellaholic commits to transparent pricing with no hidden costs for all services.
✅ Positive Results from Customers. Wellaholic customers report significant hair growth and improved confidence.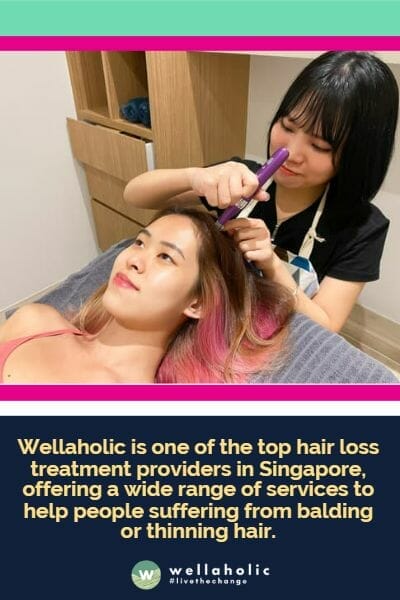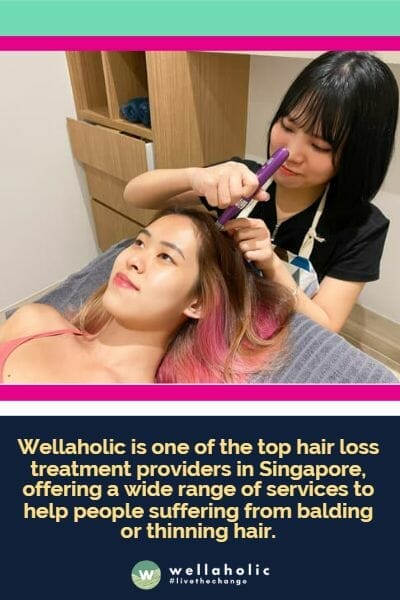 Reason 1: Wellaholic Offers Comprehensive Hair Regrowth Services and Expertise
Wellaholic offers a variety of hair regrowth treatments to suit your needs. Our hair regrowth packages include:
Reason 2: Wellaholic Has Over 2000 Genuine Customer Reviews & Testimonials
✅ Over 50 Awards. Wellaholic's treatments and services have been awarded by top beauty publications such as Daily Vanity, Beauty Insider, and Tropika Club Magazine, spanning from 2018 to 2023.
✅ Over 2000 Verified Customer Reviews. Wellaholic has over 2000 verified positive reviews from our customers in Singapore and beyond.
✅ Verifiable Reviews. The reviews are verified and positive, which indicates the high level of customer satisfaction (see reviews below).
✅ Over 50% Repeat Customers. More than 50% of Wellaholic's customers are repeat and recurring customers.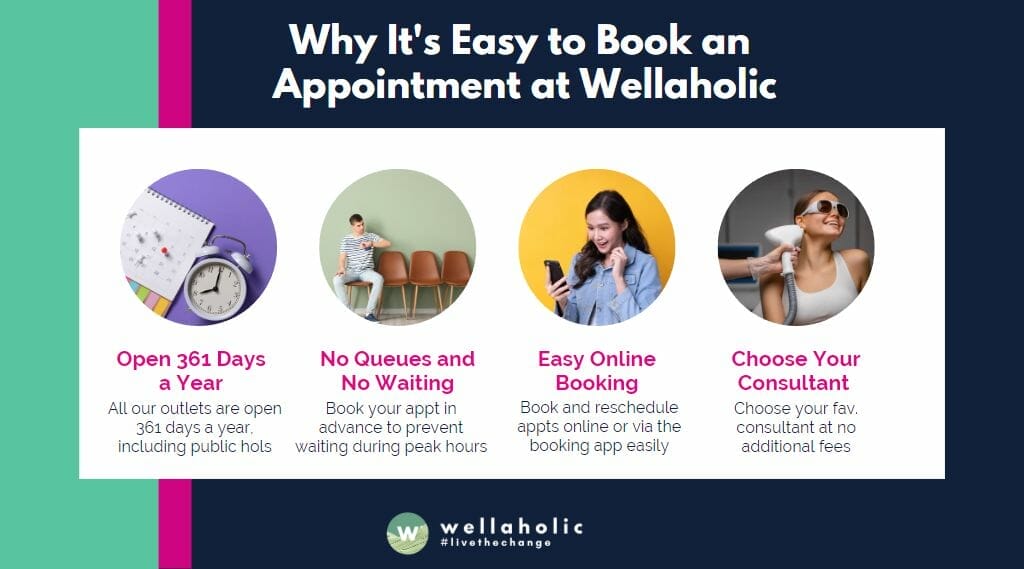 Reason 3: It's Easy to Book an Appointment at Wellaholic
✅ Open 361 Days Per Year. Wellaholic's 8 outlets open 361 days a year, including public holidays, for easy appointment booking.
✅ No Queues. Appointments booked in advance to avoid queues and waiting during peak hours.
✅ Easy Online Booking. Book and reschedule appointments easily online or via app.
✅ No Extra Cost for Choosing Consultant. Choose your preferred consultant without additional fees.
---