Uncovering the Risks of Fat Freezing on Fertility and Pregnancy
Introduction: Uncovering the Risks of Fat Freezing on Fertility and Pregnancy
Singapore has recently seen a surge in the popularity of fat freezing technology, which helps to reduce fat effectively through cryolipolysis or coolsculpting with minimal downtime. However, many people in Singapore (or anywhere else in the world) are unaware of the associated risks that this procedure poses to fertility and pregnancy. This article by Wellaholic seeks to uncover the facts about fat freezing so that individuals in Singapore can make informed decisions about their health and wellbeing. Through reviewing existing research, we will examine the potential implications for fertility and pregnancy for those who use fat freezing treatments.
"Fertility is precious and should never be taken for granted. Take the time to uncover all potential risks before freezing fat."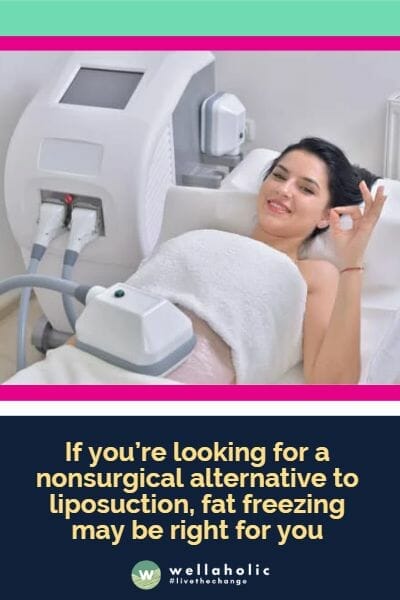 What is Fat Freezing?
Fat freezing, also known as cryolipolysis, is a noninvasive method of body sculpting and fat reduction. It is becoming increasingly popular among those who are looking to shape their bodies with minimal risk and recovery time. This procedure works by using controlled cooling to target and eliminate unwanted fat deposits in areas like the arms, abdomen, thighs, and even chin.
During a fat freezing session, an applicator is used to cool the targeted area to just above freezing temperatures. As the temperature drops below zero degrees Celsius, the fatty cells in that area become crystallized before they die off naturally over a period of several months. The surrounding skin cells remain unharmed as they are more resistant to cold temperatures than fat cells. In addition, no needles or anesthesia are required during this procedure making it relatively painless while still providing excellent results.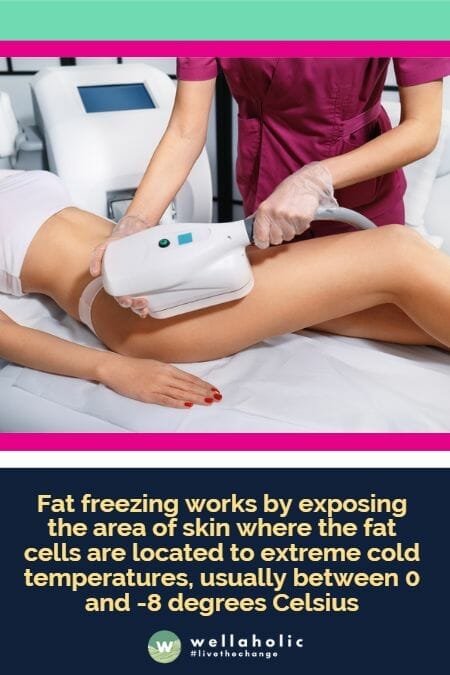 Understanding Fat Freezing and Fertility
Fat freezing is a relatively new procedure that has started to be used to help with fertility. It works by using extreme cold temperatures to destroy fat cells, which are believed to produce hormones that can negatively impact fertility. This procedure is being explored as an alternative option for those who want to increase their chances of conceiving without taking oral or injectable fertility medications.
Fat Freezing Lowers the Temperature to Below Zero Degrees
Fat freezing works by exposing the area of skin where the fat cells are located to extreme cold temperatures, usually between 0 and -8 degrees Celsius. The low temperature causes the fat cells in the area to freeze and eventually die off, leaving behind healthy tissue that can support more efficient functioning of the body's reproductive system. Fat freezing is designed to affect only the fat cells in the skin. The CoolSculpting tool or device is full of sensors that closely monitor temperature and make sure the skin itself isn't permanently damaged. It sucks the skin and fat away from the body, which protects everything beneath.
Understanding Fat Freeze's Effects on Ovarian Function
Understanding the effects of fat freezing on ovarian function is essential for many who are seeking a more natural treatment for infertility. Fat freeze, an FDA-approved non-invasive fat reduction procedure, has been gaining popularity in recent years as a way to reduce body fat and improve aesthetics. But how does this treatment affect ovarian function?
Recent research suggests that the effects of fat freezing on ovarian function may be beneficial in certain cases. Studies have shown that using this technique can increase blood flow to the ovaries, which helps to promote hormone production and healthy ovary functioning. Additionally, it has also been found that fat freezing can help reduce stress levels, which can help regulate hormones and improve fertility. While more research is needed to truly understand the impact of this technique on fertility, it appears that there could be potential benefits for those looking to boost their reproductive health naturally.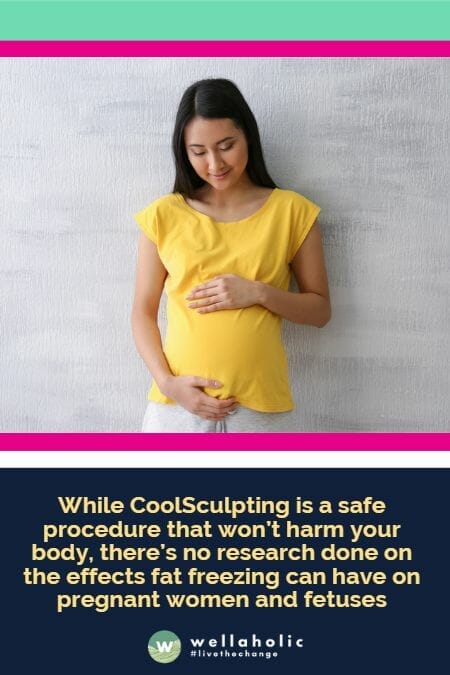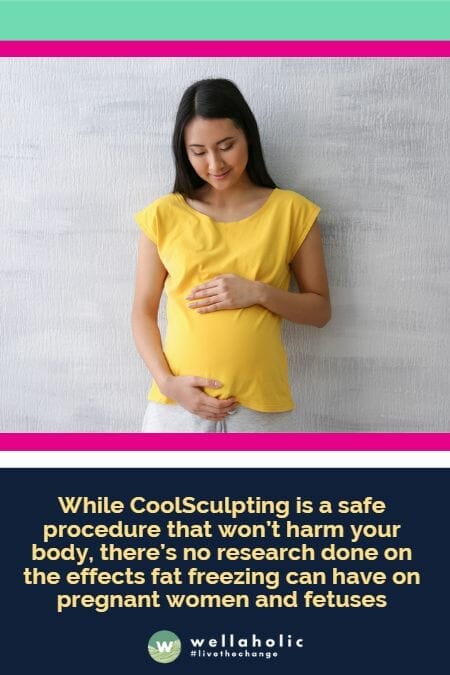 Fat Freeze and Impact on Pregnancy
While Fat Freezing doesn't affect fertility doesn't mean you should get a treatment session while you're actively trying to get pregnant. We discourage getting cryolipolysis if you're actively trying to get pregnant. If you're trying, there's a risk that you may unknowingly be pregnant while getting fat freezing.
Pregnant Women Should Abstain from Fat Freezing
Pregnant women shouldn't get fat freezing either. While CoolSculpting is a safe procedure that won't harm your body, there's no research done on the effects fat freezing can have on pregnant women and fetuses. Hence, in order to to avoid any unknown risk to you or your child, most fat freezing professionals don't offer CoolSculpting if you're pregnant.
---
Fat Freezing Risks to Unborn Babies
While we would not recommend fat freezing to anyone who is already pregnant — simply because (as mentioned previously), most professionals would never recommend unnecessary procedures to pregnant women — you shouldn't worry. CoolSculpting's patented cryolipolysis technique, which freezes the fat cells and sends them into a slow death cycle, is only low enough to damage fat cells. The fat freezing treatment does not affect surrounding tissues or organs. Be sure to consult an gynecologist, and mention your fat freezing treatments to them, but don't worry about it. After you've delivered a healthy baby and lost the baby weight, you can safely resume your fat freezing treatment.
Wellaholic as an Experience Provider of Slimming Treatments in Singapore
Wellaholic is a Singapore-based beauty and wellness company that offers various aesthetic treatments, including fat freezing, which is also known as Cryolipolysis. As a provider of fat freezing treatments in Singapore, we offer a range of advanced fat freeze treatments, such as WellaFreeze™ 360, that use state-of-the-art technology to target and eliminate unwanted fat deposits in different areas of the body.
Experience in Providing Safe and Effective Fat Freezing Treatments
In terms of expertise, Wellaholic is well-equipped with professionals who have undergone extensive training and are experienced in providing safe and effective fat freezing treatments. We also uses advanced technology to ensure that their treatments are efficient and comfortable for their clients. Moreover, Wellaholic has received positive reviews from clients who have undergone their fat freezing treatments, which further highlights our expertise and credibility as a provider of fat freezing treatments in Singapore.
Always Important to Consult a Healthcare Professional
However, it is important to note that fat freezing treatments, like any medical procedure, do come with potential risks and limitations. It is important to consult with a healthcare professional to determine if fat freezing is a suitable option for an individual's specific needs and medical history.
Conclusion
In conclusion, fat freezing can present certain risks to fertility and pregnancy. It is important to weigh the potential benefits of fat freezing with the potential health risks in order to make an informed decision before undergoing the procedure. Additionally, those considering fat freezing should consult with a healthcare professional to ensure they are a good candidate for the procedure and that their goals are realistic and achievable.
---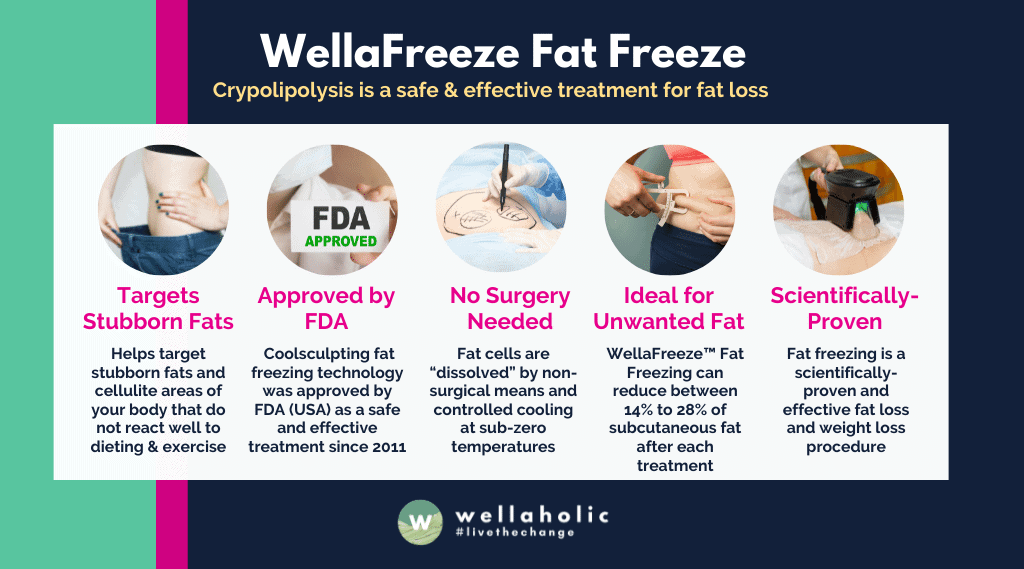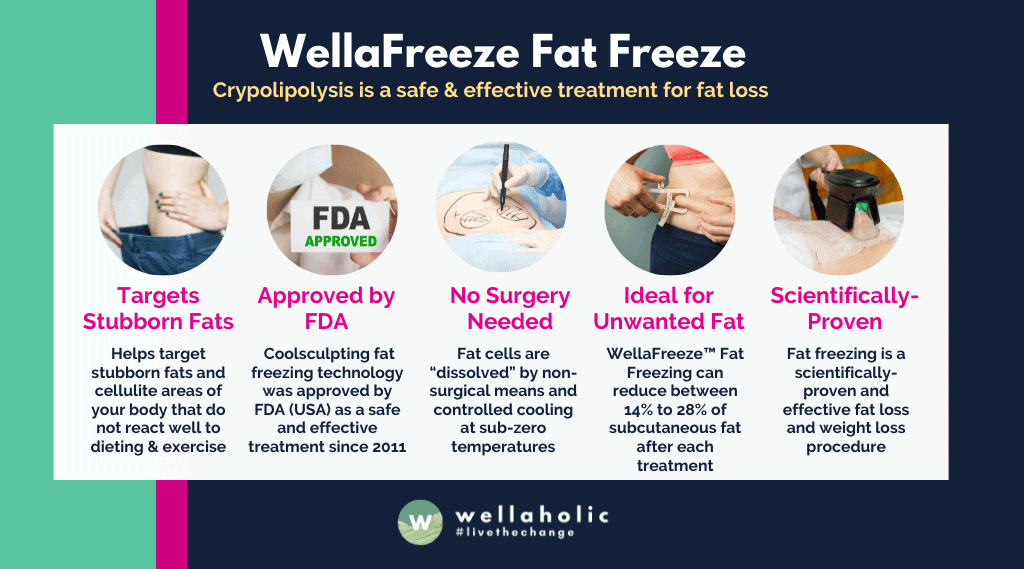 What is WellaFreeze™ 360 Advanced Fat Freezing?
WellaFreeze™ 360 Fat Freezing is the latest innovation in fat freezing. It uses a newer Cryolipolysis model over the traditional WellaFreeze cryolipolysis machine.
WellaFreeze™ 360 Fat Freezing helps target the stubborn fat and cellulite areas of your body that do not react well to exercise and dieting.
WellaFreeze™ 360 Fat Freezing "dissolves" fat cells controlled cooling at sub-zero temperatures.
WellaFreeze™ 360 Fat Freezing with its newer technology can remove between 17% to 34% of subcutaneous fat from each session.
WellaFreeze™ 360 Fat Freezing can treat up to 4 body parts concurrently.
WellaFreeze™ 360 Fat Freezing takes only 30 minutes per session, due to increased freezing efficiency.

WellaFreeze™ 360 uses 360 probes which can freeze and reduce up to 34% of body fat per session with no or minimal bruising to the body.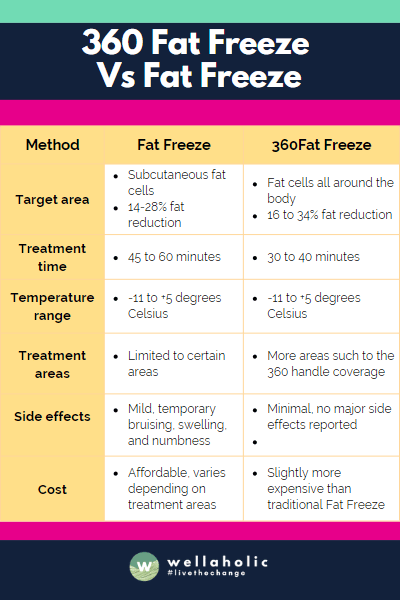 Why Choose WellaFreeze™ 360 Advanced Fat Freeze?
Latest 4th Generation Freezing. WellaFreeze™ 360 advanced fat freezing uses the latest fat freeze technology and is designed for customers who wants to achieve highest fat reduction with fat freezing.
Up to 34% Fat Loss Each Session. Increase in percentage of fat loss due to newer technology and coverage.
360° Surround Cooling Technology. The handles or cooling cups can be adjusted to fit all body curves and contouring for best freezing.
Breathing Technology Reduces Bruising. "Breathing" technology improves freeze while minimising bruising from the suction.
Shorter Time Needed. Each duration is reduced from typical 60 minutes to just 30 minutes.
WellaFreeze™ Fat Freezing Can Target the Following Body Parts
Stomach / Belly / Tummy / Abdomen
Love Handles / Flanks
Under the Neck / Double Chin
Back / Bra Area
Thighs
Male Chest (Pseudo gynecomastia)
Arms
Under Buttocks (Banana Roll)
Pricing of Slimming Treatments by Wellaholic
Price Transparency. Wellaholic offers pricing transparency by publishing and updating all prices on our website.
Flexible Per-Session or Unlimited Plans. Customers can choose from unlimited monthly or per-session slimming price plans.
Mix and Match Easily. Wellaholic's slimming prices are divided into different categories for easy selection.
No Price Shocks. Customers can expect to pay only for the treatments provided instead of being surprised by additional fees or charges at the end of their slimming session.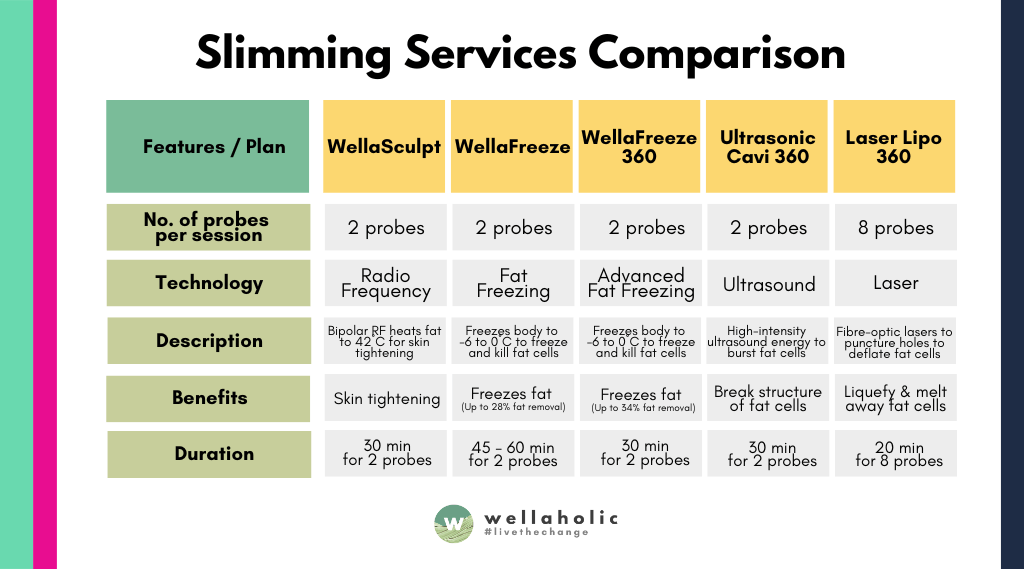 ---
Why Wellaholic is One of the Best Slimming Treatment Providers in Singapore?
Leading Slimming Chain in Singapore. Wellaholic is a leading slimming and body contouring chain in Singapore that is highly sought after by customers.
Quality & Safe Treatments. The company is committed to providing quality and safe treatments with experienced staff.
Wide Range of Slimming Treatments. Wellaholic offers a wide range of slimming treatments for various body parts including chin, upper arms, front armpit fat, bra line, gynecomastia, back, upper abdomen, lower abdomen, love handles, underbutt, thighs and knees.
Trained & Experienced Consultants. All treatments are performed by trained professionals who understand the skincare needs of both female and male customers.
Advanced Slimming Technology. Advanced slimming technologies such as ultrasound, Cryolipolysis, radio frequency and cold wave lasers are used to ensure a safe experience with no downtime or discomfort during the entire process.
Most Affordable Provider. Wellaholic provides competitive pricing for its treatments which makes it one of the most affordable providers in Singapore.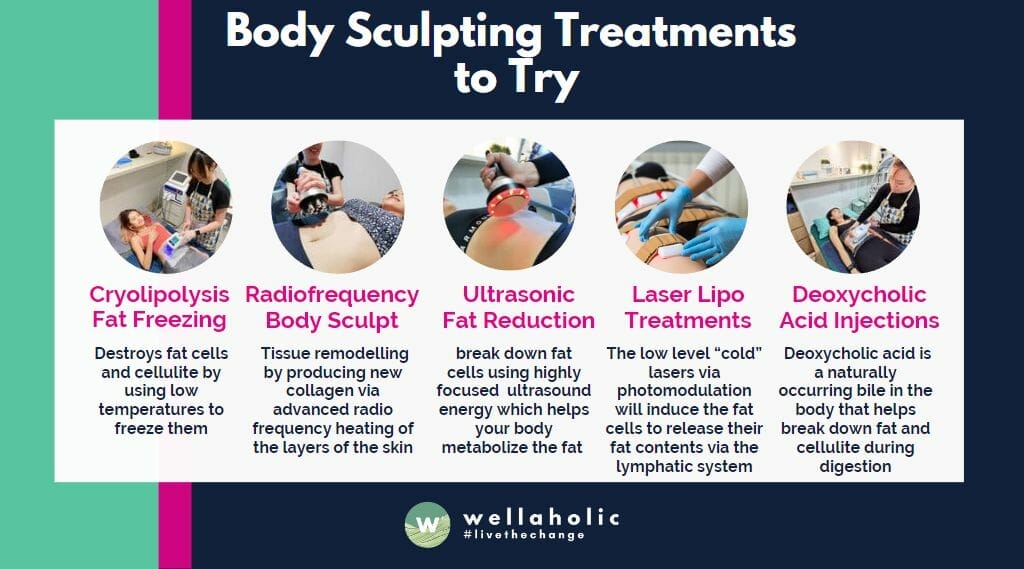 Reason 1: Wellaholic Offers Comprehensive Slimming Services and Expertise at Affordable Prices
Wellaholic offers different types of slimming treatments for your fat management needs. Our slimming packages can be broken down into the following categories:
WellaShape Double Slimming Plan

Double slimming plan combining 2 slimming technologies at a discounted price.
Freeze fat via WellaFreeze™ 360 advanced fat freezing.
Then choose 1 other slimming treatment.
Most cost-effective slimming combo plan.

WellaFreeze 360 Advance Fat Freeze

Latest fat freeze technology with improved freezing and coverage area.
Efficient freeze reduces treatment time to just 30 minutes per session.
Each session can remove up to 34% subcutaneous fat.
Each session includes 2 handles/probes to target 2 body parts concurrently.
Interchangeable probes to effectively target different body areas & curves.
"Breathing" technology regulates vacuum suction to minimise bruising.

WellaFreeze Fat Freezing

Original fat freeze technology, also known as CoolSculpting.
Uses sub-zero temperature to freeze and eliminate fat cells.
Each session can reduce up to 28% subcutaneous fat.
Each session takes about 45 minutes to 60 minutes per session.

WellaSculpt RF Body Sculpting

Advanced RF energy to heat and tighten loose skin.
Ideal for body sculpting and body sculpting.
Works well when used in conjunction with fat freezing.
Each session includes 2 body parts and takes 30 minutes.

Ultrasonic Cavi 360

Ultrasound fat cavitation to vibrate and burst the fat deposits.
Ideal for targeting fats that is less "pinchable" and deeper in the body.
Can lead to reduction of body mass (1cm to 3cm) in as little as 3 treatments.
Each session includes 2 body parts and takes 30 minutes.

Laser Lipo 360

Cold wave lasers to eliminate fat with no downtime.
Fat cells absorb laser energy, causing fat to escape from fat cell membrane.
Each session comes with 8 laser plates for various body parts.
Each session takes 25 minutes.
Compliments other slimming treatments.
You can refer to the table below for a breakdown of Wellaholic's various slimming services and how they can meet your slimming objectives. Our customers generally combine several treatments for the best slimming and body contouring outcome.
Slimming Treatment
Features
Ideal For Customers Who
WellaShape Double Slimming
WellaFreeze 360 + 1 Other Slimming Treatment
– Want quick results
– Want to combine 2 treatments at discount
WellaFreeze 360 Advance Fat Freeze
Latest fat freeze technology with 360 handle coverage
– Want up to 34% fat loss
– Want less bruising
WellaFreeze Fat Freeze
Original fat freeze technology with 2 freeze plates
– Want to try fat freezing for first time
WellaSculpt RF Body Sculpting
Advanced RF energy to tighten loose skin
– Want to get rid of loose skin
– Want to tone the body
Ultrasonic Cavi 360
Ultrasound fat cavitation to vibrate and burst the fat deposits
– Want to target fat that is less "pinchable"
Laser Lipo 360
Cold wave lasers to eliminate fat with no downtime
– Want to shrink fat cells in conjunction with other treatments
Stretch Mark Microneedling
Remove appearance of stretch marks using multiple micro-needles
– Want to remove the appearance of stretch marks (fat loss / pregnancy)
Comparison Between Wellaholic's Various Slimming Services
Reason 2: Wellaholic Has Over 50 Awards and 2000 Genuine Customer Reviews
Over 50 Awards. Wellaholic's WellaFreeze 360 and Ultrasonic Cavi 360 have been recognized by top beauty publications such as Daily Vanity, Beauty Insider, and Tropika Club Magazine, earning prestigious awards from 2018 to 2023.
Over 2000 Verified Customer Reviews. Wellaholic has over 2000 verified positive reviews from our customers in Singapore and beyond.
Verifiable Reviews. The reviews are verified and positive, which indicates the high level of customer satisfaction (see reviews below).
Over 50% Repeat Customers. More than 50% of Wellaholic's customers are repeat and recurring customers.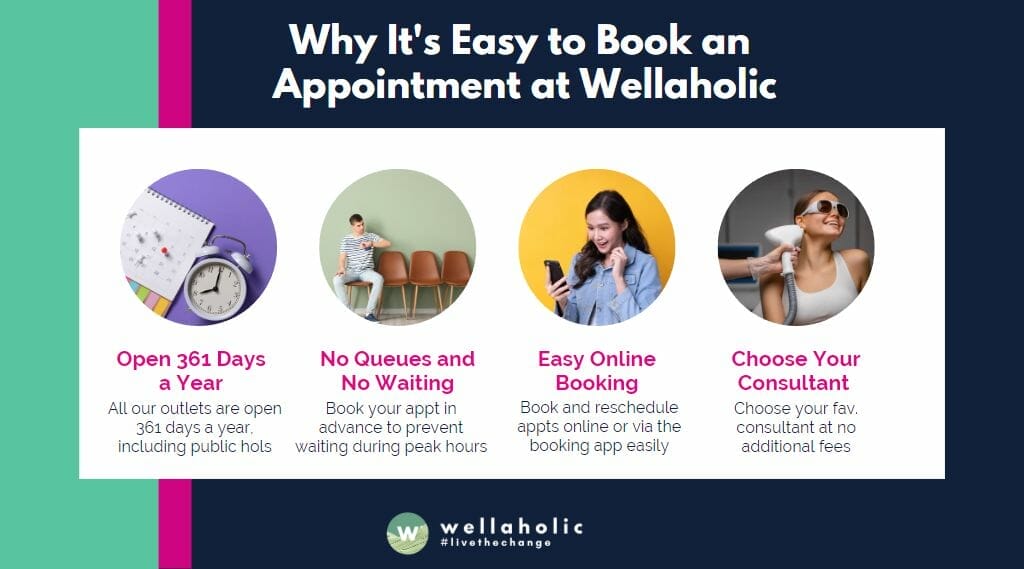 Reason 3: It's Easy to Book an Appointment at Wellaholic
Open 361 Days Per Year. Wellaholic's 8 outlets are open 361 days a year, including public holidays, so that customers can easily book an appointment.
No Queues. All appointments are booked in advanced to prevent the need to queue and wait unnecessarily during peak hours.
Easy Online Booking. Customers can conveniently book and reschedule appointments online or via the booking app.
No Extra Cost for Choosing Consultant. Customers can select their preferred consultant without having to pay any additional fees.
---