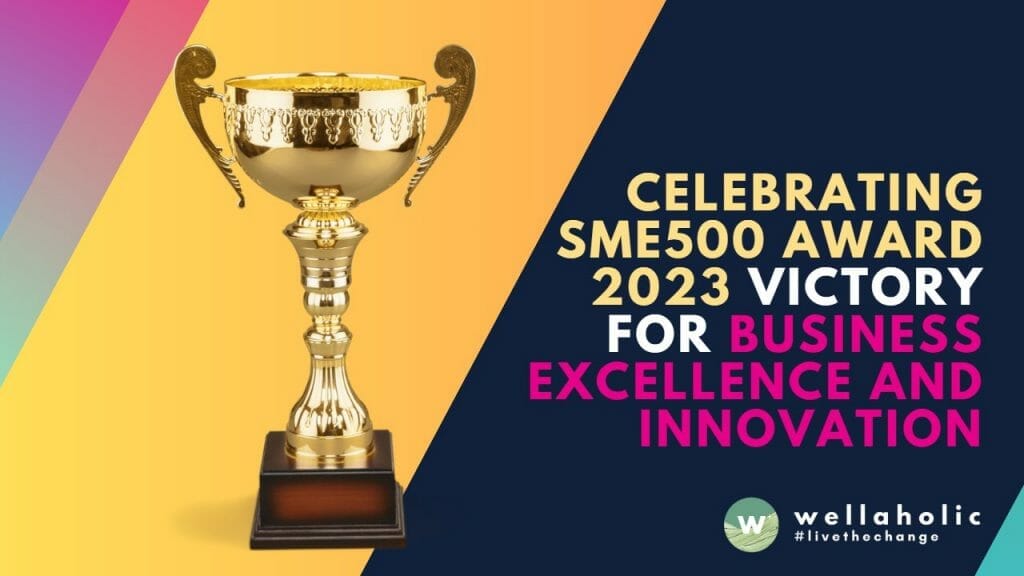 Wellaholic: Celebrating SME500 Award 2023 Victory for Business Excellence and Innovation
Introduction
Wellaholic, an innovative leader in Singapore's beauty, health, and wellness industry, has recently clinched the prestigious SME500 Award in 2023. This incredible achievement highlights our unwavering dedication to business excellence and continuous innovation. Our journey began as a humble start-up facing numerous challenges, but through sheer determination and passion, we managed to grow into an award-winning enterprise. At the heart of Wellaholic's success lies our commitment to customer satisfaction, use of cutting-edge technology, and evidence-based techniques, with transparent pricing and no hard selling.
The significance of the SME500 Award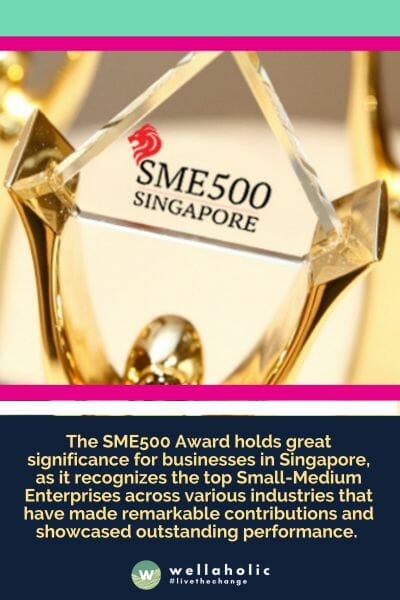 Understanding the Importance of the SME500 Award. The SME500 Award holds great significance for businesses in Singapore, as it recognizes the top Small-Medium Enterprises across various industries that have made remarkable contributions and showcased outstanding performance. This highly regarded business accolade is a testament to a company's ability to excel in key areas such as management, innovation, and financial stability.
For Wellaholic, earning the SME500 Award is a validation of our hard work and dedication to providing exceptional products and services in the beauty, health, and wellness sector. This prestigious honor not only cements our position as a leader in the industry but also affirms our unwavering commitment to business excellence. With the SME500 Award under our belt, Wellaholic can now leverage this accolade to gain greater credibility, trustworthiness, propelling us towards further growth and success.
The Singapore SME 500 Award
A Closer Look at the Singapore SME 500 Award. The Singapore SME 500 Award is a prestigious honor that recognizes outstanding local enterprises for their business excellence and potential for international expansion. This coveted accolade is a symbol of a company's ability to thrive in its respective industry, setting the benchmark for success and growth among Small-Medium Enterprises in Singapore.
The Rigorous Assessment and Selection Process. To ensure that only the most deserving businesses are recognized, the Singapore SME 500 Award employs a rigorous assessment and selection process that evaluates both quantitative and qualitative aspects of a company's performance. This comprehensive evaluation takes into account various factors, such as financial stability, management effectiveness, innovation capabilities, and overall market presence. As a result, companies that receive the Singapore SME 500 Award are regarded as industry leaders that have demonstrated exceptional prowess in their respective fields.
How Wellaholic Demonstrated Business Excellence
Strong Financial Performance: A Solid Foundation for Growth. Wellaholic's impressive financial performance throughout its fiscal years is a testament to the company's solid foundation and ability to grow in a competitive market. This strong financial footing has enabled the company to continue expanding and developing new products and services while maintaining a high level of customer satisfaction.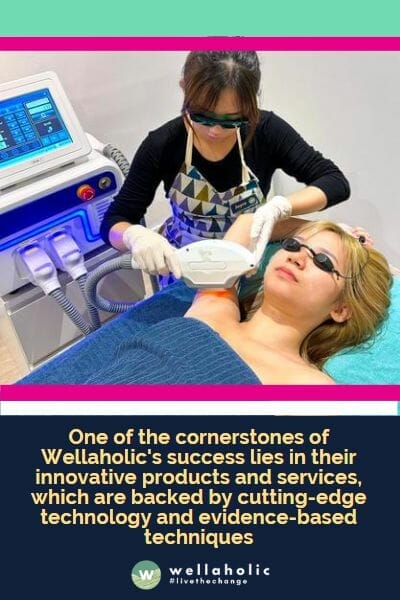 Innovation in Products and Services: Setting Wellaholic Apart. One of the cornerstones of Wellaholic's success lies in our innovative products and services, which are backed by cutting-edge technology and evidence-based techniques. By constantly pushing the boundaries of what's possible, Wellaholic has managed to set itself apart from competitors and establish itself as a leader in the beauty, aesthetics, and wellness industry.
Effective Management and Leadership: Steering the Company Towards Success. Lastly, the effective management and leadership at Wellaholic have played a vital role in steering the company towards its goals while adapting to the ever-changing market demands. By nurturing a culture of innovation, accountability, and continuous improvement, Wellaholic's leadership team has been able to guide the company to new heights and secure its place as an award-winning enterprise.
Wellaholic's Journey: From Start-up to Award-Winning Enterprise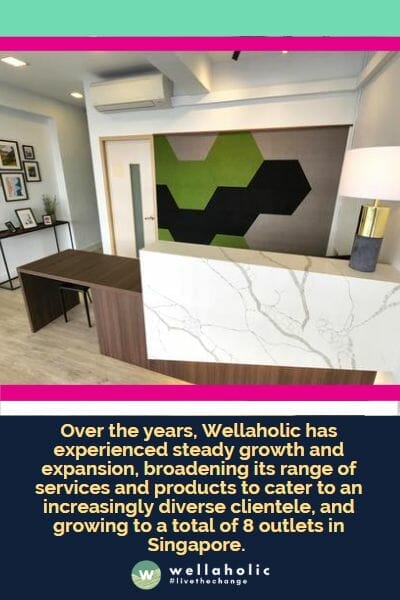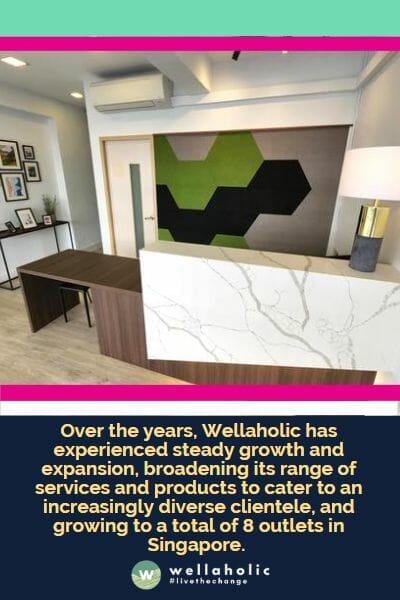 The Early Days and Challenges: Building Resilience and Adaptability. In its humble beginnings, Wellaholic faced numerous challenges that tested the company's resilience and adaptability, ranging from starting with a lack of credibility as a relatively unknown new player in the market, to the COVID pandemic lockdown. Despite these initial hurdles, the company persevered, learning from setbacks and continuously refining its business model to better serve its customers.
Steady Growth and Expansion: Catering to a Diverse Clientele. Over the years, Wellaholic has experienced steady growth and expansion, broadening its range of services and products to cater to an increasingly diverse clientele, and growing to a total of 8 outlets in Singapore. This growth has allowed the company to not only meet the ever-evolving needs of its customers but also to stay ahead of industry trends and competition.
Achieving Industry Recognition: A Milestone in Wellaholic's Journey. Wellaholic's recent victory in the SME500 Award 2023 is a significant milestone in the company's journey, affirming its position as a leading player in the beauty, aesthetics, and wellness industry. This prestigious award serves as a testament to the company's unwavering commitment to business excellence and innovation, as well as its dedication to transforming lives through beauty, health, and wellness.
Key Factors Contributing to Wellaholic's Success
Unwavering Commitment to Customer Satisfaction: Building a Loyal Client Base. At the core of Wellaholic's success is our unwavering commitment to customer satisfaction, as attested by over 2000 positive and verifiable customer reviews. By consistently delivering exceptional services and personalized experiences, the company has been able to build a loyal client base, creating long-lasting relationships with its customers and fostering a strong sense of trust and reliability. In fact, more than 60% of Wellaholic's customers are repeat customers.
Cutting-Edge Technology and Evidence-Based Techniques: Staying Ahead of the Curve. Wellaholic's use of advanced technology and evidence-based methods has played a critical role in its success. By staying at the forefront of industry advancements, the company has been able to provide innovative solutions and cutting-edge treatments that not only meet but often exceed customer expectations, setting it apart from its competitors.
Comprehensive Range of Services and Products: A One-Stop Solution for Beauty, Health, and Wellness. Another key factor contributing to Wellaholic's success is its comprehensive range of services and products. By offering an extensive selection of treatments and solutions, the company caters to a wide range of user personas, making it a one-stop destination for all our beauty, health, and wellness needs. This all-encompassing approach has allowed Wellaholic to reach a diverse audience and establish itself as a trusted, go-to brand in the industry.
The Impact of Wellaholic's Award-Winning Services
Transforming Lives through Beauty, Health, and Wellness. Wellaholic's award-winning services have had a profound impact on countless lives, empowering individuals to look and feel their best. By providing top-notch treatments, Wellaholic has not only helped customers achieve their beauty and wellness goals but also boosted their confidence and overall well-being.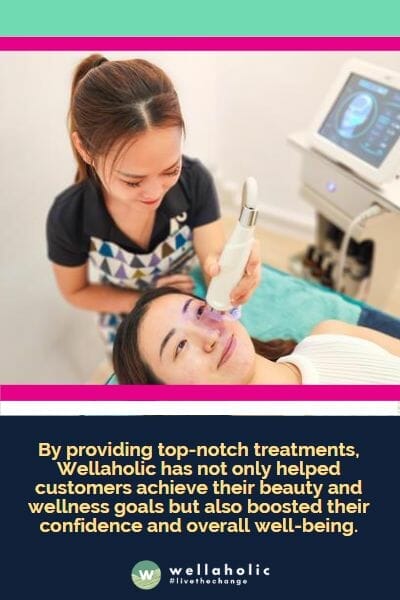 Catering to Diverse User Personas: Personalized Approach to Addressing Individual Needs. The brand's wide range of offerings ensures that it caters to various user personas, providing a personalized approach to addressing individual needs and preferences. This flexibility allows Wellaholic to adapt to the unique requirements of its customers and deliver customized solutions that best suit their goals, making the brand an essential partner in their beauty, health, and wellness journey.
Fostering a Community of Wellness Enthusiasts: Promoting a Holistic Approach to Well-Being. Wellaholic has successfully cultivated a supportive community of wellness enthusiasts, united by a shared passion for a holistic approach to well-being. Through its services, the brand has inspired individuals to embrace a healthy lifestyle and prioritize self-care, resulting in a positive ripple effect that extends beyond its clientele, promoting wellness throughout the broader community.
Expanding Regionally: Wellaholic's Regional Ambitions
Leveraging the Singapore SME 500 Award as a Stepping Stone. The prestigious SME500 Award serves as a launchpad for Wellaholic's regional ambitions, providing the company with credibility and recognition that will undoubtedly facilitate its international expansion. This accolade highlights Wellaholic's commitment to business excellence and innovation, making it an attractive partner for potential collaborators in the Asia Pacific region.
Exploring International Markets: Expanding Reach and Impact. Wellaholic is actively exploring opportunities in regional markets, seeking to expand its reach and impact beyond Singapore's borders. By identifying strategic locations and adapting its offerings to cater to different cultures and preferences, the company is poised to make a significant mark on the global beauty, health, and wellness industry.
Conclusion
In conclusion, Wellaholic's victory in the SME500 Award 2023 is a testament to our unwavering commitment to business excellence and innovation. This prestigious recognition highlights the company's dedication to providing outstanding products and services in the beauty, health, and wellness sector. As Wellaholic continues to excel, our SME500 Award victory will serve as both an inspiration and a stepping stone for future growth and expansion, both locally and regionally.
---
WellaSmooth™. Pay One Low Price for Hair Removal for All Body Parts with Unlimited SHR Shots
⭐ Unbeatable Value and Quality. WellaSmooth is the all-inclusive hair removal solution you've been waiting for.
⭐ Shave, Remove and Whiten. WellaSmooth includes full body shaving, hair removal, and whitening to prevent hyperpigmentation.
⭐ Say Goodbye to Hair Removal Hassles. WellaSmooth delivers permanent, fuss-free results.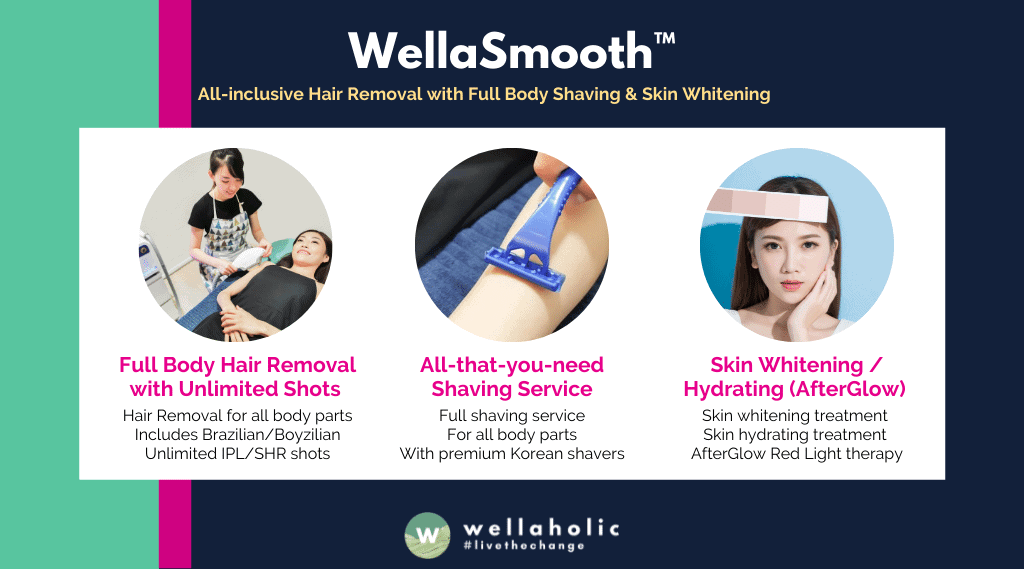 WellaSmooth™ Includes the Following 3 Hair Removal Services
Wellaholic's Wellaholic All-inclusive Hair Removal regime includes the following three services:
⭐ SHR Permanent Hair Removal PRESTIGE Unlimited – Get unlimited SHR hair reduction treatments for all body parts.
⭐ Unlimited Shaving Service – Shave all you want, anywhere on your body.
⭐ Skin Whitening/Hydrating with AfterGlow – Get post-treatment whitening or hydrating therapy followed by red-light treatment to rejuvenate your skin.


Why Choose Wellaholic WellaSmooth™?
⭐ SHR Diode Laser. Targets all skin types with 755nm, 808nm, and 1064nm laser wavelengths..
⭐ SHR is better than IPL for Asian skin. It is more effective, less painful, and without the discomfort associated with IPL.
⭐ Unlimited Shots. We use as many as needed to target hair follicles effectively.
⭐ Award-Winning. Wellaholic's WellaSmooth and SHR Hair Removal have won multiple awards from top beauty publications.
⭐ Ideal for All Skin and Hair Colors. WellaSmooth works on everyone.
⭐ For Everyone. Wellaholic has a team of skilled therapists, both male and female, to attend to your needs.
2000+ Positive Reviews – See What Our Customers Are Saying!
Wellaholic is a reliable and trustworthy aesthetic chain with over 2000 positive reviews. See why our hair removal services have won numerous awards.
Pricing of Hair Removal Treatments by Wellaholic
💎 Price Transparency. All prices are published and updated on our website.
💎 Flexible Plans. Choose from unlimited monthly or per-session hair removal plans.
💎 Easy to Choose. Mix and match hair removal services from different categories.
💎 No Hidden Fees. Pay only for the treatments you receive.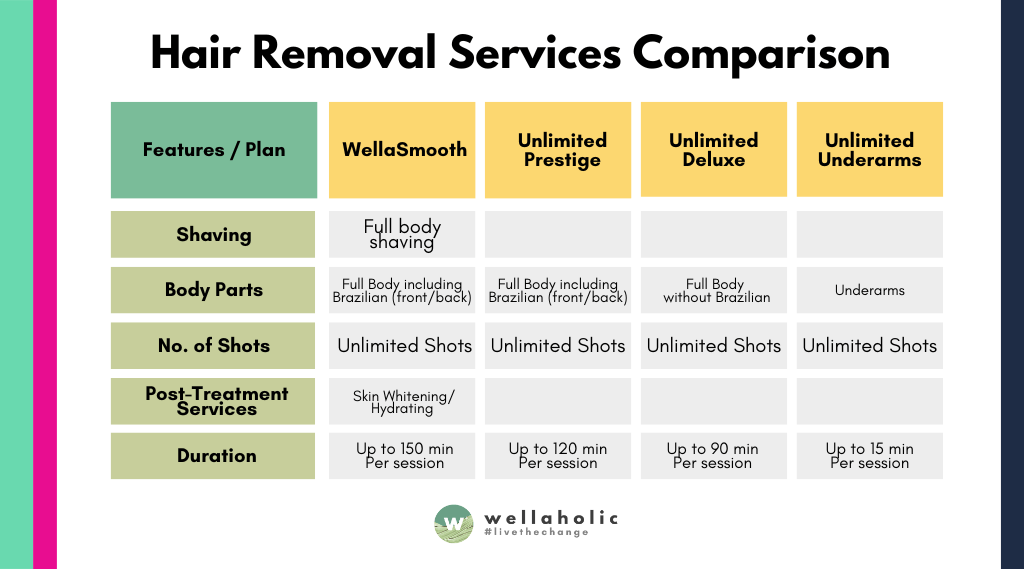 GET IN TOUCH
Book Now Pay Later
Why Wellaholic is One of the Best Hair Removal Providers in Singapore?
✅ Leading Singapore Hair Removal Chain. Wellaholic is a popular hair removal company in Singapore.
✅ Quality & Safe Treatments. Wellaholic is committed to quality, safe treatments with experienced staff..
✅ Wide Range of Hair Removal Treatments. Wellaholic offers laser hair removal for various body parts, including Brazilian, underarm, arms, back, shoulders, and legs.
✅ Trained & Experienced Consultants. All treatments are performed by trained professionals who understand skincare needs for both genders.
✅ SHR Technology. Advanced SHR technology provides a safe, comfortable, and painless hair removal experience. .
✅ Most Affordable Provider. Wellaholic offers competitive pricing, making it one of the most affordable providers in Singapore.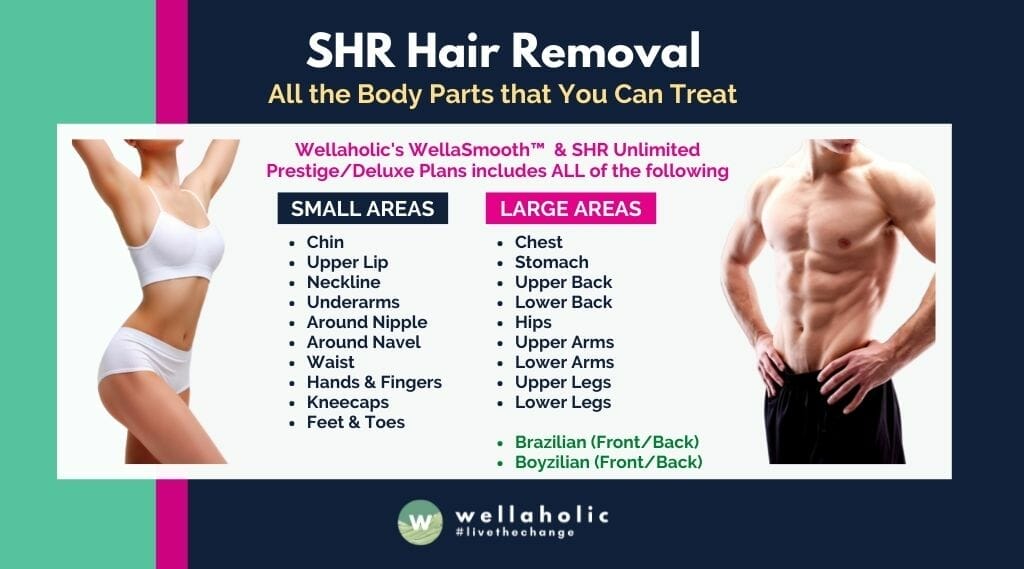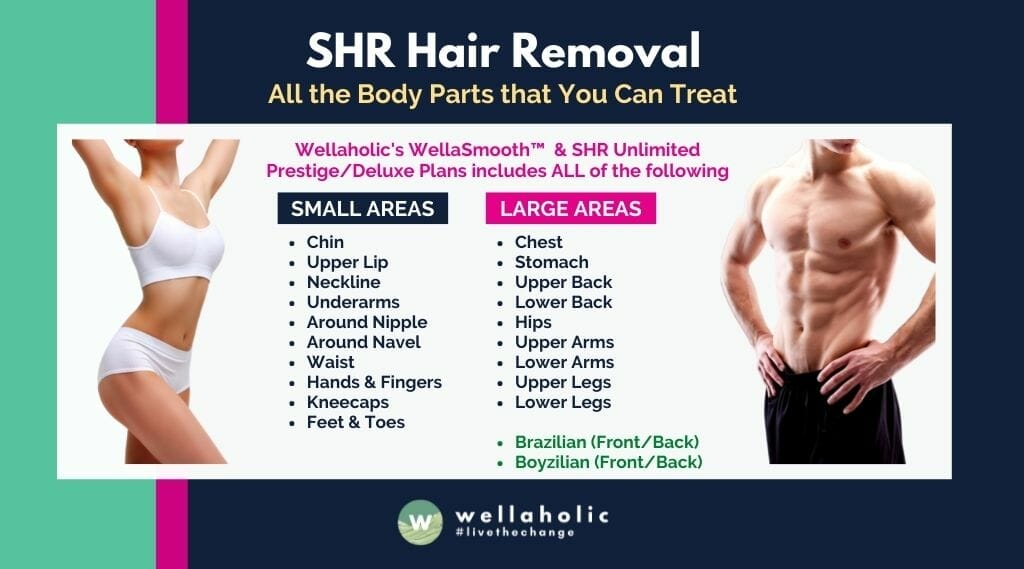 Reason 1: Wellaholic's Unlimited Plans Save You Money
✅ Unlimited Hair Removal. Wellaholic offers unlimited hair removal plans with unlimited shots.
✅ Pay One Price for All Body Parts. Customers pay one price for unlimited hair removal on all body parts.
✅ Huge Cost Savings. Huge cost savings with unlimited plan. No separate fees for different body parts.
Reason 2: Wellaholic is a Trusted and Award-winning Hair Removal Chain with Over 2000 Positive Reviews.
✅ Over 50 Awards. Wellaholic's WellaSmooth and SHR Hair Removal have won over 50 awards from top beauty publications from 2018 to 2023..
✅ Over 2000 Verified Customer Reviews. Wellaholic has over 2000 positive reviews from customers around the world. .
✅ Verifiable Reviews. Positive reviews indicate high customer satisfaction. (See reviews below).
✅ Over 50% Repeat Customers. More than 50% of Wellaholic's customers are repeat and recurring customers.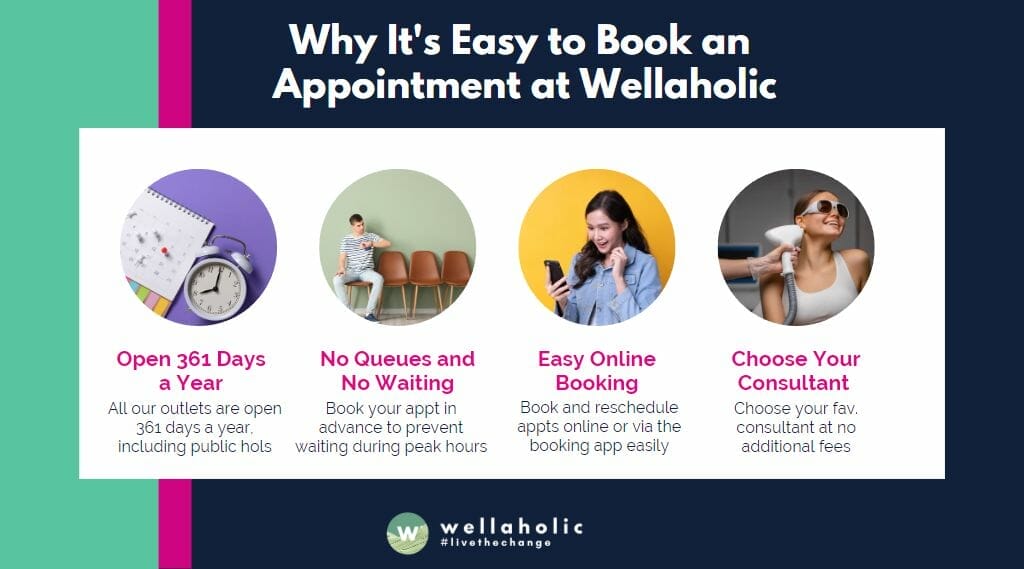 Reason 3: It's Easy to Book an Appointment at Wellaholic
✅ Open 361 Days Per Year. Wellaholic's 8 outlets are open 361 days a year, including public holidays for easy bookings.
✅ No Queues. Book appointments in advance to avoid long wait times.
✅ Easy Online Booking. Customers can conveniently book and reschedule appointments online or via the booking app.
✅ No Extra Cost for Choosing Consultant. Customers can choose their preferred consultant for free. .
---