Wellaholic February Member Specials
February is Wellaholic Members' Month with Free Treatments!
Welcome to February, the perfect month for Wellaholic members! This month, we are celebrating our members with some special free treatments or heavily discounted treatments. All of our loyal customers can benefit from this generous offer – with no catch! We're excited to give back to our community and show our appreciation for all of your loyal support over the years.
Whether you're looking for a free facial, teeth whitening or a hair regrowth treatment, now is your chance to experience some of our treatments free of charge!
Wellaholic Lifetime Members enjoy FREE treatments (1 session each)
Wellaholic Prestige Members enjoy 70% OFF treatments (1 session each)
Wellaholic Deluxe Members enjoy 50% OFF treatments (1 session each)
Wellaholic Membership is Free!
Wellaholic Membership Program provides our loyal customers additional perks and benefits. Emjoy amazing cashback and special offers. Membership comes in two annual tiers (DELUXE and PRESTIGE), as well as a special LIFETIME tier. The memberships provides our regular and loyal customers added value via attractive cashback rebates, as well as monthly product and service specials. Members also get to enjoy a large variety of benefits such as our 5% to 30% cashback rebates system.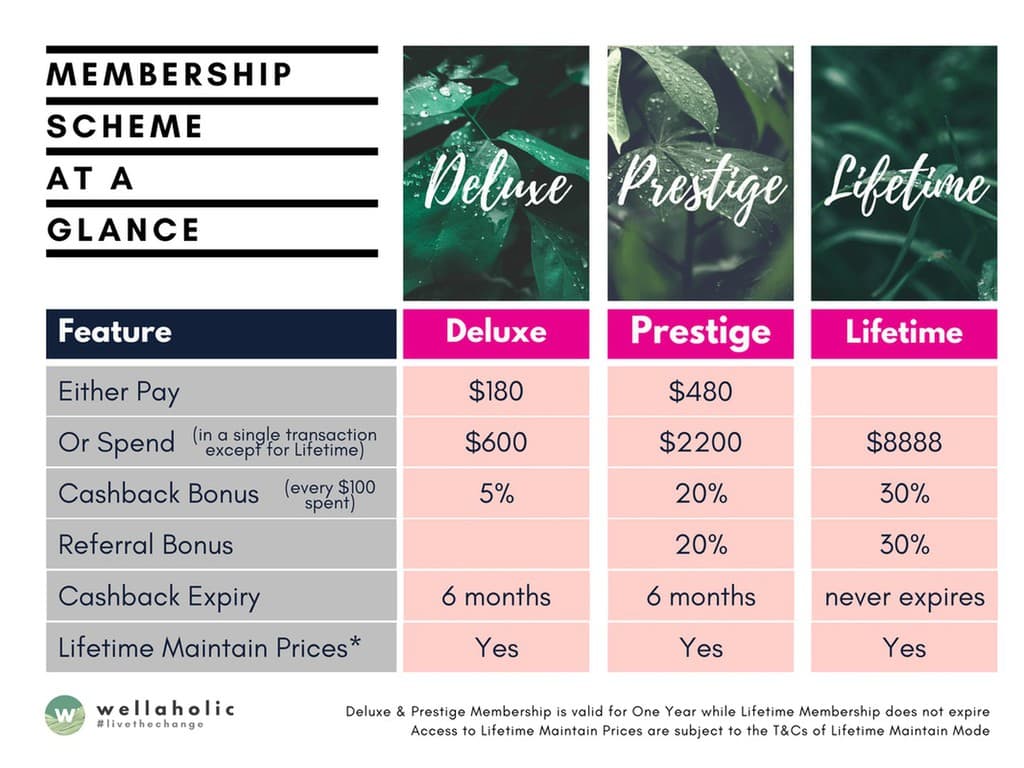 Special Lifetime Membership Tier
Our special Lifetime Membership Tier comes with exclusive lifetime benefits including 30% cashback points that never expire, as well as permanent access to the attractive lifetime maintain mode prices. Our Lifetime Members also do not get penalised for last minute bookings, and enjoy priority customer concierge and dedicated support team for all your booking requirements
Terms & Conditions
Promotion is valid from now till 24 February 2023 for all active members.
The treatment(s) must be purchased and used before 24 Feb 2023 (i.e., members cannot purchase the treatment for future usage).
Members can choose to use 1, 2 or all 3 treatments, but only 1 session for each treatment.
This promotion/special is applicable for the member only (i.e., members cannot transfer the treatment to another person)
Customers can choose to qualify for membership status to enjoy this promo, as long as as the treatments are used by 24 Feb 2023.
No further discounts/vouchers/credits can be applied to this promo.
Member's Cashback cannot be applied to this promo (no cashback earn / no cashback redemption).
Wellaholic reserves the right to end the promotion earlier than the target date.
See Over 1800 Positive Reviews of Wellaholic (Customer Verifiable)
---