Wellaholic's Full Guide to Brazilian Hair Removal
---
What is Brazilian Hair Removal?
When it comes to eliminating unwanted hair in your private areas and get rid of your pubic hairs , laser hair removal is the best solution. Shaving around your bikini or butts is tricky work and often results in agonising side effects like cuts, bumps, and ingrown hairs. Brazilian Waxing is another popular approach but involves ripping and tearing at your hair roots with hot wax, which can be rather uncomfortable, to say the least.
Brazilian laser hair removal is an effective method to eliminate undesirable pubic hair – without any razors or hot wax. It also fixes the complicated concern of reaching around back blindly with razors to catch every last roaming hair. Not to get puzzled with a swimwear laser treatment, a Brazilian gets rid of all the hair in your pubic area where a bikini laser treatment just consists of the sides of your pubic area. We may call it a "Brazilian," however the customised of eliminating all the hair from your most intimate areas hails back to 400 BC. Even the ancients thought about a clean look down there to be aesthetically pleasing.
These days, eliminating undesirable hair has become significantly popular as clothing has actually concerned cover less and less of the body. A Brazilian laser hair elimination resembles Brazilian wax in results. Unlike a swimwear hair removal, a Brazilian laser hair removal aims to remove nearly all the pubic hair a patient may have. This consists of hair on the labia, at the sides, and along and around the bum, while leaving a small patch of hair above the vagina for aesthetic purposes.
What are the benefits of Brazilian hair removal?
Brazilian laser hair removal is a popular procedure due to its high effectiveness as compared to brazilian waxing. When it comes to efficiency on the charm of your skin and the reduction of undesirable hair, it exceeds other methods of pubic hair removal by a long-shot!
There are lots of advantages to going bare down there. Brazilian laser hair elimination treatments are very helpful, quick, and effective. You get down to company, get your treatment over with, and go out and on with your day like nothing ever took place. Plus, you don't need to invest all that time every week cutting the unsightly pubic hair around your woman bits considering that the outcomes are permanent.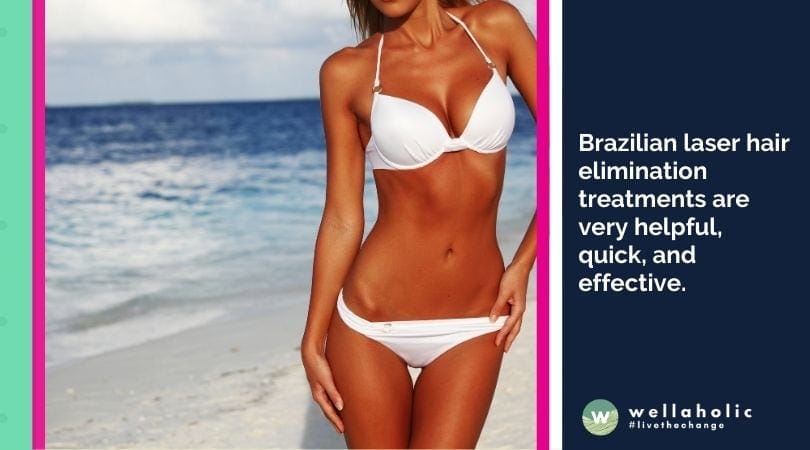 There are just a couple of adverse effects of laser hair elimination treatment, and those which do take place tend not to last more than a number of days. When you cut yourself from shaving or burn your skin from getting waxed, it can take a couple of weeks for your skin to fully recover.
Why is Brazilian laser hair removal much better than waxing or shaving?
Forget waxing and shaving think laser. If you've been thinking of getting a Brazilian, think about Brazilian Laser Hair Removal over brazilian waxing or shaving for a more irreversible solution to eliminate pubic hair. Both of these approaches provide smooth skin for a lot longer than shaving. Waxing leaves you smooth for weeks, while laser claims to be permanent. So why exist so many people still getting waxed after paying out hundreds, even thousands of dollars for laser treatments?
Sometimes, the suggested 6 laser treatments are insufficient to get whatever. Sometimes, the location being dealt with is too delicate, such as the swimwear area, and customers might not want to go all the way with laser and still choose to have a Brazilian wax rather. Remember — style patterns modification and laser can be irreversible!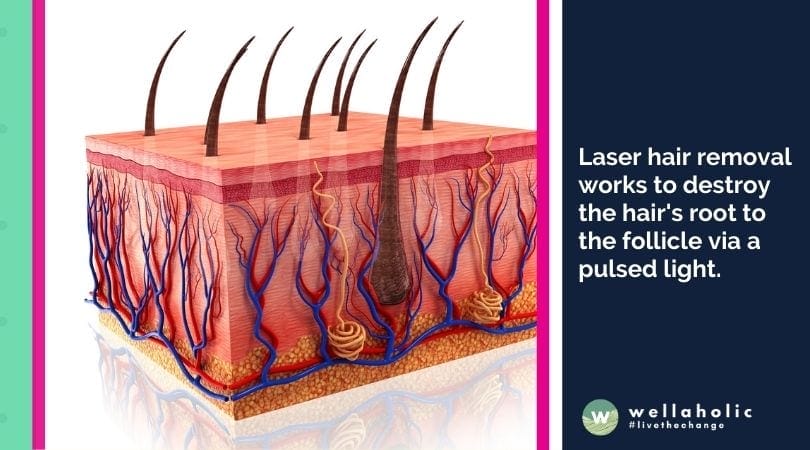 Laser hair removal works to destroy the hair's root to the follicle via a pulsed light. Essentially, the hair is burned at the root. This technique can hurt a lot and is not for everybody. Customers describe it as quite agonising, like having a thick rubber band snapped versus your skin. There are people that enjoy with the results. The catch is that laser hair removal just works on someone with light skin and dark hair. Anyone with darker skin or blonde hair ought to definitely stick with waxing.
Waxing pulls the hair out at the root. The wax is used then torn off in the opposite direction of the hair development. Before getting waxed you must let your hair grow about half an inch. This normally takes about a month. If the hair is too brief, the wax might not have the ability to grab it. After just one waxing, the roots needs to produce a baby hair. These hairs are soft and less bothersome than shaved hair. If you have actually decided to opt for waxing instead of laser hair removal, it deserves it to schedule regular waxing appointments monthly. After a few months, waxing ends up being a practice and you barely have to give it a reservation.
How do you get ready for Brazilian laser hair removal treatment?
The primary step of treatment is to set up an assessment with a licensed professional. During the assessment, your service technician will offer you an estimate of the number of treatments you'll require. They'll also discuss how the procedure works and what to do previously and after each one. To minimise negative effects and see the best outcomes, it is necessary to do what your technician states in the days and weeks leading up to treatment.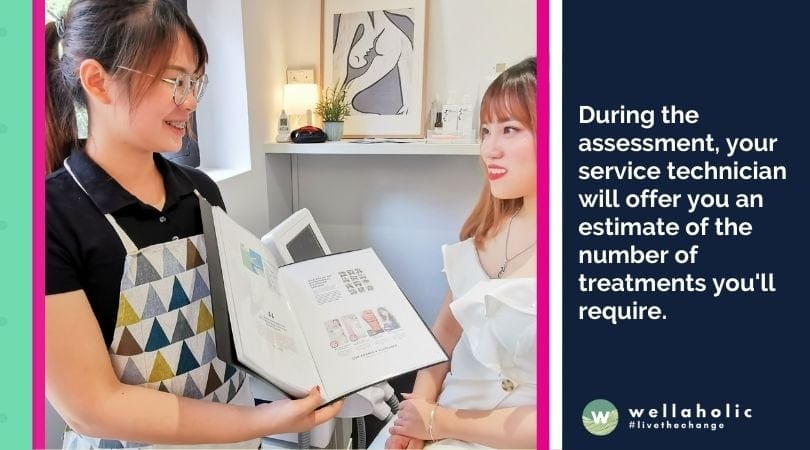 ---
Brazilian vs Bikini hair removal – which one is right for you?
The swimsuit line is one of the most aggravating locations for maintenance– especially during swimsuit season. It appears that, no matter how typically we get a wax or when we last shaved, the location never rather has a smooth, perfect appearance. Whether razor burn, ingrown hairs, or stubble growing back from the morning's shave cause the flaws, they tend to be most visible at the least convenient times.
Whatever appears decent enough in the mirror in your home, but the sunshine on the beach constantly exposes the spots we missed or forgot entirely. It's because of this that lots of ladies become interested in laser hair removal, and typically, they start with the pubic area. Many females do not know the difference between a swimsuit line treatment and a Brazilian. The two are similar, so it understandingly causes a bit of confusion. Since the topic can be humiliating to discuss, females tend to research it beforehand instead of asking their laser hair elimination technician what the difference is.
---
What is your hair removal goal?
Are you looking to merely decrease the amount of ingrown hairs on your swimwear line and eliminate razor burn? Are you seeking to shave less often and make sure you didn't miss a spot while lying on the beach? Laser hair elimination treatments in the bikini location may be the best alternative for you.
Are you aiming to never need to worry about shaving again and save hundreds of dollars a year on other hair elimination approaches? Are you seeking to completely eliminate ingrown hairs, razor burn, sweating, chafing, and other inflammations? Are you looking to have flawless skin not only in a swimsuit but in the naked? Brazilian laser hair removal treatments may be right for you.
All of us have that area or spot of hair that we always forget. Worse, all of us have that spot that our razors just aren't flexible enough to handle, causing us to either skip this area completely or risk huge bleeding. It could be a swath of dark hair on your inner thigh or on the labia, but this is the area you wish to make sure is treated. Women are all shaped in a different way, and this includes our downstairs location. If you cut yourself shaving each time you target a particular location, utilise this knowledge when deciding between Brazilian and swimsuit line laser hair elimination treatments.
Is Brazilian or Boyzilian hair removal for everyone?
There used to be a stigma connected to removing hair from the more intimate locations, but these day it has ended up being the standard. There are many factors individuals pick to have a Brazilian. Lots of are interested in visual appeals while others get it for personal hygiene factors. The Brazilian is for anyone who is fed up with individual grooming and the risks of shaving and waxing.
The Brazilian isn't just for women. Many male and non-binary customers choose to have one, too. "Manscaping" or "Boyzilian" is ending up being the norm. And let's face it, individual grooming, particularly on our more intimate locations, is time consuming and bothersome. With laser hair elimination, you'll never ever have to suffer through dealing with those intimate areas again.Women aren't the only ones who delight in smooth skin. Some men decide to eliminate their pubic hair with Laser Hair Removal because of its effectiveness and lasting results. People of all ages, professions, and lifestyles seek Brazilian Laser Hair Removal. When we carry out these treatments, we intend to ensure your comfort throughout the procedure.
What to anticipate after your very first Brazilian Hair Removal?
Mentally getting ready for your very first laser hair removal treatment can be intimidating; fretting about how much pain the treatment will inflict and how your cured area will feel later on can be an obstacle. During the Procedure Most clients who experience Brazilian laser hair elimination say that there is little to no extra pain from lasers directed on the vaginal area, rather than any other part of the body.
APPROXIMATELY 24 TO 48 HOURS AFTER
A laser hair elimination treatment leaves the skin sensitive and a bit irritated. Clients may experience redness. Therefore, it is much better to avoid any activity that might sustain more skin inflammation. Hot showers, saunas and working out ought to be avoided for a minimum of 24 hours after your very first laser hair elimination session. Clients ought to prevent antiperspirant, body cream and fragrances. Using aloe vera gel will help soothe the skin.

A WEEK AFTER
The week after a laser hair elimination consultation, patients will discover some hair shedding. This is totally normal and shouldn't be misinterpreted for regrowth. Clients need to not wax, pluck or tweeze.

3 TO 4 WEEKS AFTER
The dealt with area will be smooth for about 4 to six weeks following the very first laser hair elimination session. After this timeframe, clients must observe little fine hairs growing once again. Tweezing or waxing these hairs must be prevented. Indeed, they will be targeted throughout the next treatment, which should be done around this time.

WITHIN 3 MONTHS
At this point clients must have currently gone through two treatments. The legs, bikini area, chest, facial location, underarms and arms will see a minimum of 50 per cent of the hair gone. The outcomes will differ depending upon the patient's skin type however it's safe to presume that they will see a great decrease in hair at this time.

WITHIN 6 MONTHS
Patients need to have finished their sees to the laser hair elimination clinic after a year, or 8 months depending on the area being treated. Now, their hair will be completely gone.Hormonal areas such as the face and swimsuit need more treatment time. This is because hair growth is triggered by hormonal agents. Female patients can go through bikini or Brazilian laser hair elimination while on their duration as long as they use a tampon.
Pre and post-treatment care remains the very same prior to and after every single session. Patients should likewise shave prior to their session and clean their skin off of lotions, creams and moisturisers. They must wear sun block at all times if exposed to the sun, both previously and after their session.
---
WellaSmooth All-inclusive Hair Removal by Wellaholic
WellaSmooth™ All-Inclusive Hair Removal is designed for an all-inclusive fuss-free full-body permanent hair removal experience with a 5-star rating. WellaSmooth™ All-Inclusive Hair Removal includes all-that-you-require shaving service, followed by SHR Unlimited Prestige hair removal which includes unlimited SHR shots for the entire body (including Brazilian/Boyzilian). Also included is our Skin Whitening / Hydrating post-treatment therapy (PTT) followed by our AfterGlow Red Light therapy.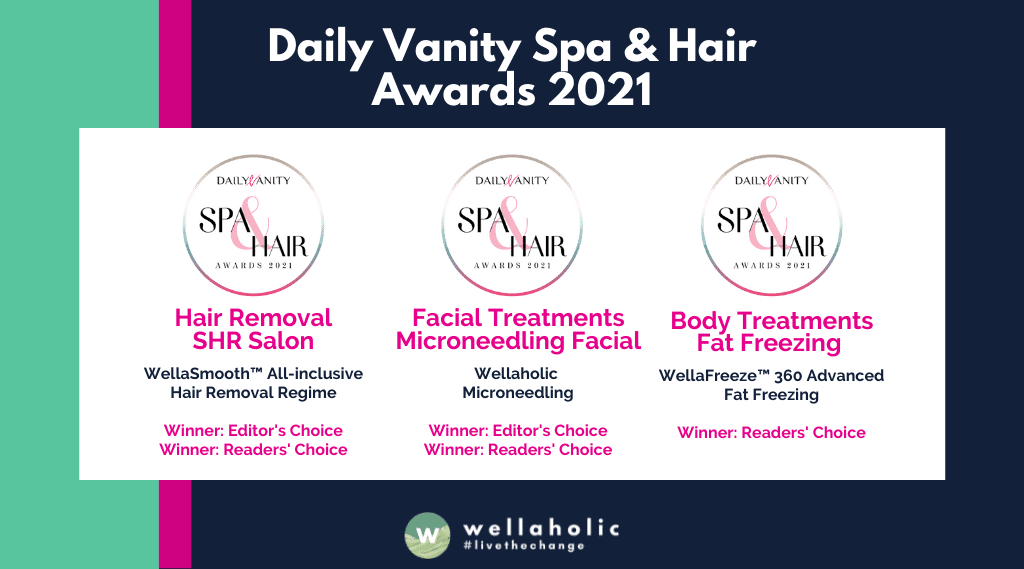 What is WellaSmooth™ All-inclusive Hair Removal Regime?
Voted Best Hair Removal Treatment by Daily Vanity Spa and Beauty Awards 2021.
WellaSmooth™ All-Inclusive Hair Removal is designed for an all-inclusive fuss-free full-body permanent hair reduction experience.
WellaSmooth™ All-Inclusive Hair Removal is ideal for all skin color, hair color, and all forms of hair.
Also include is all-that-you-require shaving service for all body parts including your private regions.
WellaSmooth™ All-Inclusive Hair Removal also includes the Skin Whitening / Hydrating (PTT) with AfterGlow™, which includes post-hair-removal skin whitening or skin hydration followed by our AfterGlow Red Light therapy for enhanced skin rejuvenation.
Achieve smooth and glowing skin that will wow everyone.
This treatment is ideal for both men and women, by male and female therapists.
Get a package and choose your shaving, SHR permanent hair removal and post-treatment whitening and hydration done at any of our multiple outlets across Singapore.
WellaSmooth™ is your ultimate all-inclusive hair removal treatment in Singapore complete with shaving and post-treatment care.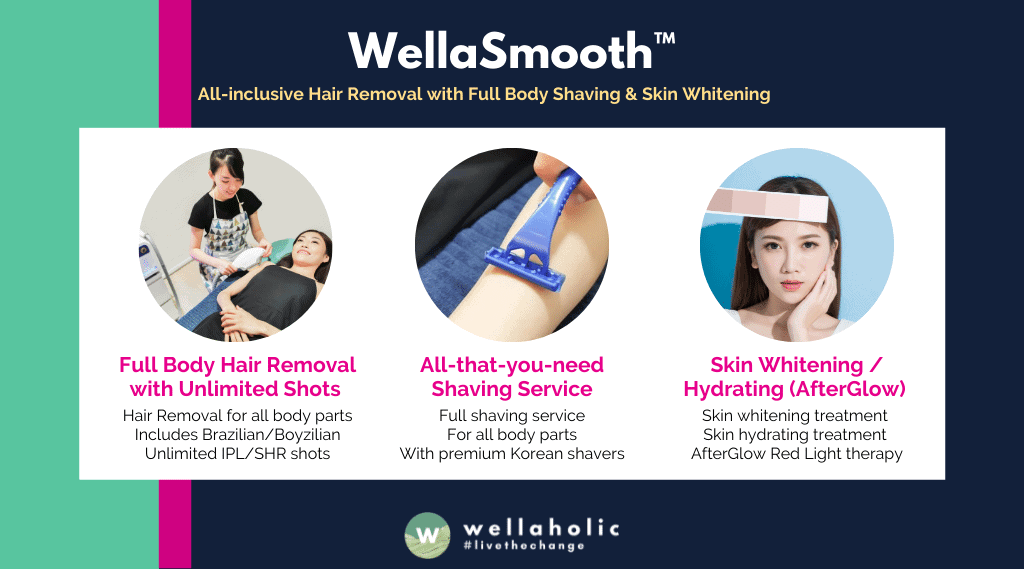 WellaSmooth™ Includes the Following Three Hair Removal Services
SHR Permanent Hair Removal PRESTIGE Unlimited – Enjoy our bestseller SHR hair reduction treatment for all body parts
Unlimited Shaving Service – Enjoy unlimited shaving service on all body parts
Skin Whitening/Hydrating (PTT) with AfterGlow – Enjoy post-treatment whitening or hydrating therapy followed by AfterGlow red-light treatment to rejuvenate your skin
Pricing of SHR Hair Removal Treatments by Wellaholic
Wellaholic believes in providing pricing transparency, and hence all prices are published and updated on its website. Choose from unlimited monthly hair removal plans (with unlimited SHR hair removal shots) for unlimited body parts, or choose from per-session hair removal price plans. Wellaholic's hair removal prices are generally divided into the following categories: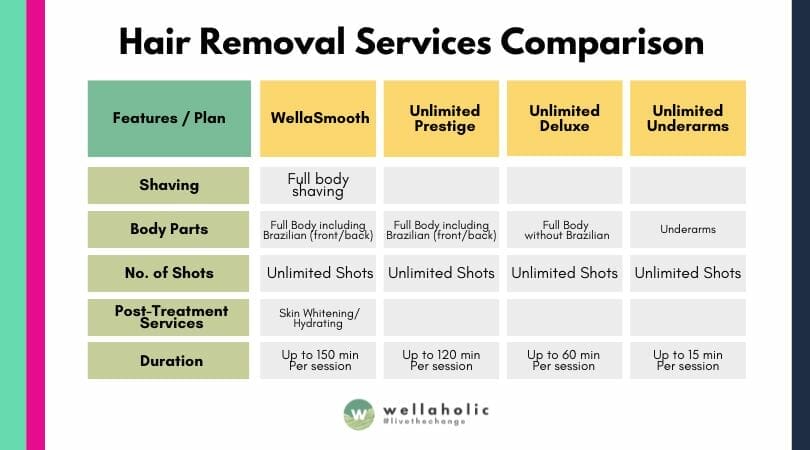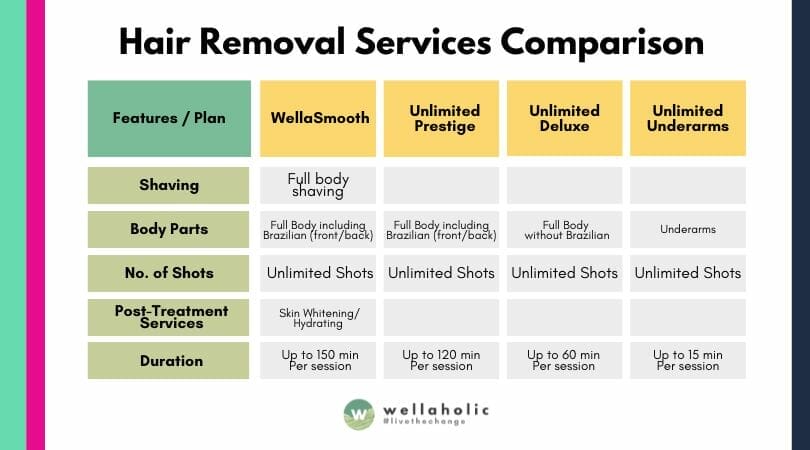 ---
---