What is a 'Boyzilian' and why are Singapore men getting them?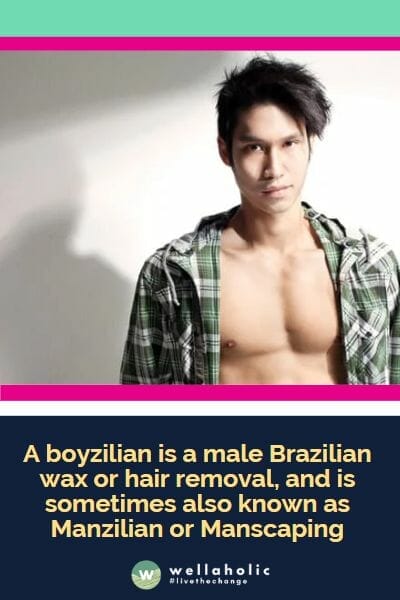 Introduction: What is a Boyzilian?
A boyzilian is a male Brazilian wax or hair removal, and is sometimes also known as Manzilian or Manscaping. This type of waxing involves the removal of all hair from the pubic region, including the shaft, scrotum, and perineum. The boyzilian is a popular choice for many men who want to achieve smooth skin and a clean, polished look. While the procedure can be performed at home, it is recommended that you visit a professional esthetician to ensure that the job is done correctly.
---
Why is Boyzilian Getting More Popular in Singapore?
The 'boyzilian' has been on the rise in popularity in Singapore, and it's not hard to see why. For starters, it's a great way to keep your nether regions looking neat and tidy. More importantly, though, it makes you feel more confident and can even boost your sex life.
For one, it offers a cleaner look and feel than traditional waxing methods. Unlike shaving or trimming which can cause skin irritation and ingrown hairs, a Boyzilian wax removes unwanted hair from its root or hair follicles, while leaving the skin smooth and supple afterwards. It also leaves behind no stubble, so it lasts longer compared to other hair removal services. Additionally, with regular waxing sessions over time, the hairs become sparser or take longer to grow back in comparison with other methods such as tweezing or plucking.
No more shaving burns or razor burns
No more shaving burns or razor burns – For many men, the decision to get a Boyzilian wax is an easy one. The appeal of a completely smooth groin area is obvious; no more stubble or razor burn! In addition to looking good, there are also hygienic benefits to having all the hair removed from around the penis and testicles. This can help reduce body odor and make it easier to keep the area clean, and is effective for sensitive skin too!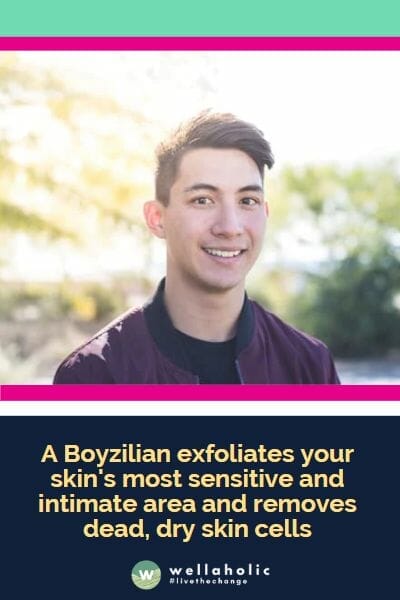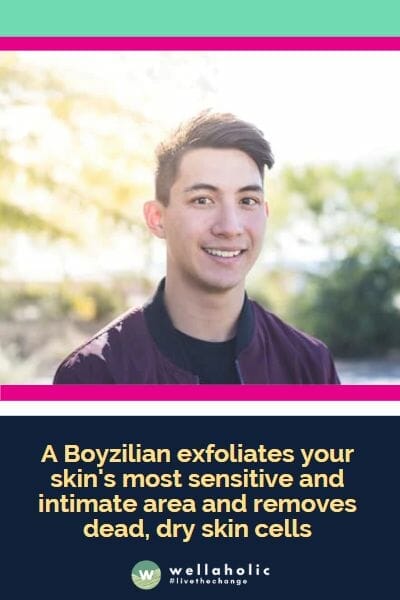 Less Body Odour and Funny Body Smells
Less Body Odour and Funny Body Smells – Body hair naturally absorbs perspiration, so even after showering and shaving, the odor still clings to stubble left behind. By waxing or hair removal, it actually circumvents that by removing the hair by the follicle – which makes it so that there is nothing for the odor to stick to. So, if you have an issue with sweating and odor, waxing or hair removal might be the best natural solution.
---
Creates healthy skin tissue for a glowing look
Creates healthy skin tissue for a glowing look – A Boyzilian exfoliates your skin's most sensitive and intimate area and removes dead, dry skin cells. Boyzilian hair removal also removes damaged skin cells allowing healthy new skin tissue to grow and also eliminates dirt and debris found in clogged pores in the lower body, reducing acne breakouts in the pubic area.
Low maintenance and cost effective
Low maintenance and cost effective. With boyzilian, you will be able to achieve less or no hair grow in your private regions. This is wonderful especially if you have formerly experienced itching and discomfort, meaning that you experience no skin irritation or aggravation when using a razor to maintain your hair. Boyzilian or manzilian hair removal frees you from cuts and nicks inside the intimate areas.
Whether you're motivated by aesthetics or hygiene (or both!), there are plenty of good reasons to try a Boyzilian wax or hair removal.
Is it Bad to Shaving Your Boyzilian Area?
Firstly, removing hair anywhere on your body is completely your choice– do not listen to any individual that tells you or else, or really feel forced right into shaving, waxing, or utilizing any other hair removal method. If you do choose to shave your private or pubic area, you may be up against both ingrown hairs as well as red, itchy bumps.
Ingrown hairs are created when the sharp, freshly cut hairs, leak and become the bordering skin. Then, the skin has a response to those hairs and also can obtain red and scratchy therefore. You might additionally experience razor shed after shaving, which is basically when the razor gets rid of the top layer of soft skin, permitting germs in to form red bumps on the swollen skin.
Nonetheless, many people who remove pubic hair utilize a razor, which is totally okay for your skin, as long as you take care. To prevent breakouts and irritability, you should just shave with a clean, sharp razor. In addition to that, if you moisturize as well as take care of the skin prior to and after you cut, you can stay clear of irritating razor burns.
Why Laser Hair Removal is Better Than Waxing for Boyzilian Hair Removal
For those looking for an effective method of removing unwanted hair from the private area, laser hair removal is becoming a popular choice. Not only is it more efficient than waxing, but it offers several benefits that make it a superior option.
Unlike waxing, laser hair removal works by targeting the root of each hair and heating the follicle until it can no longer produce new hairs. This process allows you to permanently reduce unwanted body or facial hair, without having to deal with uncomfortable and painful waxing sessions every few weeks. It also eliminates the need to constantly purchase new supplies like razors and depilatory creams as well as any associated costs such as salon visits or skin care products. Laser hair removal is generally effective for all skin types as well as for all hair types such as  dark hair and light hair.
WellaSmooth All-inclusive Hair Removal by Wellaholic
WellaSmooth™ All-Inclusive Hair Removal is a hair removal solution designed for an all-inclusive fuss-free full-body permanent hair removal experience with a 5-star rating. WellaSmooth™ All-Inclusive Hair Removal includes all-that-you-require shaving service, followed by SHR Unlimited Prestige hair removal which includes unlimited SHR shots for the entire body (including Brazilian/Boyzilian). Also included is our Skin Whitening / Hydrating post-treatment therapy (PTT) followed by our AfterGlow Red Light therapy.
What is WellaSmooth™ All-inclusive Hair Removal Regime?
Voted Best Hair Removal Treatment by Daily Vanity Spa and Beauty Awards 2021.
WellaSmooth™ All-Inclusive Hair Removal is designed for an all-inclusive fuss-free full-body permanent hair reduction experience.
WellaSmooth™ All-Inclusive Hair Removal is ideal for all skin color, hair color, and all forms of hair.
Also include is all-that-you-require shaving service for all body parts including your private regions.
WellaSmooth™ All-Inclusive Hair Removal also includes the Skin Whitening / Hydrating (PTT) with AfterGlow™, which includes post-hair-removal skin whitening or skin hydration followed by our AfterGlow Red Light therapy for enhanced skin rejuvenation.
Achieve smooth and glowing skin that will wow everyone.
This treatment is ideal for both men and women, by male and female therapists.
Get a package and choose your shaving, SHR permanent hair removal and post-treatment whitening and hydration done at any of our multiple outlets across Singapore.
WellaSmooth™ is your ultimate all-inclusive hair removal treatment in Singapore complete with shaving and post-treatment care.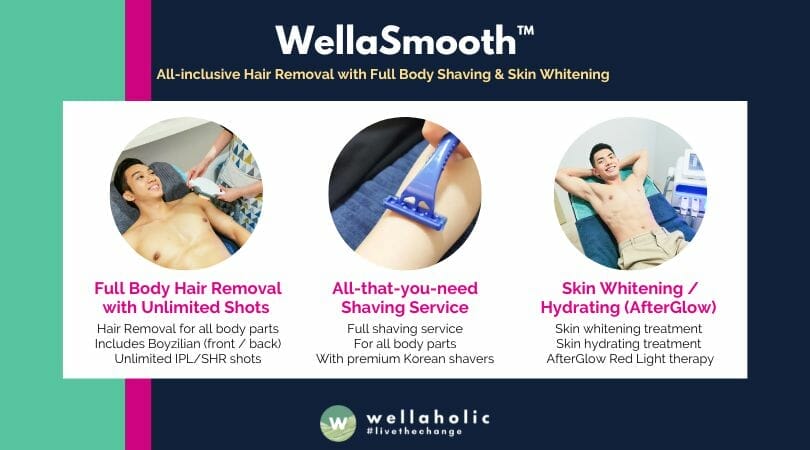 WellaSmooth™ Includes the Following Three Hair Removal Services
SHR Permanent Hair Removal PRESTIGE Unlimited – Enjoy our bestseller SHR hair reduction treatment for all body parts
Unlimited Shaving Service – Enjoy unlimited shaving service on all body parts
Skin Whitening/Hydrating (PTT) with AfterGlow – Enjoy post-treatment whitening or hydrating therapy followed by AfterGlow red-light treatment to rejuvenate your skin
See Over 1800 Positive Reviews of Wellaholic (Customer Verifiable)
Pricing of SHR Hair Removal Treatments by Wellaholic
Wellaholic believes in providing pricing transparency, and hence all prices are published and updated on its website. Choose from unlimited monthly hair removal plans (with unlimited SHR hair removal shots) for unlimited body parts, or choose from per-session hair removal price plans. Wellaholic's hair removal prices are generally divided into the following categories: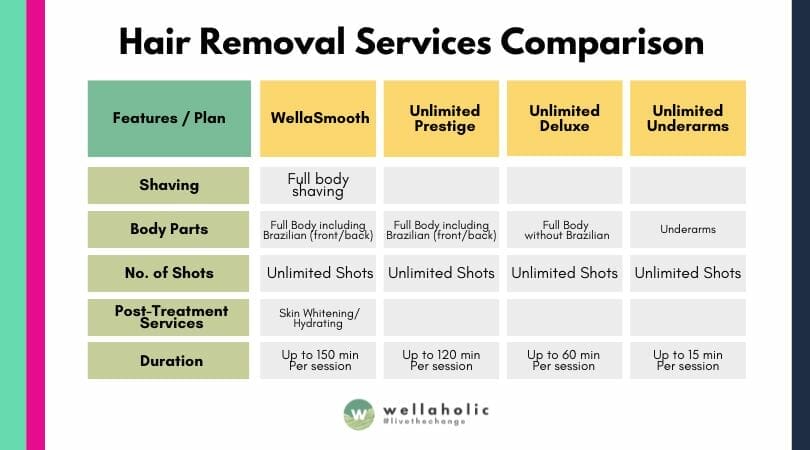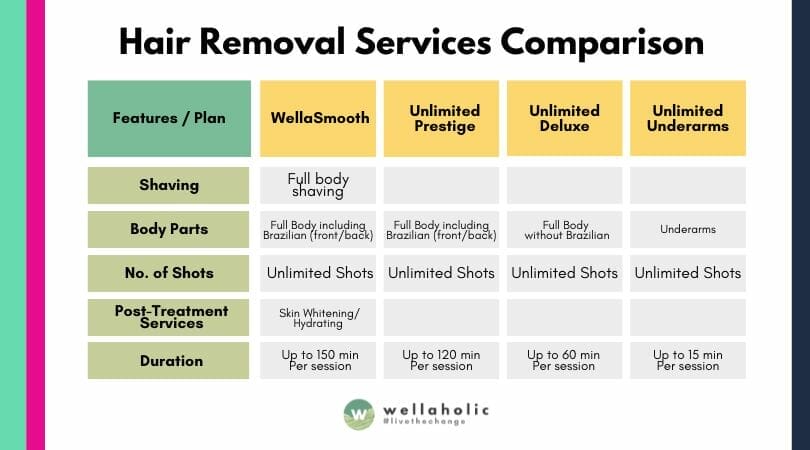 ---
---