Where to Remove Pubic Hair in Singapore
Introduction to Pubic Hair Removal in Singapore
If you are looking to groom your pubic hair in Singapore (or anywhere else in the world), then you have come to the right place. There is a wide range of options available if you are keen to remove unwanted pubic hair or hair from your pubic regions to achieve smooth skin. From shaving and waxing, to laser hair removal treatments, there is something for everyone. Whether you're looking for a quick fix or a long-term solution, this article outlines some of the best places in Singapore where you can remove your pubic hair safely and effectively.
Reasons why people may want to remove their pubic hair
Pubic hair is a common body hair that can be found on the pubic area, typically on women but also on some men. It is composed of two types of cells: pilosebaceous and non-pilosebaceous. Pilosebaceous cells produce oil and sweat, while non-pilosebaceous cells secrete sebum. Pubic hair is generally a temporary change that occurs during puberty, but it can also persist throughout a person's life.
There are a variety of reasons why people may want to remove their pubic hair. Some women choose to do so because they feel that it is too visible or it is uncomfortable. Others choose to do so as a form of body modification or as part of a health and beauty regimen. There are also some people who believe that pubic hair is a sign of uncleanliness or that it is an indicator of sexual promiscuity.
The issue with Ingrown Hairs from Shaving
Hair removal is a popular practice among many people, and there are several methods to choose from. However, it is important to consider the potential risks associated with each option. One common issue that can arise from hair removal is ingrown pubic hair.
Ingrown pubic hair occurs when hairs grow back into the skin after being removed, creating an uncomfortable and sometimes painful situation. Symptoms of ingrown pubic hair include itching, redness or swelling in the affected area. In some cases, bacteria can enter through an open wound caused by an ingrown hair follicle and lead to infection. To reduce your chances of developing this problem while engaging in hair removal activities such as waxing or shaving, you should use cleansers with antibacterial properties before grooming and make sure not to remove too much hair at once.
Types of hair removal methods
There are many types of hair removal methods available on the market today. Some methods use chemicals while others involve using blades, razors or electrical pulses. Many people prefer one type of hair removal method over another. Some people may prefer waxing while others may prefer laser hair removal. Ultimately, what is most important is that you find a method that works best for you and your hair type.
IPL Hair Removal
IPL stands for "intense pulsed light." This type of hair removal uses short-pulses of light to damage the hair follicle and therefore remove the hair. IPL is effective but can be painful, so it's best used on areas where you don't mind a little redness.
IPL hair removal is becoming more popular as people learn about its incredible results. IPL is a form of laser that uses short, intense pulses of light to destroy hair follicles. The treatment is safe and effective, and many people find it to be a much less invasive alternative to other hair removal methods.
Laser Hair Removal for Pubic Hair Removal
Laser hair removal is a popular and effective method of removing unwanted hair. Lasers work by targeting the hair follicle and destroying it with heat. This results in permanent hairless skin. There are several types of lasers available, and each has its own specific benefits and drawbacks, but all laser treatments are ideal for sensitive skin. Laser hair removal can be expensive, but it's the only method which guarantees permanent removal.
Laser hair removal has been a popular cosmetic procedure for many years, and the technology continues to evolve. With the introduction of SHR (Super Hair Removal) technology, laser hair removal treatments are more effective than ever before. This advanced technique uses low energy but rapid pulses to target the hair roots below the surface of the skin, reducing new growth and providing smoother results in fewer sessions. SHR is also able to target coarse hairs and all skin tones, including dark skin tones, medium skin tones and light skin tones.
The laser treatment works by targeting melanin in each individual hair follicle without damaging your surrounding skin. The use of SHR technology ensures that there is less discomfort during the procedure compared with other forms of laser hair removal, making it much easier to tolerate while still being just as effective at reducing unwanted body and facial hair growth. The treated area may be red or swollen afterwards, but this will usually subside within a day or two after treatment.
Waxing for Pubic Hair Removal
Waxing is a popular form of hair removal because it can be done at home with little effort and no pain. Wax is applied to the skin in strips that are then pulled off one by one from your genital regions. It works best on finer hairs, but can be slightly painful if done incorrectly.
The method of hair removal known as waxing has become one of the most popular methods for removing unwanted facial and body hair. This process involves applying melted wax to the skin, then covering the wax with a strip that is pulled off quickly when dry. Waxing helps to remove more than just visible hairs, as it removes some of the root and can help to slow down future growth.
Although many people find waxing an effective way to remove unwanted hair, there can be undesirable side effects such as skin irritation and redness in certain areas. To minimize these negative effects, it's important to exfoliate prior to waxing, use an aftercare product like aloe vera gel or a moisturizer afterwards, and avoid direct sunlight whenever possible. For those looking for an alternative option with less irritation potential, laser treatments are also available but may require multiple sessions for desired results.
Shaving for Pubic Hair Removal
Shaving for pubic hair removal has become a popular trend among all genders in the last few decades. It is considered to be a safe, easy and cost-effective option for those looking to remove their pubic hair without any professional help to achieve smooth skin. For those who are new to the practice, it can seem daunting; however with the right tools and techniques, shaving your pubic hair can be an enjoyable experience. Remember to shave in the direction of hair growth for the best results.
Shaving requires some basic supplies such as scissors or clippers, shaving cream or gel and a razor. It is important to use a razor designed specifically for removing body hair as they provide more control than regular razors. To get started, it is best to trim the pubic hair first before applying shaving cream or gel. This will make sure that you do not accidentally cut yourself while shaving. Also, it is important to avoid razor burns, which can lead to bacterial infections.
Hair Removal Creams for Pubic Hair Removal
Hair removal creams offer an effective and easy way to remove pubic hair. Unlike traditional methods such as waxing which can be quite painful and time consuming, hair removal creams are easy to use at home and require minimal effort. They provide a convenient, fast-acting solution for those looking for an efficient way to get rid of unwanted pubic hair.
Hair removal creams work by dissolving the hairs with a combination of chemicals that break down the proteins in the hair shafts, causing them to weaken and eventually fall out. These hair removal cream products often contain ingredients such as potassium thioglycolate, calcium hydroxide, mineral oil, sodium sulfite and urea which all help to dissolve the hairs without irritating your skin or leaving behind any residue.
Best Hair Removal Method for Pubic Hair
There are many hair removal methods that people can choose from when it comes to their pubic area, but the best method for someone may vary depending on their own skin type and preferences. Some people may prefer laser hair removal, while others may prefer waxing or electrolysis or even using hair removal creams . It is important to find a method that is effective and comfortable for you, as any kind of hair removal can be painful at first.
---
WellaSmooth All-inclusive Hair Removal by Wellaholic
WellaSmooth™ All-Inclusive Hair Removal is designed for an all-inclusive fuss-free full-body permanent hair removal experience with a 5-star rating. WellaSmooth™ All-Inclusive Hair Removal includes all-that-you-require shaving service, followed by SHR Unlimited Prestige hair removal which includes unlimited SHR shots for the entire body (including Brazilian/Boyzilian). Also included is our Skin Whitening / Hydrating post-treatment therapy (PTT) followed by our AfterGlow Red Light therapy.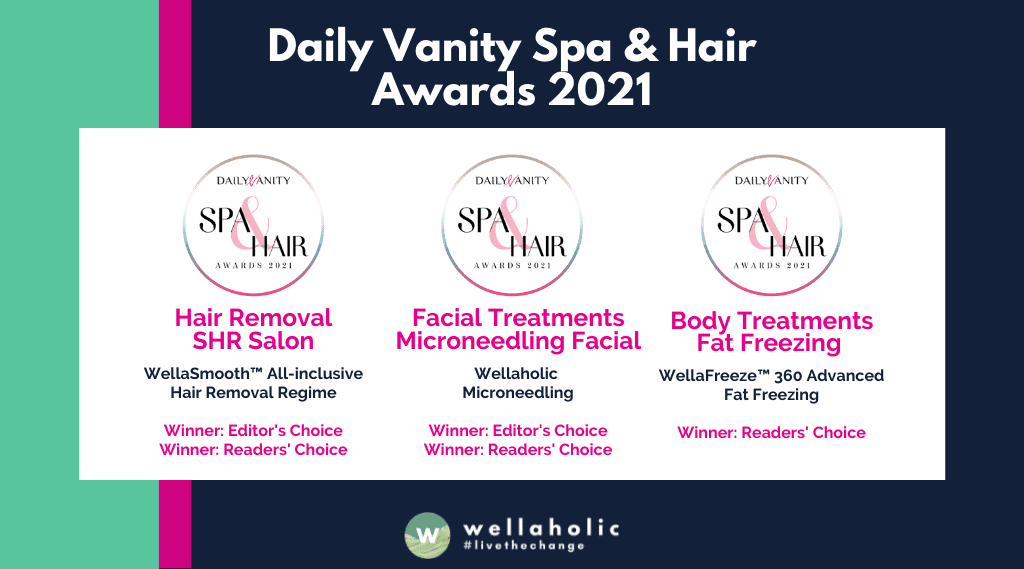 What is WellaSmooth™ All-inclusive Hair Removal Regime?
Voted Best Hair Removal Treatment by Daily Vanity Spa and Beauty Awards 2021.
WellaSmooth™ All-Inclusive Hair Removal is designed for an all-inclusive fuss-free full-body permanent hair reduction experience.
WellaSmooth™ All-Inclusive Hair Removal is ideal for all skin color, hair color, and all forms of hair.
Also include is all-that-you-require shaving service for all body parts including your private regions.
WellaSmooth™ All-Inclusive Hair Removal also includes the Skin Whitening / Hydrating (PTT) with AfterGlow™, which includes post-hair-removal skin whitening or skin hydration followed by our AfterGlow Red Light therapy for enhanced skin rejuvenation.
Achieve smooth and glowing skin that will wow everyone.
This treatment is ideal for both men and women, by male and female therapists.
Get a package and choose your shaving, SHR permanent hair removal and post-treatment whitening and hydration done at any of our multiple outlets across Singapore.
WellaSmooth™ is your ultimate all-inclusive hair removal treatment in Singapore complete with shaving and post-treatment care.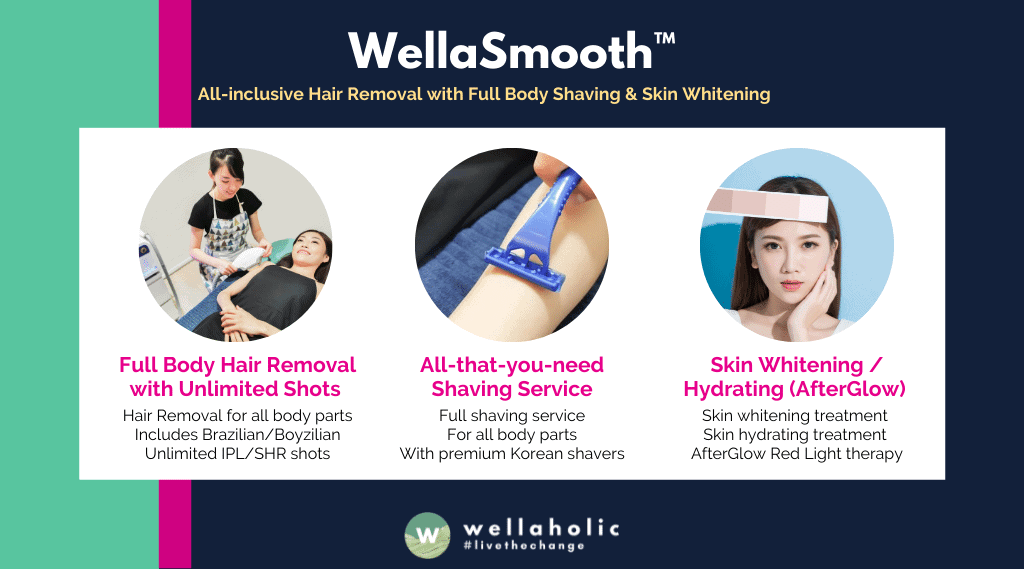 WellaSmooth™ Includes the Following Three Hair Removal Services
SHR Permanent Hair Removal PRESTIGE Unlimited – Enjoy our bestseller SHR hair reduction treatment for all body parts
Unlimited Shaving Service – Enjoy unlimited shaving service on all body parts
Skin Whitening/Hydrating (PTT) with AfterGlow – Enjoy post-treatment whitening or hydrating therapy followed by AfterGlow red-light treatment to rejuvenate your skin
See Over 1800 Positive Reviews of Wellaholic (Customer Verifiable)
Pricing of SHR Hair Removal Treatments by Wellaholic
Wellaholic believes in providing pricing transparency, and hence all prices are published and updated on its website. Choose from unlimited monthly hair removal plans (with unlimited SHR hair removal shots) for unlimited body parts, or choose from per-session hair removal price plans. Wellaholic's hair removal prices are generally divided into the following categories: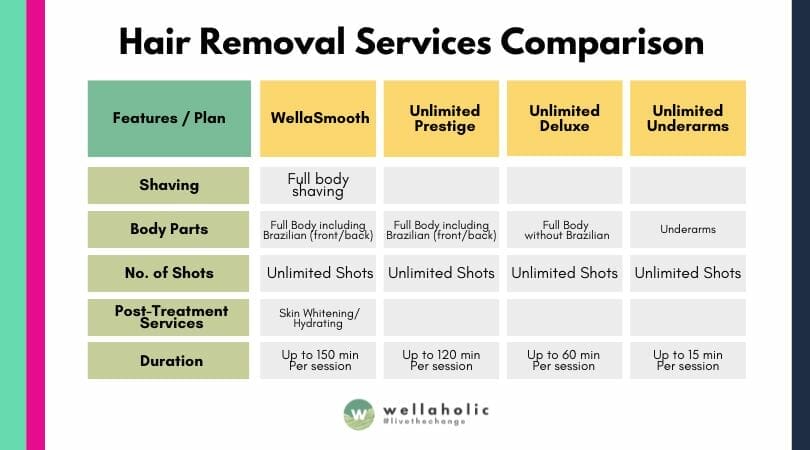 ---
---