You're Losing Your Hair. Here's How to Fix It.
Introduction: You're losing your hair. Here's how to fix it.
If you're one of the millions of men who start to lose their hair in their 20s, whether in Singapore or elsewhere in the world, you may be wondering how to stop the progression of hair loss. While there's no cure for male pattern baldness, there are treatments that can help slow down hair loss and even promote new hair growth. In this article, we'll discuss some of the most effective ways to treat hair loss.
---
The problem: Hair loss is a common problem, but it can be upsetting.
Hair loss is a common problem that can be upsetting. It can happen to men, women, and children of all ages. It can be caused by many things, including medical conditions, medications, and stress. There are many ways to treat hair loss, depending on the cause.
The cause: There are many possible causes of hair loss.
Hair loss can be caused by a variety of factors, including genetics, illness, medications, and stress.
Aging Process
Aging Process: For many people, hair loss is a normal part of the aging process. As we age, our hair follicles begin to shrink, causing our hair to thin and fall out more easily.
As we age, our hair follicles gradually produce less melanin, which is the pigment that gives our hair its color. This process is called graying. In addition to graying, many of us experience thinning hair as we age. This is due to a combination of factors: the aging of the hair follicle, a decrease in the number of scalp hairs, and a decrease in the diameter of each individual hair shaft.
While it's natural for our hair to change as we age, there are things we can do to keep our locks looking healthy and lustrous. First, eat a healthy diet rich in protein, vitamins A and C, iron, and omega-3 fatty acids. These nutrients are essential for maintaining healthy skin and hair. Second, use gentle shampoos and conditioners that won't strip away natural oils.
Alopecia Areata
Alopecia Areata: There are also a number of medical conditions that can cause hair loss, such as alopecia areata (an autoimmune disorder that causes patchy hair loss), trichotillomania (a disorder that causes people to pull out their own hair), and scalp psoriasis (a condition that can lead to temporary hair loss). Alopecia areata is a condition that causes hair loss on the scalp. It can also cause hair loss on the face, chest, and other parts of the body. Alopecia areata is an autoimmune disorder. This means that the body's immune system attacks healthy cells by mistake. Alopecia areata is not contagious. It can occur at any age, but it is most common in children and young adults. There is no cure for alopecia areata, but treatments are available to help hair regrow.
Medication can cause hair loss
Medication can cause hair loss: Certain medications can also cause hair loss as a side effect, such as chemotherapy drugs used to treat cancer. Hair loss can be a side effect of medication. The most common type of hair loss is anagen effluvium, which is when the medication causes the hair follicle to go into a resting phase too early. This type of hair loss is usually temporary and the hair will grow back once the person stops taking the medication. However, some medications can cause permanent hair loss. If you are concerned about hair loss, speak to your doctor about alternative medications.
The solution: There are many ways to treat hair loss.
There are many ways to treat hair loss, but not all of them are effective. Some common treatments include medications, surgery, and lifestyle changes.
Medications for hair loss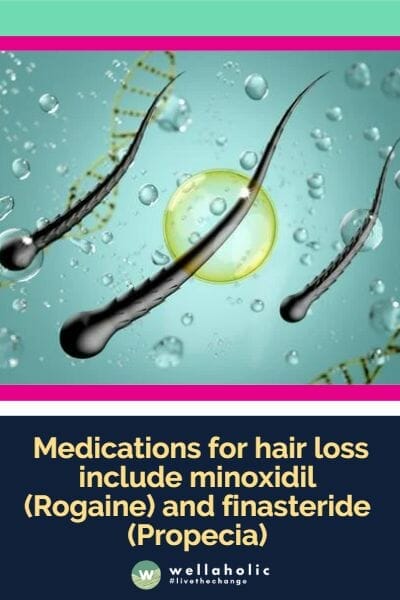 Medications for hair loss: Medications for hair loss include minoxidil (Rogaine) and finasteride (Propecia). Minoxidil is a topical medication that is applied to the scalp twice daily. It is thought to work by increasing blood flow to the scalp and by stimulating new hair growth. Finasteride is a pill that is taken once daily. It works by decreasing the amount of DHT (dihydrotestosterone), a hormone that contributes to hair loss.
Hair transplant surgery
Hair transplant surgery: Hair transplant surgery is a procedure that surgically moves hair follicles from a donor site to a balding or thinning area of the scalp. This surgery can be used to treat male or female pattern baldness, as well as other forms of hair loss.
Hair transplant surgery is typically performed as an outpatient procedure, meaning the patient does not need to stay overnight in the hospital. The surgery itself takes several hours, and patients can expect to see results within 6-12 months.
If you are considering hair transplant surgery, it is important to consult with a board certified plastic surgeon who has experience performing this procedure. During your consultation, your surgeon will assess your candidacy for surgery and develop a treatment plan that is tailored to your specific needs.
Microneedling for scalp
Microneedling for scalp: Microneedling is a new treatment for hair loss that shows promise. The treatment involves using a device to create tiny punctures in the skin, which stimulate the production of collagen and help to improve blood flow to the scalp. microneedling has been shown to be effective in treating other conditions, such as wrinkles and scars, and there is reason to believe that it could also be effective in treating hair loss.
While more research is needed to confirm the efficacy of microneedling for hair loss, the treatment shows promise and may offer a new option for those looking for alternatives to traditional treatments such as medication or surgery.
Prevention: You can prevent hair loss by taking care of your hair.
How you take care of your hair on a daily basis has a big impact on whether or not you'll experience hair loss. While there are many causes of hair loss, including genetics, medical conditions, and medications, there are also many things you can do to prevent hair loss.
Here are some tips for preventing hair loss:
-Wash your hair with a gentle shampoo and conditioner. Avoid harsh chemicals and hot water, which can damage your hair and scalp.
-Brush your hair gently, using a wide-toothed comb. Avoid tight ponytails and hairstyles that pull on your hair.
-Eat a healthy diet that includes plenty of protein, iron, and other nutrients essential for healthy hair growth.
-Avoid smoking and excessive alcohol consumption, both of which can contribute to hair loss.
Conclusion: Hair loss is a common problem, but it can be treated.
In conclusion, hair loss is a common problem, but it can be treated. If you are experiencing hair loss, talk to your doctor to find out what treatment options are available to you. With the right treatment, you can regain your confidence and your hair.
Microneedling for Scalp – Achieve Hair Regrowth with Science
Microneedling for Scalp helps treat hair loss and promote hair regrowth. Microneedling for Scalp is a Collagen Induction Therapy hair loss treatment in Singapore which is also able to cause controlled trauma in the scalp to promote hair growth. Together with the use of Minoxidil 5%, Microneedling can lead to positive effects on hair growth over a 12-week period. Especially effective for patients with Alopecia Areata and Androgenetic Alopecia, or male pattern baldness, receding hairline and thinning hair.
A topical hair loss solution starts working from the stages of hair follicles with respect to the stage of the hair loss. Since each person will have a different reason or cause behind the hair loss, the time frame will also vary accordingly to the situation and also the treatment type. For Wellaholic's Microneedling for Scalp, it will require a weekly treatment for 12 weeks to see good results, as evidenced from the supporting case studies showing the effectiveness of microneedling for hair loss.
Benefits of Microneedling for Scalp
Microneedling for Scalp works by mechanical controlled injury into the dermis.
When Microneedling for Scalp is used with Minoxidil when treating alopecia, there is an increase of hair density, thickness and quality of hair regrowth.
The treatment is safe, non-invasive and relatively painless. 
There is no downtime to the Microneedling for Scalp treatment.
Microneedling for Scalp treatment is able increase the density of existing hair, leading to fuller appearance of overall hair. 
Is Microneedling for Scalp Hair Growth Treatment Backed By Science?
There has been numerous research studies which shows the effectiveness of microneedling with Minoxidil for hair growth.
​Study 1: A Randomized Evaluator Blinded Study of Effect of Microneedling in Androgenetic Alopecia: A Pilot Study (2013) [source]
In 2013, 100 men with Androgenetic Alopecia (AGA) were recruited to take part in a study which tested the effects of microneedling on hair growth. 94 men completed the study.
The men were randomly split into two groups. The first group, which consisted of 50 volunteers, was treated with both microneedling and minoxidil (5 percent) lotion.
The second group, which consisted of 44 volunteers, was treated with minoxidil (5 percent) lotion.
The group which combined Microneedling with Minoxidil application saw a significant hair growth as compared to the minoxidil-only group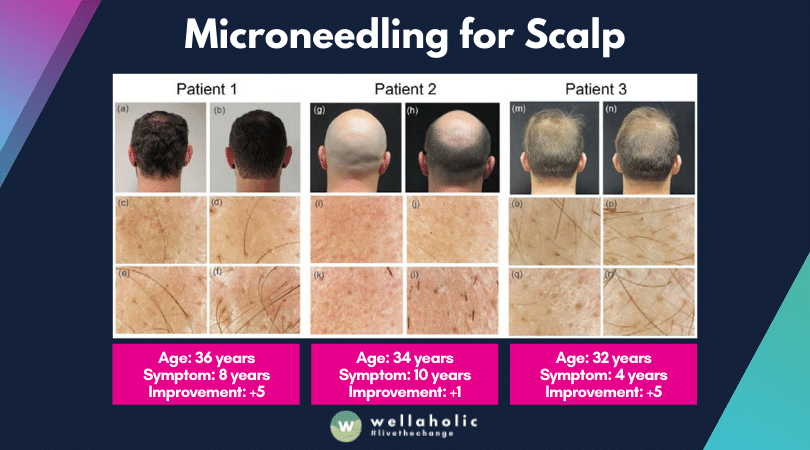 Study 2: Response to Microneedling Treatment in Men with Androgenetic Alopecia Who Failed to Respond to Conventional Therapy (2015)  [source]
In 2015, researchers recruited four men who had been on 5 percent minoxidil solution for the past two to five years (9). While their hair loss didn't continue, there were no signs of growth.
The four men were subjected to microneedling sessions over a six-month period combined with their current therapies.
A 7-point evaluation scale was used to track results, and the men were followed up with for 18 months to assess treatment sustainability.
The patients experienced a +2 or +3 on the standardised evaluation scale, and new hair growth was noted after 8 – 10 sessions. Even further, these results were sustained over 18 months.
This is the first case series to report the boosting effect of microneedling with respect to new hair follicle stimulation in patients with androgenetic alopecia who were poor responders to conventional therapy.
Are There Before and After Photos of the Treatment?
See Over 1800 Positive Reviews of Wellaholic (Customer Verifiable)
Pricing of Hair Loss Treatments by Wellaholic
Wellaholic believes in providing pricing transparency, and hence all prices are published and updated on its website. Choose from a single-session plan or choose a multi-session plan for greater discounts. Wellaholic's hair loss treatments are generally divided into the following categories: 
Please click on the menu below to see the pricing for the various hair loss treatments by Wellaholic. Prices are nett and inclusive of GST. Wellaholic is well-known in the industry for our transparent pricing and no hard selling. In fact, Wellaholic is well-known for not only our transparent and cheap pricing but also without any hidden costs. All prices are nett and inclusive of GST, and are actual prices (i.e. not trial prices).
---
---